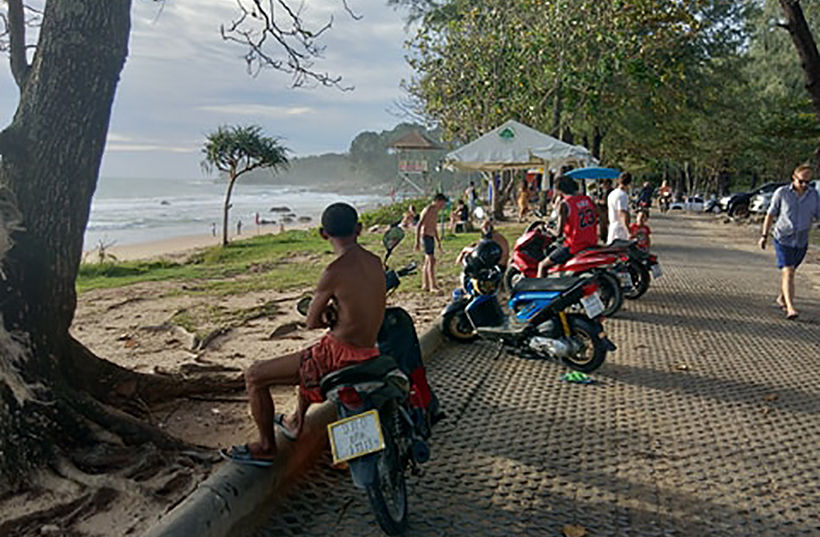 The President of the Cherng Talay OrBorTor (municipality), Ma Ann Samran, has not renewed the monthly contract for lifeguards protecting Surin Beach on Phuket's west coast.
As of yesterday, there are now no duty lifeguards keeping swimmers out of the water when the waves become dangerous, or saving them when they get into difficulty.
Police arrived late yesterday afternoon at Surin Beach and removed the red 'no swimming' flags along the beach. At the same time a Filipino couple were caught in a rip current close to the shore, requiring local surfer Danny Hyams to grab a long board and paddle out, not once but twice, to rescue the couple one by one. The female tourist had been swept out several hundred metres before she was rescued by M. Hyams..
Witnesses say the woman was in bad condition when she arrived onshore and was taken to a nearby hospital.
Last week lifeguards were busy plucking swimmers out of the island's west coast beach waters as conditions deteriorated with a strengthening of the annual south west monsoon.
Daren Jenner, spokesperson for the International Surf Lifesaving Association, SE Asia, says the removal of lifeguard services on a popular Phuket beach, in the middle of the monsoon is an accident waiting to happen.
"ISLA has a high level of concern after the local municipality, who control the budget for lifeguards on the popular west coast Surin Beach, have withdrawn funding for ongoing patrols to protect the beach and swimmers."
"We are right in the middle of the monsoon season. Only last week there were up to 30 people pulled out of the west coast coastal waters because tourists keep entering the water whilst dangerous conditions persist. Without lifeguards staffing these beaches we will have drownings."
On Tuesday last week, Patong Lifeguards reported a total of 18 people rescued, in just one day at one Phuket beach – Patong beach. They said the situation was very challenging, with limited manpower, equipment and poor weather conditions hampering their efforts.
The situation with the funding of lifeguards on Phuket's beaches has been a hot topic for the past three years as local municipalities put tourists' lives in danger without providing adequate protection and internationally-recognised services for one of the world's most popular beach resorts.