Swimmers at Surin Beach left without lifesavers as Council removes funding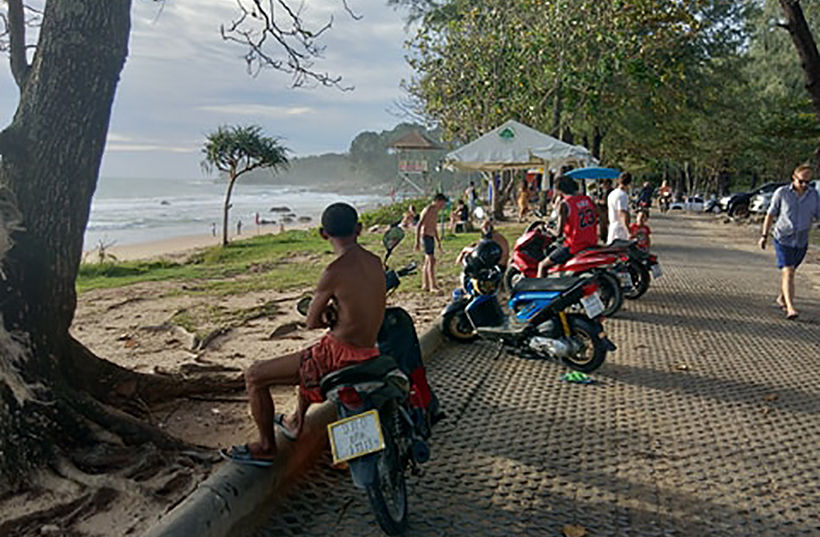 The President of the Cherng Talay OrBorTor (municipality), Ma Ann Samran, has not renewed the monthly contract for lifeguards protecting Surin Beach on Phuket's west coast.
As of yesterday, there are now no duty lifeguards keeping swimmers out of the water when the waves become dangerous, or saving them when they get into difficulty.
Police arrived late yesterday afternoon at Surin Beach and removed the red 'no swimming' flags along the beach. At the same time a Filipino couple were caught in a rip current close to the shore, requiring local surfer Danny Hyams to grab a long board and paddle out, not once but twice, to rescue the couple one by one. The female tourist had been swept out several hundred metres before she was rescued by M. Hyams..
Witnesses say the woman was in bad condition when she arrived onshore and was taken to a nearby hospital.
Last week lifeguards were busy plucking swimmers out of the island's west coast beach waters as conditions deteriorated with a strengthening of the annual south west monsoon.
Daren Jenner, spokesperson for the International Surf Lifesaving Association, SE Asia, says the removal of lifeguard services on a popular Phuket beach, in the middle of the monsoon is an accident waiting to happen.
"ISLA has a high level of concern after the local municipality, who control the budget for lifeguards on the popular west coast Surin Beach, have withdrawn funding for ongoing patrols to protect the beach and swimmers."
"We are right in the middle of the monsoon season. Only last week there were up to 30 people pulled out of the west coast coastal waters because tourists keep entering the water whilst dangerous conditions persist. Without lifeguards staffing these beaches we will have drownings."
On Tuesday last week, Patong Lifeguards reported a total of 18 people rescued, in just one day at one Phuket beach – Patong beach. They said the situation was very challenging, with limited manpower, equipment and poor weather conditions hampering their efforts.
The situation with the funding of lifeguards on Phuket's beaches has been a hot topic for the past three years as local municipalities put tourists' lives in danger without providing adequate protection and internationally-recognised services for one of the world's most popular beach resorts.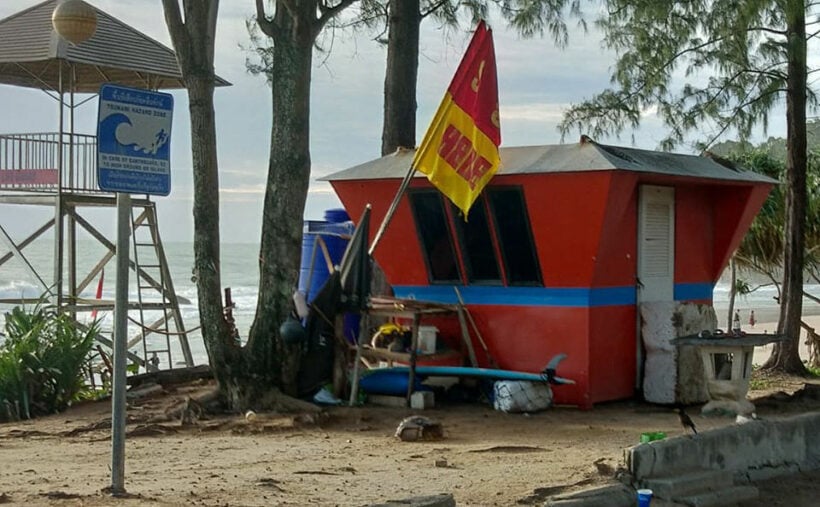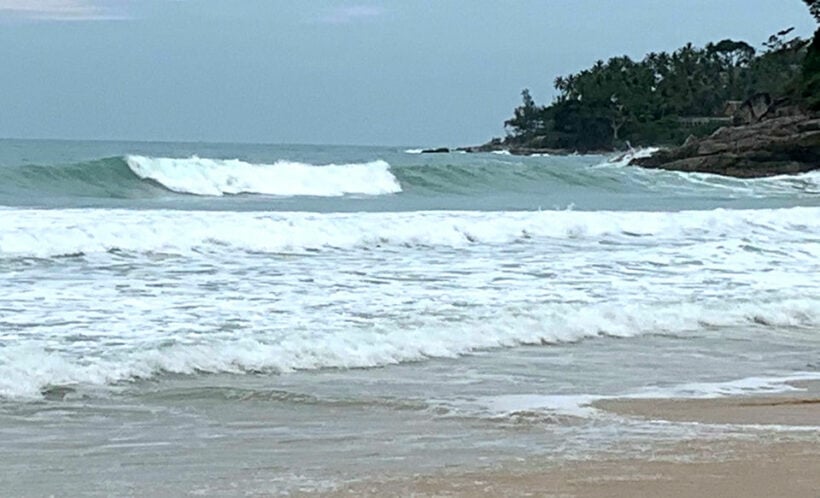 Keep in contact with The Thaiger by following our Facebook page.
Never miss out on future posts by following The Thaiger.
The road less travelled – trekking to the Kalim Viewpoint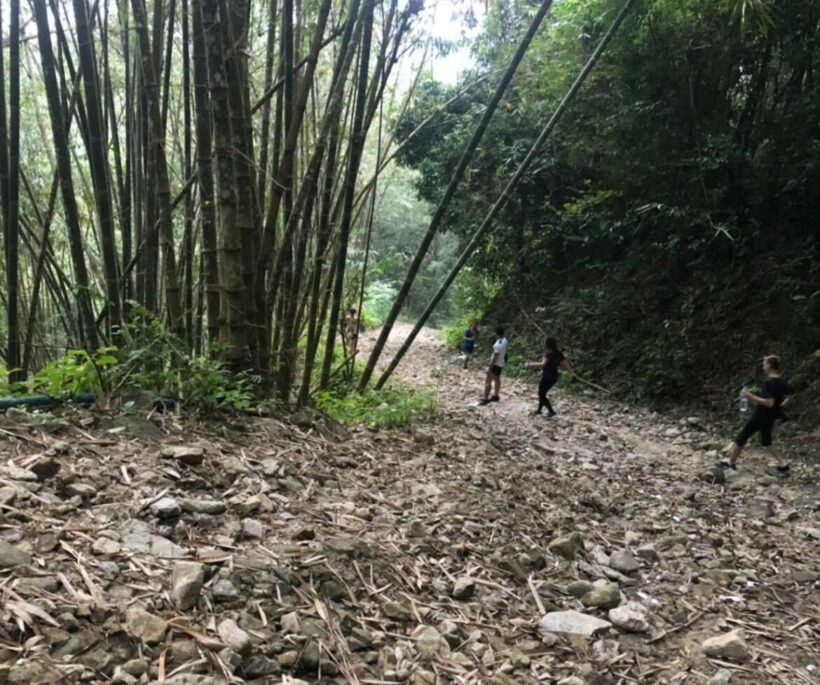 There are two well known ways to get from Kathu to Kalim or Kamala – one is across the Patong Hill, and the other is much longer, through Srisoonthorn and along the coastal road from Surin the Kamala (very scenic too).
But there's also another way. Also very scenic but will take you about 2 hours through dense forest although there is a well-worn walking track. The track will take you from Kathu up to the Kalim Viewpoint. From here you can head back to Kathu along a different path, or down into Kalim, near Patong.
Starting about halfway down Soi Namtok in Kathu, you head up a nondescript road past the Flying Hanuman zipline attraction, although there's no sign at the entrance to the soi (below). About the first kilometre is paved but then becomes increasingly 'agricultural' as you get higher into the hills, heading towards the Kalim Viewpoint. There's also a small temple on the way up.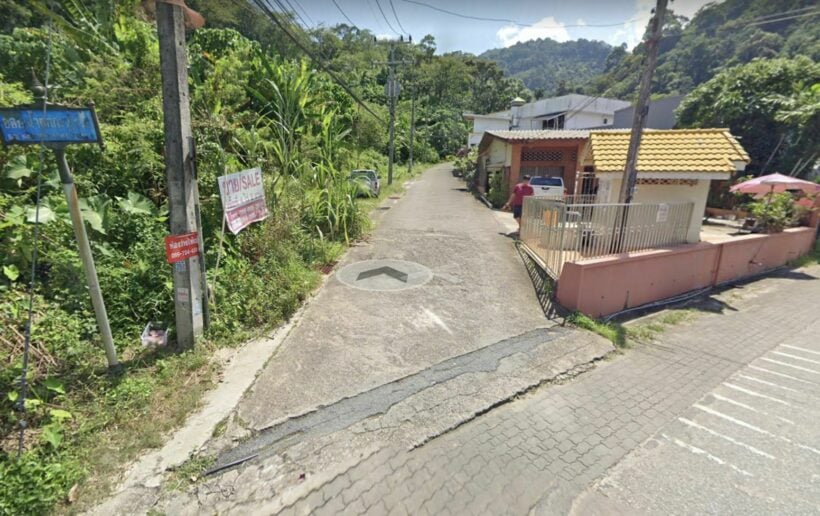 PHOTO: The start of the trek, a small soi off Soi Namtok – Google Maps
It will take around 2 hours to trek up to the Kalim Viewpoint. The walking is quite strenuous and you'll need to be wearing the right shoes and take plenty of water – there's no 7/11s on the way! As you get nearer the top, to the viewpoint, the track becomes less drivable although the track is still quite open and easy to follow. If you're feeling a bit lazy you can take a motorbike about halfway up the road until you'll need to proceed on foot from there.
From the Kalim Viewpoint you can see across Kalim to Patong Bay and the land that stretches along the bay south of Patong Beach. From the top you can either make your way down to Kalim or another exit along the Kalim-Kamala Road, just near the Iguana Beach Club.
You can also head back another way to Kathu, a longer return track that skirts around the top of the Kathu Waterfall. A lot of that track gets very narrow and parts of it are up and down the hills, some of it very steep.
The views are amazing and you get to see a vast swathe of Phuket, still very close to popular locations like Patong, Kamala and Kathu, but untouched by any civilisation.
You'll need to be in reasonable health to take on the trip but, just to go up to the Kalim Viewpoint and back, or down into Kalim, should take around 5 hours in total. On a scale of 1 – 5 for difficulty, we'd rate it a 3. An easy trek for experienced people but will need a bit of planning if you're not an experienced trekker.
Even on a hazy day, as it was today, the views were amazing. But best to start off early morning when the weather is cooler. Well worth the time for the views and the opportunity to see more of Phuket, away from the bars and beaches.
Thanks to BT for the pics and information.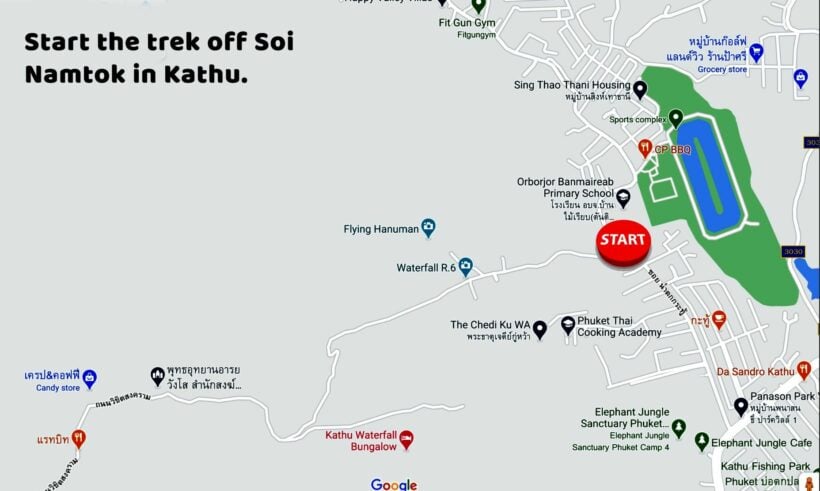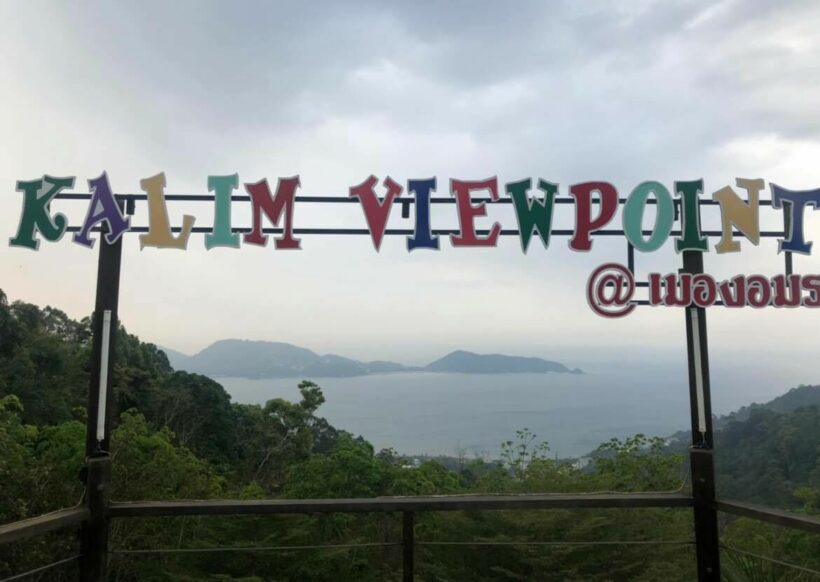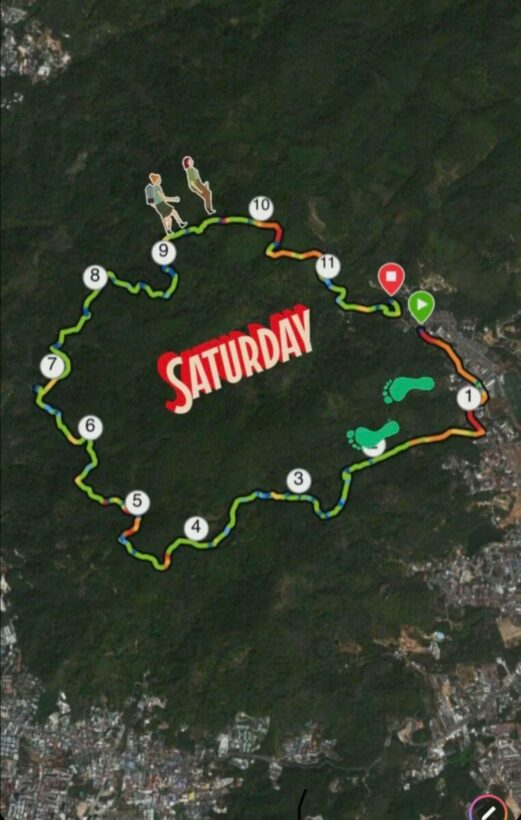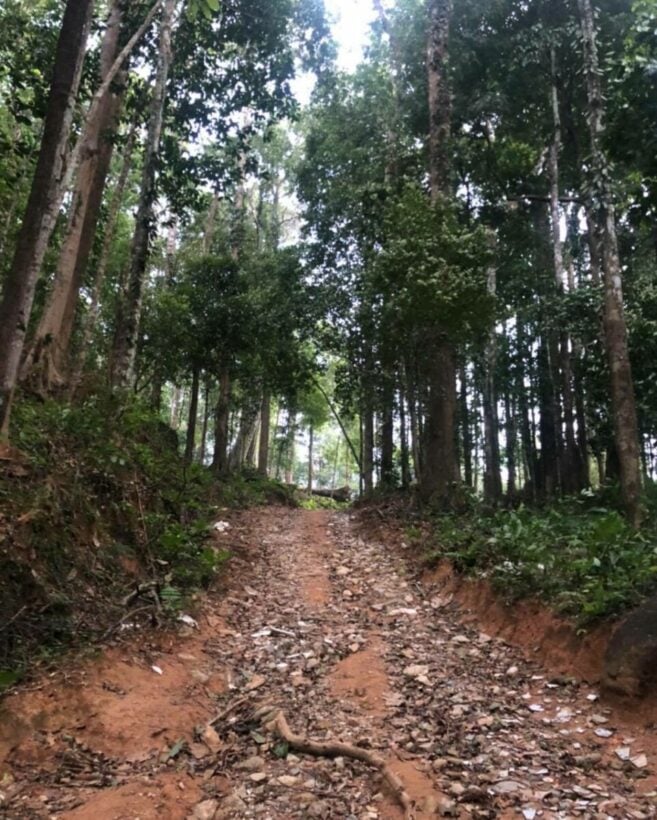 Keep in contact with The Thaiger by following our Facebook page.
Never miss out on future posts by following The Thaiger.
Police say Phuket school won't be charged for employing foreign teachers without a work permit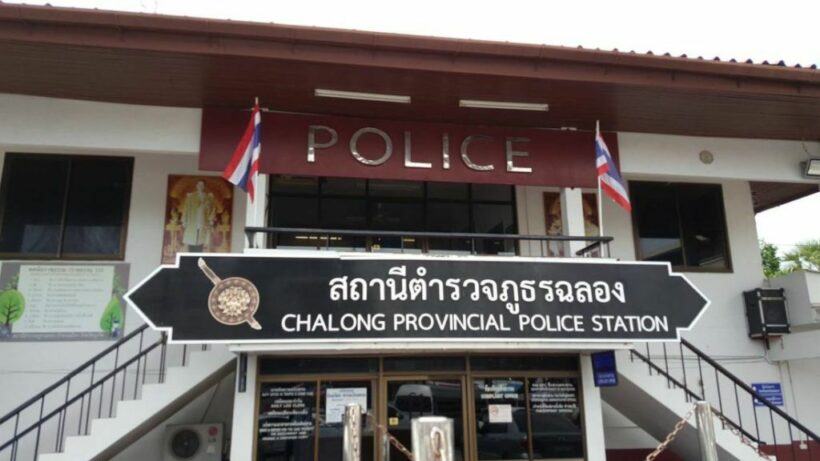 An international school in Phuket is not facing charges for employing foreign teachers without a work permit, police told the Phuket News. Back in November, 2 British nationals were arrested at the Palm House International School in Rawai in a raid by Phuket Immigration officers, acting on a tip that teachers were working at the school without a work permit.
The case was handed over to the Chalong Police. The department was also requested to investigate the school for suspected illegal hiring practices. When pressed by Phuket News reporters, the Chalong Police Chief Sarawut Chuprasit said the school officials are not facing any charges for employing the teachers illegally, without a work permit, and referred reporters to the provincial prosecutor.
"I have no reason to press any charge against the school at all. It is not right to accuse the school."
Many schools in Thailand, especially international schools, obtain work permits for foreign teachers and even pay the fees. It's also fairly common for foreign teachers to work without the proper documents, especially during the pandemic where travel restrictions make border runs nearly impossible.
Phuket News say police will not release the names of the 2 British teachers and will not give any additional information. They add that the provincial prosecutor's office will also not release information without a police case number or suspects' names. In a previous report, Phuket Immigration Deputy Chief also declined to identify the British nationals by name or age.
"Their visa status does not allow them to work or perform any form of business. They were arrested as they are suspected of working without a work permit."
SOURCE: Phuket News
Catch up with the latest daily "Thailand News Today" here on The Thaiger.
Keep in contact with The Thaiger by following our Facebook page.
Never miss out on future posts by following The Thaiger.
Phuket health chief urges "red zone" travellers to abide by quarantine measures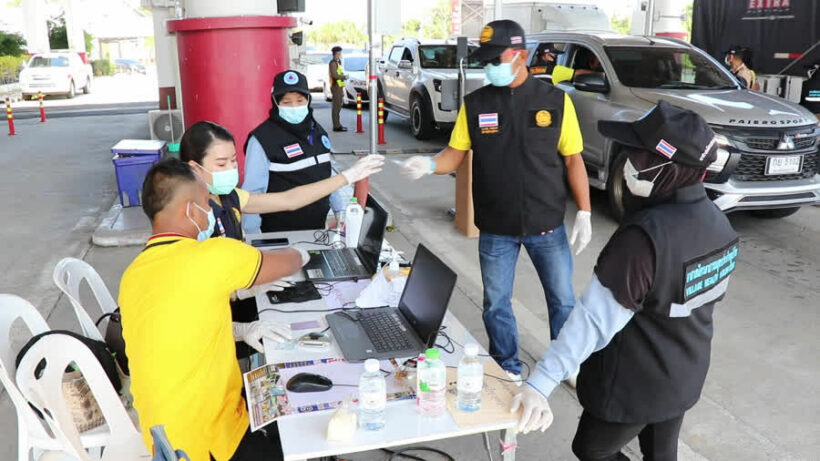 With Phuket's new disease control measures requiring those travelling from high risk areas to quarantine, the province's public health chief is now saying those at alternative state quarantine hotels won't be locked up in their rooms throughout their 14 day stay in isolation. He says guests can wander through certain areas of the hotel to have meals and do other activities.
Those travelling from "red zone" provinces are required to self-quarantine at a hotel or at their home for 14 days. People from areas classified as the "highest risk," including Samut Sakhon, Chonburi, Rayong, Chanthaburi and Trat, must quarantine and undergo a Covid-19 swab test.
The public health chief Thanit Sermkaew says there will be harsh penalties for anyone who violates the new measures and urges travellers to stay at their quarantine location, home or hotel, for 14 days. People who violate the order can be punished under the Disease Control Act, either under Section 51, which carries a fine up to 20,000 baht, or under Section 52, which carries up to a year in jail and a fine up to 100,000 baht.
"It would be great if visitors from the 'red zone' areas stay in their hotels, so we are asking for their cooperation. They do not need to stay only in their room. They are able to do activities within the hotel, such as having meals, swimming, yoga and other activities… Please do not go outside the hotel. That would be a good preventative measure in Phuket province."
Phuket Vice Governor Pichet Panaphong says hotels should "request" that their guests stay inside the hotel.
"Phuket officials have asked for the cooperation from operators to record the travel moments of guests before they arrived at the hotel and to request that their guests stay within the hotel area only, not to go outside of the hotel area."
People who completed quarantine in Bangkok and tested negative for Covid-19 do not need to quarantine in Phuket as long as they travel directly to the island immediately after being released.
SOURCE: Phuket News
Keep in contact with The Thaiger by following our Facebook page.
Never miss out on future posts by following The Thaiger.