Pattaya water drainage system construction completed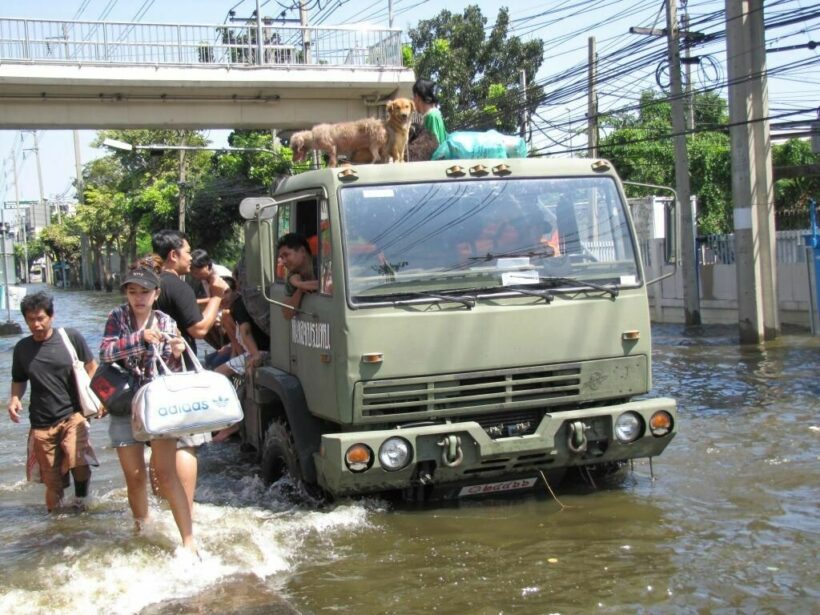 A major water drainage system construction project in Jomtien has been completed on schedule according to Pattaya City officials. The construction was needed to resolve frequent problems in the area with flooding by adding more water drainage pipes to the ocean while also widening the pipes already in place in the area. The project covered a lower area in town, from Rompho Market to the Dongtan curve on Jomtien Beach, which is easily flooded by heavy rains because the surrounding streets are higher.
The construction was declared officially finished yesterday by Pattaya City officials. All that remains is to repaint street markings and lane lines, which is scheduled in the near future. The project was expected to take 180 days and ground was broken on November 16. There were concerns the project would be delayed or slowed because of the Covid-19 pandemic, but the project was completed on schedule in less than the time predicted.
Flooding has been a major problem in Pattaya for years, with some roads under up to 80 cm of rainwater last October, and a 2-hour rainstorm caused flash floods that brought the area to a standstill last July. The increased drainage will hopefully help move water off the city streets and back into the ocean more quickly, bringing water levels down and minimizing heavy rain's impact on Pattaya residents.
Ten projects were tackled to deal with flooding issues around Pattaya and are expected to be finished by April 4, with a total cost of 280 million baht. New construction projects to lay underground cables amongst other building are scheduled to get underway in the near future but have drawn some criticism over being undertaken in quick succession.
The water drainage system just completed previously received criticism also from business owners and local residents, concerned that the construction would negatively affect their businesses and lives during a time when the pandemic had already destroyed much of the economy.
SOURCE: The Pattaya News
📱 Download our app on Android or iOS for instant updates on your mobile
📧 Subscribe to our daily email newsletter
👍 Like/Follow us on Facebook
🔔 Subscribe to or Join our YouTube channel for daily video updates
Killer pit bull attends victim's funeral to apologise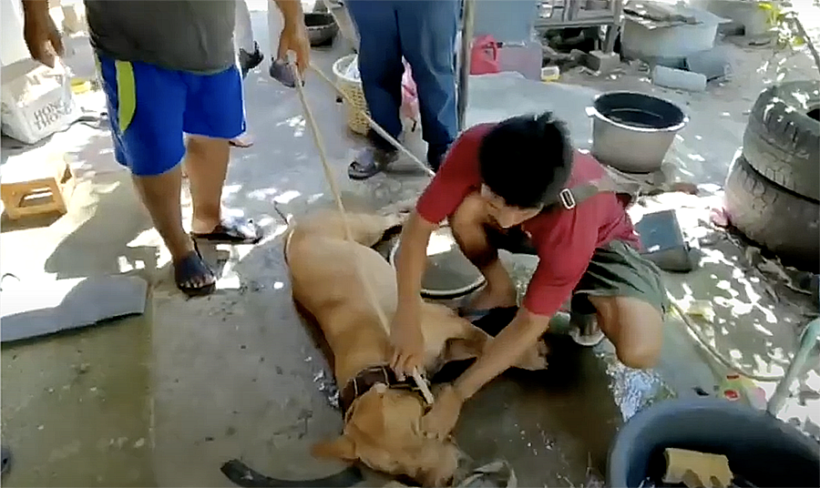 An unexpected guest was seen yesterday at the Bang Lamung, Pattaya funeral of the victim of a pit bull attack. Giant, the guilty dog, was brought to apologise by his new owner. The Thaiger has been following the tragic story of the 55 year old man who was sleeping next to his pet pit bull when his son witnessed the dog wake suddenly and attack its owner, taking a half hour to pull the poor man free.
The victim, Wisit Sanguan, suffered violent bites on his neck and body and died of blood loss and severe wounds the next day in the hospital. His cremation is scheduled at 4pm today in Bang Lamung.
Yesterday Suksa Ketnak, Giant's new owner, brought the pit bull to Wisit's funeral to pay respects and apologise. Giant was restrained with a protective muzzle to keep everyone safe. Following with Buddhist tradition, Suksa and Giant came to pray and 'apologise' to Wisit's spirit for the pit bull's attack and ask for forgiveness.
The Pattaya News reports that the grieving widow accepted the apology with the family saying they forgive Giant and still care for their former pet. Giant expressed love and recognition for the family, excited wagging his tail and letting relatives play and pet him.
After the attack that tragic day, the pit bull was still aggressive hours later and the Chon Buri Pit Bull Club took Giant into custody by sedating him. They announced later that a new owner with experience in troubled dogs had taken the pit bull in. The Pit Bull Club announced that they did not find any evidence of abuse or mistreatment.
Then the story escalated further as the grieving widow lashed out at overzealous internet commenters who posted accusations on social media defending pit bulls and blaming the family assuming they were abusive. She threatened legal action under Thailand's strict computer crime and defamation laws.
Hopefully, this funeral with a pit bull apology marks a peaceful ending to a tragic saga.
SOURCE: The Pattaya News
📱 Download our app on Android or iOS for instant updates on your mobile
📧 Subscribe to our daily email newsletter
👍 Like/Follow us on Facebook
🔔 Subscribe to or Join our YouTube channel for daily video updates
Police inspect Pattaya restaurants for compliance with alcohol sales ban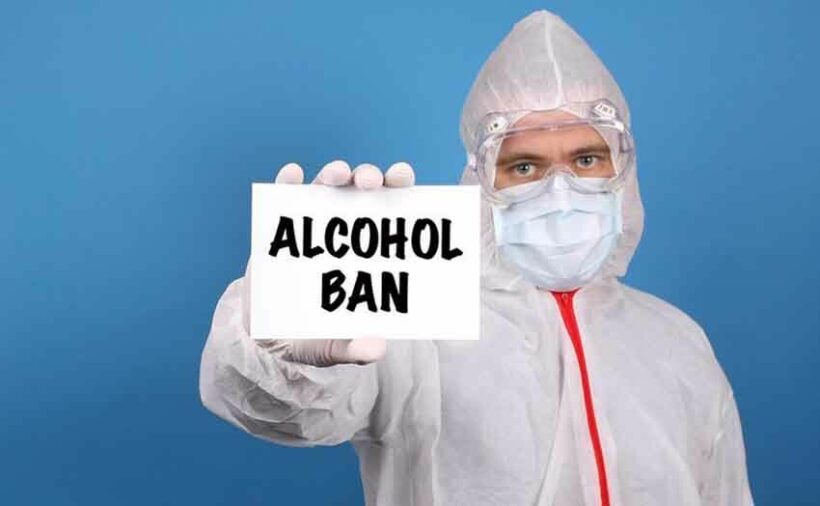 Police in Pattaya have carried out inspections at local restaurants to ensure a ban on alcohol sales is being adhered to. The prohibition is part of the latest Covid-19 restrictions aimed at controlling the spread of the virus. Officers from Banglamung police station, led by district chief, Wutthisak Singhadaechor, and police chief, Sakchai Suwannukun, have dropped in on multiple eateries to check they're complying with the law.
The Pattaya News reports that, while there is a ban on consuming alcohol while dining in restaurants, there are no restrictions on purchasing alcohol for takeaway purposes. The police also checked that other disease prevention measures were being adhered to, including the provision of hand sanitiser and temperature checks for all customers.
There is currently no end date to the latest order issued by the governor of Chon Buri, which is in force until further notice. Pattaya officials say further inspections of restaurants will continue, adding that any local residents troubled by violations of Covid-19 restrictions can report offenders by calling 1137.
The current restrictions have been implemented under the nationwide emergency decree, which gives the government sweeping powers and carries harsh penalties. Restaurant owners caught breaking the alcohol sales ban face fines of over 100,000 baht and/or several years' imprisonment.
SOURCE: The Pattaya News
📱 Download our app on Android or iOS for instant updates on your mobile
📧 Subscribe to our daily email newsletter
👍 Like/Follow us on Facebook
🔔 Subscribe to or Join our YouTube channel for daily video updates
Pattaya prepares for around 2,000 US soldiers to visit for Cobra Gold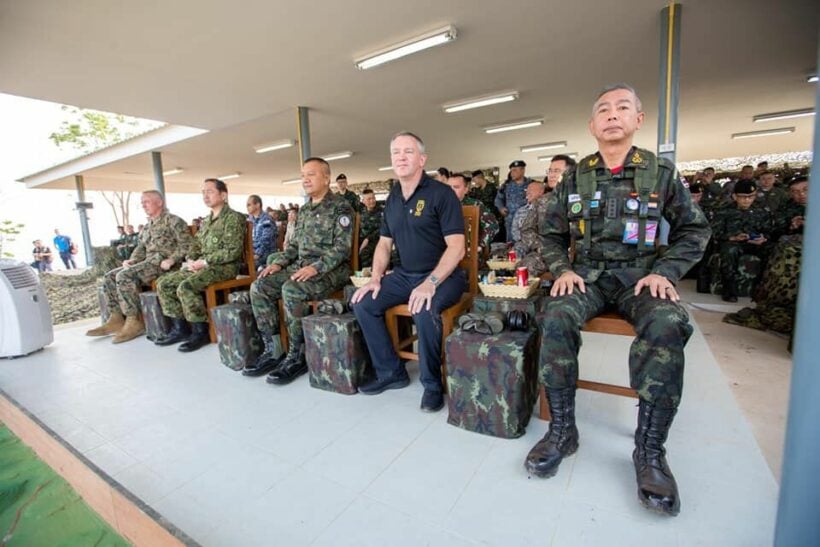 Despite Thailand's record high Covid-19 count, around 1,000 to 2,000 United States soldiers are still expected to travel to Thailand in August for the annual Cobra Gold multinational military exercise, which is co-sponsored by the US. Thai soldiers teach American and other foreign soldiers jungle survival skills, from identifying edible plants to decapitating snakes, drinking the blood, and then cooking up the bodies to eat.
During the Cobra Gold exercise, US troops will be visiting Pattaya for rest and recreation. US forces representatives based in Thailand met with Pattaya officials to discuss the preparations for the event as well as Covid-19 prevention measures and security, particularly at the Bali Hai boat landing in south Pattaya.
Local health officials will work to vaccinate 70% of the population in Bang Lamung district and Pattaya City by June. Foreign soldiers will need to have both doses of the Covid-19 vaccine before arriving in Thailand.
SOURCE: Bangkok Post
📱 Download our app on Android or iOS for instant updates on your mobile
📧 Subscribe to our daily email newsletter
👍 Like/Follow us on Facebook
🔔 Subscribe to or Join our YouTube channel for daily video updates