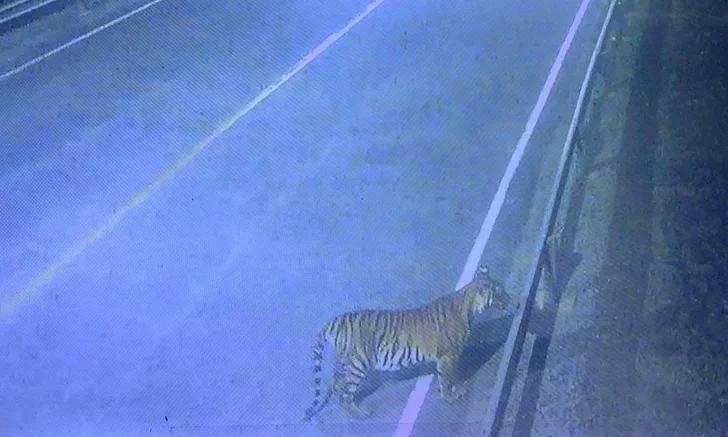 A large male tiger came out of the forest and was spotted roaming around Srinagarind Dam in Tha Kradan district of Kanchanaburi province, western Thailand, yesterday morning.
Tourists visiting the popular Srinagarind Dam and famous Erawan Waterfall are urged to beware of the tiger.
Four CCTV cameras caught footage of the big cat sauntering around the dam at around 2am. The tiger is believed to have wandered out from the Salak Phra Wildlife Sanctuary.
Srinagarind Dam Security Officers Chaowalit Utkujan and Pichit Mokkhakul spotted the tiger on CCTV cameras and went out to look for it. The officers caught a glimpse of the tiger before seeing it run down the stairs of the dam's power plant.
The officers urge the public not to go into the forest near this area and keep their eyes peeled for the cat in the Tha Kradan district.
The Mayor of the Erawan district, Kitthisit Thummas, posted a picture of the tiger on Facebook at 9am yesterday with a message urging locals and tourists to beware.
Staff from the global big cat conservation organisation "Panthera" are examining the CCTV footage to identify the exact species of tiger spotted.
The staff are examining the tiger's patterns to see whether the same cat has ever been registered. However, no match was found in the database. The tiger has therefore been labelled SLT0002M and entered into the system.
After examining footage from camera traps planted in the forest by Panthera, the staff believe the same cat has previously been captured roaming in the area of Ban Thung Na, Nong Ped subdistrict, Si Sawat district.
On another occasion, the animal was captured by cameras in the Salak Phra Wildlife Sanctuary.
The tiger's home is part of a huge area of forest which officials are preparing to declare a non-hunting zone.
The conservation area – covering 219,000 rai of land in Si Sawat and Bo Phloi district – is comprised of steep mountains and dense jungle home to millions of species of flora and fauna.
Last week, camera traps captured a rare clouded leopard wandering through the new wildlife safe haven.