SURVEY – Do the Tourism Authority of Thailand invent their statistics?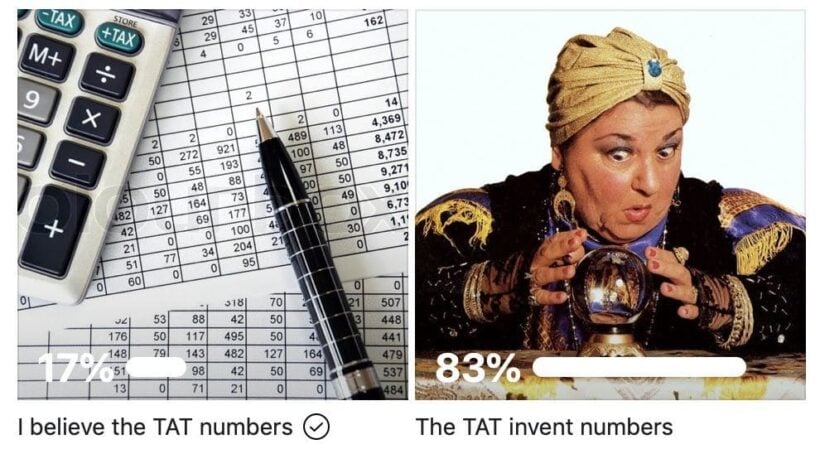 The internet has spoken, well The Thaiger's Facebook page anyway, and there is a strong distrust in the statistics about tourist arrivals issued by the Tourism Authority of Thailand.
83% of people that voted said they didn't believe the numbers quoted by the TAT. 17% believed the numbers were accurate.
The reasons for people's disbelief aren't fully understood as their objections come with plenty of vitriol and oozing subjective opinion. But the mood of the meeting is palatable and there is a large chunk of (mostly) foreigners who distrust the country's tourism ministry.
In the past six months the tourism ministry has posted figures showing declines in certain segments, mostly a huge drop in Chinese tourists – nearly 9% in both April and May with smaller drops earlier in the year. They've also posted figures showing a drop of European visitors although not to the same level as the Chinese traveller exodus.
So, will the 83% now insist the TAT are making up these recent numbers as well?
It should be mentioned that the TAT don't run around counting heads but get their figures from the Thai Ministry of Sports and Tourism which collate the statistics from the Immigration Department reports.
Here are some of the responses (edited)…
I don't think many people believe ANYTHING a government department announces. It's an insidious regime with NO transparency, riddled with nepotism, widely known for its subjective and targeted application of the law, deep seated corruption right to the very top and an alarming pact between the big 3. Without making a judgement, Thailand's record of democracy is shockingly poor, as is its record of human rights and ingrained xenophobia. Therefore, transparency, accountability, checks & balances, consultative processes and independently collated statistics are virtually non-existent. But it's a worthy conversation because it maintains the heat, even if it is only a minor irritant to those in power. – Chris B
They are sleeping in their holes. Only low budgeted quality tourist everywhere shopping 7/eleven lunch and dinner from Big C, that's it. – Mir A
We would be doing what we are accusing TAT of doing, 'Guessing' as we don't have any info to base our judgement on only a seat of the pants feeling. – Stephen H
It's becoming harder and harder to believe any official report in Thailand. (Police cant find prostitutes in Pattaya, ect.) Denial and fear of presenting lower numbers have caused problems in Thailand before. Don't know about tourism numbers but there is not much data for comparison. Jarkko R
Never believe anything TAT announces. – Pete B
Keep in contact with The Thaiger by following our
Facebook page
.
Never miss out on future posts by
following The Thaiger
.
Police threaten jail time for anyone taking selfies at protests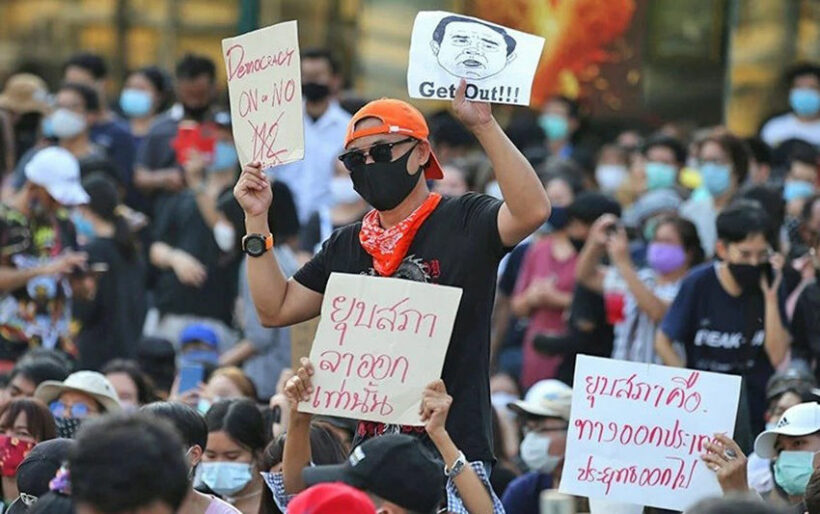 The State of Emergency recently imposed on Bangkok amid escalating political unrest carries some sweeping powers, some of them rather creative. According to a report in Coconuts, police are warning that anyone taking a selfie at anti-government protests is risking 2 years in jail and a fine of up to 40,000 baht. You'd have to really want that photo…
The emergency decree is being invoked in everything, from the arrests of protesters and their leaders, to the threat of restrictions being slapped on media outlets whose reporting is deemed unfavourable.
"We are under the severe state of emergency, which is a special law. We must hold this law seriously. Everything we do is under international standards."
Meanwhile, the latest clampdown has led to the arrest (and subsequent temporary release) of one doctor and the firing of another. After riot police in Bangkok used water cannons laced with chemicals to disperse a protest on Friday, around 400 Thai doctors called on officials to refrain from using such irritants against activists.
Jarosdao Rimpanichkit, a doctor at Bangkok's Mongkutwattana General Hospital, was promptly fired for having put his name to the letter. In a statement, the director of the military hospital, General Rientong Nanna, says the facility could not support employees who are, "allied with the king's enemies."
Meanwhile, another doctor, Tossaporn Serirak, has been released on bail after being arrested for violating the emergency decree. Tossaporn has become something of a hero figure to pro-democracy activists, after he began offering medical assistance at rallies and criticising officials for the tactics used against peaceful protesters.
SOURCE: Coconuts
Keep in contact with The Thaiger by following our
Facebook page
.
Never miss out on future posts by
following The Thaiger
.
First tourists in 7 months arrive in BKK today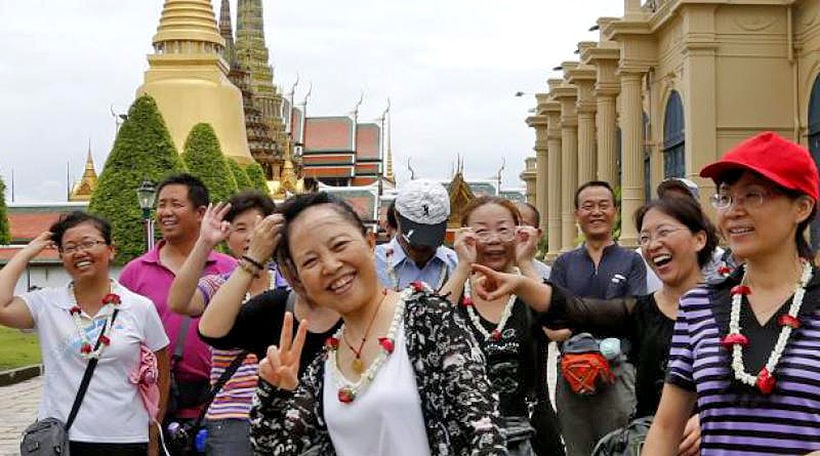 5pm today – that's the time the first groups of "tourists" will arrive at Bangkok's Suvarnabhumi Airport. The Minister of Tourism and Sports, Phiphat Ratchakitprakarn, announced the arrival of the first group of tourists to arrive in the Kingdom since borders where locked in March. He said they wouldn't needn't worry about the political unrest currently rocking the capital, pointing out that the protests are peaceful.
The tourists departing from Shanghai, China and arriving in Bangkok's Suvarnabhumi Airport (BKK) will only be in Thailand for 30 days, Tourism Authority of Thailand Governor Yuthasak Supasorn says.
They'll spend half that time locked up in quarantine for 14 days. Today's flight today is reported to include 41 people who have applied for their visa through the new STV, Special Tourist Visa.
Phiphat says that in total, 400 international tourists, primarily Chinese, will arrive in Thailand by early November. All will be tested and whisked off for 14 day quarantine on arrival, in addition to having to endure copious amounts of paperwork before they even get here.
A plan to admit Chinese tourists earlier this month hit a small snag when it emerged not a single one had applied for the government's newly-launched Special Tourist Visa.
The tourism minister says the first group to arrive are doing so as part of a "conditional entry" program and are arriving from a region in China that "has been free of the Covid-19 virus for several months now". It's understood the visitors have been specially chosen and approved for entry by the Centre for Covid-19 Situation Administration.
Additional tourists are expected to arrive on October 26, when another group lands in Phuket. The later arrival in Phuket was to coincide with the end of this years Vegetarian Festival celebrations.
Phiphat says the October 26 arrivals are also coming from "very low risk" areas.
SOURCE: The Pattaya News
Keep in contact with The Thaiger by following our
Facebook page
.
Never miss out on future posts by
following The Thaiger
.
Police deny plans to restrict online access, as media groups issue warning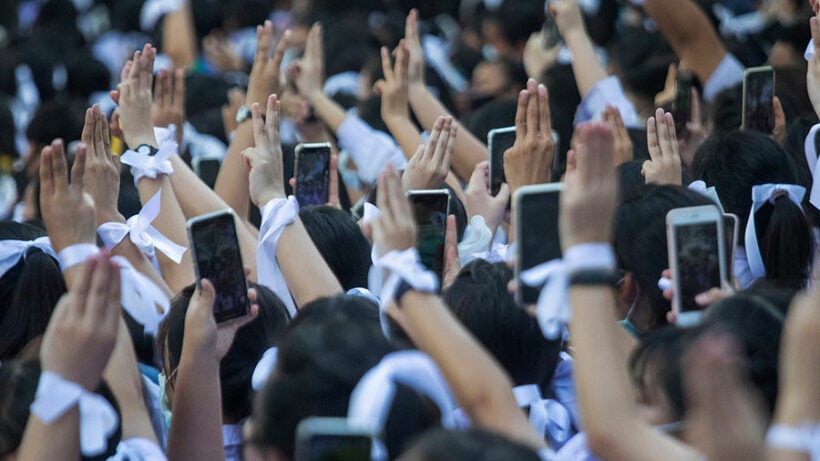 Thai police have confirmed the legitimacy of a document released by the Free Youth group, which reveals that their Facebook page was targeted by authorities for allegedly spreading disinformation and inciting civil unrest, in breach of the State of Emergency, enacted last Thursday morning.
The Free Youth group have now moved to "Telegram", a popular messaging and telephony app, after their Facebook page became the subject of scrutiny. However, rumours abound that the government is planning to block access to Telegram, as more activists adopt it as a communication tool. Telegram messages are encrypted and impossible to track.
Meanwhile, several media groups have warned the government not to further infringe on press freedoms, after a leaked order from the government's Centre for the Resolution of Emergency Situation revealed that some news outlets may be in the firing line. The CRES order accuses 5 media outlets of allegedly breaching the State of Emergency and is threatening to remove offending content.
"As it appears there are television broadcasts of contents deemed to threaten national security or good morals by presenting certain contents from Voice TV, Prachatai.com, The Reporters, The Standard, and Free Youth movement, the national police chief, who is in charge of resolving the serious emergency situation thus orders the National Broadcasting and Telecommunications Commission and the Digital Economy and Society Ministry to examine and suspend the broadcast or delete those contents from the computer system in line with their authority and responsibility."
Local media groups have come out in opposition to the threats, calling on the government to respect the freedom of the press and warning that an attempt to restrict access to information will only serve to worsen anti-government sentiment. In their statement, they also call on all media groups to ensure reporting is fair and accurate and does not incite violence or twist the facts.
Academics from the faculty of journalism and mass communications at Thammasat University, have also issued a statement in which they say citizens have a right to access information and the government should refrain from interfering with the media.
Meanwhile, the Foreign Correspondents' Club of Thailand has also strayed into the exchange, expressing concern over the latest development, which it says, "makes the government appear heavy-handed and unresponsive to criticism, and could stir up even more public anger. Bona fide journalists should be allowed to report important developments without the threat of bans, suspensions, censorship or prosecution hanging over them."
Assistant national police chief Jaruwat Wisaya says police did refer a number of social media accounts and media outlets to the National Broadcasting and Telecommunications Commission and the Digital Economy and Society Ministry. Jaruwat says officers needed to know if some protesters' social media accounts, as well as a number of media outlets, were violating the emergency decree.
Jaruwat adds that normal procedures still apply, and police would need to apply for a court order before any suspension of offending media channels could take place. He says a committee formed under the emergency decree will monitor news and information and inform police if action needs to be taken. Meanwhile, the Digital Economy and Society Minister, Buddhipongse Punnakanta, points out that none of the offending media outlets mentioned have been banned.
"Initially the NBTC or agencies concerned will ask them over for talks and urge them to be careful. But the messages (deemed inappropriate and still on the website) should be deleted."
SOURCE: Nation Thailand | Bangkok Post
Keep in contact with The Thaiger by following our
Facebook page
.
Never miss out on future posts by
following The Thaiger
.