Millions headed home for holiday long weekend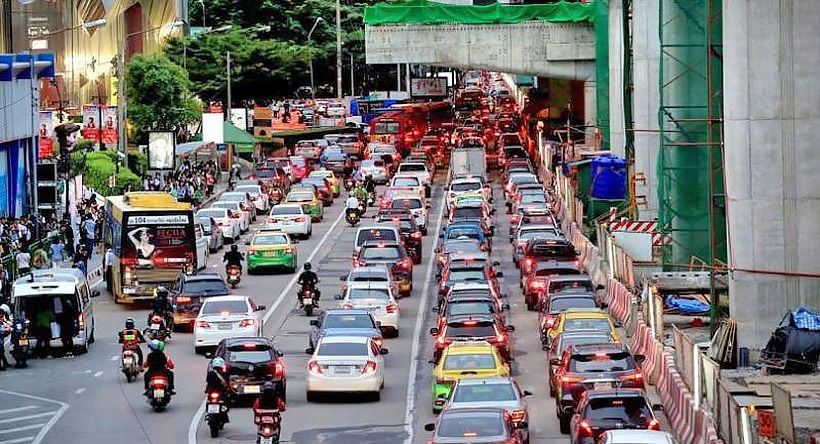 The Transport Ministry says more than 2 million people used public transport on Friday, leading up to the Asahna Bucha Day and Buddhist Lent holiday weekend, to travel to their provincial homes. Some headed for a short domestic holiday. Asahna Bucha Day is today, while tomorrow marks the beginning Buddhist Lent. Because both fall on the weekend, Monday is a public holiday.
The permanent secretary for transport says some 2,272,275 people boarded public transport on Friday, about 8% more than predicted. In terms of private cars, 2,684,726 vehicles either entered or left Bangkok, about 16% lower than expected. He says there were 54 traffic incidents on Friday and yesterday, with 9 deaths and 47 injured. Many of the incidents, 40%, involved pickup trucks. He says the most common cause, at around 60%, was speeding.
Considering the large numbers using public transport services, the secretary said he's instructed state agencies to strictly enforce health and safety measures minimise the risk of Covid-19 contagion. Transport personnel and passengers are required to maintain physical distancing in terminals and buses, have their body temperature checked, wear a face mask and use the Thai Chana app to check in and out of terminals.
The chief of Khao Yai National Park in Isaan's Nakhon Ratchasima says the number of visitors has increased since it reopened on July 1, following months of closure due to Covid-19… more than 3,000 holidaymakers have logged their entry via the QueQ app so far.
Overall, he says, visitors have cooperated by having their temperature checked and using Thai Chana app, but the most common problem is that visitors tend to take off their facemasks upon entry, prompting officials to issue warnings.
He told the press speed cameras have been installed around the park to help prevent animals being hit by cars.
The number of visitors to popular tourist spots in the park is still being limited to prevent overcrowding amid Covid-19 fears. These spots include the Khao Yai visitor centre, Haew Suwat waterfall, Lam Ta Khong campground, and Pha Kluai Mai campground and waterfall, as well as Haew Narok waterfall.
SOURCE: Bangkok Post | mcot.net
Keep in contact with The Thaiger by following our Facebook page.
Never miss out on future posts by following The Thaiger.
Head of army band shot dead at military base in north-east Thailand – VIDEO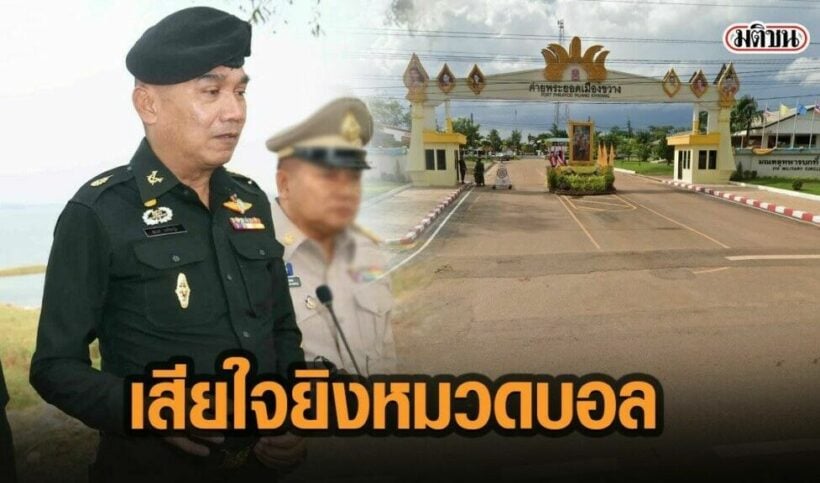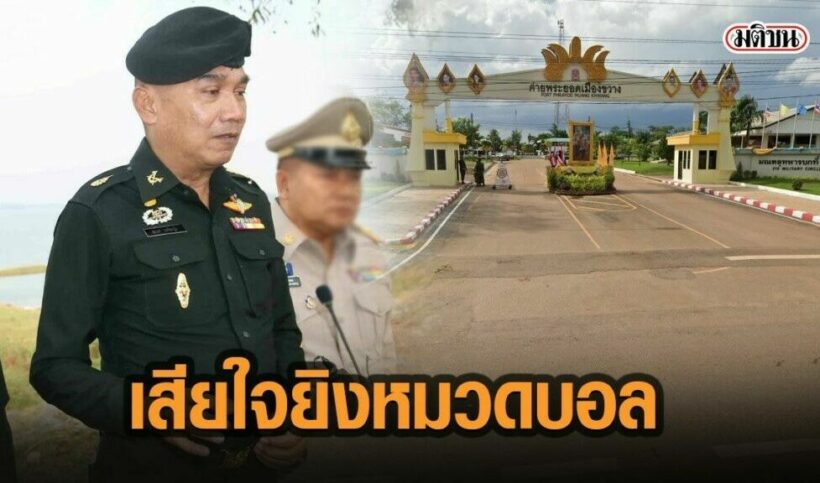 An army band leader has been shot dead at a military camp in the north-eastern province of Nakhon Phanom, with police launching a murder investigation. 34 year old Rungchalerm Pansawasdi was shot 3 times in the head and neck, at the Phra Yod Muang Kwang army base on Wednesday evening. He had just returned from having dinner with his wife, who had dropped him off and driven away.
Rungchalerm was getting on a motorbike when a man approached and shot him at point-blank range before running off. According to a Bangkok Post report, the victim was rushed to Nakhon Phanom Hospital but died a short while later.
Army commander Samart Jintasamit says the perpetrator is likely to be from the army base, adding that the gunman may have been following Rungchalerm for some time and may also have had someone else acting as a lookout. Samart says the gunman appeared to know that the back of the camp is currently being re-fenced, saying he could have escaped that way.
The police, who were at the camp the following afternoon to collect evidence, are working on the case with the help of the military. It's understood the victim had recently requested a transfer due to conflict with a colleague. An autopsy is being carried out at Srinagarind Hospital, in the north-eastern province of Khon Kaen.
SOURCE: Bangkok Post
Keep in contact with The Thaiger by following our Facebook page.
Never miss out on future posts by following The Thaiger.
Thai Public Health Ministry starts cannabis cultivation project in Buri Ram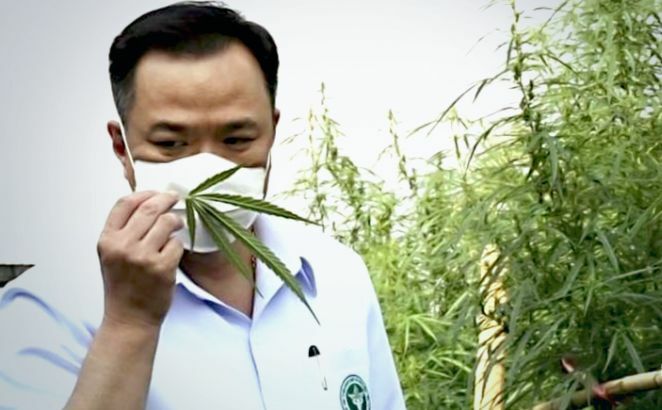 A cannabis cultivation project is being launched by Thailand's Public Health Ministry in the Isaan province Buri Ram. 6 cannabis plants will be given to each member of the local Non Malai Community Enterprise as a pilot project on commercial cultivation of cannabis, according to the director of the ministry's cannabis research group, Kitti Losuwannarak.
Cannabis flowers and buds will be sent to the Khu Muang Hospital in the province. Other parts of the plant will be processed as health products, according to Nation Thailand. Thailand recently removed parts of the cannabis plant with low levels of the psychoactive component tetrahydrocannabinol, aka THC, from the narcotic's list. Parts of the plant with high levels of THC, like the buds, are still classified as a Category 5 drug under Thailand's Narcotics Act.
Since the declassification of of cannabis leaves and stems with low levels of THC, a cannabis cafe opened up in Prachin Buri, east of Bangkok, serving dishes with cannabis leaves. A Bangkok dessert shop also announced it is adding cannabis leaves to their pandan and coconut pancakes.
SOURCE: Nation Thailand
Keep in contact with The Thaiger by following our Facebook page.
Never miss out on future posts by following The Thaiger.
Man arrested in northeast Thailand, accused of producing fake bank notes
Police in the north-eastern province of Si Sa Ket have arrested a 37 old man accused of producing counterfeit currency. Phichaphob Phankham was detained at a property in the Nong Phai district as part of an investigation into a trail of fake 100 baht notes in circulation in Si Sa Ket and neighbouring provinces. Police say his arrest follows the capture of 2 other suspects earlier this week.
"Earlier on Wednesday, we had arrested 2 suspects for using counterfeit bills at top-up kiosks in Si Sa Ket and seized over 300 fake bills."
Nation Thailand reports that during Phichaphob's arrest, police found a photocopier with 3 real 100 baht bills inside, as well as 45 fake 100 baht bills, a paper cutter, and packs of photocopier paper. The suspect has confessed to producing fake 100 baht bills, saying he would use them at phone top-up kiosks in Si Sa Ket and the neighbouring provinces of Surin and Yasothon.
It's understood the accused has only just come out of prison, having been released on December 25. He has confessed to producing the counterfeit currency since January 24. He has been charged with making and using fake currency, which carries a penalty of anything from 10 years to life in prison and fines of between 20,000 and 40,000 baht.
SOURCE: Nation Thailand
Keep in contact with The Thaiger by following our Facebook page.
Never miss out on future posts by following The Thaiger.