Nation Multimedia Group aims to counter tech 'disruption'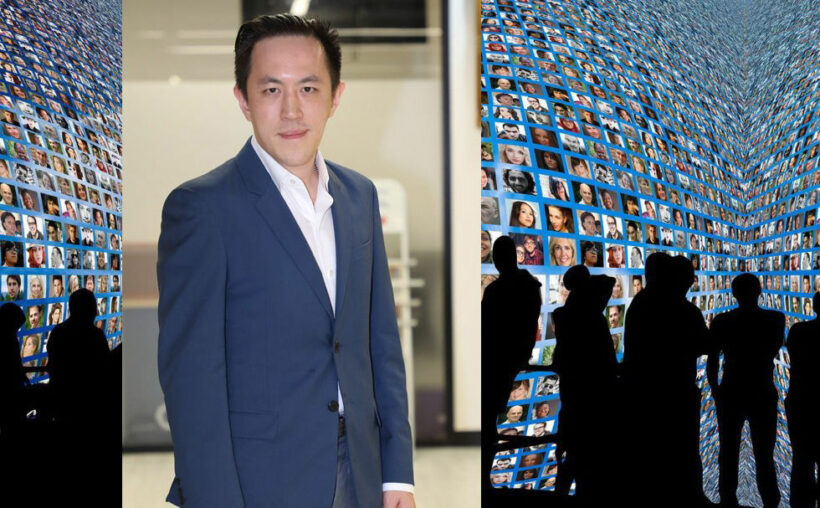 PHOTO: NMG group chief, Shine Bunnag
Thailand's media giant Nation Multimedia Group say they are poised to ride the new "digital wave" to tide over the industry disruption brought about by technology, group chief Shine Bunnag said while outlining his vision.
Shine, who is chairman of NMG's executive committee, said in an interview with Krungthep Turakij newspaper that with the disruption caused by technology, media was one of the first businesses to be severely impacted as people increasingly became consumers of online media.
"This resulted in advertising revenue moving away from traditional media, such as newspaper, radio, or even television which became a victim of intense competition due to the high number of channels and the battle for eyeballs with the digital media."
"We will fully penetrate the potential of digital media, which will be our major cash-cow business to generate revenue for the group over the next 10 years and make up for the slide in revenue of traditional media," he said.
Shine says that he aims to increase the revenue contribution from digital media from 15% at present to 25% in the next two years through two newly established business units – 'Digital' and 'Digital Intelligent'.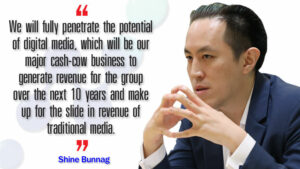 "The new Digital business unit will combine all online platforms of the group under one roof so that we can synergise our strengths. We found that today our online media have combined page views of about 10 million a day, which is one of the highest in Thailand's media industry."
"Our online platforms, however, plan to increase the number of page views to about 20 million a day within the first six months of establishing the new business unit, which will kick-off in September."
Shine said that 10 million page views is the group's database and the "new crude oil", which is a high-value asset and the group's community will create more value addition.
"We will follow the behaviour of these 10 million viewers in the digital world for who they are, and what their preferred interests are. Such valuable data will be used for our content production as well as ad sales, which will directly target the consumers, which are currently fragmented."
"That is the duty of the new Digital Intelligent business unit, most of whose staff have been recruited from the technology field."
Shine said the group's change in direction has been necessitated by the digital game and the media disruption.
"It will be goal of the digital media to generate sustainable revenues and to promote credibility, which is the heart of the media business."
"I want our ad buyers to be able to measure their ad campaigns banking on our media. Our media people will also work independently and not worry about the impact of their written work on revenue," he said.
Shine said advertising revenue from the group's television business will be flat or slow down, as younger consumers aged below 30 watch less TV and spend more time with alternative media to view their preferred content, such as re-runs of soap operas and variety programs.
"The golden age of the television business is over, similar to print media."
SOURCE: The Nation
Keep in contact with The Thaiger by following our
Facebook page
.
"Come and see" – Ministry invites diplomats to see coconut-picking monkeys in action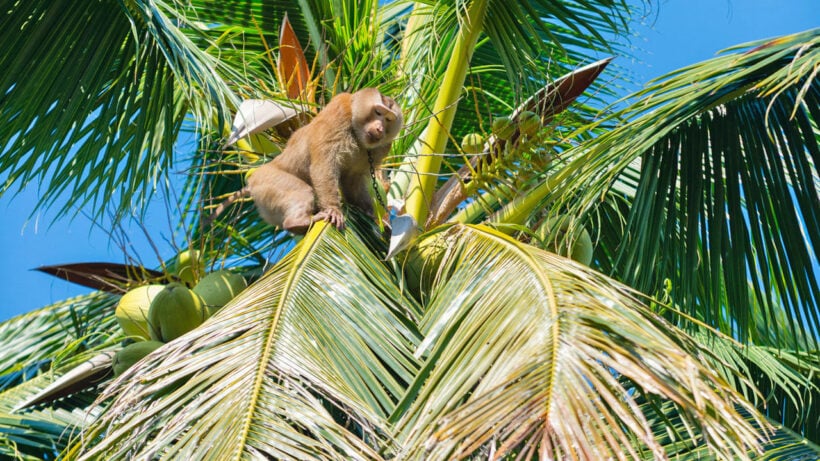 The monkeys, and the Thai government, are hitting back at accusations macaque monkeys are being exploited, even abused, and forced to pick coconuts for commercial farmers. Some larger western retailers say they're going to pull Thai coconut products off their shelves after being lobbied by animal rights activist that the coconuts were picked by abused and over-worked macaque monkeys.
The Thai Commerce Ministry, coconut farmers and the "monkey school" trainers are dismissing reports, and a dramatic video from PETA (People for the Ethical Treatment of Animal), that the coconut-picking monkeys are maltreated. So they're organising a tour for foreign diplomats and the media to see the monkeys at work and decide for themselves.
The permanent secretary for commerce, responding to the reports, says the monkey owners don't abuse or exploit the animals which have been "humanely trained" to pick coconuts. He has instructed attaches in foreign Thai embassies to provide an explanation to retailers in other countries who have expressed concerns and even instigated boycotts.
"The ministry is ready to invite foreign diplomats to visit coconut plantations and see how the monkeys pick coconuts so they will realise this is not animal cruelty."
The Bangkok Post reports that Pramual Pongthawaradej, a Demo­crat Party MP for Prachuap Khiri Khan province, the Chair of a House subcommittee tackling falling coconut prices, says they've approached owners of coconut milk plants to justify their practices to PETA. They've also asked the Department of Agriculture to provide details regarding the use of monkeys to pick coconuts.
A video from Touronthai shows an operating monkey-school posted 4 years ago…
But Somjai Saekow, an owner of a monkey school which trains macaques in Surat Thani, says… "the practice of capturing monkeys from the wild to pick coconuts ceased a long time ago".
"Currently, monkeys are bred and raised before being trained. They are not forced to pick 1,000 coconuts from trees everyday, and they don't work every day.
"Coconut-picking monkeys are mostly males and their abilities vary. The owner of the monkey receives 2 baht per a coconut picked."
"Foreigners may not understand our livelihood. Also, humans are not built to climb up a coconut tree to pick fruit. They will be at risk, compared to monkeys which have the natural ability to do so."
An owner of monkeys in Surat Thani, denied the claims of poor treatment or abuse of the coconut-picking monkeys.
"There is no cruelty. Actually, they are looked after well. They are fed well with rice, milk, and fruit three times a day. They are treated like family members."
PETA claims pigtailed macaques in Thailand were treated like "coconut-picking machines".
"Following PETA's investigation, more than 15,000 stores will no longer purchase these brands' products, with the majority also no longer buying any coconut products sourced from Thailand monkey labour."
PETA said it had found 8 farms around Thailand where monkeys had been forced to pick coconuts for commercial export.
"Male monkeys are able to pick up to 1,000 coconuts a day."
"Other coconut-growing regions, including Brazil, Colombia and Hawaii, harvest coconuts using humane methods such as tractor-mounted hydraulic elevators, willing human tree-climbers, rope or platform systems, or ladders, or they plant dwarf coconut trees."
"PETA went further by calling on "decent people never to support the use of monkey labour by shunning coconut products from Thailand".
SOURCE: Bangkok Post
Keep in contact with The Thaiger by following our
Facebook page
.
PETA reveals 'abused' monkeys used to pick coconuts in Thailand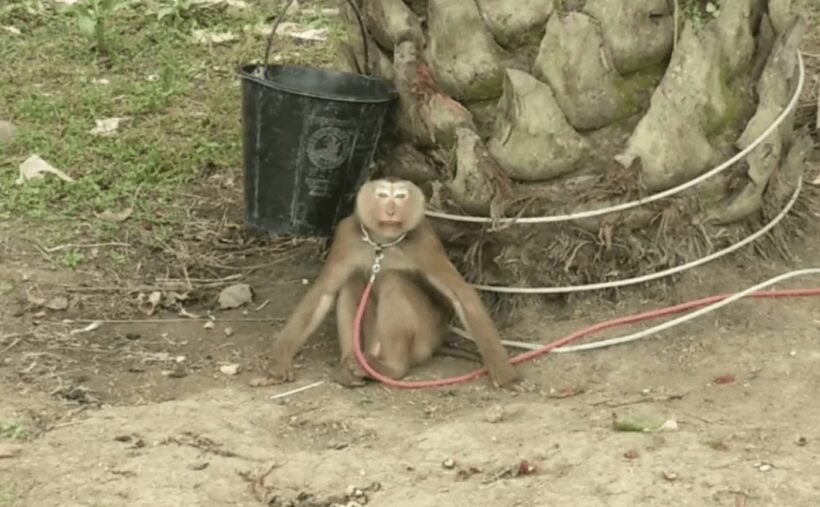 A boycott is in full swing amongst western retailers to pull Thai coconut products off their shelves following allegations that the coconuts have been picked by monkeys who were 'abused' to learn how to pick coconuts. People for the Ethical Treatment of Animals director, Elisa Allen, claims the macaque monkeys are "snatched from the wild" and cruelly trained to climb up coconut trees and pick up to 1,000 coconuts a day.
"These curious, highly intelligent animals are denied psychological stimulation, companionship, freedom, and everything else that would make their lives worth living, all so that they can be used to gather coconuts."
PETA says that the Thai pigtailed macaques are treated like "coconut-picking machines". A new investigation into Thailand's coconut industry reveals the monkeys are confined to cramped cages, chained, and forced to work. PETA reports that the monkeys are used by commercial farms that supply 2 of Thailand's best-known coconut milk brands, Aroy-D and Chaokoh. Both brands are exported EU countries and the US.
In the UK, Waitrose, Ocado, Co-op and Boots have now announced they will stop selling some coconut products from Thailand. A spokesperson for Tesco told the BBC… "Our own-brand coconut milk and coconut water does not use monkey labour in its production and we don't sell any of the branded products identified by PETA".
"Following PETA's Asia's investigation, more than 15,000 stores will no longer purchase these brands' products, with the majority also no longer buying any coconut products sourced from Thailand monkey labour."
PETA has shared a video narrated by Downton Abbey star Peter Egan. According to PETA, the video shows 'monkeys pacing and circling endlessly on chains… confined to cramped cages with no shelter from the rain… forced to climb trees and pick coconuts for milk sold by major brands'.
PETE claims it had found 8 farms in Thailand where monkeys were forced to pick coconuts for export around the world. Male monkeys can pick up to 1,000 coconuts in a day. It's thought that a human can pick about 80.
"Other coconut-growing regions, including Brazil, Colombia and Hawaii, harvest coconuts using humane methods such as tractor-mounted hydraulic elevators, willing human tree-climbers, rope or platform systems, or ladders, or they plant dwarf coconut trees."
The group said it has uncovered "monkey schools", where the macaque species monkeys are trained to pick coconuts, fruit, as well as ride bikes or play basketball for the entertainment of tourists.
"The animals at these facilities, many of whom are illegally captured as babies, displayed stereotypic behaviour indicative of extreme stress."
Keep in contact with The Thaiger by following our
Facebook page
.
Prohibition activist criticises unequal enforcement of Thai alcohol laws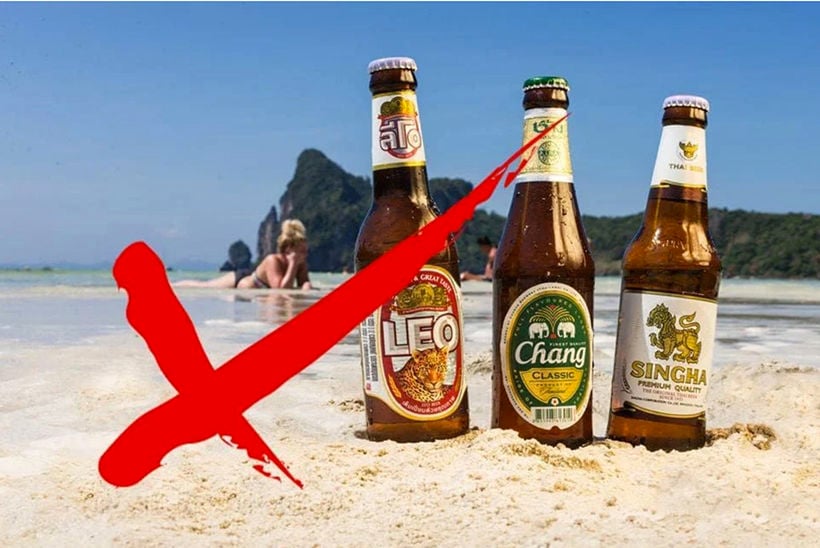 The head of the prohibitionist Alcohol Watch Network is criticising the Office of Alcohol Beverage Control and police for looking the other way after ML Piyapas Bhirombhakdi posted a photo of herself showing off a branded bottle of an alcoholic drink on her Instagram profile (the picture has since been deleted). Piyapas is not only a great-granddaughter of HRH Prince Nares Varariddhi, a son of HM King Rama IV, but is the wife of Chutinant Bhirombhakdi, an heir to the Boon Rawd Brewery fortune and executive vice president of Singha Corp. Her post showed her holding a new Boon Rawd product.
Kamron Choodecha argues that the bottle and brand were clearly visible and, given that Piyapas has a vested interest in Boon Rawd's sales, her post must be construed as sales or marketing, violating the Alcohol Beverage Control Act, which prohibits any sort of alcohol marketing online. He claims the fact she has not been fined, even as police extract hundreds of thousands of baht in fines from ordinary people posting harmless photos of themselves enjoying alcoholic beverages, shows the inequality in Thai society and the privilege elites are given when it comes to the law.
Others may argue, however, that the hypocrisy of the incident illustrates only how ludicrous the law is. Sporadically enforced over the years, the law again made headlines this year when foreign-managed alcohol distributor Beervana was fined 50,000 baht for an online post describing one of its products as "refreshing," which contravened a ban on adjectives in marketing copy.
In the days that followed reports surfaced across the country of the OABC and police summoning people and slapping them with huge fines for posts that had no connection to sales or marketing.
Most recently, a young woman in Thailand's South was fined 17,000 baht for posting a photo of a beer she liked to a beer fan page. The page owner was so outraged that he paid 5,000 baht of the fine and met face to face with regulators to protest the law.
Even Kamron, an anti-alcohol zealot, admits that the law is being misused by police and authorities. He says simply using the word "beer" or posting photos of bottles or glasses does not break the law, as long as brands are not shown. He believes the law's intent is only to prevent advertising of alcoholic beverages on conventional and social media platforms. He argues that if the poster had no commercial intent, no one should be fined.
"But if authorities are going to strictly interpret the law, distant royal relatives or any other elite member of society should be punished equally."
By the way there is an alcohol ban on for the next two days.
2 Buddhist holidays, Asahna Bucha Day and the start of Buddhist Lent, fall this weekend, and as a result the government has added Monday, July 6, as a national holiday. There will be an alcohol ban on the Sunday (July 5) and Monday (July 6). No alcohol will be sold or served on these days.
Keep in contact with The Thaiger by following our
Facebook page
.