Roadtrippers take a break at petrol station only to find dead body under car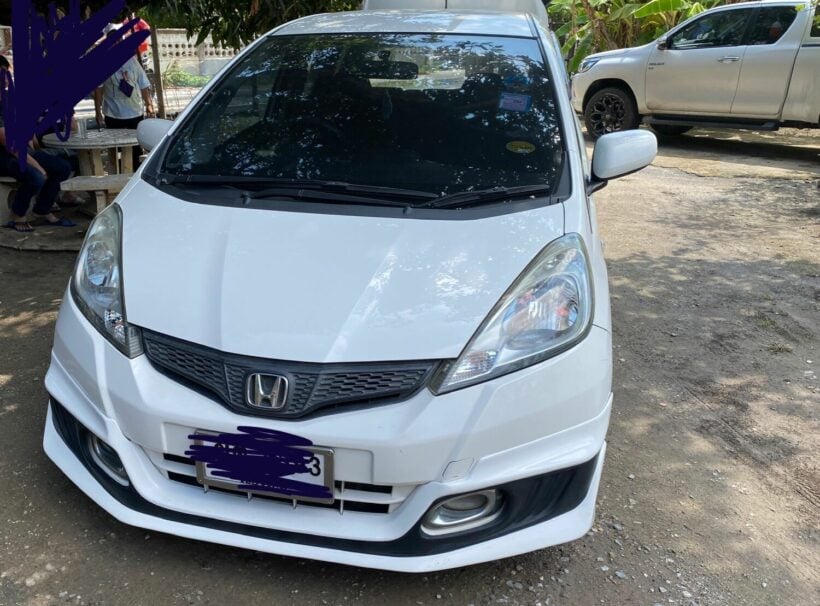 A group of holiday road trippers from Pathum Thani got a horrifying surprise after finding a partial human body underneath one of their cars. The group was on their way to Koh Chang when they stopped at a petrol station this morning in the eastern province of Khao Saming.
The 10 holidaymakers reported the discovery at Sawang Sawai PTT petrol station at 6:30am. Police and rescue workers say the body was trapped under a Honda Jazz. They say there was no damage to the car as it appeared the car did not have an accident.
The driver of the car says he and 9 of his friends were travelling together in 4 cars, when they stopped at the petrol station to take a break. It was then that one of his friends noticed what looked like a body of some sort beneath his car. Media reports say there was an arm, legs, and torso found under the car, but no head.
The driver says they thought the body was a dead animal carcass and slowly backed up the car, only to find a partial human body. About 3 to 4 kilometres earlier, he said they all saw what they thought was a dog carcass on the road, but it was dark and could not clearly see what it was.
Their accounts stack up to what Swang Boonchuay rescue foundation confirmed as it arrived a couple of hours earlier to the scene of an accident in Chanthaburi province. Their search turned up nothing but then the team went out again a bit later and found human body parts scattered along Sukhumvit Road.
Police say they will examine the driver's car while he is on holiday in which he will return afterwards to collect it.
SOURCE: Bangkok Post
📱 Download our app on Android or iOS for instant updates on your mobile
📧 Subscribe to our daily email newsletter
👍 Like/Follow us on Facebook
🔔 Subscribe to or Join our YouTube channel for daily video updates
Officials investigating woman's alleged attempt to sell national parkland for 350 million baht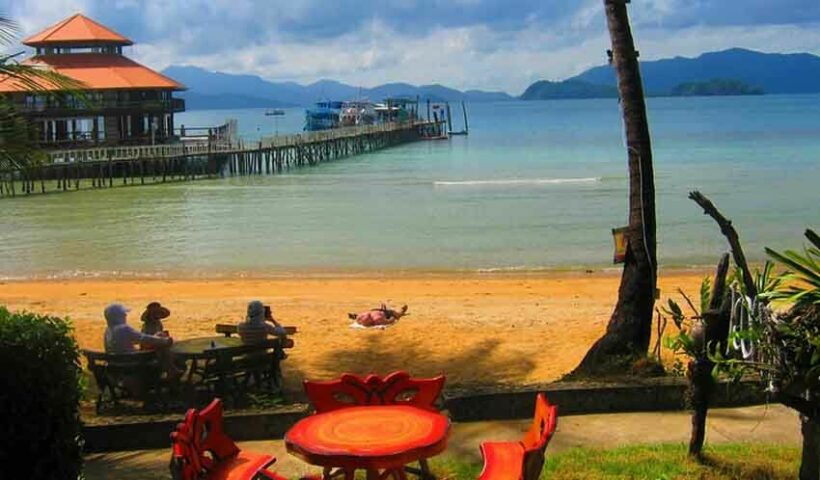 Officials in eastern Thailand are investigating a Facebook post in which a woman allegedly attempted to sell 298 rai of national parkland. According to a Bangkok Post report, the land is located on Koh Wai, part of the Mu Koh Chang Marine National Park, in the eastern province of Trat. Damras Phoprasit from the Department of National Parks, Wildlife and Plant Conservation says officials were alerted to a Facebook post advertising the huge piece of land for sale for 350 million baht.
"The department has checked the total amount of land on Koh Wai island, and we found it is impossible for anyone to own 298 rai plots in the national park. We now know the identity of the person who posted this and we will launch an investigation."
The island is around 932 rai in total and was declared part of the Koh Chang marine park in 1982. At the time, 3 local fishermen were awarded small sections of land as they had lived on the island for decades before it attained national marine park status. However, Damras says that the vast majority of the island is still state land.
"We will investigate this and take legal action against anyone who is found to have encroached on park land."
It's understood the land was advertised for sale by a woman named as Minky Arisara. In a Facebook post, she colourfully described the island as, "the Maldives of the east," adding that her family owned 298 rai of it. The Bangkok Post reports that some time later, she edited her post, apologising for having provided in accurate information.
"We only have a small piece of land on this island which we use to make a living. I am so sorry I did not check the information – I did not think anyone would be interested."
Meanwhile, a source familiar with the island says there are 2 resorts on Koh Wai currently trying to sell their land, adding that the properties are not breaking the law as they can show they hold the title deeds. It's understood they bought their land from villagers on the island around 30 years ago, prior to it becoming a national park.
SOURCE: Bangkok Post
📱 Download our app on Android or iOS for instant updates on your mobile
📧 Subscribe to our daily email newsletter
👍 Like/Follow us on Facebook
🔔 Subscribe to or Join our YouTube channel for daily video updates
Pedigree cats seized in drugs raid will be auctioned off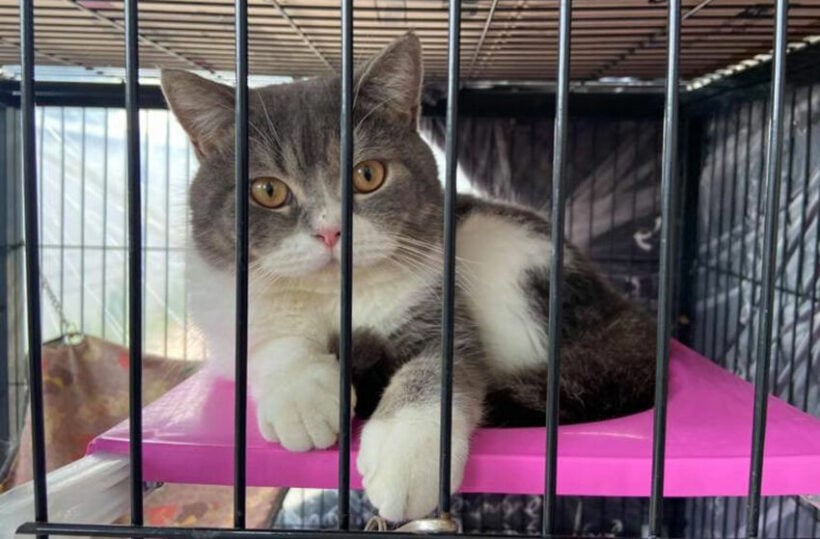 Officials say 6 rare pedigree cats seized in a drugs raid in the eastern province of Rayong, will be auctioned off next month. A number of animal welfare organisations, including The Voice Foundation and the Thai Animal Guardians Association have been campaigning for the auction to be called off and have offered to look after the animals. However, the Office of the Narcotics Control Board says they are unable to hand the cats over as they are not the property of the ONCB.
The animals, 5 Scottish Fold cats and 1 Bengal cat, are believed to have been purchased using drug money and were discovered at the property of a man suspected of belonging to a drug network. The Bangkok Post reports that the network is controlled by someone known as Kook Rayong.
Wichai Chaimongkol from the ONCB says the animals were seized under the law which gives officials the right to confiscate assets acquired through proceeds from the illegal drugs trade. He says some of the assets seized in the raid cannot be kept by the ONCB long-term, which would include the cats. He points out that the ONCB has incurred a financial burden since the cats have been in its care, with his office paying for their food.
The ONCB has been in touch with the cat owner's relatives and have told them that if they can prove the animals were not purchased with the proceeds of crime, they can claim them. However, none of the suspect's family members or anyone else has come forward to take the cats. Wichai says the cats will be valued and a price agreed before the auction is arranged. He expects this to happen before April 14.
SOURCE: Bangkok Post
📱 Download our app on Android or iOS for instant updates on your mobile
📧 Subscribe to our daily email newsletter
👍 Like/Follow us on Facebook
🔔 Subscribe to or Join our YouTube channel for daily video updates
Be a private island castaway on Koh Munnork, Thailand | VIDEO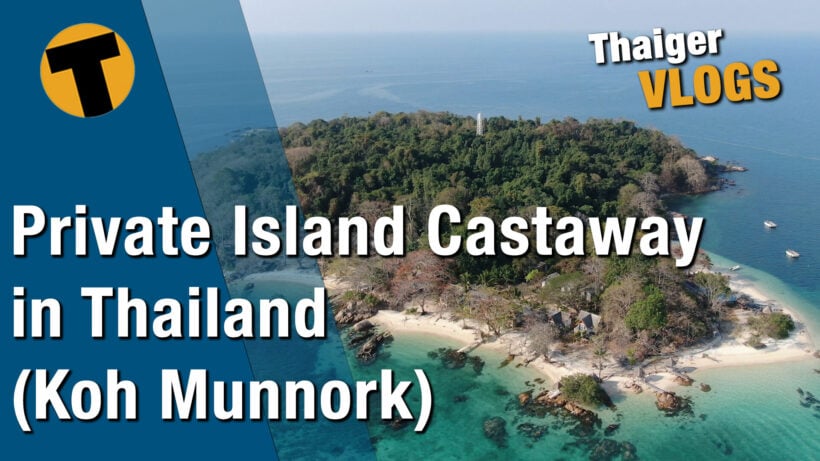 Stranded on your very own private island in Thailand. Well, not quite stranded. Chris takes us on a tour of the relatively tiny Koh Munnork (Munnork Island), off the coast of Rayong in east Thailand.
The prices for a stay on the private island vary and usually start around 10,000 baht a night but there's always promotions on and, depending on when you want to visit, you can usually find a price under 4,000 baht per night. This one we found on Agoda.com. You can also book directly on the Koh Munnork website where they have their own promotions and packages.
That page is in English and in Thai languages. The island also has a Facebook and Instagram page sharing more pics from this beautiful little patch of privacy in the Gulf of Thailand.
The best time of the year to visit is probably between December and April. The wettest months are around September and October. But, really, you'll have great days throughout most of the year but if you want to enjoy the diving, the December to April window is definitely going to be the best.
📱 Download our app on Android or iOS for instant updates on your mobile
📧 Subscribe to our daily email newsletter
👍 Like/Follow us on Facebook
🔔 Subscribe to or Join our YouTube channel for daily video updates