Police, military deny knowledge of mystery men at rally site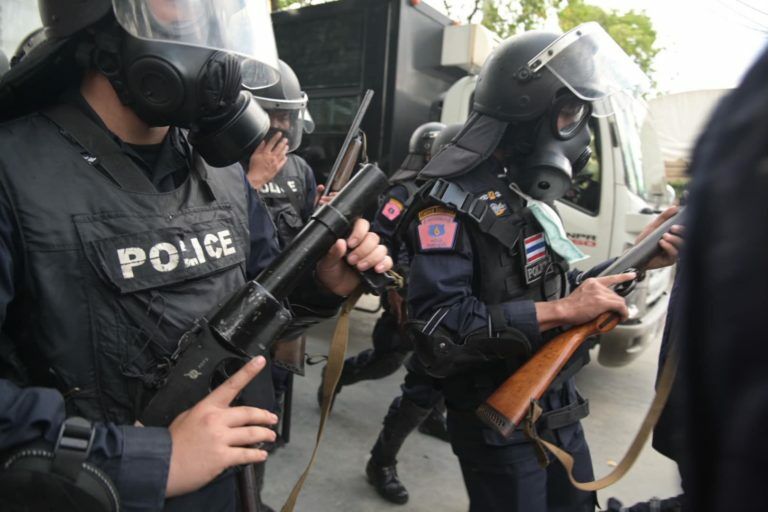 Nearly a week after demonstrators clashed in Bangkok, police and defense ministry spokesmen say they have no idea who the 40 men were that appeared alongside riot police officers. The men, who donned military-style buzz cuts and civilian clothing allegedly assisted security forces during the crackdown on protesters.
At first, police spokesman Yingyot Thepchamnong denied that the men were even there, but then changed his tune after a reporter pointed out that there were photographs and video of the mysterious men. Now he says he isn't sure what group the men belonged to.
"Those 30, 40 people who assembled, I have no idea either which group they belonged to. But we are investigating. According to our protocols, the people in charge of the crowd control operations would wear uniforms when conducting their duties in order to avoid any misunderstanding. There were also some plain-cloth officers, but they were usually scattered around the demonstration area."
The men stood in 2 organised lines just behind the riot police during a confrontation with demonstrators in front of Grand Palace with most wearing white-coloured construction helmets. The men presented no identification documents and police made no attempt to have them leave the scene.
Defense Ministry spokesman Kongcheep Tantravanich also denied in a phone call that the group of men were connected to the armed forces.
"We are not related to them at all. You have to ask the police."
But many protesters believe that the men belonged to the authorities as they say they saw similar unidentified men working closely with security officers at past demonstrations. The men even earned the nickname as "Minions" after the cartoon character.
Police reform activist Somsri Hananuntasuk says this method of deploying unidentified men in civilian clothes is not in line with international standards of crowd control.
"Why wear casual clothes? Why not clearly identify themselves to the public who they were? There was no need for plain-cloth officers at all, unless you want to infiltrate the protest and blame the demonstrators when there was violence."
Nonviolence advocate Gothom Arya also voiced his concerns over no one seeming to know who the men were. He is asking authorities to come clean about their agents involved in the protests.
"If there were security officers in operation, they must identify themselves as such. Police must have an answer. They can't just deny knowledge of the men. If they were in the area, police must know which side they belong to."
SOURCE: Khaosod English
Keep in contact with The Thaiger by following our Facebook page.
Never miss out on future posts by following The Thaiger.
Thailand classified as a "not free" country in Freedom House report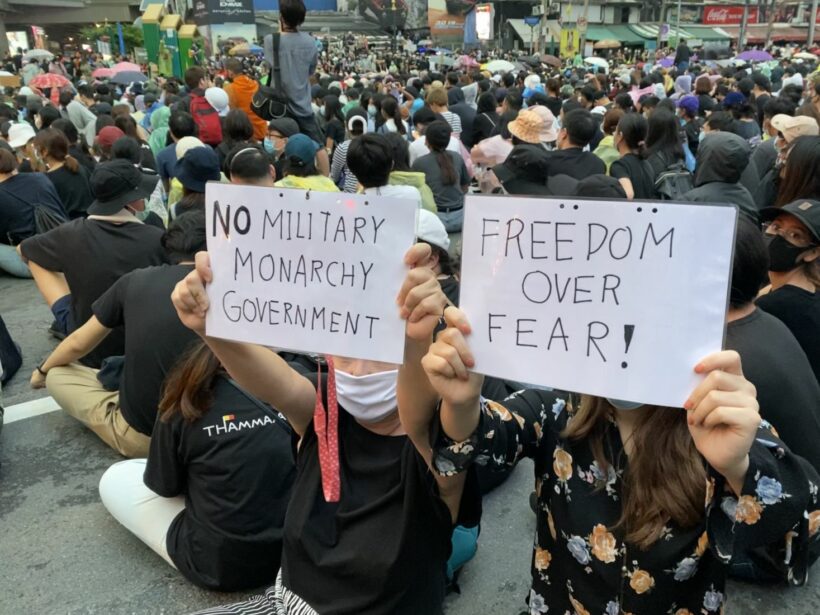 On a scale of 0 to 100, with 100 being absolute freedom, Thailand scores at 30, a "not free" country, according to the nonprofit Freedom House. Each year, the organisation reviews the political rights and civil liberties of countries around the world. According to their recent assessment, Thailand has declined in terms of rights and liberties, dropping on the scale from "partly free" to "not free."
The main reason for the drop on the freedom scale, the organisation says, is "due to the dissolution of a popular opposition party that performed well in the 2019 elections, and the military-dominated government's crackdown on youth-led protests calling for democratic reforms."
The Future Forward Party was dissolved in February 2020 after the court found that the founder, Thanathorn Juangroongruangkit, had made a large donation to the party that exceeded the legal limit. The party's leaders were then banned from politics for the next decade.
Youth-led protests started in February, but the demonstrations were put on pause due to Covid-19 restrictions banning large public gatherings. Protesters gathered in July as restrictions lifted, but some leaders then faced charges for holding a public gathering, which was still banned under emergency orders.
In October, the prime minister imposed what Freedom House calls a "severe" State of Emergency order in Bangkok that banned gatherings of more than 5 people. Some protesters were arrested for violating the order nearly immediately after it was imposed.
With activists pushing for monarchy reform and an end to the military's involvement in government, raising subjects considered taboo and unprecedented in Thai society, the Thai government has increased its use of the draconian lèse majesté law. Since November, dozens of activists have faced charges for insulting or defaming the Thai Monarchy.
Freedom House scores countries on topics like the electoral process, questioning if politicians and leaders were elected in free and fair elections, as well as freedom of expression and individual rights.
Thailand's military seized power in 2014 in a bloodless coup. The 2017 constitution was drafted by a committee appointed by the military's National Council for Peace and Order. In 2019, the country transitioned to what Freedom House calls a "military-dominated, semi-elected" government.
The 2019 elections were overseen by the Election Commission of Thailand, whose members were appointed by the military. All 250 senators were appointed by the military in 2019 to serve 5 year terms.
In 2020, the combination of democratic deterioration and frustrations over the role of the monarchy provoked the country's largest anti-government demonstrations in a decade. In response to these youth-led protests, the regime resorted to familiar authoritarian tactics, including arbitrary arrests, intimidation, lèse majesté charges, and harassment of activists. Freedom of the press is constrained, due process is not guaranteed, and there is impunity for crimes committed against activists.
SOURCE: Freedom House
Keep in contact with The Thaiger by following our Facebook page.
Never miss out on future posts by following The Thaiger.
Riot police officer in Bangkok tests positive for Covid-19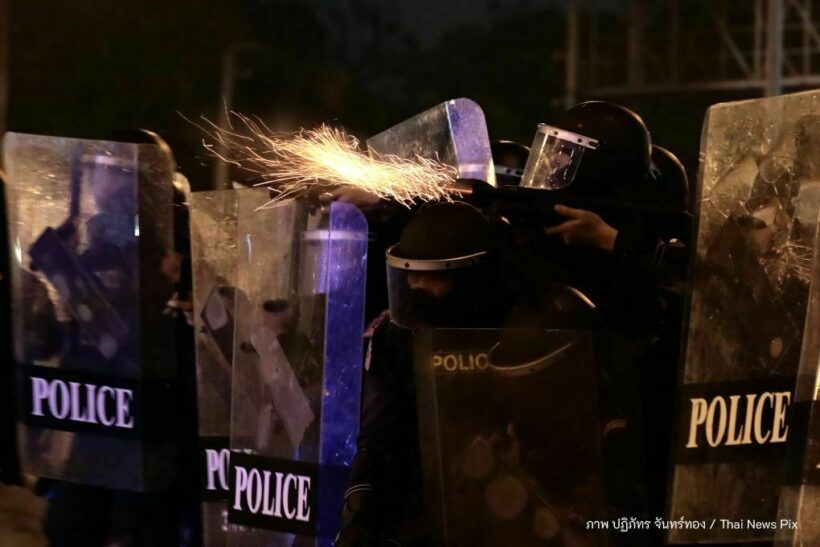 A riot police officer, who was deployed at the recent pro-democracy protests in Bangkok, has tested positive for Covid-19. His supervisor, chief of Wang Thonglang station Ekapop Tanprayoon, says the officer had visited Samut Sakhon, a coronavirus hotspot.
Riot police who worked closely with the infected officer, Somyot Nuamcharoen, are ordered to quarantine. The Wang Thonglang police station and any items the police officer handled are being disinfected, the chief says.
The officer had met up with friends during a visit to Samut Sakhon, just southwest of Bangkok. He travelled to the coastal province on February 18 and returned to Bangkok the next day.
On the 20th, he was deployed to a protest outside of parliament, just after returning from his trip to the "red zone" province. On Sunday, he deployed the protest outside the military barracks in Bangkok. The demonstration turned violent and numerous people were injured.
On Tuesday, his friend from Samut Sakhon tested positive for the virus. The infected officer was tested for Covid-19 that day and his result came back positive yesterday.
SOURCE: Bangkok Post
Keep in contact with The Thaiger by following our Facebook page.
Never miss out on future posts by following The Thaiger.
"Sealed route" set at Bangkok airport for international transfers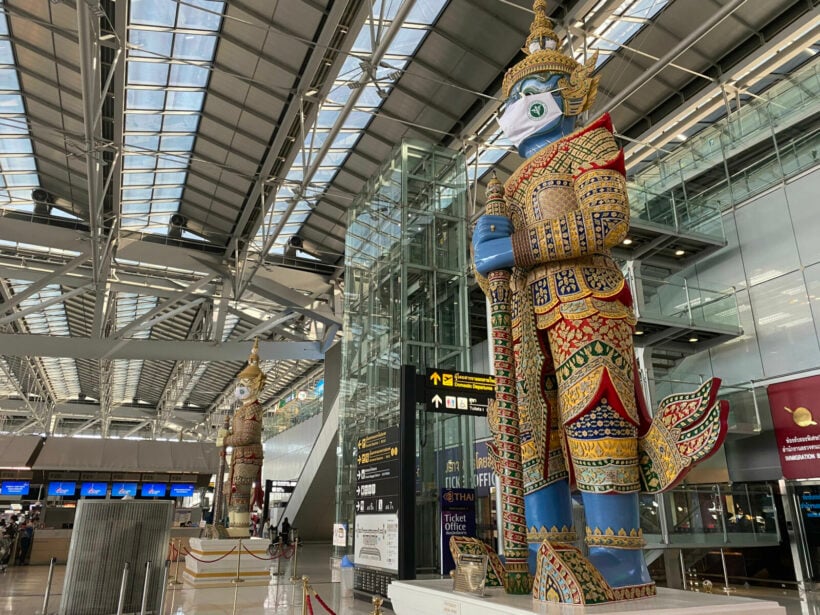 Thailand is now allowing international transits and transfers at Bangkok's Suvarnabhumi Airport by using a so-called "sealed route" arranged at the airport to prevent the spread of Covid-19. The Civil Aviation Authority of Thailand has now set guidelines for passengers who have a layover at the Bangkok airport.
Passengers will not be allowed to leave Concourse E. A "sealed route" for the passengers will be set up at Gate E10 and E9, allowing passengers to enter the airport at Gate E10, go through security screening and then either board the transit aircraft at Gate E9 or go on a designated shuttle bus directly to an aircraft.
Social distancing is required for all passengers in waiting areas and a face mask must be worn at all times. The CAAT says food and beverage services will be available at the airport's "sealed route" waiting area, but there will be "active oversight" on the services. Areas will also be cleaned and disinfected regularly.
Passengers must present required documents…
A fit-to-fly health certificate
Medical certificate declaring a negative Covid-19 result issued no more than 72 hours before departure
Travel health insurance that covers Covid-19 treatment expenses up to $100,000 USD
If demand increases, the airport will add Gates E5, E7 and E8 to the sealed route. If Concourse E is under maintenance, then Concourse F will be used under the same plan.
SOURCE: Nation Thailand
Keep in contact with The Thaiger by following our Facebook page.
Never miss out on future posts by following The Thaiger.