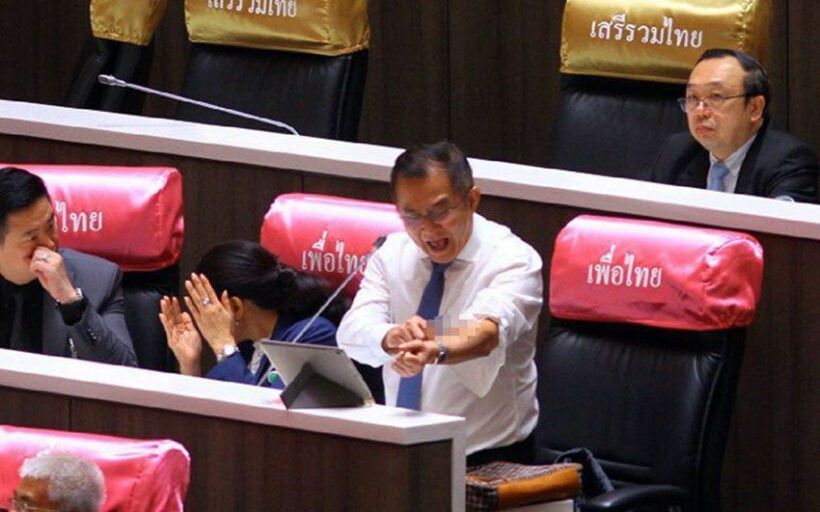 An opposition party MP has slashed his arm in front of officials in Parliament, in protest at the treatment of political activists. Visan Techatirawat, a partY member of the opposition Pheu Thai Party, says the gesture was his own personal protest to oppose the government's action against peaceful protesters at a rally in the capital on October 17. Police remain accused of using high-powered water cannons laced with chemicals to disperse the gathering, although police chiefs have denied using any chemicals.
Visan slashed his left hand and arm 3 times on the second day of a parliamentary debate aimed at finding a way out of the current political impasse. He says that, while he's been in politics since 1986, he still doesn't know how to solve the political problems facing the country and would rather shed his own blood than have the young protesters have to shed theirs.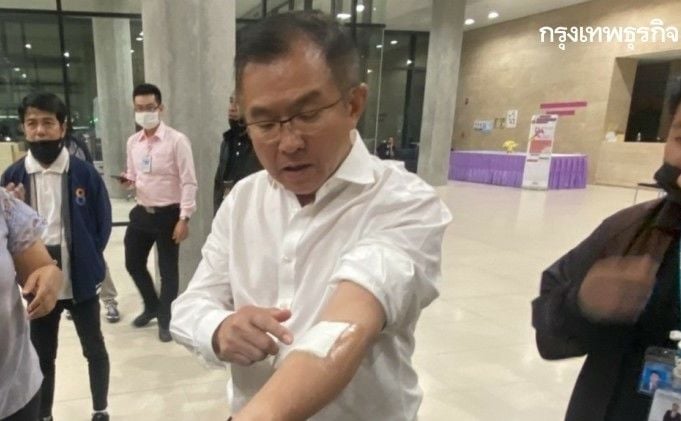 PHOTO: Nation Thailand
It's understood the opposition politician used a fruit knife he'd borrowed from a maid in the parliament building. He says he did not announce his plans to anyone, including his family, before carrying out the act.
Nation Thailand reports that officials and others who witnessed the act were left shocked, with Parliament President, Chuan Leekpai, calling on first-aiders to help. Visan was subsequently taken to hospital and later apologised for the shock he caused. He says the Thai PM Prayut Chan-o-cha must listen to the protesters, rather than resorting to the use of force and standing behind the fence of legal barriers put in place by the unelected NCPO.
Since mid-July, anti-government protesters, primarily students and the younger population, have been taking to the streets with a list of demands. They include the PM's resignation, the dissolution of parliament, and fresh elections. They are also calling for a re-write of the 2017 constitution and for reform of the monarchy.
SOURCE: Nation Thailand