Thai Health Minister Anutin takes to TikTok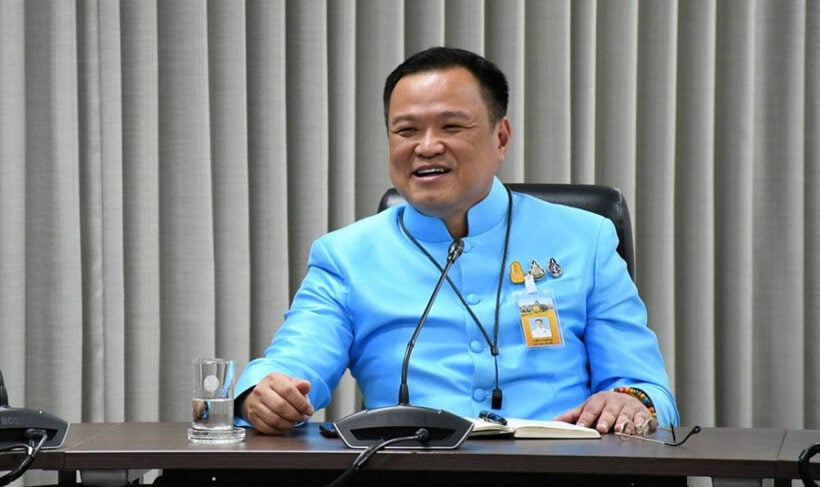 Warning!
TikTok Thailand says only 1% of its users are aged 45-55. Turns out one of them is Thailand's mercurial Health Minister, Anutin Charnvirakul. Remember him? He disappeared from Twitter after his comments about "dirty farang" in the early days of the Covid-19 crisis, where he accused foreigners of being the cause of the outbreak in Thailand. His racist remarks have been credited with legitimising xenophobic sentiment among some Thais and he was sidelined from the Government's Covid-19 task force pretty much immediately after, sent out to the outlying provinces instead for photo opportunities.
Well, he's back, at least on TikTok. A report in Khaosod English says Minister Anutin has posted a couple of videos on the site under the handle @nituna1966 (his birth year and his name spelt backwards). In one clip, posted at the end of May, he can be seen lip-synching to audio from Thai toddler sensation @Phuriwat.M. "People watching aren't giving me hearts. I'll spank you," mimes Anutin.
Here it is…
TikTok Thailand says the vast majority of its users are in the younger age brackets, with half aged 18-24 and a third aged 13-17. Anutin is 53 and is believed to be the first prominent Thai politician to join the network (the rest of the Thai cabinet has so far resisted the temptation to follow Anutin's lead).
Anutin deleted his Twitter account in March after his inflammatory comments went viral and caused uproar, putting the PM and fellow ministers into damage control.
SOURCE: Khaosod English
Keep in contact with The Thaiger by following our
Facebook page
.
US ambassador meets deputy PM to discuss Thailand's "great investment potential"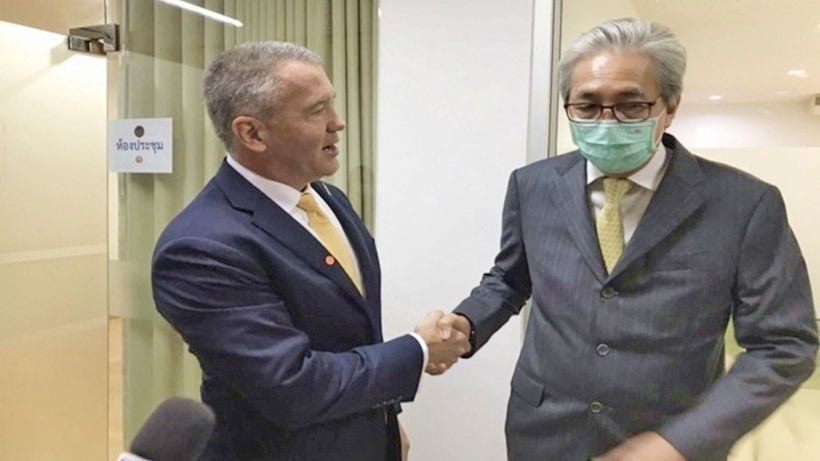 US Ambassador to Thailand Michael George DeSombre, who raised eyebrows in May when he described the US as "a better friend than China," has praised the kingdom's "great investment potential", highlighting the expansion of current projects and further support for industry as ways to promote further cooperation. Deputy PM Somkid Jatusripitak welcomed the ambassador to the open discussion amongst key trade officials.
The US Ambassador chose not to wear a facemark during the visit.
The DPM and the ambassador discussed cooperation between the 2 nations, to help strengthen the economies of both countries and promote more US investment in Thailand. The ambassador says Thailand has huge potential and suitability for US companies to invest, especially as part of the supply chain of the South East Asia region.
Somkid says DeSombre is enthusiastic about the development of mutual economic relations, revealing that the ambassador proposed ideas on what industries should receive more support from both sides.
The ambassador expressed confidence that Thailand will become a technological hub in the region, with immense growth potential in the manufacturing and service sectors, as well as stock exchanges that could connect to Hong Kong and Shenzhen.
"Thailand provides excellent medical services, an area which could be expanded to reach more clients and patients…. related agencies are ready to develop mutual exchange packages through the Board of Investment, to promote competitiveness and attract investment."
The DPM said Thailand doesn't need standalone investment from individual companies, but rather demands investment packages, which the ambassador says he'll be proposing soon.
Somkid also stressed that he's still working on the country's domestic and international economic affairs, while declining to comment regarding the recent political developments in ruliing Palang Pracharath Party.
Thailand's economic ministers will meet on Friday to discuss 2 main economic packages.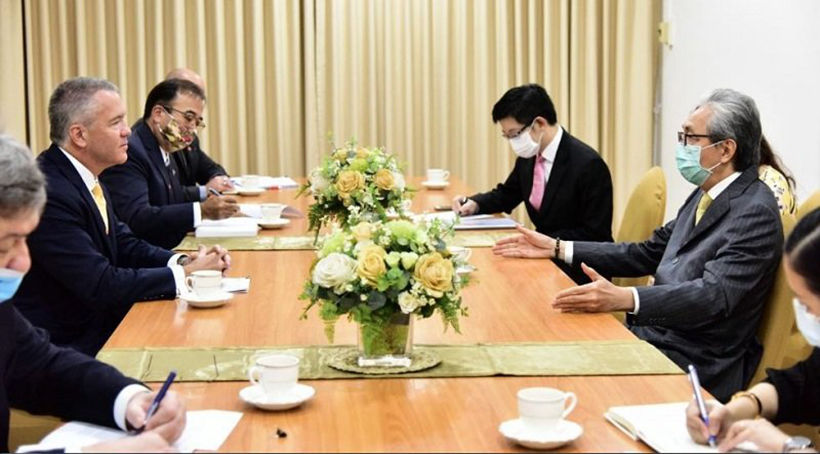 SOURCE: NNT
Keep in contact with The Thaiger by following our
Facebook page
.
PM to opposition: "Don't insult my intelligence."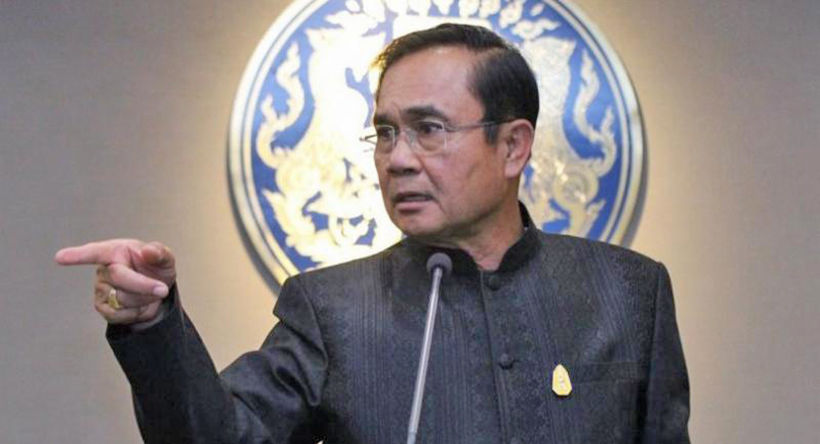 "The PM emphasised that his government has never approved a project to favour any particular individual or company."
PM Prayut Chan-o-cha lashed out at some MPs from the opposition Kao Klai party, for what he took as an insult to his and his ministers' intelligence. When the MPs questioned some Transport Ministry projects, Prayut insisted that all of them were properly vetted and transparently implemented.
"We are no less intelligent than the speaker, so do not insult our intelligence. Public sector projects require a lot of investment, we invest under a public-private-partnership structure. There is a transparent bidding process, and the contracts are then signed in accordance with the law."
He was apparently referring to remarks made by Surachet Prawinwongvut, a Kao Klai MP, during the third day of the 2021 budget debate. He says he has no personal grudge against Surachet, and emphasised that his government has never approved a project to favour any particular individual or company.
The PM added that he won't keep responding to questions on similar issues from the opposition, about how the government will use the 400 billion baht fund for economic rehabilitation and whether the funds will be used wisely.
Prayut says his priorities are to build better cooperation between the governmental and private sectors and the public, to ensure the country weathers one of its worst-ever economic crises, and turn it into an opportunity, noting that economies around the world are suffering due to the Covid-19 pandemic.
In a related story, the deputy transport minister told Parliament his ministry has allocated 14 billion baht to redevelop 3 airports, specifically 1.6 billion baht for Betong airport in the southern Yala province, 1.1 billion baht for Mae Sot airport at the Burmese border and 5.1 billion for Krabi airport.
SOURCE: Thai PBS World
Keep in contact with The Thaiger by following our
Facebook page
.
Opposition questions ministry's plan to buy firefighting helicopters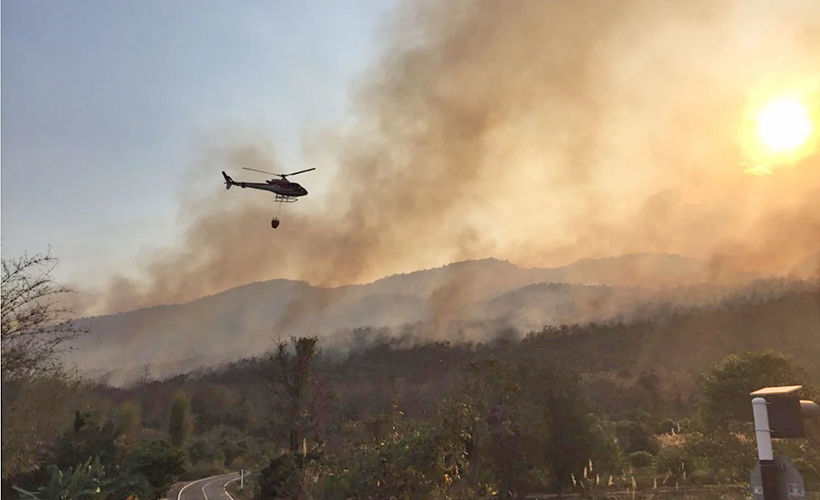 Thailand's interior minister yesterday defended his plan to purchase 6 firefighting helicopters, saying the ministry doesn't have any such helicopters and relies on military choppers to fight wildfires, "which aren't up to the task". Anupong Paojinda was responding to an objection raised by the opposition during yesterday's House debate on the budget bill for the financial year 2021.
"I'm sure those MPs in northern provinces know that the best the military helicopters borrowed for fighting wildfires ever did was carry water to pour on the fires, without sufficient accuracy in target identification."
Wildfires are common in Thailand's North, especially during the annual "burning season," usually February through April, when farmers burn their crop fields in preparation for the next growing season. The minister said up to 6 wildfire-fighting helicopters are needed because they would be used in rotation to allow regular maintenance.
The Pheu Thai Party MP for Chiang Rai said the ministry's plan to purchase 2 helicopters for fighting wildfires this year, at a cost of 1.8 billion baht, isn't worth it, as the country already has more than 300 helicopters. The Department of Disaster Prevention and Mitigation plans to buy the 6 helicopters by 2022, an outlay he said is unnecessary and should be scrapped. He says the order was made to help a private company win a lucrative contract at a time when Anupong was serving as the army chief.
Anupong responded that the DDPM is responsible for picking the helicopter supplier via a transparent and accountable bidding process, and that as long as the company that wins the bidding strictly follows the law, there is no problem. He vowed to take legal action against anyone found acting illegally.
SOURCE: Bangkok Post
Keep in contact with The Thaiger by following our
Facebook page
.