Redshirts leader says "justice will never be served" over 2010 military crackdown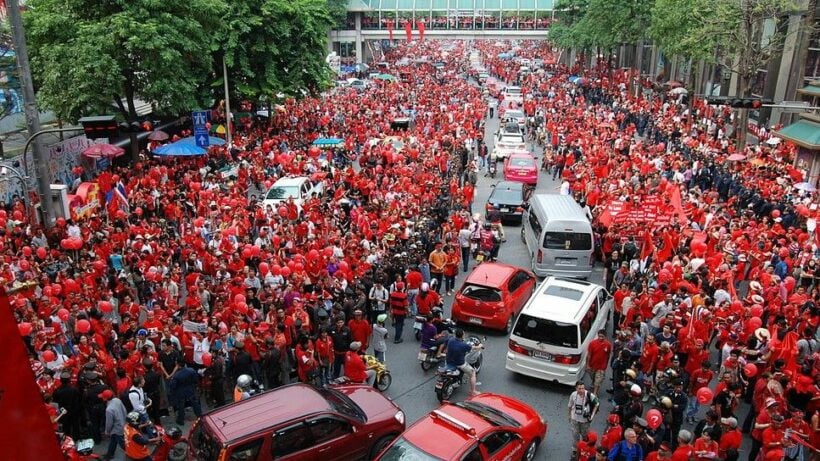 The leader of the "Redshirts", political activists supportive of former Thai PM Thaksin Shinawatra, says the military government will never be held to account for a 2010 crackdown that cost the lives of nearly 100 people, most of them civilians. His comments come just days after a spokesman for the Democrat Party, a member of the ruling coalition, claimed the crackdown was legal.
Khaosod English reports that Jatuporn Prompan was speaking at a Buddhist ceremony to mark the 10th anniversary of government action that ended 3 months' of anti-government protests in Bangkok during 2010.
Between the months of March and May 2010, over 100,000 activists marched on the capital, calling for the cabinet to be dissolved and elections to be held. They were finally crushed by a bloody government crackdown. Although charges were initially brought against Abhisit Vejjajiva, PM at the time, and Suthep Thaugsuban, deputy PM, these were later dropped. To date nobody has been held accountable for the loss of life and Jatuporn says he believes justice will never be done.
The ongoing Covid-19 outbreak means the commemoration ceremony in the capital was more low-key than originally planned. Jatuporn, who led the 2010 protests, has also hit out at pro-government figures for implying that those protesting 10 years ago were terrorists.
"The truth is that this was the deadliest fight for democracy in Thailand. Over the past 10 years, the Redshirts have been living humbly because we know that there is no way for us to fight. We can only seek for justice, but it will not be delivered. I have stressed to the families of the deceased that their children, parents, and relatives are martyrs. They are not terrorists."
He adds that any move to attempt to bring Abhisit and Suthep to justice is doomed to fail as the current military government will find them not guilty. However, Weng Tojirakarn, another prominent Redshirt leader says despite this, the fight for democracy must continue.
"We should not let the 10 year mark go as another ritual, but we should do something more sustainable to continue the spirit of the martyrs. We must build a democracy that will truly stand in Thai society, no matter how difficult it can be."
SOURCE: Khaosod English
Keep in contact with The Thaiger by following our
Facebook page
.
Ambassador calls US "better friend" than China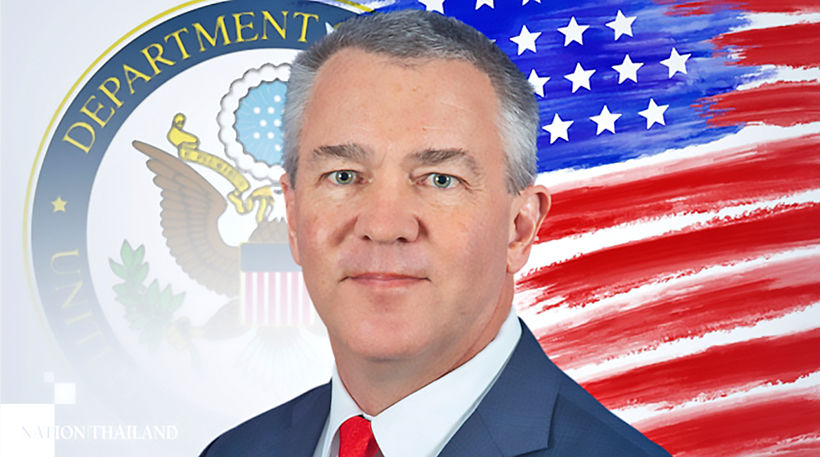 "Nobody will have to take sides."
US Ambassador to Thailand Michael George DeSombre said in an exclusive interview with Nation Thailand that the US spat with China won't affect relations in the region and nations will not have to take sides. He expects more American companies to invest in the Kingdom in the coming months and years, and reiterated that the US is a "better friend" to Thailand and to other ASEAN countries.
Some regional leaders have voiced concern about the growing tensions between the two largest economies, and worry that this feud may force them to take sides. DeSombre responded, invoking political tones, saying that Washington, "for the first time in a long time, is seeing China for what it is, not as we hope it should be".
The US has threatened sanctions on China for imposing what Washington sees as an unfair national security law in Hong Kong.
"So, we see challenges coming out of China and are addressing them directly. Obviously, that creates more tension, instead of ignoring the problems that have been created by the previous administration."
"But at the end of the day, we are not asking anyone to choose between the US and China. And as I said, we view ourselves as a better friend. If you want to be friends with other countries, with China, that's fine. But we view ourselves as a better friend and will continue to demonstrate that particularly here in Thailand."
Asked if the 2 countries will ever find common ground or come to a compromise, DeSombre said there are already some areas that the two countries will continue cooperating on.
"And we look forward to China increasing the number of areas where we do have common ground. Unfortunately, that's not happening much. But we are encouraging them to do so."
"But we do have a trade deal for example, and we are looking forward to them implementing the "phase one trade deal," which is a good example of finding common ground, given the other challenging situations."
While some observers argue that the US has taken a tough stance against China because the US presidential elections are approaching, DeSombre dismissed this notion.
"You should ask China whether the presidential election had anything to do with their decision to suddenly impose the national security law in Hong Kong. That is their choice, not ours."
"Also, I think various activities in the South China Sea, such as militarising islands, sinking Vietnamese fishing vessels among others… those were not our decisions."
Asked if he is concerned about the impact the tensions will have on ASEAN-China and ASEAN-US ties, he said he was not concerned about that, but was worried about other pressing issues.
"One area that we see some concerns about is China's actions that are contributing to drought here in Thailand, such as controlling the flow of water in the Mekong River, and failing to stop precursor chemicals from going to Myanmar, which is allowing massive production of methamphetamine, which is flowing into Thailand. These are our concerns."
Regarding the slowdown of the global economy, DeSombre said he sees an opportunity in the crisis.
"There's always an opportunity in crises, and that is where my discussions with the Thai government have really focused on: using this opportunity to move company operations to Thailand."
"In the last couple of years, we have seen a lot of companies getting concerned about their supply chain, where their manufacturing is located and whether or not they can get the product from that location to where they want to sell them. So, you have a lot of companies looking at, reevaluating their location for manufacturing."
He added that this presents a great opportunity to Thailand, because it's "a safe, reliable, secure location for operation."
SOURCE: Nation Thailand
Keep in contact with The Thaiger by following our
Facebook page
.
Security chief says country to reopen July 1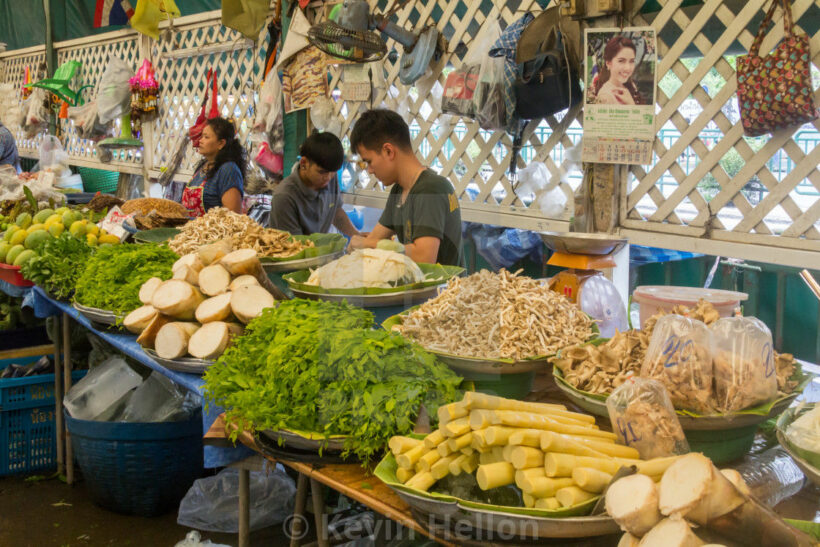 The chief of Thailand's National Security Council announced today that Thailand has set July 1 for the end of all "business and activity lockdowns" ordered to cope with the Covid-19 crisis, include provincial and international travel. The announcement also included the end of the Emergency Decree and curfews, Bangkok Post reports.
NSC Secretary-General Somsak Rungsita says the lift of restrictions will be a "complete reopening of the country". Officials will prepare measures next month for the reopening. In the past the CCSA has declared that they intended to use June to repatriate all other Thai citizens who wished to return home "and then address foreigner returnees". But this announcement appears to go beyond that with an opening to all foreign travel.
At this stage there has been no announcement on paperwork or restrictions that will be imposed on foreigners entering the Kingdom after July 1.
"Authorities will have serious discussions because after the emergency decree ends, other laws will be used instead. This concerns the use of face masks, social distancing, hand washing and limited activities."
Somsak says the executive decree on public administration in emergency situations will end in June in accordance with the law, and the ban on international arrivals will continue until then.
"In June, curfew hours will be further shortened and more restrictions on interprovincial travel will be lifted under the third phase."
CCSA spokesman Dr Taweesin Visanuyothin today said more activities at shopping centres will resume, and athletes' practicing grounds will reopen, though the ban on spectator sports remains.
"Operators and customers will be required to use the Thai Chana mobile app for checking in and out of premises since businesses allowed to reopen in this stage are medium- to high-risk ones."
Cinemas were proposed to be reopened in the Phase 3 list but the movie companies say there are currently no new movies to release. So keep that Netflix subscription going for a while!
SOURCE: Bangkok Post
Keep in contact with The Thaiger by following our
Facebook page
.
Emergency Decree extended through June amidst accusations of political motivation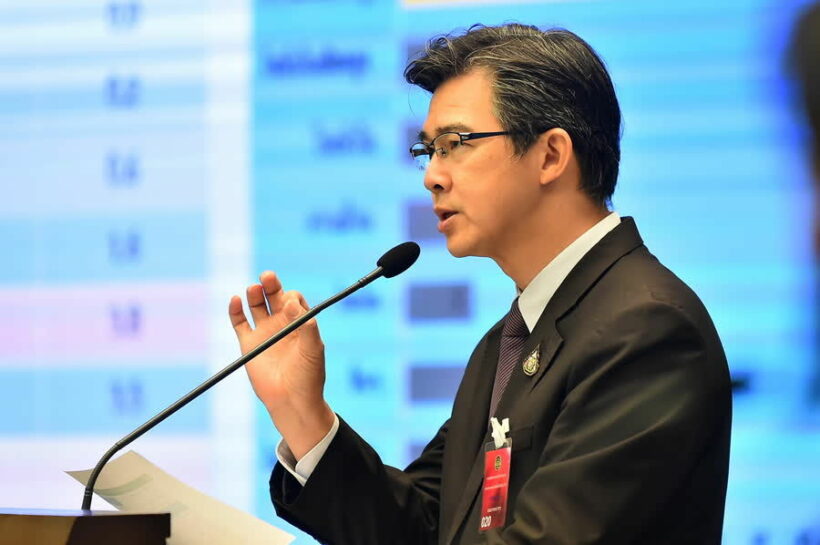 As widely predicted, the Cabinet yesterday extended the Emergency Decree for a third month, to its limit at the end of June. Dr Taweesin Visanuyothin, spokesman for the Centre for Covid-19 Situation Administration, quickly explained that the decree was enforced because it enabled more than 40 laws to be tied together to allow for quick enforcement at the national level. He says this helps the government tackle the crisis more efficiently.
Last week, government spokesperson Narumon Pinyosinwat hinted that the National Security Council wanted to extend the decree "because it would save lives". She also dismissed as "illogical" claims that the state of emergency was being extended so PM Prayut Chan-ocha could tighten his hold on power.
But non-profit organisation iLaw says the government should use a less restrictive, less severe method to impose controls on businesses, travel and public health. For instance, it could enforce the Contagious Disease Control Act to stop people gathering outside their homes, and close high-risk venues, as the act is more flexible than the Emergency Decree.
The panel chaired by the National Security Council's secretary-general is meeting today to discuss the third phase of easing lockdown measures, as well as whether the curfew hours should be cut a second time, from the current 11pm-4am to midnight-4am. The third phase of easing measures is thought to begin June 1.
The meeting's resolution will be proposed to the CCSA on Friday and guidelines for businesses and activities under the third phase will probably be announced Saturday.
Meanwhile, police in Bangkok are denying using the Emergency decree as a political tool after the arrest of 2 activists on Friday, saying they were simply doing their job.
SOURCE: Nation Thailand
Keep in contact with The Thaiger by following our
Facebook page
.