Thai app will ease expat immigration woes and make 90 day reporting simple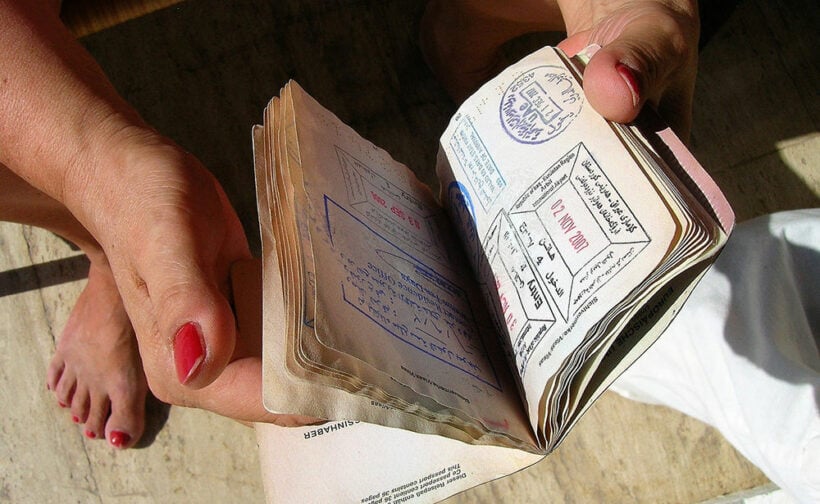 The "OSS Foreigner" app is coming, and you will be able to use it for 90 day reporting, according to the Secretary-General at the office of the PM.
Dr Kobsak Pootrakool says the planned app can be used for all immigration reporting, including 90 day reports, adding that typing in the required data and uploading a selfie will accomplish the same result as filling out paperwork at the local immigration office but without having to make the trip there.
Dr Kobsak has been given responsibility for sorting out the TM30 debate and says the immigration app, called OSS Foreigner, is nearly complete and should make all those who live and work in Thailand feel more welcome and make compliance easier and more convenient.
The TM30 form, and its companion, the TM28, have been a source of expat displeasure over the past five months since the immigration department decided to enforce a little-used 1979 law that required foreigners to report their whereabouts if they had stayed overnight at an address different from their registered address.
This latest move comes as part of a wider program to make Thai public services more efficient, with Dr Kobsak making the announcement while outlining plans for all Thai government departments to embrace digital technology by as early as 2022. Meanwhile, the Deputy PM Somkid Jatusripitak is championing a programme to improve Thai public services for both Thai citizens and foreigners.
"The government's new approach to IT and digital technology is designed to deliver a smarter, easier service as part of the Thailand 4.0 economic model."
SOURCE: The Pattaya News
Keep in contact with The Thaiger by following our
Facebook page
.
British tourist locked up in 'horror' prison, fellow inmate dies in his arms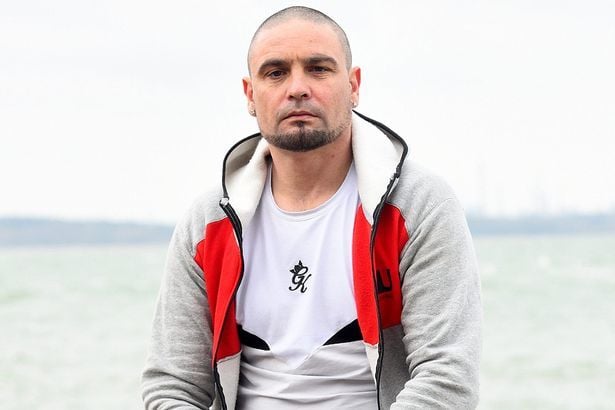 PHOTO: mirror.co.uk
A British father of two has shared his horror story after being locked up in a Thai jail. Imprisoned for overstaying his visa, 35 year old Kai Isaacs claims a fellow inmate died in his arms following a brutal beating. The incident happened back on May 21 in the International Detention Centre, situated next door to the swanky Sathorn residential area in Bangkok.
Kai, from the Isle of Wight, was imprisoned with 150 other inmates at the IDC. He says he was locked up with gangsters and suspected terrorists, according to the article in the Mirror Online. He said all 150 inmates had to sleep on the floor, ten in a row.
"It was the worst three months of my life.
"In the IDC there were 150 people in the room, sleeping on the floor 10 in a row."
"It was hot, it stank, it was noisy, it was violent and scary."
Kai relates the story of an American who was singled out after he arrived at the IDC. Four days later he'd be dead…
"When this American lad, Rickey McDonald, came in they singled him out. They didn't like the USA much. They picked on him from the minute he walked in the room. They beat him and beat him and beat him. He was bullied to the point he couldn't get water. They gave you a three-litre bottle to fill up but the water was only on for an hour a day. If he stood up they hit him."
"But the guy died in my arms . It was suspected heart failure. It was horrible and I was still in there for weeks after it happened."
Rickey "Rick" Eric McDonald, 41, of Lexington, passed away May 21, 2019 in Bangkok, Thailand. A Lexington native, he was born on June 14, 1977. He was a graduate of Dunbar High School ('96) and attended St. Lawrence University, University of Copenhagen, and Georgetown University. He held a teaching certificate in English and was a published author. Rick enjoyed travel and traveled extensively throughout Europe and Asia – milwardfuneral.com
Kai has passed on his story to the FBI, who are investigating the death of the US citizen from Kentucky on May 21.
His problems started when he travelled to Thailand in August 2018 with a one-way flight to visit his girlfriend. He claims the cash he'd sent himself through MoneyGram was unable to redeemed when he arrived in Thailand. He was told somebody else had already withdrawn the cash.
With no cash for a return flight and only a 30 day visa, he ended up going to stay with friends and left it until March this year to contact the British Embassy in Thailand.
Kai claims the Embassy advised him to hand himself in and that he would be likely locked up in the International Detention Centre before being deported back to the UK. He was first detained in a 'cage' before his appearance in a Thai court.
"I was kept in a cell with around 50 Thai ­people in a cage for five days then taken to court."
He told Mirror Online that all his possessions, and what little money he had, went ­missing while he was in the police cell.
"It's an inhumane place. There are guards but there is a hierarchy among the inmates. The bosses were Iranian ­gangsters and regularly gave severe beatings. Every moment in there was horrific. I wouldn't wish it on anyone."
Kai was finally deported in June this year with the help of the British Embassy and has now been barred from returning to Thailand for five years.
ORIGINAL STORY: mirror.co.uk
Keep in contact with The Thaiger by following our
Facebook page
.
Russian nabbed for 7 year overstay in Samui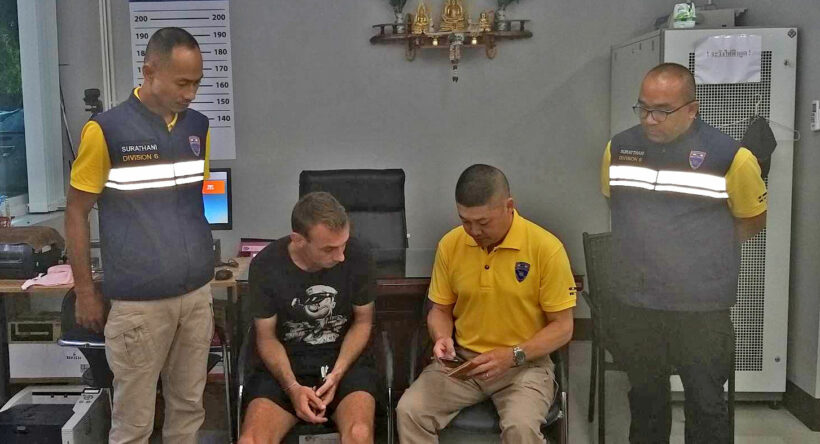 PHOTO: Matichon Online
A Russian man has been arrested for overstaying his visa by 2,861 days, 7 years and 9 months. The man was arrested on Koh Samui.
In a completely serendipitous inspection, immigration and tourist police were doing spot inspections on the island hen they were checking a man on Soi 3, off Maenam Road, in the north of the island. The inspection was yesterday afternoon.
Upon checking the man's passport the noted the visa had expired in 2012.
The man was identified as a Russian national, 32 year old Alexey Safronenkov. The man was handed over to the Koh Samui police for prosecution where he will likely end up being fined, deported and black-listed. The black listing for such a long overstay would be 10 years before he could return to the Kingdom.
The 32 year old, who would have been 25 at the time, entered Thailand through Khuan Don checkpoint in Satun, on the Malaysian border, on January 12, 2012. At the time he was given a tourist visa stamp allowing him to stay 30 days. He had never left the country since that time.
Avoiding police and staying in the Kingdom, without departing at any stage over 7 years, deserves some sort of award. But his only reward will be a return to Russia with a DCB stamp.
SOURCE: Matichon Online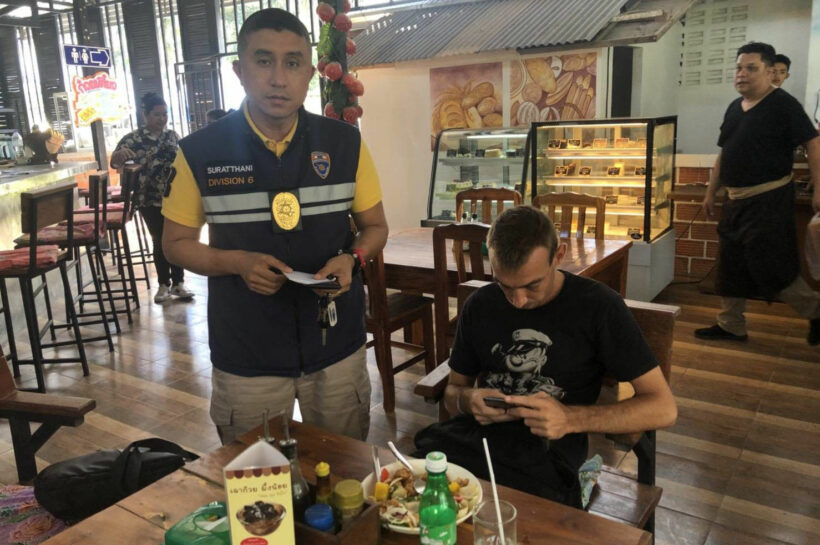 Keep in contact with The Thaiger by following our
Facebook page
.
Immigration nabs foreign criminals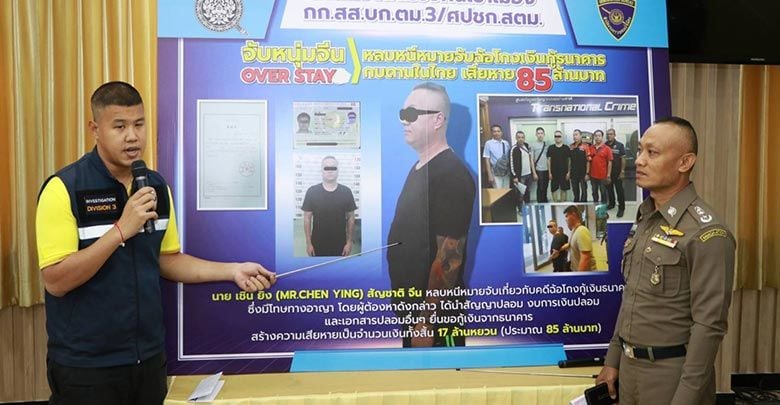 Three foreign nationals have been arrested, as well as a Thai man supplying fake documents. The Immigration Bureau held a press conference Tuesday giving details of the arrests.
The first suspect is 45 year old Chen Ying, a Chinese national who allegedly used forged documents to get bank loans.
Chen is wanted by Chinese authorities for using fake documents in 2013 to secure loans estimated at 17 million yuan, or about 85 million baht.
He fled to Thailand in 2014 before Chinese prosecutors issued a warrant for his arrest. He was recently apprehended in Chon Buri for overstaying his visa.
In the second case, a 25 year old Thai man, Anant Khonthieng, was arrested at Suvarnabhumi airport. He's accused of forging official stamps and documents and selling them to foreigners who have overstayed their visas.
Bangkok police also arrested a 48 year old Burmese man, Cho Tun, who entered Thailand illegally to escape charges of running an illegal gemstone business. Police found video footage of him arriving at Suvarnabhumi airport before checking in to a hotel. He is awaiting deportation back to Myanmar.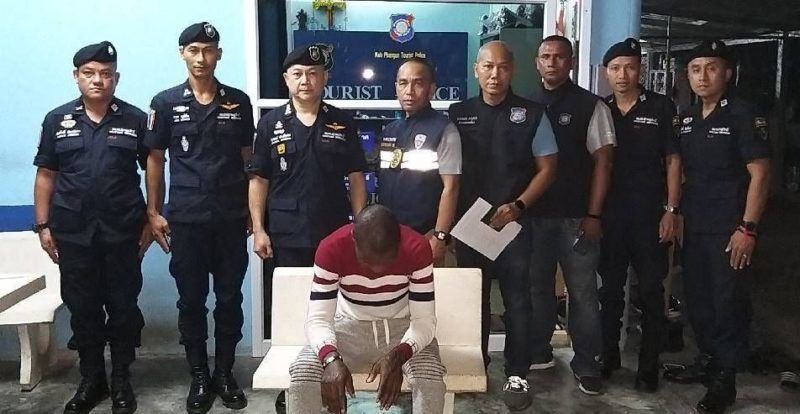 Photo: chiangraitimes
In the fourth case, a Nigerian man, Samuel Nwabueze Iwoha, has been arrested on Koh Phangan for overstaying his visa by over six years.
Surat Thani police say the man overstayed by 2,412 days.
SOURCE: chiangraitimes.com
Keep in contact with The Thaiger by following our
Facebook page
.