Thousands gather for this morning's protest running event in Bangkok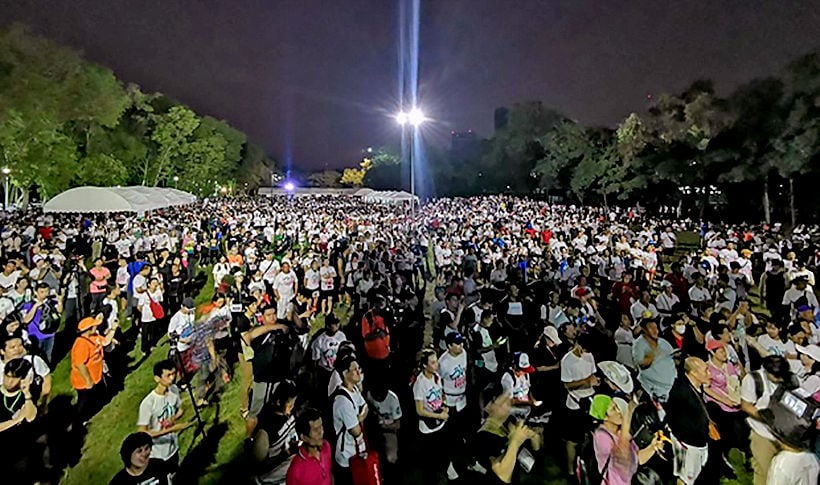 This morning's fun run/rally/political event/marathon/jog/protest at Suan Rot Fai park in Chatuchak, a northern Bangkok suburb, attracted thousands of runners. The run was organised as a protest against Thailand's Prime Minister Prayut Chan-o-cha and his government. The "Run Against Dictatorship" was organised by opposition political parties and activists calling for greater political freedom. The event was held less than 10 months after the general election.
The demonstrators gathered at Suan Rot Fai, aka. Vachirabenjatas Park, for a pre-dawn run to show their opposition of the current government. The event is the second high-profile anti-government protest in a month, following a gathering in central Bangkok on the 'skywalk' outside MBK shopping centre on December 14. Read about that HERE.
There is no official tally of the numbers at this morning's fun-run so far – the Bangkok Post is reporting 'thousands' whilst organisers claim 10,000 people had registered to participate, a self-imposed ceiling they placed on registrants.
General Prayut Chan-o-cha led a bloodless Army coup in May 2014 and seized power, ousting the democratically elected Yingluck Shinawatra government. Despite a general election in March last year, many of the same faces, who served in the military-led junta government, now appear in the new government with Prayut narrowly winning a vote to become the country's PM.
The protesters, broadly, question the fairness of last year's general poll under a military-sponsored constitution. The new constitution was voted for in 2017 and is believed by activists and opposition forces to heavily weight in favour of the army-supported regime.
While there was no official count of the numbers at Sunday's fun-run style gathering, a rough tally at the site indicated thousands of people, many wearing T-shirts and bibs made for the event. Organisers earlier said 10,000 had registered for the run, adding parallel events would take place in other provinces.
Paphatsara Netsang, a Thai who lives in Singapore, flew to Bangkok for the rally.
"Nothing changes. Everything is still the same. There's no economic improvement. I'm here to show that we're fed up. There's no economic improvement," he told the Bangkok Post.
Meanwhile, a separate rally was also being held this morning in Lumpini Park as a spoiler event to show support for the Prime Minister.
PM Prayut had a win yesterday when the Lower House passed the annual budget after a month of delays and debates. The Bangkok Post opined that "the bill was viewed as a test of his ability to shepherd key legislation through a bitterly divided legislature".
SOURCE: Bangkok Post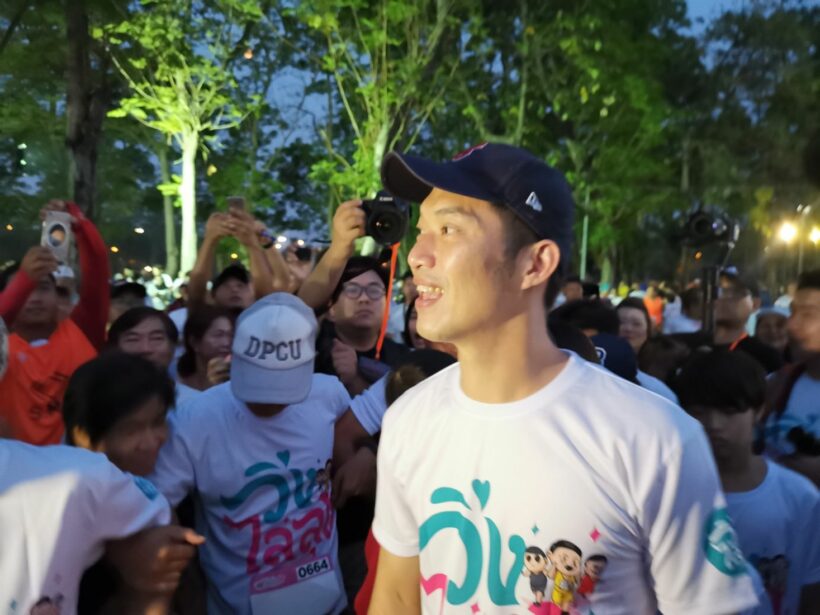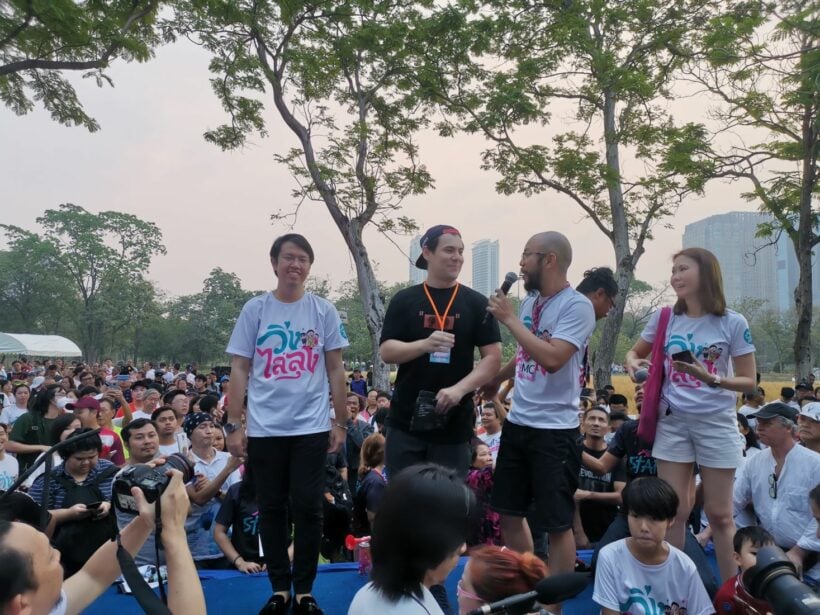 Keep in contact with The Thaiger by following our
Facebook page
.
Nearly 300,000 Bangkok school students stay at home today as a measure to reduce air pollution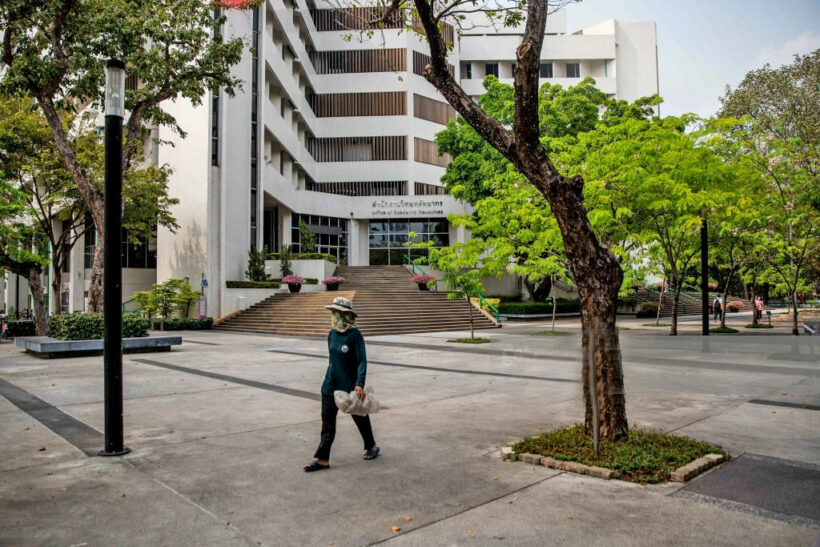 Nearly 300,000 students from 437 schools around Bangkok are having the day off after the Bangkok governor announced they could stay home and avoid the city's smog. Ironically, today's city air pollution has reduced to its lowest level in a week.
The Bangkok Metropolitan Administration suspended classes at 437 public schools for one day and introduced staggered working hours for city public servants from today, "as airborne PM2.5 dust and smoke is forecast to remain excessive".
Pongsakorn Kwanmuang, a BMA spokesperson, says the measures are part of city hall's "four-point plan to cope with worsening air pollution in Bangkok". He says that officials working at district offices will report to work as normal, adding that the staggered working hours will be ended when pollution has eased. How the staggering of work hours would relieve the pollution problem was not outlined by the spokesperson.
"The class closure, affecting over 280,000 students, will reduce the number of cars on Bangkok's streets and help ease PM2.5 problem."
City Hall is also distributing 450,000 free face masks to people in Bangkok.
Keep in contact with The Thaiger by following our
Facebook page
.
Thai PM mulls private car ban in pollution-stricken areas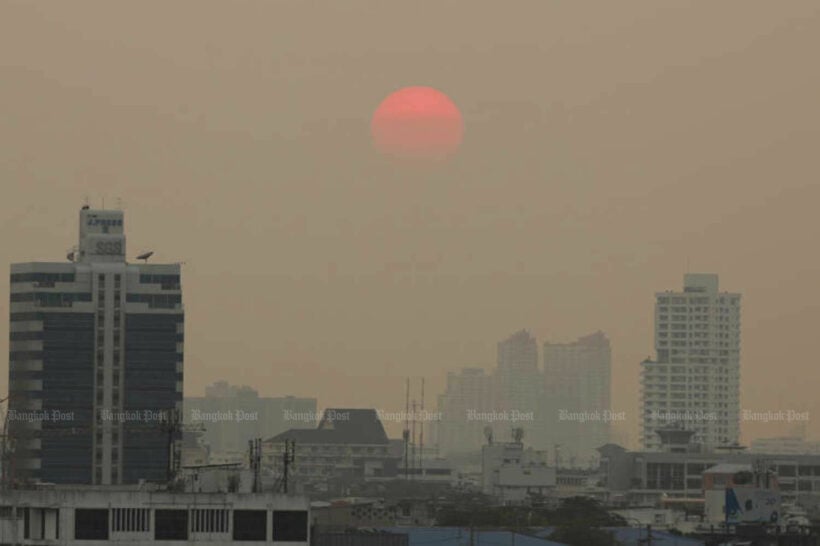 "Bangkok's governor has also signed an order yesterday to close 437 schools in in the city today due to a forecast of higher pollution levels."
The government is considering a ban on private car use in areas affected by hazardous levels of air pollution. The harsh proposal was unveiled Tuesday by PM Prayut Chan-o-cha after a cabinet meeting in Narathiwat. The PM said only public transport services would be allowed to use the roads during a ban.
"Is that what we want? Do we really have to go that far?"
The severe measure would be employed on a case by case basis to avoid unnecessarily negative impact.
The PM says the government is ready to step in with such measures when ultra-fine PM2.5 dust particles in the air exceed 100 micrograms per cubic metre, twice the national so-called safe limit of '50'. (PM2.5 is particulate matter 2.5 micrometres or less in diameter suspended in the air)
"If the dust levels rise to more than 100 micrograms, the government will take over all the work and everyone will be affected."
The PM was responding to questions about calls for tougher measures to deal with sources of the problem and accusations that his government hasn't done enough. According to the Prime Minister, vehicle exhausts are the primary source of PM2.5, followed by biomass burning and industrial emissions. The specific burins of sugarcane plantations, known to be the largest single cause of the smoke problems, wasn't addressed.
In areas where the PM2.5 levels rise to between 75 and 100 micrograms per cubic metre, the provincial governor will implement more stringent measures like prohibiting heavy trucks from entering certain areas of the province at certain times.
And if PM2.5 levels go above 100 micrograms the government will step in and may implement even more stringent rules, "which would affect everyone," according to the PM.
How these measures would play out in reality, and how motorists would be warned of the restrictions wasn't explained.
Natural Resources and Environment Minister Varawut Silpa-archa, meanwhile, hinted that if measures against lorries prove inadequate, private cars could be targeted next.
"It has been found that 72% of the PM2.5 dust particles come from traffic emissions."
The source of the Minister's claim wasn't announced at the time he made the statement.
Among the short-term measures to be implemented next in Bangkok is a ban on heavy trucks from entering certain parts of the city on alternate days, possibly in February only.
Bangkok's governor has also signed an order yesterday to close 437 schools in in the city today due to a forecast of higher pollution levels.
SOURCE: TheBangkok Post | Air Visual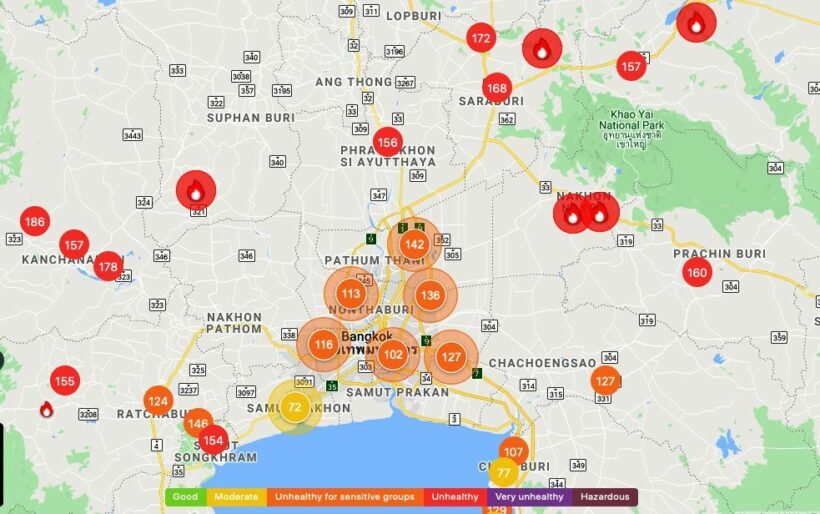 GRAPHIC: Air quality has improved around parts of the capital today whilst the fires to the north east and north west are clearly displayed – Air Quality
Keep in contact with The Thaiger by following our
Facebook page
.
Celebrities take to social media and point out Government incompetence over air pollution problem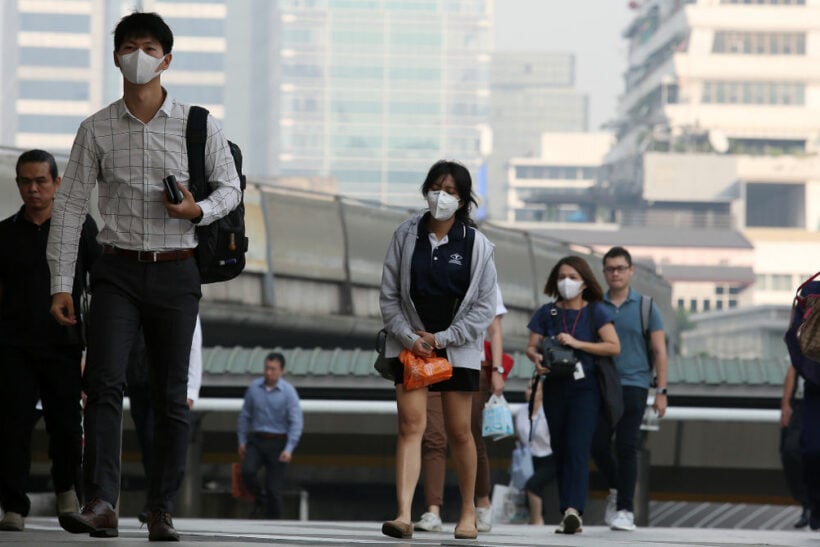 "Thai PM Prayut Chan-o-cha said it's hard to enforce laws to reduce PM2.5 pollution and blamed the public for the poor air quality."
Thai celebrities have taken to social media in a campaign to show the incompetence of public authorities and the Thai government in handling Bangkok's pollution problem, indeed the entire central and northern Thailand which is currently suffering air quality problems. Whilst the litany of clear evidence of what is causing the smoke and haze isn't getting any attention from authorities, social media is now making it abundantly clear and demanding urgent attention.
So some Thai celebrities are joining residents in Bangkok and the suburbs to accuse the Government of being "complacent and incompetent" in its approach to solving the worsening PM2.5 dust pollution that is clouding the skies.
Well known singer Lydia Sarunrat posted pics of her bloodshot eyes on her Instagram account yesterday, showing her irritated her eyes after just 15 minutes riding a motorcycle through the smog in Bangkok.
She explained that she'd been wearing an appropriate face mask, but it didn't help.
Bangkok authorities have famously blamed everything from the traffic pollution and even asked people to stop burning incense sticks. They created big media photo opportunities showing their flashy water cannons and even an army of drones spraying a few litres of water through the air. All of this has done approximately NOTHING to address the problem, the elephant in the room. And the elephant, in this case, is the clear and obvious plantation fires around central and northern Thailand with the smoke blowing across the land and polluting the skies. Without enough wind or rain to blow the smoke away, it just hangs around and causes a health hazard.
The fires are mostly lit by farmers burning off their sugar cane to prepare for a new harvest because it's the cheapest way to prepare their paddocks.
Meanwhile, Thai PM Prayut Chan-o-cha said it's hard to enforce laws to reduce PM2.5 pollution and blamed the public for the poor air quality.
"The public is responsible and a culprit in the PM2.5 problem. Yet we cannot simply put the blame on people and penalise all the polluters because the outcome of penalty measures will create other serious problems for society. We need to rely on asking for cooperation."
The Thammasat University Student Organisation issued a statement condemning the Thai Government's apparent complacency over the deteriorating dust problem.
Many other celebrities have posted the evidence of the fires from Air Visual and other air pollution apps. As well as data from NASA which clearly shows the fires and the spread of the smoke. The evidence should be clear to anyone, except the city authorities and pollution control departments who appear to be unable to read the information and fiddle while Bangkok chokes.
Former Ms. Thailand World 2014, Meya Nonthawan, said she visited a hospital two days after her return to Bangkok from an overseas trip.
"I am now resting at home with an air purifier working."
Rapper Apisit Joeyboy Opasaimilikit asked, in his Facebook post, "I wonder why no one is worried? Are those responsible not worried about us? It is understandable that the pollution comes at this time of the year and then goes away, but no apparent action is being taken at this critical time."
Actress Atthama "Bowie" Chivanichapan's Instagram page shows her wearing a face mask. She says she felt an irritation in her throat after going outdoors.
A Facebook post by "Infectious" reported the children are cluttering up hospitals, suffering respiratory problems, flu, coughing, red eyes, allergies, runny noses and asthma.
'Narisara Student' said, on her Facebook page, that she blames PM2.5 dust and pollution for her dog's respiratory health problems.
SOURCE: Thai PBS World

GRAPHIC: The pollution levels and the actual fires. There they are, on a map… HELLO!?! – Air Visual
Keep in contact with The Thaiger by following our
Facebook page
.