Thieving monkey safely caught in Chon Buri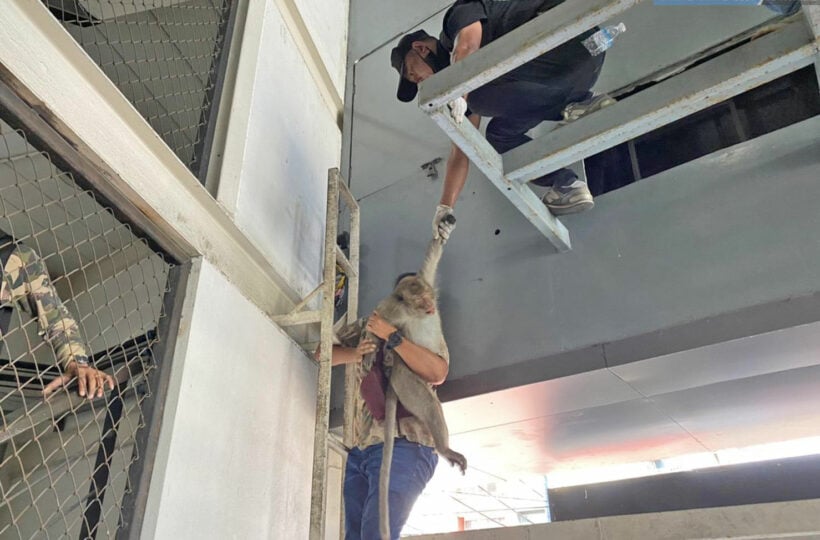 A mischievous macaque, aka. rhesus monkey, has been caught after stealing food from local residents in Chon Buri province's Banglamung district. Authorities of the Department of National Parks, Wildlife and Plant Conservation were notified of the monkey yesterday afternoon at a housing estate.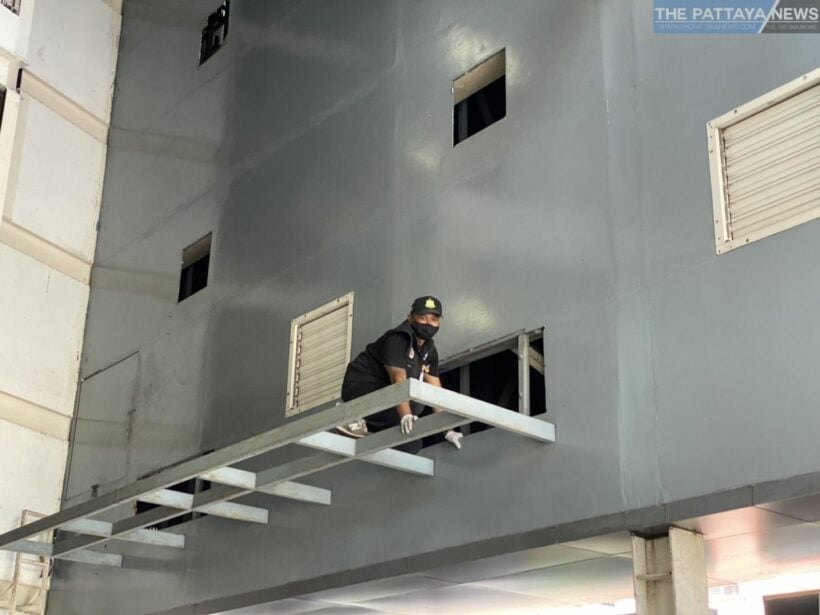 They arrived at the scene to find the male monkey, estimated at around 2 years old, eating and stealing durian, eggs and other food inside a surprised local resident's home.
The animal escaped and dashed away to a rooftop and into ventilation ducts when staffers wildlife control officers from the National Park service first tried to catch him.
They eventually shot the macaque with a tranquiliser dart using a special rifle. The monkey was then able to be safely recovered and taken back to the Banglamung Wildlife Breeding Centre for treatment. He was not injured during the incident.
It took about two hours to actually catch the monkey. He's now recovering at the centre, eating and will be released once he's regained his strength.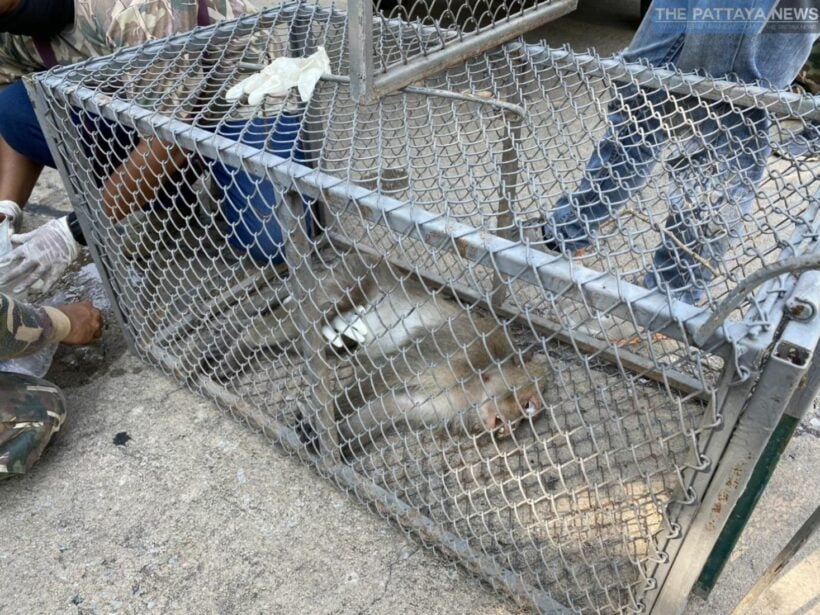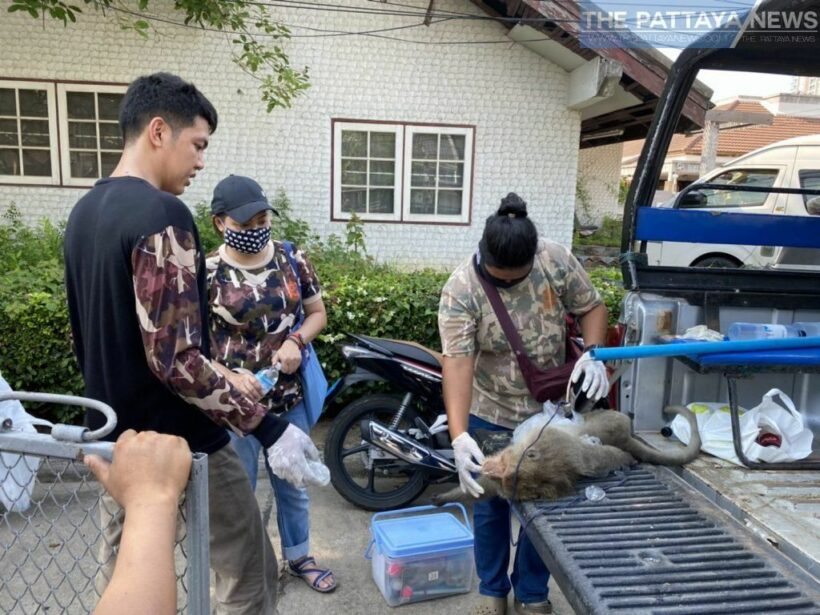 SOURCE: The Pattaya News
Keep in contact with The Thaiger by following our
Facebook page
.
Unemployed elephants: Some return to the wild, others sent to work in logging business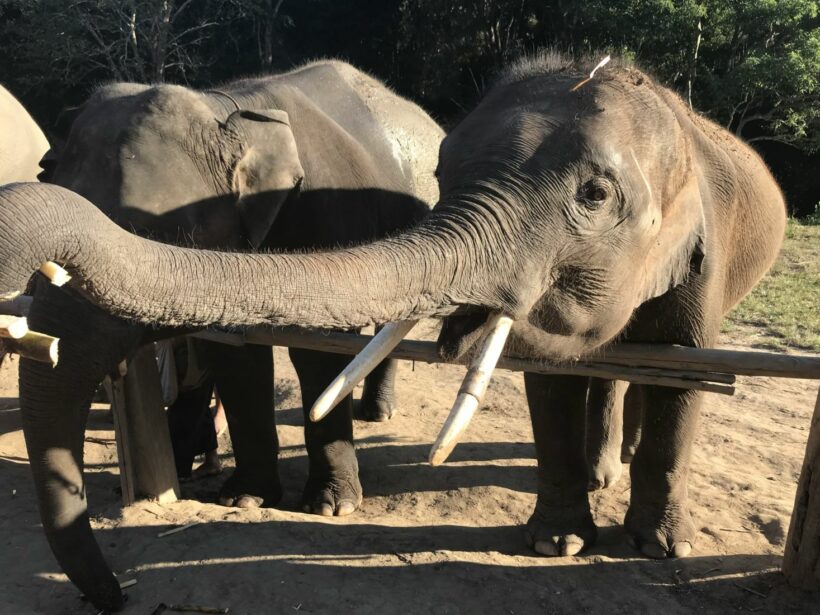 The drop in tourism has had a huge impact on the elephants in Northern Thailand, leaving many elephants, you could say, unemployed. While some elephants are out of business and been taken back to their natural habitat, others are struggling in captivity and might be sent off to work in animal labour which some people may deem as unethical.
A reporter from BBC Thailand follow a group of elephants making the trek and spoke with those in the 'elephant' business. You can watch the video HERE. One owner, who goes by the name Uncle Eddy, told BBC, if the tourism industry doesn't pick up soon, he will hand over his 57 elephants to a logging business in Myanmar.
The video from BBC Thailand showed Uncle Eddy's elephants on short chains standing in a cement outdoor structure. He said if the elephants don't work, then they don't get exercise. Without exercise, the pregnant elephants would have trouble giving birth and the babies would eventually die, according to his commentary.
Thailand has a variety of elephant camps and sanctuaries. There is continuous debate on how elephants should be cared for in captivity. Some establishments keep elephants on a short chain, only to be taken out for rides or shows. Some businesses describing themselves as sanctuaries have elephants roaming the property and allow tourist to feed and bathe the animals. This 'ethical' model is becoming more popular with some of the tourism demographics visiting Thailand in the past.
The Chiang Mai-based Save Elephant Foundation started a project to return some of the elephants back to their natural habitats, Thai PBS World reports. From April to May, more than 100 elephants trekked north from Chiang Mai to Mae Chaem, a 150 kilometre trek.
BBC followed a small group of elephants led by the Save Elephant Foundation and said the elephants became very thirsty and some seemed to be "low on energy". The charity's founder, Lek Chailert, says the pandemic is a chance to get elephants out of the tourism industry.
"Tourists would be swamping into Thailand. The Covid-19 pandemic will give us time to think."
SOURCES: BBC Thailand | Thai PBS World
Keep in contact with The Thaiger by following our
Facebook page
.
Dozens get hospitalised after eating raw meat salad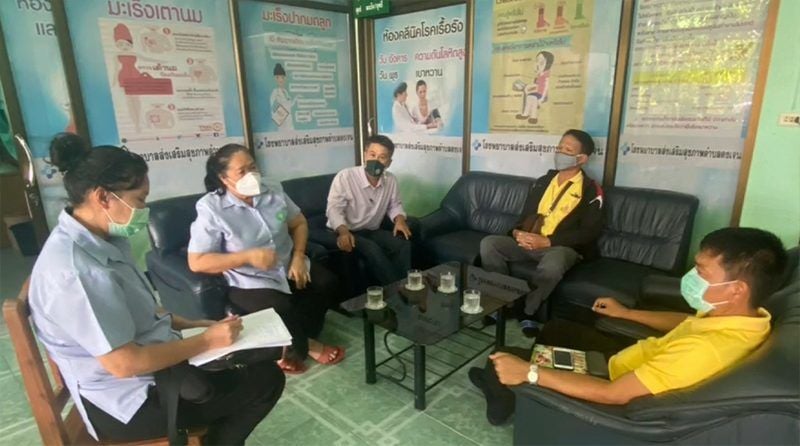 Dozens of Northern Thailand villagers became sick after eating raw buffalo meat and were treated for food poisoning at local hospitals. All 79 people treated ate the raw buffalo meat.
The meat was sold in beef stalls at wet markets in Phayao Province next to Chiang Rai, Thai media reports. Some people bought the meat, possibly thinking it was beef, and ate it as a raw beef salad. Others ate the meat at a restaurant that had purchased it from the same markets. Those who ate the meat on Sunday night started vomiting and having diarrhoea by early Monday morning.
With Thailand's hot weather and raw meat sold in outdoor markets, there's a higher chance of food poisoning, a public health official said, advising against the consumption of raw meat at any time.
SOURCE: Thai Residents
Keep in contact with The Thaiger by following our
Facebook page
.
African horse sickness: Imported zebras need health check and quarantine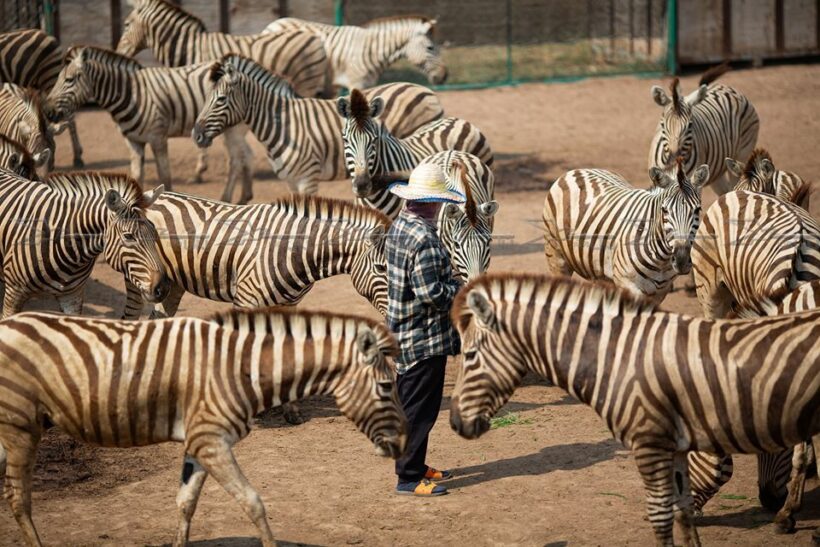 Humans have the coronavirus, the animal world in Thailand has an outbreak of their own: African horse sickness. The government is now requiring all imported zebras to be quarantined and tested before entering the country. The same goes for horses.
Why are people importing zebras? Who knows, but apparently it hasn't been that hard to get the exotic animals into Thailand. A former university faculty of fisheries dean said "zebras, for instance, are freely imported through Suvarnabhumi airport as though they were cats or dogs," according to Nation Thailand.
Thailand is experiencing its first outbreak of the disease, affecting more than 500 horses since February. Some were prized racehorses. Apparently zebras imported from Africa are the source, with some of the zebras testing positive for the disease, but officials say there's not enough evidence to completely lay the blame on the zebras.
There's been a vaccine released by the government's livestock department, but racehorse owners say that many horses have died after being vaccinated, with the assumption that the animals had become infected before receiving the vaccine and the animal building immunity. There are strict restrictions in Nakhon Ratchasima where the outbreak emerged. The Bangkok Post said any movement of giraffes, horses, donkeys and mules is prohibited.
SOURCES: Nation Thailand | Bangkok Post| Bangkok Post 
Keep in contact with The Thaiger by following our
Facebook page
.