Bangkok
Environment
Suvarnabhumi villagers still chasing compensation from government after 13 years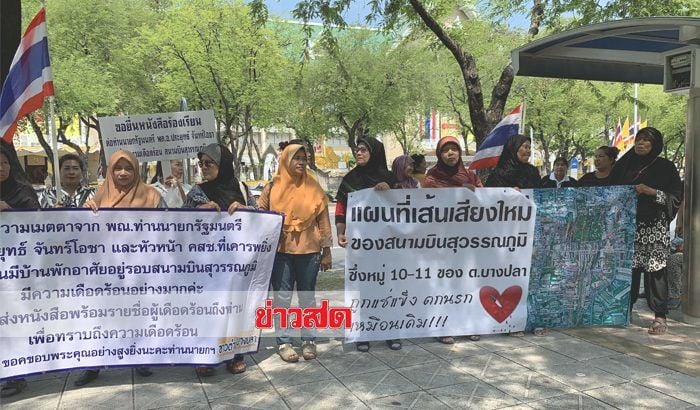 PHOTO: Khaosod
Villagers living next to Suvarnabhumi Airport have filed a complaint about the noise from the planes.
The villagers say they have been suffering from the airport noise for years since the construction of Suvarnabhumi (it opened in September 2006). Leader of the Dinui Yiddee Muslim Community, Saenee Kamsawat, says they are in the process of filing an official letter of complaint to the Ministry of Transport to find an emergency solution for the villagers.
At least 200 homes have still not received compensation as published and promised by a cabinet resolution for Airports of Thailand Public to compensate the villagers back in 2006.
The villagers live right by Suvarnabhumi Airport in Bang Phli District, Samut Prakan Province. 30 village representatives came to the Ministry of Transport with a letter to Saksiam Chitchob the Minister of Transport.
The villagers also want the Ministry to send representatives into the area so that they can understand how bad the issue is. Their homes are located only 3 kilometres away from Thailand's largest and busiest Airport. The locals say they've been struggling with the noise pollution for years without any care from the Ministry.
`Other related issues in their complaints, apart from the extremely loud noise, is broken TVs, trees not growing properly, and the fish remain small.
"We give the Ministry of Transportation 1 week to send representatives into the area so that they realize how much the villagers are suffering without the compensation money. There are currently about 200 households that have not received their promised compensation, an average of 400,000 per household or about 80 million baht all together. We hope that the Ministry can speed up Airports of Thailand to pay the villagers."
"We ask for mercy from the Prime Minister General Prayut Chan-o-cha and leaders. We have homes around Suvarnabhumi Airport and are extremely bothered. We have sent a letter with a list of names that are suffering. We thank you so much Mister Prime Minister."
`"We wish to file a letter to the Ministry of Transport on the suffering, Suvarnabhumi Airport."
SOURCE: Thai Residents