Thanathorn is able to attend this afternoon's opening of Parliament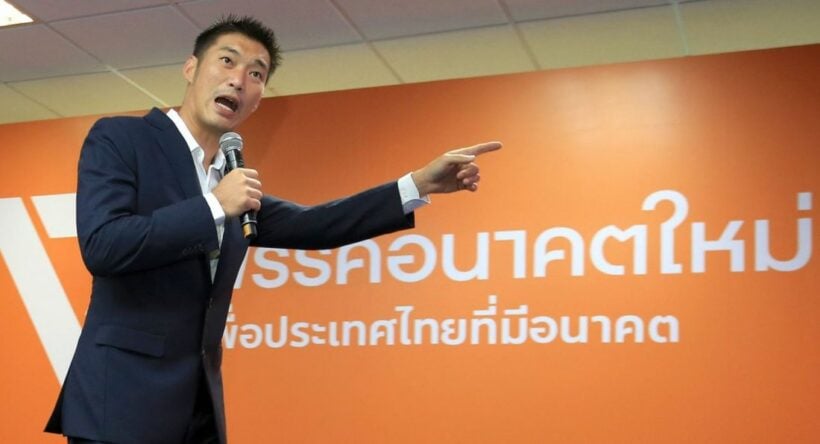 PHOTO: Future Forward party leader Thanathorn Juangroongruangkit, heading to the opening of Parliament today?
Future Forward party leader Thanathorn Juangroongruangkit has been told he can attend the opening of parliament today by His Majesty the King in the conference hall of the Ministry of Foreign Affairs.
But the 41 year old leader of Future Forward is yet to confirm his attendance after being told yesterday he would not be able to be part of the opening proceedings.
Sorasak Pienwech, the secretary-general of the House of Representatives, says his office is yet to receive a formal order from the Constitutional Court temporarily suspending Thanathorn's parliamentary membership so, as far as they're concerned, he is still a member of parliament and is permitted to attend today's opening at 3pm.
The Constitutional Court voted 8:1 yesterday to suspend Thanathorn's parliamentary membership after it unanimously voted to accept the Election Commission's media share ownership case against him.
As for the meeting of MPs tomorrow, in the conference hall of TOT Company on Chaengwattana road, he said Thanathorn can attend because he has not yet taken an oath as constitutionally mandated.
After the oath-taking ceremony, however, he will have to stop performing his duties as an MP and will have to leave the meeting, according to Mr. Sorasak.
Informed sources said that Mr. Pornpektch Wichitcholachai, former president of the junta-appointed National Legislative Assembly, will be nominated as the only candidate and he is likely to be elected the Senate speaker because of his close connection with the junta, especially Prime Minister Prayut Chan-o-cha.
SOURCE: Thai PBS
Initial investigation into deadly Bangkok motorcycle taxi brawl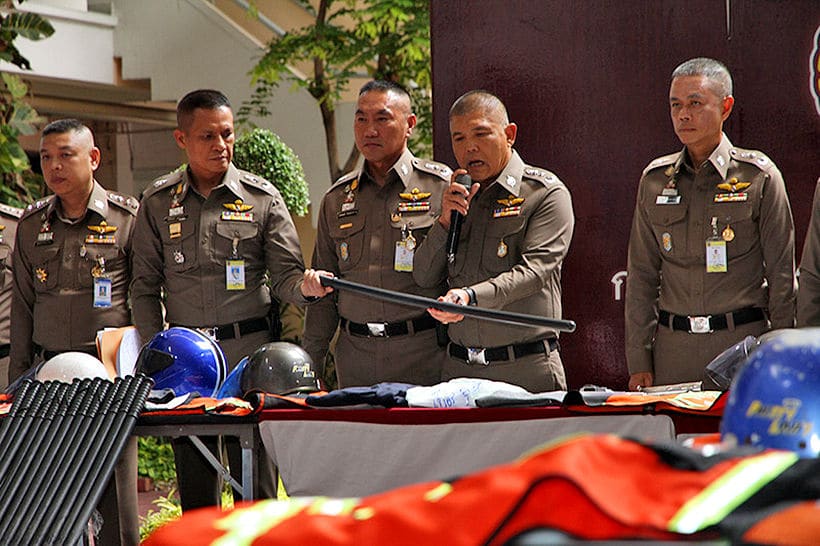 PHTOTO: Naew Na
There were 127 people involved with 58 people leading the fighting. 19 people are in custody, many injured and one death. That's the bottomline after initial police investigations were announced following June 15's bloody brawl between two rival motorcycle taxi gangs in Bangkok.
Innocent bystander, 20 year old Weerawat Pheungkrut, a courier with Kerry Express, was killed when a bullet struck him in the left eyebrow at the height of the violence.
Pol Lt-Gen Sutthipong Wongpin announced the progress of investigations into the hour-long violence between riders from Udomsuk 1 and Udomsuk 2 in Soi 103 in the Bang Na police jurisdiction.
Confiscated at the time were a knife,  .45 gun, and 31 rubber batons. He also said the police had used CCTV and video clips from multiple locations to help identify the key protagonists and sort out the course of events. They perpetrators will face charges of premeditated murder, conspiracy, weapons charges and assault. He announced that police were satisfied the ring leaders and key perpetrators were now in custody pending further legal action.
Violence broke out after 'win' riders from the Udomsuk 1 gang had been forced to pay 3,500 baht to join the rank in addition to a 3,000 baht monthly fee. Meanwhile, Udomsuk 2 riders weren't required to pay anything and their site was in a preferential site with more customers.
SOURCE: Naew Na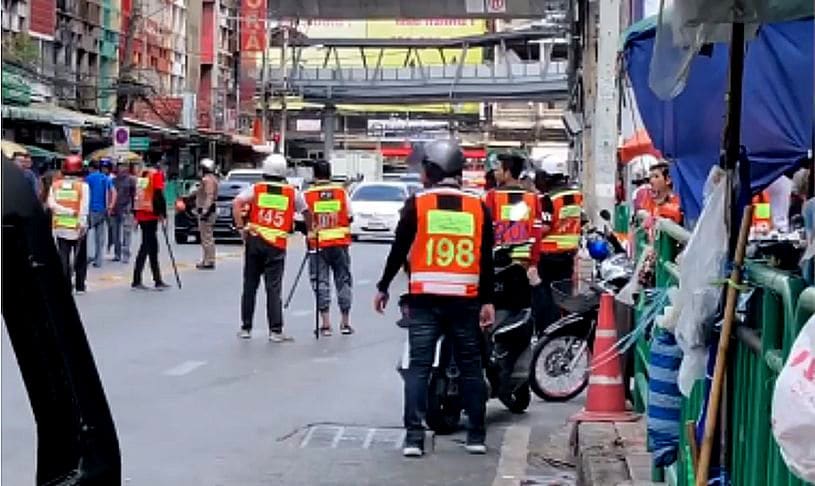 Military escort motorcycle rider smashes into Bangkok taxi – VIDEO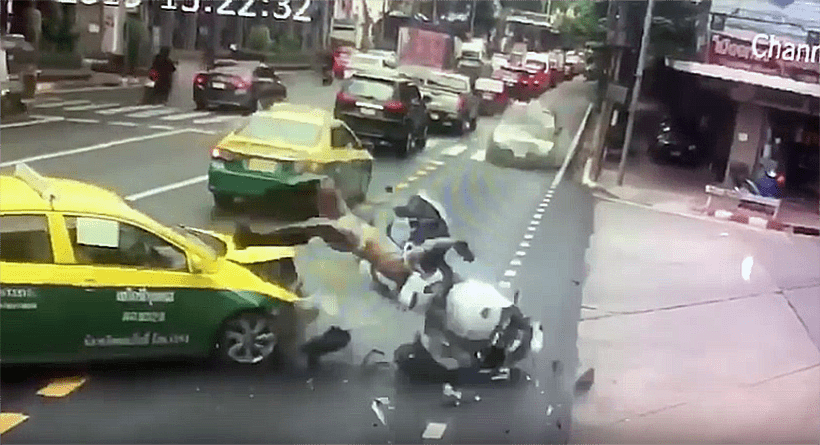 The shocking moment when a military officer on motorbike, escorting a high-ranking Army official travelling in a black Mercedes, collided into a Bangkok taxi, at 1.22pm yesterday. He was an officer with the Military Police.
The Toyota taxi with Bangkok plates was making a right hand turn into the Khet Pom Prap Sattru Phai centre in central Bangkok.
The injured officer was attended to initially by the occupants of the Mercedes riding behind including the dignitary riding in the back, then volunteers from the Ruam Katanyu rescue foundation, before he was taken to a local hospital.
The male taxi driver, who eventually emerged from his damaged taxi, is being questioned by police.
Good news, the man only received minor injuries and headed home after treatment.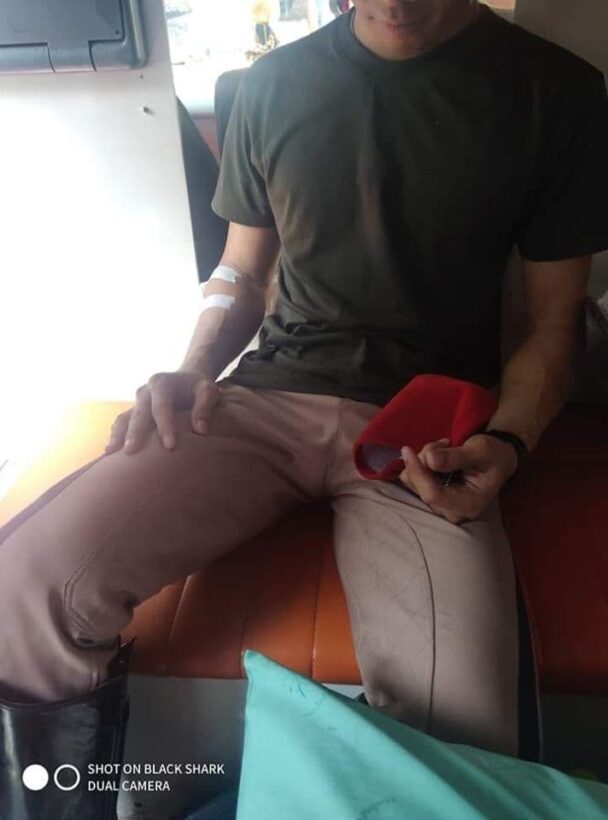 SOURCE: Sanook
Tougher laws and bigger fines for taxi drivers who reject passengers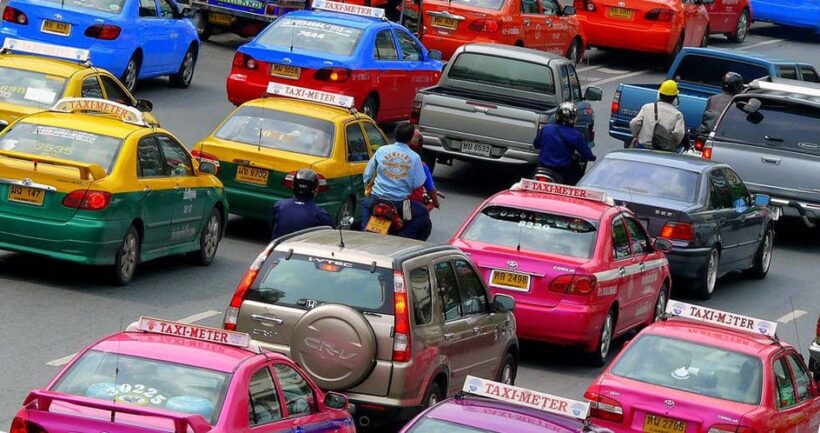 Mai dai! Taxi drivers who say 'no' to passengers will soon be liable to a fine of 5,000 baht. That's up from 2,000 baht. Taxi drivers, especially in Bangkok, are notorious for rejecting fares when the passenger's travel plans doesn't suit the driver's, especially at times near the change of shifts.
The owner of the taxi will now face a fine not exceeding 5,000 baht under a new bill currently being drafted by the Land Transport Department.
Thanee Suebruek, the Land Transport deputy director-general, says that the problem of taxi drivers rejecting passengers accounts for the highest number of complaints filed by passengers.
"Taxi drivers rejecting passengers may indicate that the maximum fine of 2,000 baht under the existing law is too lenient, hence the move to increase the fine to 5,000 baht."
"The increased fine will be on a par with fines for other public transport rule infringements."
Mr. Thanee says the new fines will also empower land transport officials to suspend the license of a taxi driver, who rejects passengers, for between 15-30 days, subject him to a 3 hour lecture on driving etiquette and, if the malpractice is repeated, the driver could have his license suspended from 3-6 months or even revoked.
SOURCE: Thai PBS