Thais vote today as registered absentees in the lead up to next week's election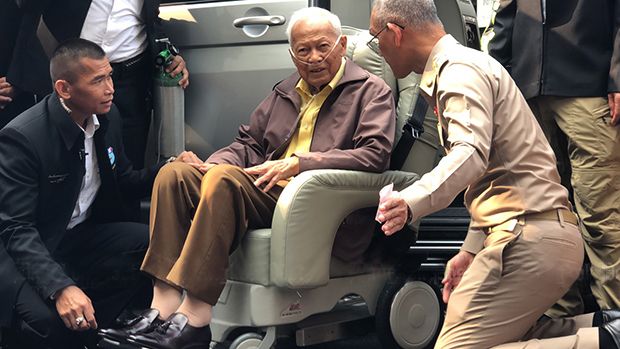 Around 2.6 million of 51 million+ eligible voters have registered to vote outside their home Provinces in Thailand. This includes over 928,000 who will cast their votes at 58 polling stations in the capital Bangkok.
98 year old Prem Tinsulanonda, the popular president of the Privy Council, also voted this morning despite his ailing health.
The former premier, who served as Regent after the death of King Bhumibol Adulyadej in 2016, arrived in a wheelchair at the polling station at Sukhothai School on Sukhothai Road in Dusit district. It was his first public appearance after reportedly being hospitalised recently.
He waved and smiled to reporters but made no remarks, according to The Nation. He was able to stand long enough to drop his ballot in the box.
As part of voting regulations, alcohol sales and distribution are suspended and political parties are not allowed to campaign near polling stations. Police have also been deployed to secure voting venues and manage traffic.
Advance voting will run until 5pm at designated polling stations, but no results will be announced until after the general election next week.


Read more headlines, reports & breaking news in Thailand. Or catch up on your Thailand news.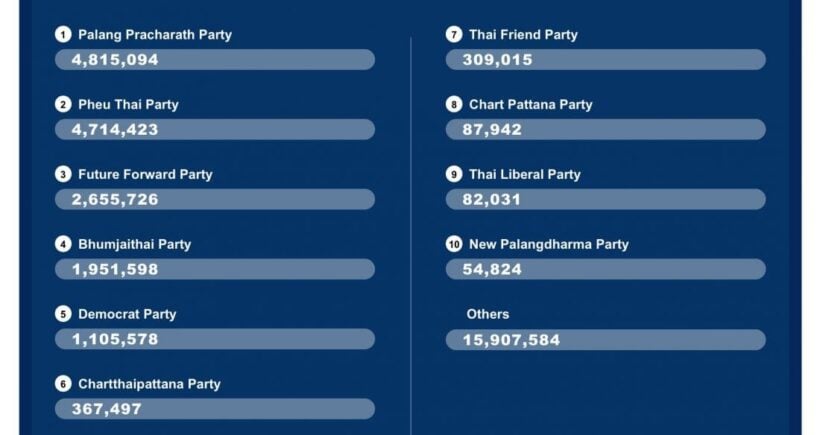 Many of the vote counts from outlying booths from out of the city are starting to come in.
For now, it's neck and neck with Pheu Thai and Palang Pracharat party with a strong showing from Future Forward. The phone calls will surely be underway between leaders of the Pheu Thai and Future Forward about a possible coalition.
At this stage the Democrats have put in a dismal performance.
Full report with the latest votes in the morning with The Thaiger 102.75 FM, our three Facebook pages and the latest on our Thai news website here…. 
https://thethaiger.com/thai-th


Exit poll says Pheu Thai will get most votes but not a majority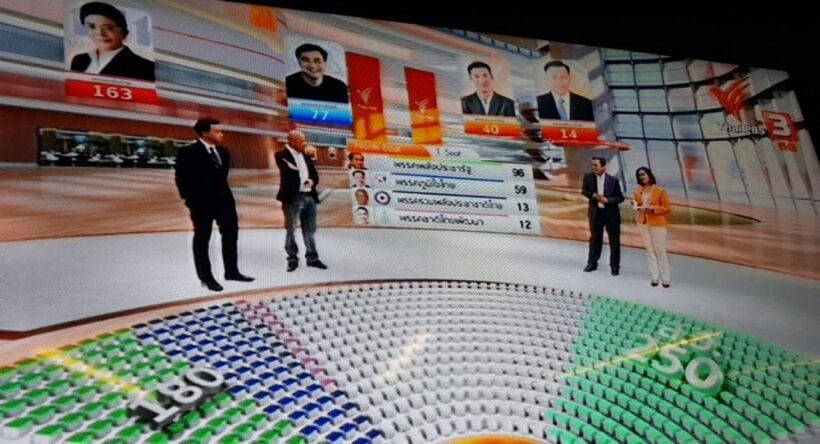 The polls are closed, the ballot boxes secured and the counting starts. Time now for the fancy TV graphics and speculation as Thailand's next government takes shape in the next 24-48 hours.
No party is expected to win a majority of the seats so a coalition will need to be formed. That's where the fun will start.
Pheu Thai is likely to win the most number of MP seats while Phalang Pracharat is tipped to emerge as the second biggest party after today's poll. This is according to an exit poll conducted by Super Poll.
The Democrat Party is likely to finish third.
According to the poll, Pheu Thai would get 163 seats – 153 from constituency MPs and 10 from Party-list MPs.
Phalang Pracharat would get 96 seats – 77 constituency and 19 party-list. The Democrats would win 77 seats – 73 constituency and 4 party-list.
Bhumjaithai Party will likely win 59 seats and Future Forward 40.
After this election, there will be 350 constituency MPs and 150 party-list MPs. The full election results will be known by Tuesday.
But a warning, exit polls conducted after previous elections have been inaccurate. Added to the potential inaccuracy this time, seven million new voters who are voting for the first time and the new constitution which has no poll history.
UN election monitors spread across Bangkok and beyond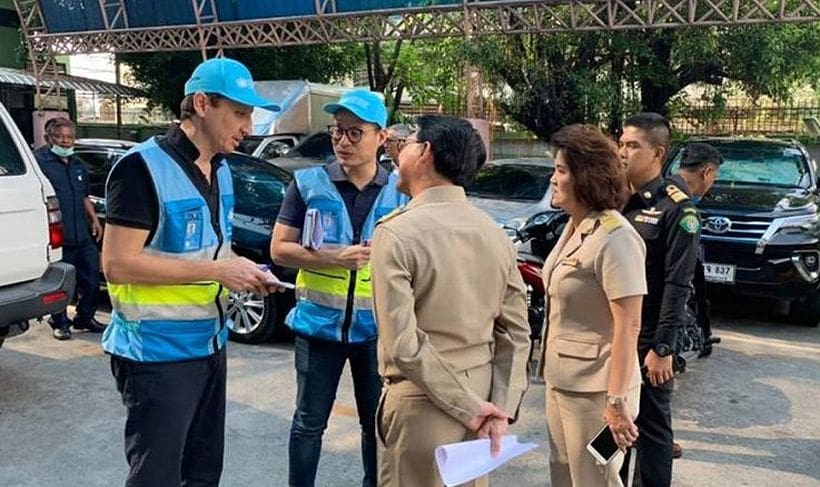 PHOTOS: The Nation
Foreign observers representing the United Nations have fanned out across the capital and its outskirts today to monitor the long-delayed election. Today's national election, the first since 2011, is also the first since the military-backed NCPO seized power in May 2014.
Four four-member teams wearing pale-blue vests were assigned to polling stations in Bangkok, Nonthaburi and Pathum Thani to monitor the electoral process, according to a UN official.
The EC briefed representatives of election commissions from Australia, Bhutan, Cambodia, Malaysia, Maldives, Myanmar, Indonesia, Philippines, South Korea, East Timor, and Vietnam at the Rama Gardens Hotel in Bangkok at 9.45am yesterday morning.
Representatives of the International Institute for Democracy and Electoral Assistance also attended yesterday's session.
EC secretary general Jarungwit Phumma told the representatives that the EC welcomed them to observe tomorrow's election.
Jarungwit says the EC allowed the representative to monitor the election to show that the polls would be transparent, clean and fair so that the international community would have confidence in the next government.
The teams are watching for any issues that might occur as citizens freely exercise their democratic rights in today's poll. Polls close at 5pm today around the nation and the alcohol ban extends through to 6pm tonight.