Business closures up 38%, pandemic 'scarring' the economy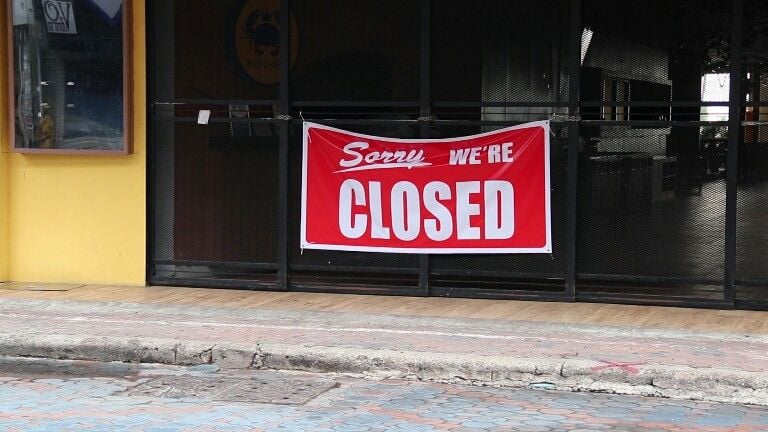 "The pandemic is scarring the economy, especially with the business closures and unemployment."
The coronavirus pandemic has led to a spike in business closures in Thailand, increasing nearly 40% since last year, and those numbers are expected to continue to go up. Many of those businesses were in the tourism industry, a sector that has been crippled by the halt of international travel. With business closures, many lost their jobs, leading to the highest unemployment rate in the past 10 years.
From June to July, business closures went up by 38.4% compared to numbers the same time last year, according to the Economic Intelligence Centre. The EIC, which is a research house under Siam Commercial Bank, says they expect higher numbers in the 2nd half of the year due to the economic decline brought on by the pandemic. As of mid-August, 13,400 businesses had closed. The ratio of business closures increased by 37.9% year on year for the first 18 days of August, according to EIC.
Business closures grew an average of 38% for 2 and a half months and the number is expected to continue to grow for the second half of the year, according to first executive vice-president of EICYunyong Thaicharoen.
"We cannot predict the rate of business closures later this year because it requires analysis with updated data, but the rate is expected to be a double-digit increase."
Hotels and other tourism businesses made up many of the closures, but Yunyong says many textile and automotive companies also closed down. With the business closures, many lost their jobs. The unemployment numbers had a nearly double digit increase during the second quarter in comparison with last year's period. EIC says 745,000 workers in Thailand were reported as unemployed.
"The pandemic is scarring the economy, especially with the business closures and unemployment. With a vulnerable labour market, underemployed and furloughed workers could reach 3 to 5 million in the coming period."
Meanwhile, Thailand's unemployment rate hit a record high. In Q2, unemployment increased to 1.95%, the highest it has been since 2009, the EIC says (Thailand has historically recorded a very low unemployment rate).
Most unemployed people are people are in the 15 – 24 old demographic, many of them being graduates, according to Yunyong. The youth unemployment rate in the second quarter was 8.6%.
The highest unemployment rate is at hotels and restaurants with 2.9%. Construction followed with 2.8% and then electronics businesses at 2%. There are 84,000 people unemployed in hospitality and restaurant business in the second quarter. Other service businesses reported 91,000 people unemployed.
While some people lost their jobs during the pandemic, many people faced lower work hours. The EIC says weekly hours went from 40.7 hours, reported in the first quarter, to 38.1 hours on average in the second quarter. At the end of 2019, the average work hours were reported at 42.7 hours.
SOURCES:Bangkok Post | Chiang Rai Times
Catch up with the latest daily "Thailand News Today" here on The Thaiger.
Keep in contact with The Thaiger by following our
Facebook page
.
Never miss out on future posts by
following The Thaiger
.
Covid-19 shuts down 70% of Phuket's tourism businesses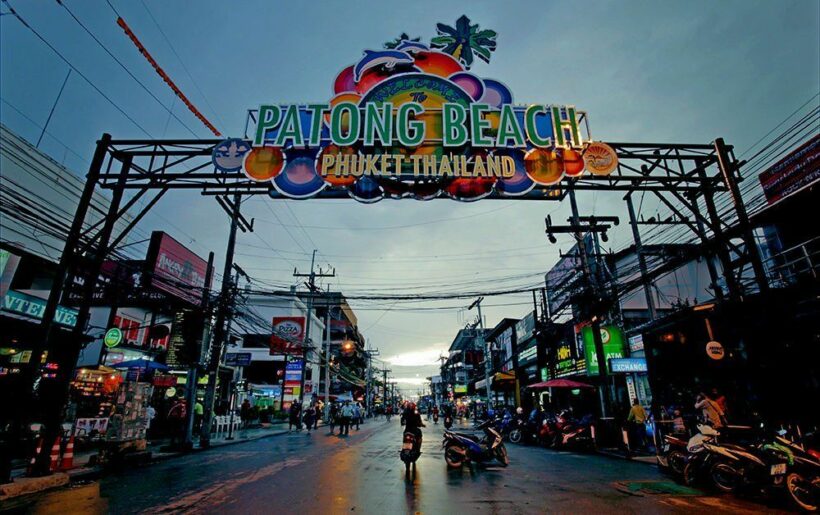 Most tourism businesses in Phuket have closed due to the Covid-19 pandemic, and they probably won't be up and running again until foreign tourists are let back in Thailand. Phuket Governor Narong Woonciew says around 70% of tourism businesses have closed, most of them just temporarily, but some have shut down permanently.
Before the pandemic, tourism to Phuket brought in 450 billion baht a year with 400 billion baht from foreign visitors while the other 50 billion baht was from domestic tourists. Thailand has been trying to increase domestic tourism to help revive the industry after the pandemic. Phuket's governor says it helps, but not enough.
"Their visits can help solve some of our economic problems, but they cannot replace the need of foreign tourists."
66.8% of tourism businesses in Phuket have closed temporarily while 2.8% have closed permanently, according to data by the Digital Economy Promotion Agency. The governor is trying figure out how to recover the economy, fast.
"By the end of September, the number of businesses to be closed will increase up to 70% for sure."
While many businesses are closed, the governor says Phuket is "almost 100% ready to welcome foreign tourists." The governor says he can't give an answer to when foreign tourists will arrive in Phuket, but he claims they've "prepared every step," from checking in at the airport to hotel quarantine. They're just going to install some new temperature check machines at the Phuket International Airport and review the procedures for welcoming the tourists.
"We have to work and prepare carefully to welcome foreign tourists… We have to gradually open our door to welcome small groups of people first, in order to test our system, and then open for bigger groups."
At the moment, only 3 venues in Phuket have been approved to operate as alternative state quarantine facilities. Anantara Phuket Suites & Villas has 100 rooms available, Anantara Mai Khao Phuket has 36 villas and Trisara resort has 15 villas.
SOURCE: Phuket News
Catch up with the latest daily "Thailand News Today" here on The Thaiger.
Keep in contact with The Thaiger by following our
Facebook page
.
Never miss out on future posts by
following The Thaiger
.
Ministry of Labour, CP Foods to hire 8,000 graduates to help reduce unemployment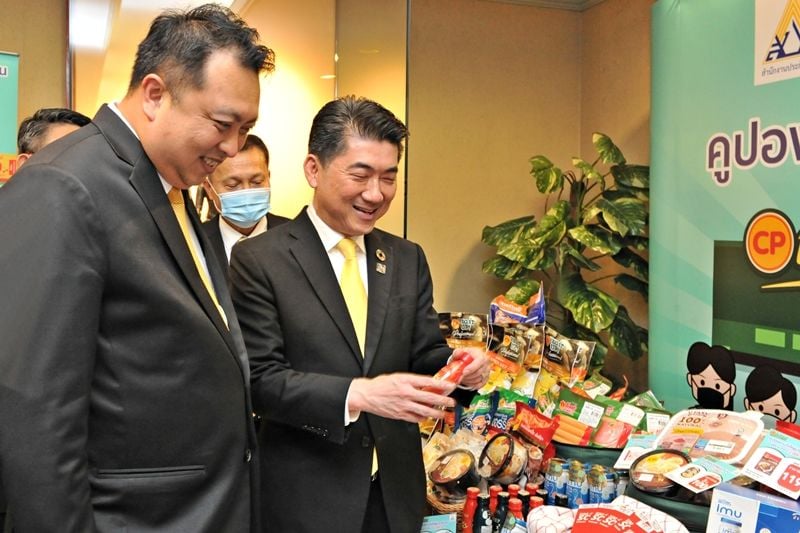 To help reduce unemployment and boost the economy after the pandemic, 8,000 graduates will be hired by the company Charoen Pokphand Foods, known as CP Foods. Thailand's Ministry of Labour recently signed a memorandum of agreement with the company.
4,000 of those jobs will be in Bangkok and metropolitan areas while the other 4,000 more in the upcountry. The job offers vary from positions in the computer science field to positions in the culinary industry.
Labour Minister Suchart Chomklin says the government has a policy to unite all sectors of the society to revive the economy from the coronavirus crisis that caused job cuts, leaving many unemployed, especially new graduates.
He adds that CP Foods has been constantly supporting the government in Covid-19 relief effort since the beginning of the outbreak. This post Covid-19 collaboration will create stability for people at all levels and build more small and medium sized enterprise, or SME, owners that are the foundation of Thai economy.
There's also a discount coupon giveaway from CP Foods and the minister says it will help reduce cost of living for people who are eligible for social security benefits.
CEO of CP Foods Prasit Boondoungprasert says CP Foods is managed in line with the parent group CP Group's policy, to solve the Thailand's unemployment problem, particularly for new graduates, by creating job opportunities and job security. He says it's an "engine for economic revival."
CP Foods will also provide a business opportunity for SME franchises like FiveStar and STAR Coffee, which need a small budget and small space to kick off.
The company will also offer training courses with experts to guide them to start up the business. It expects to create 4,500 franchise owners nationwide.
CP Foods will have a book at the Job Expo Thailand 2020 this Saturday until Monday at the Bangkok International Trade & Exhibition Centres, or BITEC. Those interested can click HERE for more information.
To learn more about starting a FiveStar franchise click HERE and for a STAR Coffee franchise click HERE.
Keep in contact with The Thaiger by following our
Facebook page
.
Never miss out on future posts by
following The Thaiger
.
4 Thai banks to be investigated for "suspicious transfers" after FinCEN files report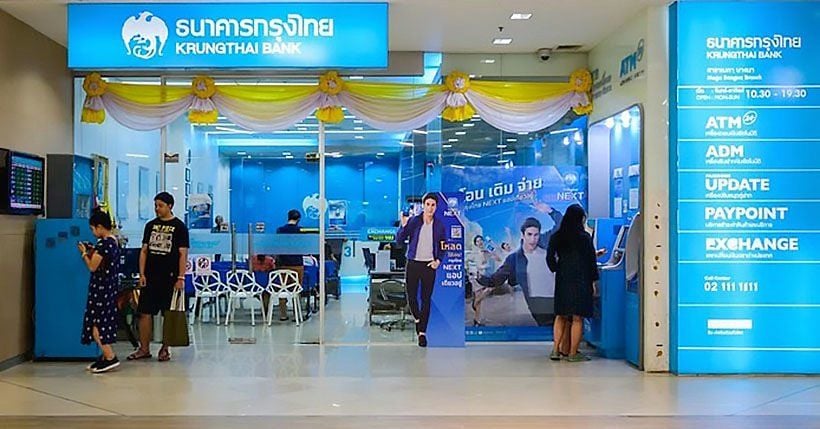 4 Thai banks are being investigated after an international money laundering report said the Thai banks had "suspicious financial transactions." The report found 92 "suspicious" transactions in and out of Thailand totalling to $9,558,752 USD received in Thailand and $31,750,000 USD sent out.
Files were allegedly leaked from the US Financial Crimes Enforcement Network, known as FinCEN, and journalists from the International Consortium of Investigative Journalists, or ICIJ, tracked the money. The FinCEN Files report from the ICIJ says it "reveals the role of global banks in industrial scale money laundering," citing a total of $2 trillion USD in suspicious global transactions from 1997 to 2017.
The Anti-Money Laundering Office plans to investigate Kasikorn Bank, Bangkok Bank, Krungthai Bank and the Export Import Bank of Thailand. The office's acting secretary general Preecha Charoensahayanont says the office is discussing the report with the Bank of Thailand and financial intelligence organisations, according to the Bangkok Post. He says the information needs to be verified first.
"The information from the media has yet to be verified and no one knows if it came from an official intelligence organisation of the United States… There will be an appropriate response. It does not mean that whenever there is any news report, a big investigation will follow. That would cause panic."
The Kasikorn Bank allegedly had 37 suspicious transactions, sending out $9,450,000 USD in suspicious funds and receiving $835,606 USD. Bangkok Bank allegedly had 52 suspicious transactions, receiving $5,966,141 USD and sending out $22,300,000 USD. Krungthai Bank allegedly had 2 suspicious transactions, receiving $200,000 USD. Export Import Bank of Thailand allegedly had 1 suspicious transaction, receiving $2,557,005 USD.
In 2016, the Bangkok Bank allegedly sent out $22,300,000 USD to the CIMB Bank Berhad. The Bangkok Bank also allegedly received a total of $5,920,731 USD from the Israel Discount Bank in 45 different transactions from June 2,2013 to November 12, 2013.
Kasikorn Bank allegedly sent out $9,450,000 USD to the DNB Nor Bank Asa. They also allegedly had 18 transactions with the VP Bank AG, receiving $511,606 USD, and 5 transactions 18 transactions with DMS Bank & Trust, receiving $324,000 USD.
Thailand suspicious transaction data by the International Consortium of Investigative Journalists FinCEN Files report. Click HERE to follow the money.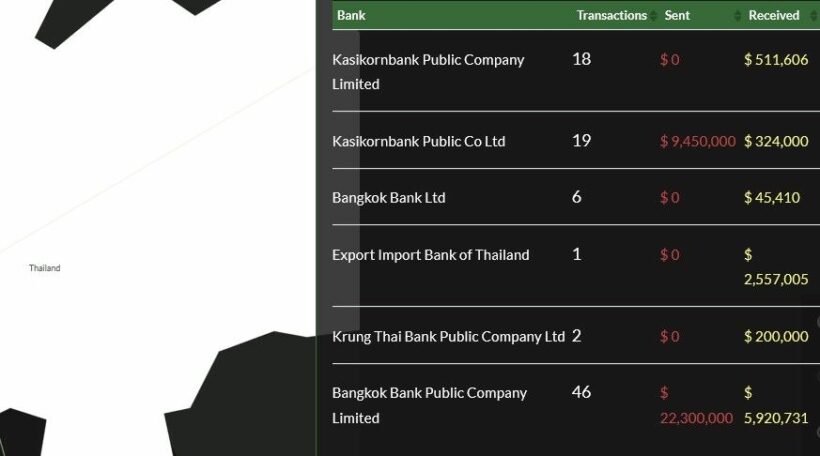 SOURCES: ICIJ | Bangkok Post
Catch up with the latest daily "Thailand News Today" here on The Thaiger.
Keep in contact with The Thaiger by following our
Facebook page
.
Never miss out on future posts by
following The Thaiger
.