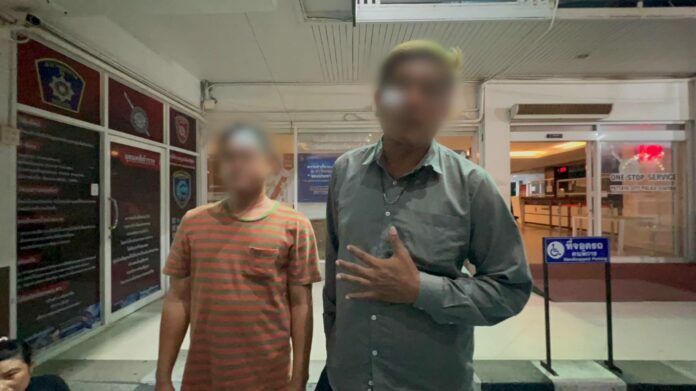 A group of taxi mafias allegedly assaulted two Pattaya Bolt drivers on Sunday. The Bolt drivers, 39 year old Kriengsak Tubtimtong and 40 year old Somchai Thongdee, said the incident happened in the Naklua sub-district of Chon Buri's Bang Lamung district.
Kriengsak, told Pattaya Police that he and Somchai had planned to peacefully resolve a territorial conflict between them and the group of local taxi drivers. But when Kriengsak and Tubtimtong arrived to settle the dispute, the taxi drivers and about 30 'outsiders' showed up to meet them, some carrying guns, Kriengsak claimed. The bolt drivers referred to the crowd as a group of "taxi mafias."
The two sides argued back and forth, but couldn't reach an agreement.
Kriengsak said the group threatened to shoot him and Somchai, and beat them up. The two Bolt drivers suffered non-life-threatening injuries, and had three stitches, The Pattaya News reported.
As is the case with many of Pattaya's crimes, police said the incident had damaged Pattaya's reputation. Police said they would investigate who is involved in the 'taxi mafia' and threatening Bolt drivers with weapons.
Pattaya Police said they would have investigating officers survey the incident scene to look for suspects.
'Gang' violence often erupts between regular taxis, Grab and Bolt taxis as well as between 'Win' motorbike taxis and Grab and Bolt motorbike taxis.
In August last year, 150 orange-jacketed "Win" motorbike taxi drivers took to the streets of Bangkok in protest of Grab's GrabBike feature.
The Win drivers, who have to pass many tests to gain their orange jackets, allege that GrabBike drivers – who are not as qualified – are stealing their clientele.
In November, over 800 Grab delivery drivers clad in Green jackets gathered in Bangkok to protest new police rules that they say significantly reduced their income.
Time will tell what further developments unfold between Bolt drivers and local taxi drivers.