Phuket speedboat crash captains released on bail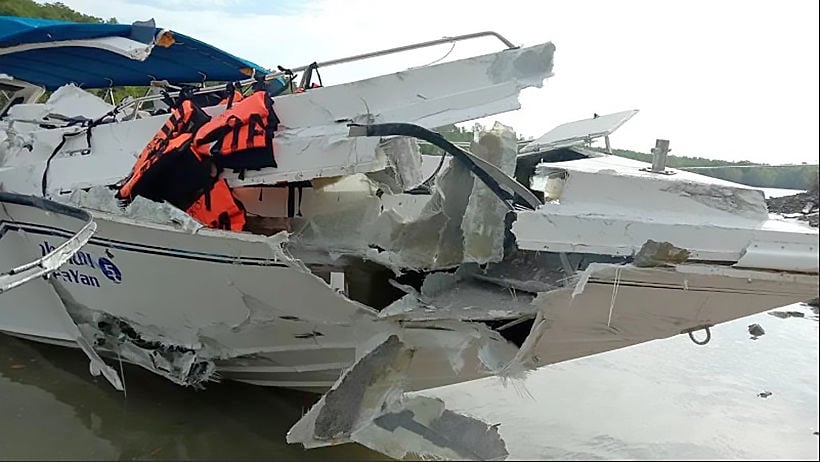 An official of the Phuket Provincial Court confirmed this morning that both captains involved in the speedboat collision on Monday that killed two Russian children and injured more than a dozen others were released yesterday on bail of 150,000 each. Both were charged Monday with "recklessness causing death and injury." 24 year old Atsarawut Suden and 33 year old Anusorn Duangkiet must present themselves to the court in seven days. Phuket City's police chief told reporters that police had requested that the court deny bail.
The collision, between tour speedboats "ALP 111" and "Payan 5," occurred in the channel linking Phuket Boat Lagoon and Royal Phuket Marina to Phang Nga Bay, at about 8am on Monday. The Payan 5, operated by Seastar Tour, was on the way from Laem Nga in Rassada to pick up tourists at Royal Phuket Marina when the incident happened.
As the Payan 5 was turning into the access channel to arrive at Royal Phuket Marina, it was struck by the "ALP 111", operated by Andaman Leisure Phuket.
The ALP 111, driven by Atsarawut, had 35 passengers on board, all Russian, who had boarded the boat at Boat Lagoon Pier, further inside the channel. 12 year old Russian boy Lysxi Iaroslav, and 9 year old girl Lysaia Mirasalavr, were killed in the collision, and 19 of the remaining tourists were rushed to hospital.
All but 52 year old Tatiana Erhova, and 29 year old Azamat Isinalinov received treatement and were discharged from hospital care. Erhova on Monday was listed as admitted at Bangkok Hospital Phuket, but no updates on her condition have been issued. Isinalinov, who suffered head injuries that required 40 stitches, was listed as under observation at Phuket's Bangkok Hospital,but no updates on his condition have been forthcoming either.
Marine Department Chief Witthaya Yamuang in Phuket said on Monday that he had ordered both captains banned from driving any boat for two years.
SOURCES: The Phuket News | Social media reports | ที่นี่ภูเก็ต
Keep in contact with The Thaiger by following our
Facebook page
.
Abbot who embezzled 69.7 million baht gets fines, suspended sentence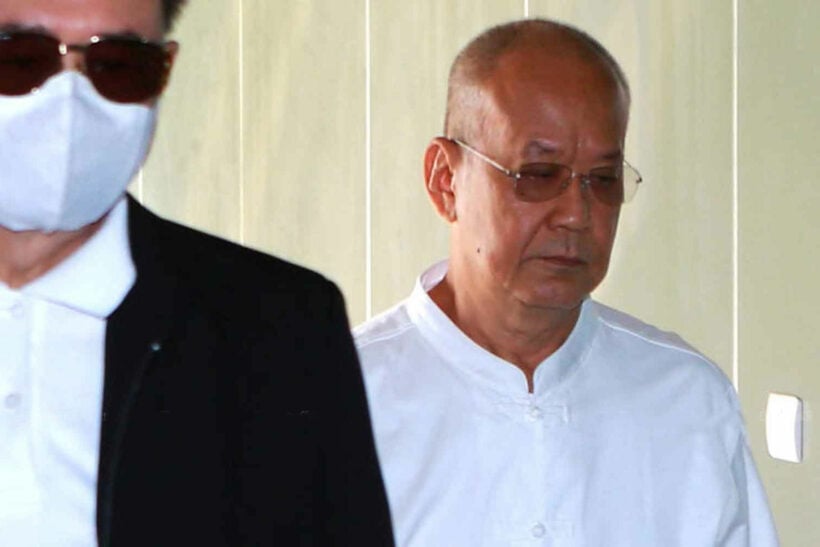 An ex-abbot of Wat Sa Ket (Golden Mount Temple), found guilty of embezzling 69.7 million baht in temple funds, has been fined 27,000 baht and given a jail term of 36 months, suspended. The sentence was handed down at the Central Criminal Court for Corruption and Misconduct Cases yesterday. The court found 64 year old Thongchai Sukkho guilty of "malfeasance."
Prosecutors told the court that Thongchai conspired with former officials of the National Office of Buddhism (NOB), funneling 69.7 million baht to Wat Sa Ket, the only temple to receive such an amount from the office's 5.36-billion-baht budget in 2016. The court found that the money was embezzled for personal use.
However, the court suspended the former abbot's jail term for two years because he "had promoted Buddhism" and had "never previously breached Buddhist rules."
Thongchai was among several former members of the Sangha Supreme Council arrested in 2018 for temple fund embezzlement, according to the Bangkok Post. The same case also involved four other defendants, all executives of the NOB: former director Phanom Sornsilp; former deputy director Chayapol Pongseeda; former director for Buddhism promotion Narongdet Chaiyanet, and former academic official Pattana Su-ammatmontree.
Phanom was sentenced to two years and 12 months and the three other defendants got three years and 18 months.
COURCE: Chiang Rai Times | Bangkok Post
Keep in contact with The Thaiger by following our
Facebook page
.
Dutchman's killer, sentenced to death in absentia, arrested after 13 years on the run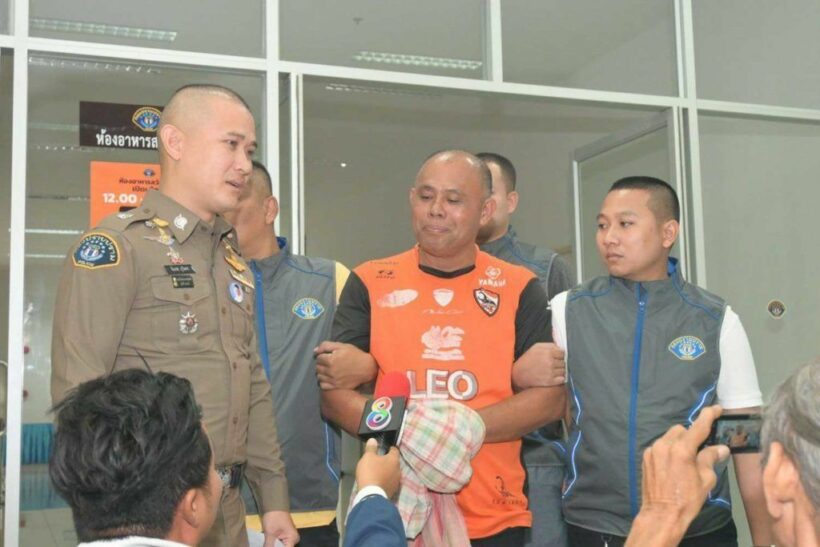 A former municipal councillor in the southern Chumphon province, sentenced to death in absentia for the murder of a wealthy Dutchman, was arrested yesterday after 13 years on the run. 54 year old Anupong Suthani was arrested in the northern province of Phrae. He was wanted on an murder arrest warrant issued by the Pattaya provincial court in December 2007. He colluded with the man's wife and her brother to commit the crime.
Anupong was contracted to build a house for 49 year old Jules Odekerken, the owner of Quick News Pattaya, a foreign newspaper sold in Pattaya and Phuket. Odekerken was married to 37 year old Marisa Prommana, a Thai woman living in Pattaya, with whom he had two children. Anupong began an affair with Marisa, and when he learned Odekerken had life insurance and other assets worth more than 100 million baht, he conspired with the Marisa and her brother to kill the Dutchman, according to police.
On Nov 16, 2003, the two men caught the Dutchman alone in Pattaya and beat him unconcious with wooden clubs. Thinking he was dead, they tied a rope around his neck and dragged him to a vehicle. On the way, Odekerken regained consciousness, struggled and called for help. The two men then beat him repeatedly with rocks until he was dead. They left his body at a garbage dump in Chon Buri province, where it was discovered by police.
[NOTE: The Pattaya News, regarding the same case, reports that Oderkerk was strangled, then shot.]
Marisa and her brother confessed and were given life sentences. Anupong denied involvement in the murder and was released on bail. On December 21, 2007, he was due in court for a ruling on his case, but failed to appear. He was sentenced to death in absentia and an arrest warrant was issued.
Authorities say Anupong hid out in several provinces and changed names, even asking someone to be his representative in buying property in Phrae province, where he lived for more than 10 years before his arrest.
Police say Anupong confessed to the murder and expressed remorse. He has been handed over to Pattaya court for further sentencing.
For additional information on this story please see this archived post from 2007 on the teakdoor message board:
https://teakdoor.com/archive/index.php/t-22681.html
A website devoted to the case can be found here:
SOURCE: Chiang Rai Times | The Pattaya News
Keep in contact with The Thaiger by following our
Facebook page
.
Hong Kong police on a roll as third suspect in toilet paper heist flushed out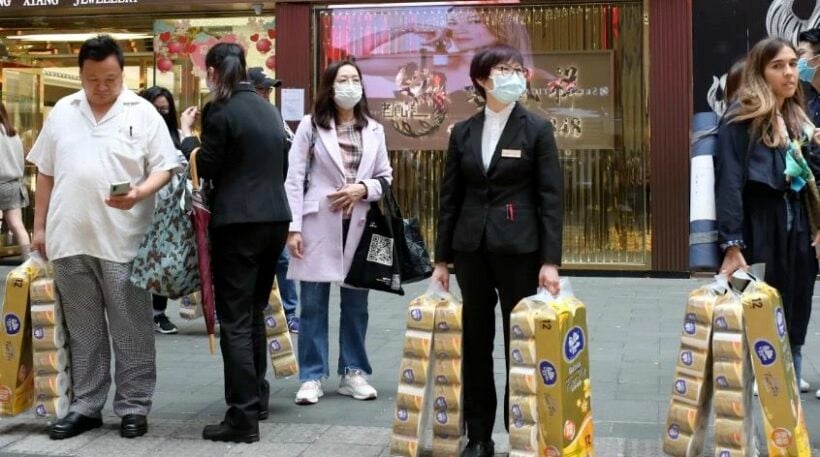 Hong Kong has been gripped by panic buying since the COVID-19 coronavirus outbreak, as frightened residents hoard essentials like rice and toilet tissue. Now, a third man man has been arrested there for his role in a bizarre toilet paper heist, as a gang aimed to clean up during a run of frenzied buying in the city.
The 26 year old man was arrested up during a raid at a guest house not far from the scene of the robbery, in which 600 toilet rolls worth HK$1,640 (6,575 baht) were stolen at knife-point early on Monday morning.
"We believe the trio thought the rolls would have [market] value and that they could profit by reselling them. They knew each other and one of them has a triad background."
"Triads" are traditional organized-crime groups originating from Hong Kong, Macau and Taiwan.
Police say the gang moved the toilet rolls in a trolley after the crime and that they anticipate more arrests.
At about 6am on Monday, three masked men stole 50 packets of toilet roll from a delivery man outside a Wellcome supermarket. Police say one of the men was armed with two knives.
Two people, aged 50 and 55, were arrested on Monday, and police said at the time they were seeking three others, thought to be aged between 20 and 30. Two of the arrested were guest house employees while the third was unemployed.
SOURCE: SCMP
Keep in contact with The Thaiger by following our
Facebook page
.