Phuket speedboat crash captains released on bail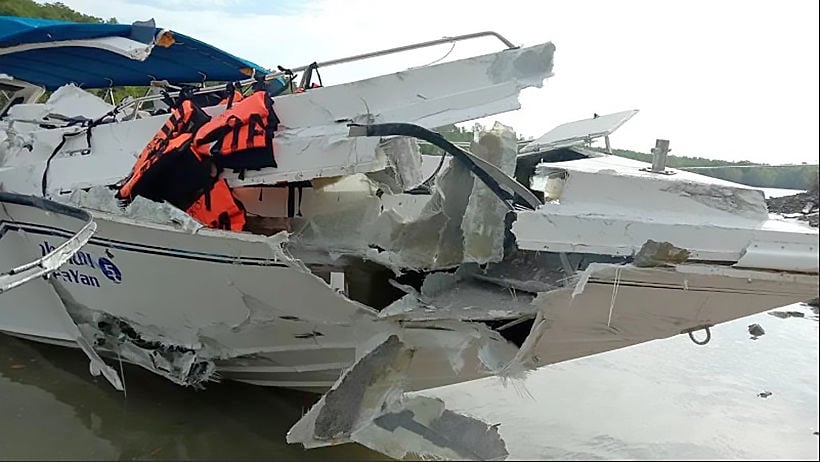 An official of the Phuket Provincial Court confirmed this morning that both captains involved in the speedboat collision on Monday that killed two Russian children and injured more than a dozen others were released yesterday on bail of 150,000 each. Both were charged Monday with "recklessness causing death and injury." 24 year old Atsarawut Suden and 33 year old Anusorn Duangkiet must present themselves to the court in seven days. Phuket City's police chief told reporters that police had requested that the court deny bail.
The collision, between tour speedboats "ALP 111" and "Payan 5," occurred in the channel linking Phuket Boat Lagoon and Royal Phuket Marina to Phang Nga Bay, at about 8am on Monday. The Payan 5, operated by Seastar Tour, was on the way from Laem Nga in Rassada to pick up tourists at Royal Phuket Marina when the incident happened.
As the Payan 5 was turning into the access channel to arrive at Royal Phuket Marina, it was struck by the "ALP 111", operated by Andaman Leisure Phuket.
The ALP 111, driven by Atsarawut, had 35 passengers on board, all Russian, who had boarded the boat at Boat Lagoon Pier, further inside the channel. 12 year old Russian boy Lysxi Iaroslav, and 9 year old girl Lysaia Mirasalavr, were killed in the collision, and 19 of the remaining tourists were rushed to hospital.
All but 52 year old Tatiana Erhova, and 29 year old Azamat Isinalinov received treatement and were discharged from hospital care. Erhova on Monday was listed as admitted at Bangkok Hospital Phuket, but no updates on her condition have been issued. Isinalinov, who suffered head injuries that required 40 stitches, was listed as under observation at Phuket's Bangkok Hospital,but no updates on his condition have been forthcoming either.
Marine Department Chief Witthaya Yamuang in Phuket said on Monday that he had ordered both captains banned from driving any boat for two years.
SOURCES: The Phuket News | Social media reports | ที่นี่ภูเก็ต
Keep in contact with The Thaiger by following our Facebook page.
Never miss out on future posts by following The Thaiger.
Banned politician says government silencing him by invoking Lese Majeste law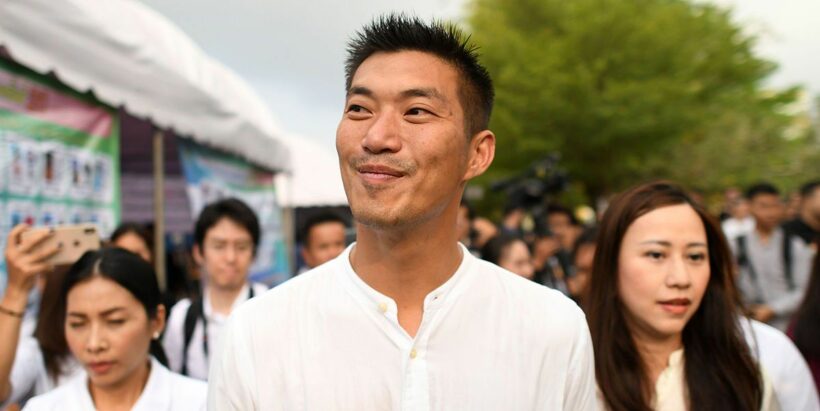 A banned politician, who criticised the government's Covid-19 vaccine plan, is claiming the government is silencing him (again) by invoking the Lese Majeste lawagainst him. The alleged defamation case concerns his questioning of using one of the king's companies as part of the Covid-19 vaccine strategy that he says will slow down the process of inoculations.
Thanathorn Juangroongruangkit accused the government of PM Prayut of relying too much on Siam Bioscience to help in the vaccine plan, and pointed out that it is owned by the Crown Property Bureau, the organisation that manages billions of dollars in investment under the king's personal control.
Siam Bioscience agreed to manufacture AstraZeneca's Covid-19 vaccine and supply it domestically and across Southeast Asia. but Thanathorn says the deal "lacked transparency" and it was given an unfair advantage over other companies after the government ordered 61 million doses of the vaccine.
He says the government is slowing down the process by relying on just 1 company and points to other countries as they are already starting to inoculate residents. Both AstraZeneca and Siam Bioscience have not commented on his allegations, while the government has filed a complaint against Thanathorn citing the royal insult law under article 112 of the criminal code that can send law-breakers to prison for up to 15 years.
"The deals were not negotiated independently of each other. There was no selection process or comparison so questions must be raised."
But a government spokeswoman, Ratchada Dhanadirek, maintains the filing of the criminal complaint was not politically motivated. Last year, Thanathorn was banned from politics for 10 years after a court dissolved his Future Forward Party for illegal loans, charges which were upheld by the Constitutional Court.
Meanwhile, others are criticising the government's announcement to allow local municipalities to pay for vaccines as they say it coincides with upcoming elections. They point out that the government should pay for the vaccinations, especially in Bangkok, as they say the government has the funds to do so.
SOURCE: Bangkok Post
Keep in contact with The Thaiger by following our Facebook page.
Never miss out on future posts by following The Thaiger.
Police search for man who allegedly stole 1.9 million baht worth of gold at gunpoint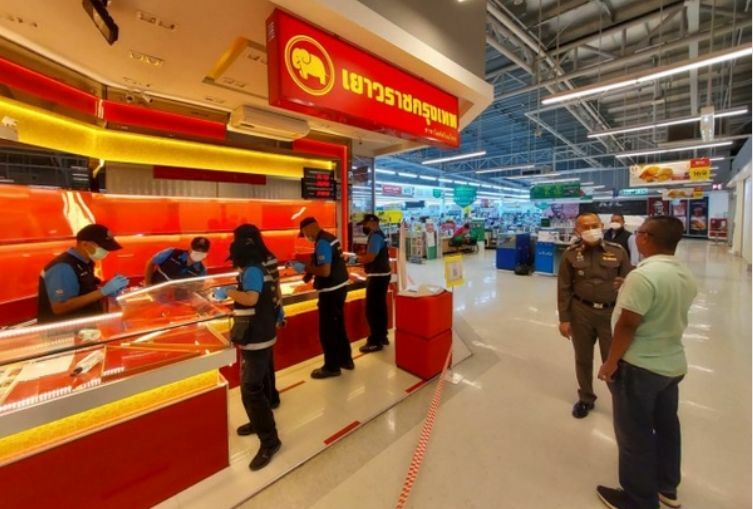 Police are searching for a man who allegedly pulled out a gun and stole 119 gold necklaces worth more than 1.9 million baht from a Tesco Lotus gold shop in the Isaan province Nakhon Ratchasima's Non Thai district.
The man allegedly pulled out a gun and yelled at the Yaowarat Krungthep gold shop staff to get down on the floor. He then allegedly climbed over the counter, opened the display cabinets and grabbed dozens of gold necklaces. Police say he then took off on a motorcycle.
Gold shop employees told police that the man was wearing a yellow hoodie, red pants and a purple face mask. An employee at the scene said the man held a gun and ordered him to lie on the ground.
"The robber then jumped over the display cabinets and grabbed several gold necklaces before fleeing on a motorcycle, which had no license plate."
Police are investigating and reviewing surveillance camera footage. Officers also set up roadblocks.
SOURCE: Nation Thailand
Catch up with the latest daily "Thailand News Today" here on The Thaiger.
Keep in contact with The Thaiger by following our Facebook page.
Never miss out on future posts by following The Thaiger.
Man arrested for allegedly importing millions of fake designer sunglasses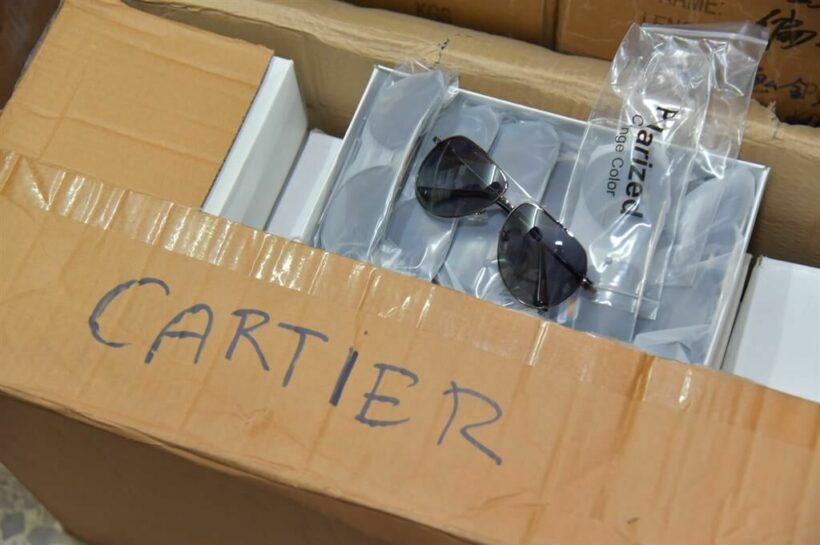 A 42 year old Chinese man was arrested for allegedly importing fake designer sunglasses after police raided 2 locations in Bangkok's Thonburi area and seized 3 million pairs of fake designer sunglasses worth around 300 million baht.
Officers from the Department of Special Investigation raided multiple rooms at the Dao Khanong Condominium and the BMC Dao Khanong Cinema. The department posted photos of the raids showing rooms filled with boxes stacked to the ceiling.
Police say the sunglasses had major designer brand names like Ray Ban, Gucci, Oakley, Chanel, Christian Dior, Dolce & Gabbana, Cartier, Mont Blanc, Marc Jacobs, Armani, Fendi and Versace.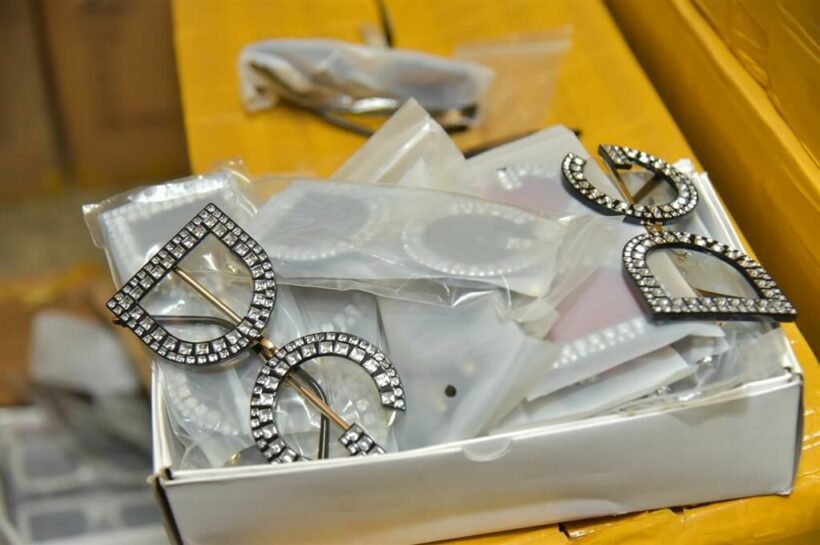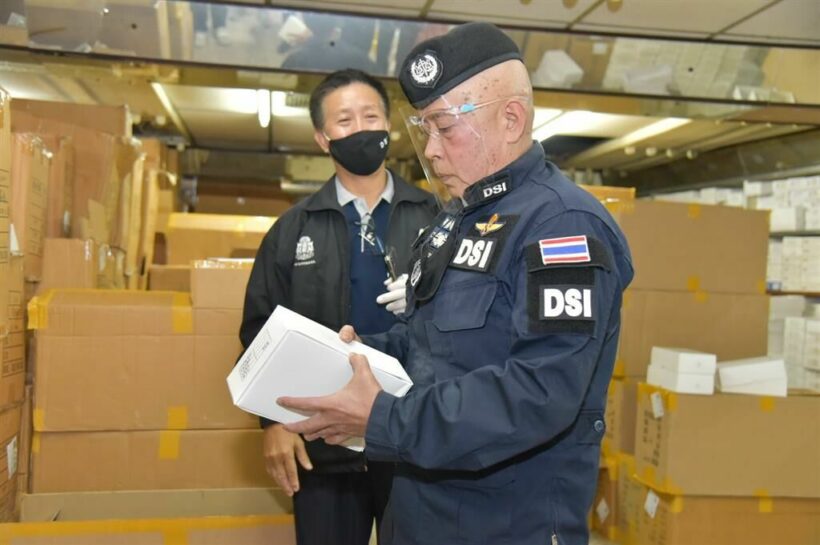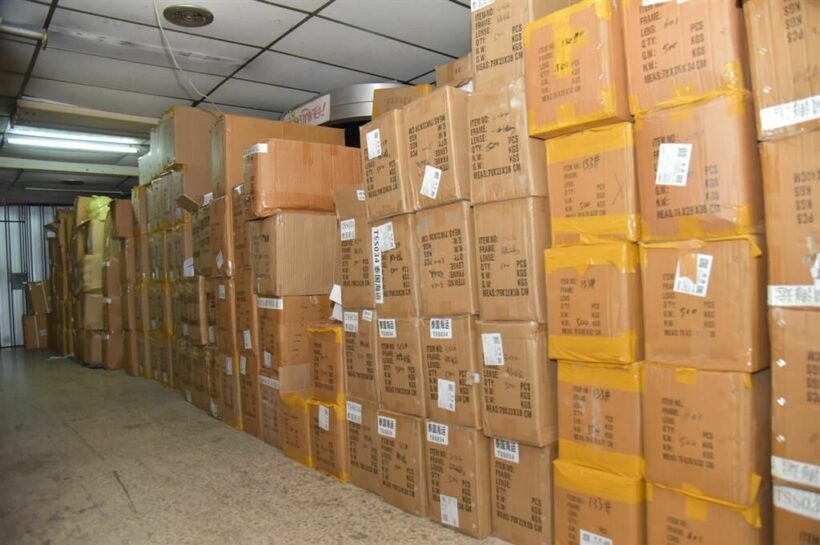 SOURCE: Thai Visa
Catch up with the latest daily "Thailand News Today" here on The Thaiger.
Keep in contact with The Thaiger by following our Facebook page.
Never miss out on future posts by following The Thaiger.