Deputy PM wants rural road safety push for Songkran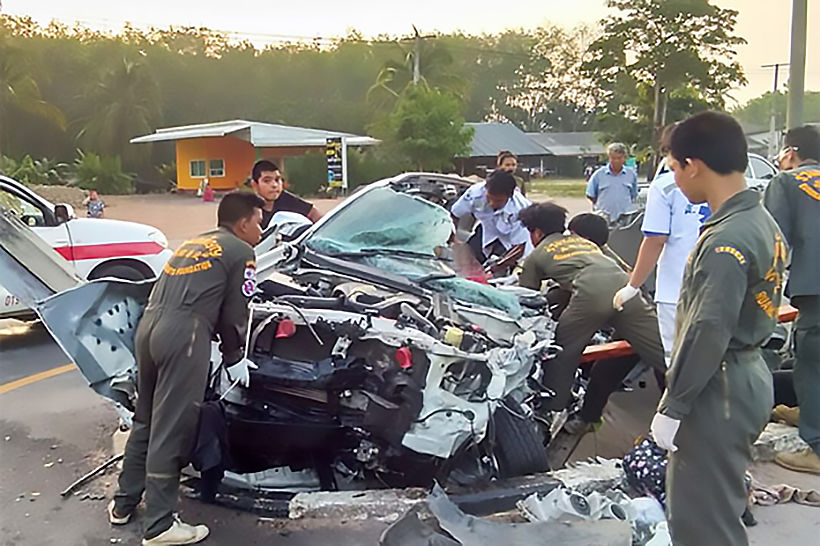 With Songkran and its infamous "7 dangerous days" rapidly approaching, the Interior Ministry has asked local authorities and administrations for effective measures to prevent road incidents. Last year, 386 people were killed on Thai roads during the deadly week .
Road incidents kill some 22,000 in Thailand every year, or about 65 deaths a day. But the Songkran festival's "7 dangerous days" is a big part of the total.
Crashes also cause a high number of serious injuries, with losses amounting to about 10 million baht per case, Deputy Interior Minister Niphon Bunyamanee said yesterday.
"The high toll is largely caused by drunk driving and lack of safety precautions. Thailand has 500,000 kilometres of roads, but 400,000 are in rural areas. So I want more cooperation from local administrations in overseeing local roads, above all barring users who violate traffic laws. This could help cut the death toll significantly. Especially during festivals like Songkran when people celebrate by drinking."
During Songkran last year the proportion of road accidents caused by drunk driving came in at 36.6%, followed by speeding at 28.3%. In 2018, when 418 died during Songkran, speeding was the primary cause (27.7%).
Across 2019's "7 dangerous days," nearly 80% of accidents involved motorcycles. At a little more than 2000 police checkpoints across the country, officers seized 7,282 vehicles and prosecuted a total of 210,883 people, largely for not wearing helmets (55,805) or driving without a license (48,183).
There are two periods each year when local media concentrate their attention on the number of road casualties: "Western" New Year, and Songkran, the Thai New Year. Both are prolonged holidays when the government makes sure everyone gets at least 5 days off, so that people can make family visits to their homes in rural areas.
SOURCE: Bangkok Post
Keep in contact with The Thaiger by following our
Facebook page
.
PM says no to 9 day holiday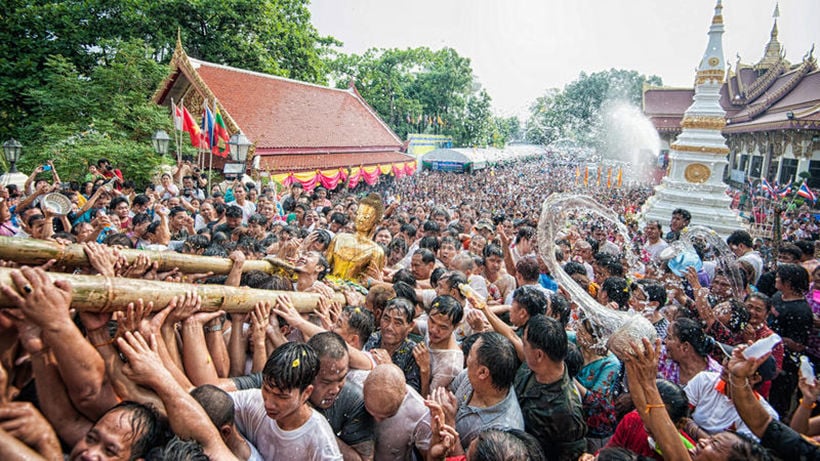 Prime Minister Prayut Chan-o-cha has dismissed the idea of extending the Songkran Festival holiday to nine days. The PM says the idea was not brought up at a government cabinet meeting yesterday and will not be discussed any further.
Prayut said he personally does not agree with a longer Songkran holiday and doesn't believe it would have a great effect domestic tourism, as suggested by proponents of the extended holiday.
"I think the normal holiday should be enough, because all public services are necessary. I don't think an extended holiday to spur tourism would generate much return."
The idea was to add two more days, Thursday, April 16, and Friday, April 17, so that Songkran, the Thai New Year holiday, would run nine days from April 11-19.
SOURCE: Bangkok Post
Keep in contact with The Thaiger by following our
Facebook page
.
Thai government ponders nine day Songkran holiday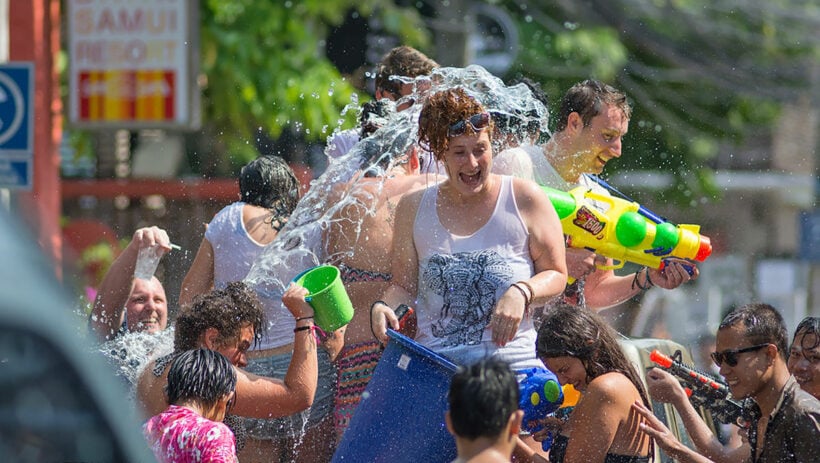 With the impact of the coronavirus cutting deep into the Thai tourism industry, and tourism accounting for around 18% of the Thai GDP, the government are eyeing some additional public holidays to boost spending and activity.
The Thai PM announced yesterday that the government is considering adding two public holidays to the annual Songkran festival. Songkran, the Thai new year celebration, is held on April 13 every year. A full nine days are being considered for this year's celebrations, but the PM said cabinet was yet to come up with the details.
"The final decision has not been made yet."
PM Prayut Chan-o-cha says the extended holiday would help tourism operators.
This year the Songkran break would start on Monday, April 13 through to Wednesday, April 15. If you add the weekend preceding the holiday, you already have a five day holiday.
The Bangkok Post reports that Deputy PM Somkid Jatusripitak came up with the idea of extending the Songkran break this year to also include the Thursday and Friday as well, making it a total of nice days (from April 11-19).
"The long period will encourage more people to travel and spend money to give the tourism industry a boost after a sharp drop of tourist numbers from China."
But the extra two days won't come for free. Two public holidays in the second half of the year might be cut to compensate them if the plan to extend Songkran is approved.
The coronavirus (Covid-19) outbreak, which started in China during December last year, continues to take a toll on Thai, and international, tourism as people avoid travelling. China banned tour groups in the middle of January as part of measures to contain the virus.
Chinese tourists are Thailand's largest tourist demographic accounting for some 25-30% of all arrivals.
The next question is if the the drought-stricken parts of the country would be able to survive a nine-day water splurge! Songkran is a celebration of the end of the annual dry season and a welcoming of the wet season rains.
SOURCE: Bangkok Post
Keep in contact with The Thaiger by following our
Facebook page
.
Pattaya's LONG Songkran comes to an end today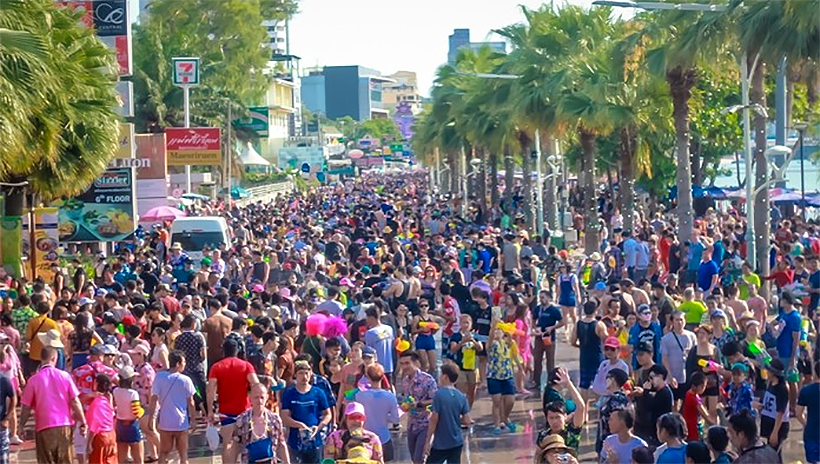 Whilst most of us have hung up our water pistols last Saturday or Sunday following Songkran revellry, punters in Pattaya have been hard at it all week.
But after 9 days of water wastage and Songkran celebrations, the annual festivities come to a close in parades and official festivities today and tomorrow.
Officially, according to the Pattaya Mail, April 19 is the final day of Pattaya's Songkran celebrations. Ceremonies are being held today at Chaimongkol Temple. Alms offerings and elderly blessing ceremony were held early this morning and cultural shows continuing during the day featuring dancing and traditional games.
Pattaya's Songkran parade started at noon along Second Road, Central Road and back along Beach Road to Bali Hai Pier before returning to the temple.
Pattaya officials reminded revellers that powder and chalk isn't permitted, along with high-power water guns. Water-throwing is 'meant' to stop at 6pm, but… well… Songkran!
Tomorrow, April 20, the Rice Festival in Naklua, with no water throwing, officially draws the mid-April events to a close.
SOURCE: Pattaya Mail
Keep in contact with The Thaiger by following our
Facebook page
.