Police in northeast seize 200 kilograms of marijuana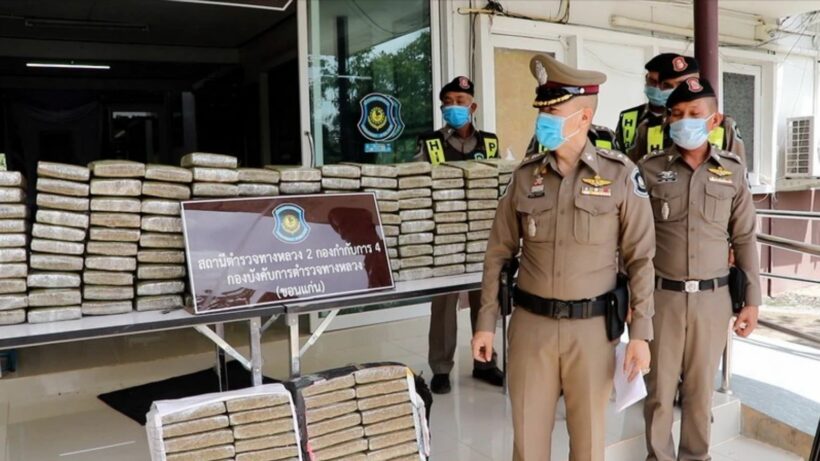 Highway police in Issan's Khon Kaen province arrested a woman with 200 kilograms of dried marijuana at a checkpoint in Nam Phong district early this morning. The chief of the highway patrol there told a press conference that the woman drove a Toyota Vigo pickup through the highway police checkpoint in Muang district shortly after midnight (after the curfew)
When officers signalled for her to stop, she sped away, prompting police to give chase. Her pick up was overtaken by a police vehicle at about 1am the highway in Nam Phong district. When they inspected the truck, they found 200 bars of compressed marijuana, weighing a kilogram each.
The woman was identified later as 37 year old Sudarat Thongruang, a native of Surat Thani's Tha Chana district in Thailand's south. She told police said she was hired by a man named "Sakol" for 30,000 baht to deliver the drugs from Udon Thani to Bangkok.
Recent weeks have seen a wave of marijuana shipments originating in the North. Authorities believe it's smuggled across the Mekong River from Cambodia and Laos and shipped to Bangkok for storage, before being transported to Thailand's restive Deep South, on the border with Malaysia.
Marijuana has been removed from Thailand's list of narcotics, but laws prohibiting it are still on the books, and possession and distribution remain crimes with heavy penalties.
SOURCE: Bangkok Post
Keep in contact with The Thaiger by following our
Facebook page
.
Never miss out on future posts by
following The Thaiger
.
4 Thai banks to be investigated for "suspicious transfers" after FinCEN files report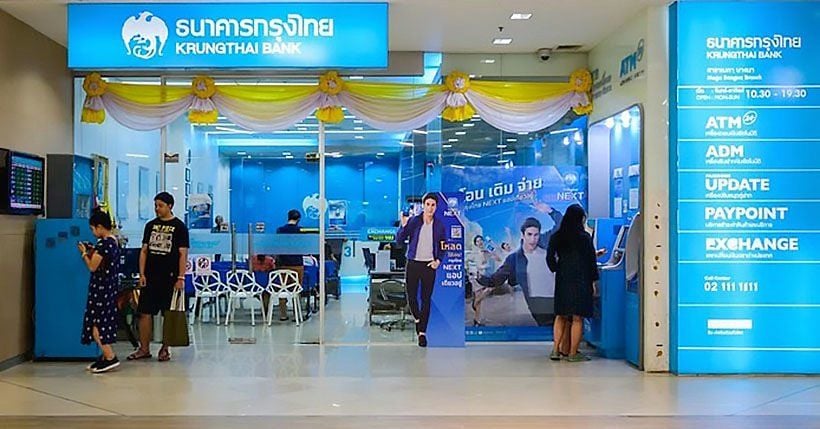 4 Thai banks are being investigated after an international money laundering report said the Thai banks had "suspicious financial transactions." The report found 92 "suspicious" transactions in and out of Thailand totalling to $9,558,752 USD received in Thailand and $31,750,000 USD sent out.
Files were allegedly leaked from the US Financial Crimes Enforcement Network, known as FinCEN, and journalists from the International Consortium of Investigative Journalists, or ICIJ, tracked the money. The FinCEN Files report from the ICIJ says it "reveals the role of global banks in industrial scale money laundering," citing a total of $2 trillion USD in suspicious global transactions from 1997 to 2017.
The Anti-Money Laundering Office plans to investigate Kasikorn Bank, Bangkok Bank, Krungthai Bank and the Export Import Bank of Thailand. The office's acting secretary general Preecha Charoensahayanont says the office is discussing the report with the Bank of Thailand and financial intelligence organisations, according to the Bangkok Post. He says the information needs to be verified first.
"The information from the media has yet to be verified and no one knows if it came from an official intelligence organisation of the United States… There will be an appropriate response. It does not mean that whenever there is any news report, a big investigation will follow. That would cause panic."
The Kasikorn Bank allegedly had 37 suspicious transactions, sending out $9,450,000 USD in suspicious funds and receiving $835,606 USD. Bangkok Bank allegedly had 52 suspicious transactions, receiving $5,966,141 USD and sending out $22,300,000 USD. Krungthai Bank allegedly had 2 suspicious transactions, receiving $200,000 USD. Export Import Bank of Thailand allegedly had 1 suspicious transaction, receiving $2,557,005 USD.
In 2016, the Bangkok Bank allegedly sent out $22,300,000 USD to the CIMB Bank Berhad. The Bangkok Bank also allegedly received a total of $5,920,731 USD from the Israel Discount Bank in 45 different transactions from June 2,2013 to November 12, 2013.
Kasikorn Bank allegedly sent out $9,450,000 USD to the DNB Nor Bank Asa. They also allegedly had 18 transactions with the VP Bank AG, receiving $511,606 USD, and 5 transactions 18 transactions with DMS Bank & Trust, receiving $324,000 USD.
Thailand suspicious transaction data by the International Consortium of Investigative Journalists FinCEN Files report. Click HERE to follow the money.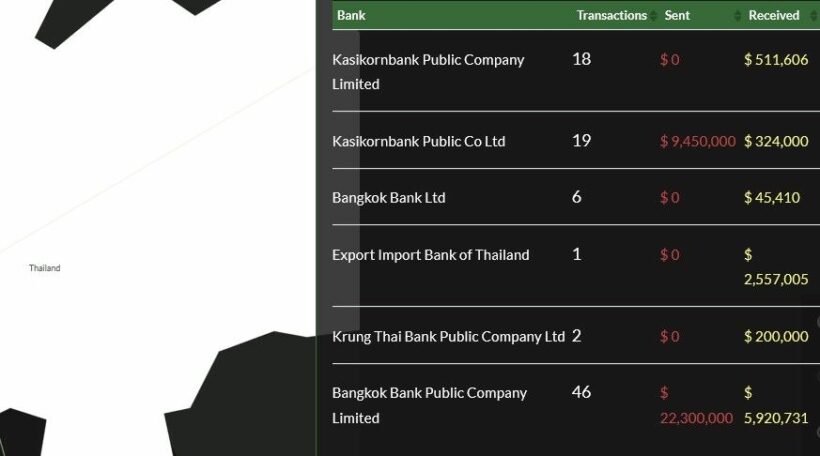 SOURCES: ICIJ | Bangkok Post
Catch up with the latest daily "Thailand News Today" here on The Thaiger.
Keep in contact with The Thaiger by following our
Facebook page
.
Never miss out on future posts by
following The Thaiger
.
188 new total of Bangkok clinics accused of defrauding healthcare system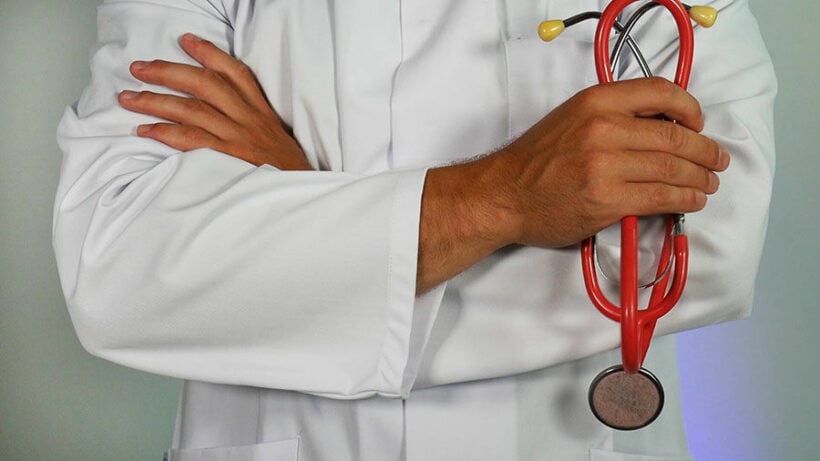 Officials say they have found evidence of fraudulent claims at an additional 106 hospitals and health clinics in Bangkok. This follows an initial investigation by the National Health Security Office that uncovered corruption at 18 Bangkok healthcare facilities, which was then increased to 64 upon further scrutiny. The latest discovery brings to 188 the number of clinics and hospitals accused of defrauding Thailand's universal healthcare system.
The scandal, involving around 1 million fake services, and costing the state an estimated 195 million baht, is laid bare in a report in Nation Thailand today. The NHSO has already cancelled contracts with 64 healthcare facilities, accusing them of inventing patient details to defraud the government. It's understood all 188 hospitals and clinics will be made to repay the money, with the NHSO lodging a civil case with the Department of Special Investigation, who will carry out an investigation into all medical records from the last 10 years.
The deputy secretary-general of the NHSO, Karoon Kuntiranont, says that of 800,000 claims from gold cardholders, around 70% have been found to be false. He says the 30% of patients whose cases are genuine will now be cared for by other facilities. These include HIV patients, patients awaiting surgery, those being treated for kidney disease, and those suffering from chronic illnesses.
Karoon says the corruption is limited to clinics and hospitals in the greater Bangkok area, with a loophole that allowed the fraud to take place now being closed.
SOURCE: Nation Thailand
Catch up with the latest daily "Thailand News Today" here on The Thaiger.
Keep in contact with The Thaiger by following our
Facebook page
.
Never miss out on future posts by
following The Thaiger
.
PM orders Thai police to collaborate with Interpol to bring Boss back to Thailand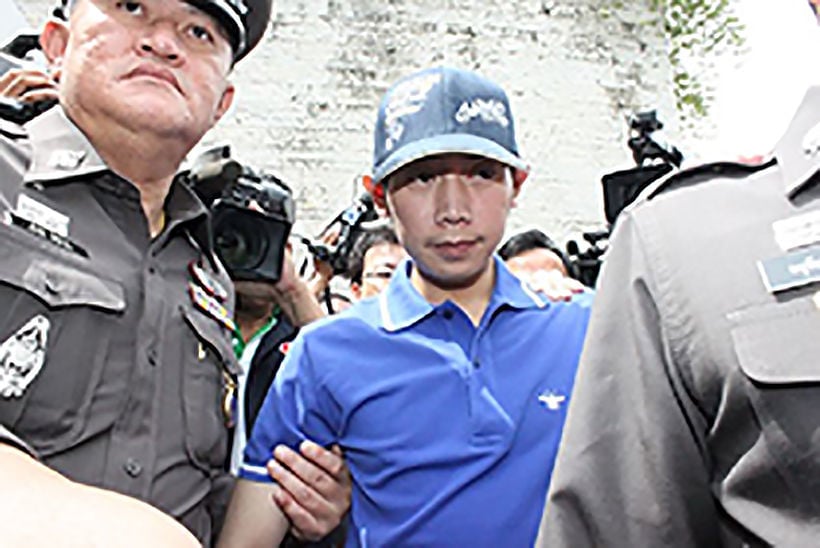 The Thai PM is ordering Thai police to work with Interpol, the International Criminal Police Organisation, to find Vorayuth "Boss" Yoovidhya and bring him back to Thailand for prosecution. The Red Bull heir has been on the run since 2017 and faces charges reckless driving causing death and using cocaine, charges which date back to the incident in 2012 in Bangkok.
In 2012, Boss allegedly sped his Ferrari down Sukhumvit Road in Thong Lor, running over and dragging a 47 year old police officer 100 metres down the road, killing him.
Prosecutors have now officially indicted Boss on the reckless driving causing death and drugs charges, the Office of the Attorney General announced last Friday. The recent indictment, more than 8 years after the fatal crash, follows public backlash after Boss's cases were dropped altogether in July by the deputy attorney general.
PM Prayut Chan-o-cha made a post on his Facebook page saying he ordered police to work with international authorities to find Boss and bring him back to Thailand for trial. He says a Red Notice has been issued and he expects an update by next week.
"I ask every officer to handle this matter correctly and effectively."
Boss, the son of the co-owner of the Red Bull energy drink empire, fled the country in 2017. His hearings were delayed 7 times. He reportedly packed up and fled to Singapore on his family's private jet just 2 days before he was due to face charges. Since then, Boss has been seen and photographed at his family home in London as well as at Red Bull events.
The story has caused ongoing rage in Thai social media with people using the cases as proof Thailand's warped justice system where wealth and power can help you bypass official investigations.
There has been no comment from the Yoovidhya family, Boss or his legal representation since last week's official prosecution.
SOURCES: Nation Thailand | Thai PBS
Keep in contact with The Thaiger by following our
Facebook page
.
Never miss out on future posts by
following The Thaiger
.