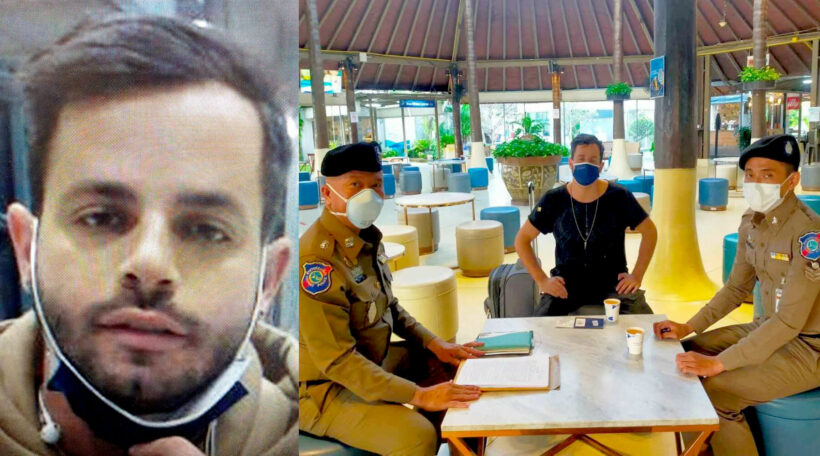 The Israeli man who broke Thai Covid law and left his SHA+ hotel in Bangkok before Covid-19 test results came back, is now back in Bangkok, in custody of Thong Lor Police and faces charges and deportation.
The Israeli man, Ohad Baruch, was flown on the 9:40pm Bangkok Airways flight from Koh Samui Airport to Bangkok on Monday night after being quarantined at Koh Samui hospital, even after testing negative 3 times for Covid-19.
It was the Thong Lor Police who originally obtained a warrant for his arrest as he fled and hid on December 21, so they will hold him in custody now while prosecution takes place. He is being charged under Section 9 of the 2015 Executive Decree for Administration in Emergency Situations with violating Covid-control measures.
He could face a maximum fine of 40,000 baht and up to 2 years in prison for the crime. The Immigration Act also calls for him to be deported, and he could potentially be banned from re-entering Thailand. Authorities may choose to waive criminal punishment and immediately deport and possibly ban him, or they may choose to set an example and fully prosecute him, deporting him only after jail time is served.
Authorities have historically been very weak on punishing violators of the Covid-19 pandemic restrictions and emergency decree, but they have also been known to make strong examples of cases that garner a lot of media attention to project a tough stance on crime.
Ohad Baruch landed in Bangkok on December 17 and left his SHA+ hotel before his test results arrived, telling them he was visiting a friend in the hospital before never returning. He attempted to hide out in Pattaya but was denied a room without submitting a passport, then fled to Koh Samui island. As a national manhunt grew, the Israeli man contacted the Israeli Embassy saying he wanted to surrender and health officials and police took him into custody at Samui Pier Bangrak Restaurant the afternoon of December 22.
His initial RT-PCR test came back with positive results and faint traces of Omicron, but after 6 days on the lam, he tested negative in Koh Samui 3 separate times. While he was cleared of Covid-19, he still clearly violated Thai law including the Emergency Decree in place for the pandemic, and a lesser general law to punish people who enter the country and go places they are not allowed to go.
SOURCE: Nation Thailand and Bangkok Post