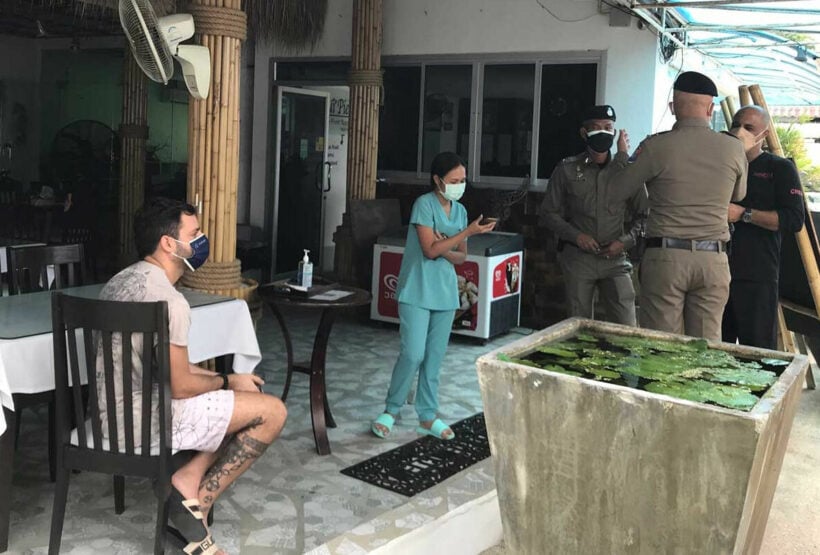 After a national manhunt was launched to track him down, a 29 year old Israeli tourist who escaped his arrival hotel before his positive Covid-19 test results came back has turned himself in on the island of Koh Samui. The man had landed in Bangkok December 17 and had left before his test results arrived confirming that he had the virus.
Police had tracked Ohad Baruch, who had originally told his hotel he was visiting a friend in the hospital before never returning, across the country from Bangkok where he arrived, to a failed attempt at hiding out in Pattaya, and finally to Koh Samui island where the Israeli man turned himself in just after noon today.
The man is reported to have contacted the Israeli Embassy saying he wanted to surrender and so Health officials joined senior police and were led by the Samui District Chief to Samui Pier Bangrak Restaurant where he turned himself in at about 12:30 pm.
Health volunteers escorted him to Koh Samui hospital by ambulance where the Israeli man underwent Covid-19 testing. A spokesman for the Metropolitan Police Bureau in Bangkok has announced that his positive Covid-19 test on arrival was of the Delta strain and not the rapidly spreading Omicron variant.
Police had been looking for the escaped Israeli since learning he was on Samui this morning and then coordinated his surrender at a local restaurant after having already applied for an arrest warrant. The Embassy had contacted Tourist Police who in turn alerted the Bangkok Police to work out the details of his surrender.
The man apparently arrived in Thailand early on December 17 and at 2 pm he broke isolation and paid a taxi 2,500 baht to drive him to Pattaya where he tried to check into a hotel but was turned away without a passport. Police had been hunting him in Pattaya before at 10:30 pm on the 18th his phone signal went dead, implying he turned off his phone, possibly to avoid being found.
He returned to Bangkok on December 19 before booking a van to the south, where the Israeli man was caught on camera in Chumphon on Monday morning before arriving on Koh Samui that afternoon. Police believe that the Israeli man was being helped by Thai people to sneak out of isolation and avoid being recaptured.
Thong Lor Police are urging the Department of Disease Control to file a complaint and hold the tourist accountable for his breach of security and public safety. The charge of a foreign national who fails to stay where he was permitted in the country carries a fine of 5,000 baht, likely less than he spent evading the police until his capture. Failing to comply with disease control measures and the emergency decree carries a stronger 40,000 baht fee and up to 2 years in prison.
SOURCE: Bangkok Post