Criminal Court upholds bail for former park chief Chaiwat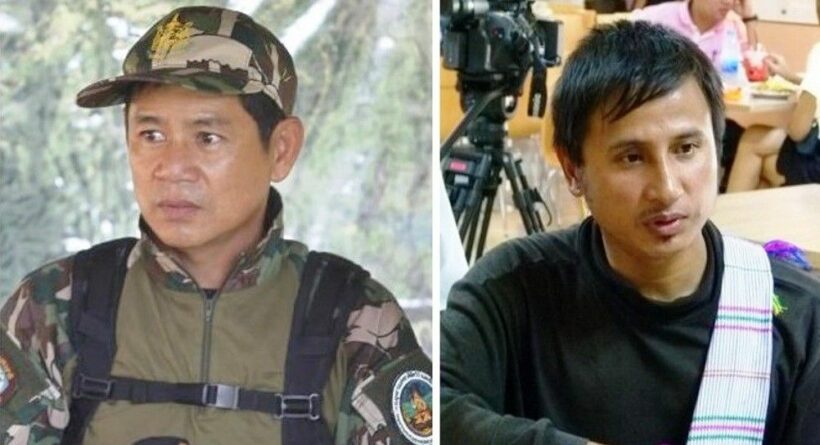 PHOTO: Former chief of Kaeng Krachan national park, Chaiwat Limlikhit-aksorn (left), and Karen activist Polajee "Billy" Rakchongcharoen (right)
The Criminal Court has rejected a request to withdraw the bail of former Kaeng Krachan park chief Chaiwat Limlikhit-akson and three others. The four are suspected in the murder of Karen activist Porlajee "Billy" Rakchongcharoen about five years ago.
In the request from the Department of Special Investigation, officers told the court that Chaiwat, who was recently transferred to assist in suppressing illegal logging in Pattani province, had given media interviews accusing the DSI of falsifying evidence.
Chaiwat also reportedly said the four would visit Kaeng Krachan national park to pray to the spirits there, which might cause confusion among potential prosecution witnesses.
Chaiwat says he merely expressed his views to the media in good faith and had no intention of visiting the park, and claims he no longer has any authority there.
The court ruled that there is no valid reason to revoke bail and no indication the suspects would tamper with evidence. After the court ruling, Chaiwat told reporters that he and the other suspects will stop talking to the media and won't return to the park.
SOURCE: Thai PBS World
Keep in contact with The Thaiger by following our
Facebook page
.
Jealous boyfriend arrested over triple murder in Chiang Rai – VIDEO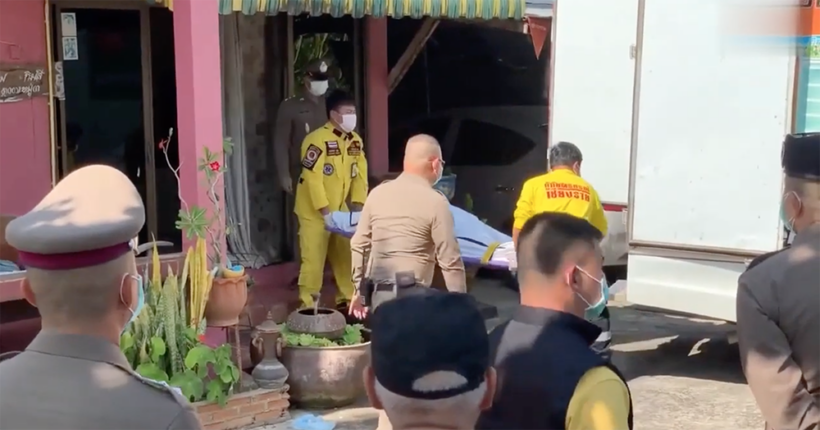 SCREENSHOT: YouTube
Chiang Rai police have arrested a man for the murder of his girlfriend and her parents, all found shot dead. 27 year old Nawaratorn "Nuan" Kunasangkam is currently in custody over the murders.
The victims were Udom Kimsi, his wife Nutcha Kimsi, and their 26 year old daughter Saowarot Kimsi, all from Chiang Rai. Their bodies were found by the mayor of Ban Du township, who went to check on Udom when he didn't turn up for work.
Police believe the bodies had been in the house since November 28. They say no weapon was found at the scene. Neighbours told police they heard gunshots on the night of November 28, but didn't think it was anything serious and paid little attention.
Police made the arrest after spotting the suspect's vehicle in front of a 7-Eleven in Chiang Mai. When he was caught he had a semi-automatic 9mm pistol and 14 bullets.
"Nuan" confessed, saying he acted out of jealousy. He told police his girlfriend had been communicating with an ex-boyfriend on the LINE app. He said after he killed Kimsi, her parents rushed to investigate the gunshots. Since they'd witnessed the murder, he killed them as well.
SOURCE: Chiang Rai Times
Keep in contact with The Thaiger by following our
Facebook page
.
Police shoot and kill major meth trafficker in Nakhon Si Thammarat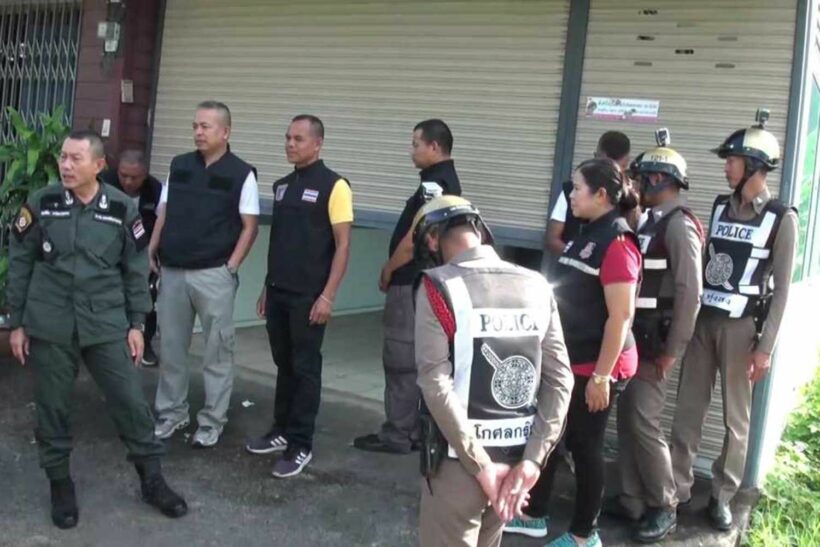 PHOTOS: Chiang Rai Times
A Burmese drug trafficker has been shot dead in a gunfight with police in the southern province of Nakhon Si Thammarat. The ambush was the result of a sting after police pretended to be buyers.
Authorities raided a house rented by the suspect and found a tablet press, 11 kilograms of methamphetamine powder, 500,000 'speed' pills and 10 kilograms of crystal methamphetamine (ice).
The house was used to produce and store crystal methamphetamine and other drugs, according to police.
The alleged Burmese trafficker, who rented the house, and named only as "Ou," was shot dead in a firefight with police Nakhon Si Thammarat, the Bangkok Post reports.
Ou agreed to deliver deliver drugs to police posing as buyers. When he arrived in his pickup trick he was surrounded by police.
Ou opened fire as he tried to escape. Police returned the fire, shooting and killing him. Police searched the man's truck whcih ended up in a roadside ditch. They found about a kilogram of crystal methamphetamine and 10,000 methamphetamine pills. They extended the investigation to search the house.
Ou's Thai wife, 23 year old 'Kittiya', was called in for questioning.
Kittiya claims she didn't know her husband was from Myanmar, and that he had told her he was from Chiang Rai and ran a used car dealership. She told police she met him on Facebook.
Kittiya said she and Ou stayed at another rented house and that she knew nothing about the house where the drugs and equipment were found. Police say Ou was a major international trafficker who had been wanted since on a warrant since last year.
SOURCE: Chiang Rai Times
Keep in contact with The Thaiger by following our
Facebook page
.
Manhunt launched for alleged British drug kingpin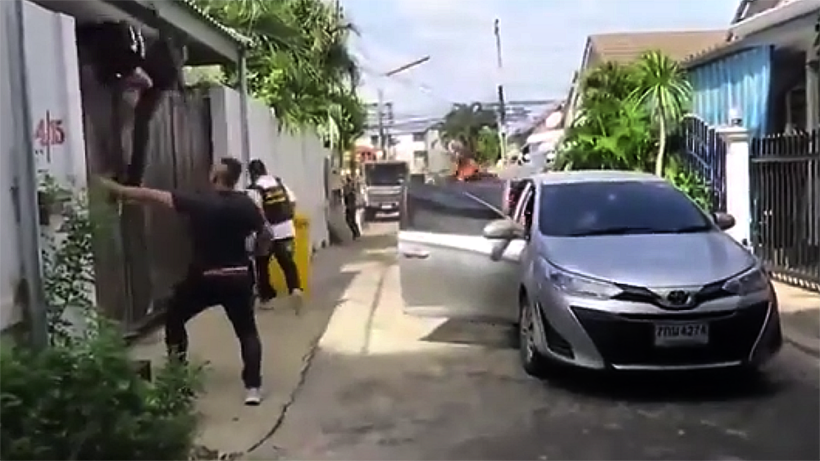 PHOTO: Road on a home in the Nong Prue district last week – YouTube
Police have launched a manhunt for the alleged kingpin of a Pattaya-based drug ring, just days after arresting six members, including three Australian Hell's Angels members. Read that so try HERE.
Tihomer Stojic was arrested at his girlfriend's house in Buri Ram on November 28, while Jamie Robert Hanson and Steven Brett Hovi, were busted in separate raids on their Pattaya homes a day earlier.
The Australian's girlfriends, Jiraporn Kiatsutthachit, and Wirapha Ungsri, were also arrested, along with a Nigerian man, Chimezie Stanley Duru.
All are accused of smuggling methamphetamine and heroin to the Hell's Angels and Comanchero biker gangs in Australia. Police told British media the head of the ring is a British national Christopher Depp, who has fled Pattaya and remains at large.
Stojic escaped to Issan when his alleged partners were arrested, but has been caught and brought back to Pattaya. Police searched his home and found 20 grams of crystal methamphetamine in his Mercedes-Benz, along with marijuana.
The previous day, police climbed closed gates at two properties and broke down doors to maintain the element of surprise when arresting the others.
Hanson and Hovi were caught with over a kilogram of crystal methamphetamine, a pistol, drug paraphernalia and financial records of a million baht worth of drug deals.
The raids, with cooperation from the Australian Federal Police, are seen as a major blow to violent Australian biker gangs, who have increasingly used Pattaya, and Thailand in general, as a base for drug-smuggling.
SOURCE: The Pattaya News
Keep in contact with The Thaiger by following our
Facebook page
.