Criminal Court upholds bail for former park chief Chaiwat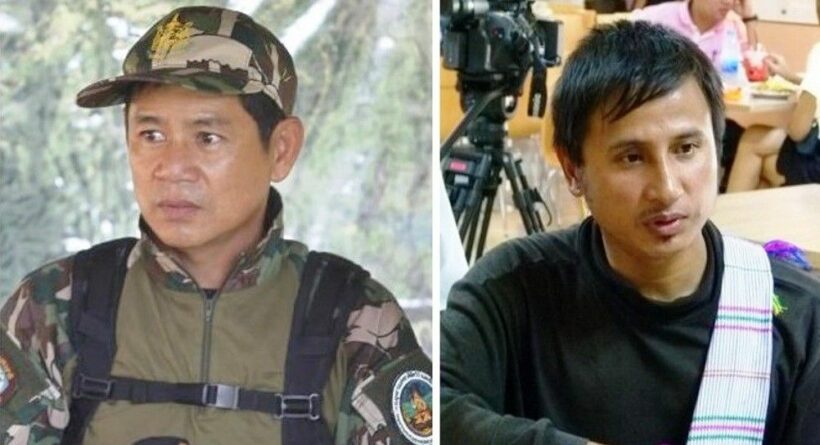 PHOTO:Former chief of Kaeng Krachan national park, Chaiwat Limlikhit-aksorn (left), and Karen activist Polajee "Billy" Rakchongcharoen (right)
The Criminal Court has rejected a request to withdraw the bail of former Kaeng Krachan park chief Chaiwat Limlikhit-akson and three others. The four are suspected in the murder of Karen activist Porlajee "Billy" Rakchongcharoen about five years ago.
In the request from the Department of Special Investigation, officers told the court that Chaiwat, who was recently transferred to assist in suppressing illegal logging in Pattani province, had given media interviews accusing the DSI of falsifying evidence.
Chaiwat also reportedly said the four would visit Kaeng Krachan national park to pray to the spirits there, which might cause confusion among potential prosecution witnesses.
Chaiwat says he merely expressed his views to the media in good faith and had no intention of visiting the park, and claims he no longer has any authority there.
The court ruled that there is no valid reason to revoke bail and no indication the suspects would tamper with evidence. After the court ruling, Chaiwat told reporters that he and the other suspects will stop talking to the media and won't return to the park.
SOURCE: Thai PBS World
Keep in contact with The Thaiger by following our Facebook page.
Never miss out on future posts by following The Thaiger.
Police in Bangkok arrest 3 people for allegedly selling cannabis cookies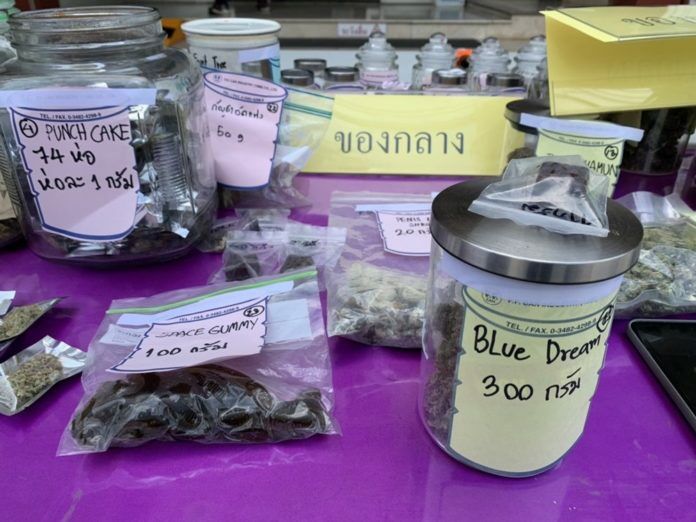 Police in Bangkok arrested 3 people for allegedly making cannabis cookies and selling them through the messaging application LINE under a chat group called "The Hippy Cookie." Police raided a condominium room in the Bang Na district and seized 13 "foreign types" of cannabis, 46 food products made with cannabis and 3 types of hallucinogenic mushrooms.
Using the LINE messaging app, the suspects allegedly sold cannabis and cannabis food products. The suspects allegedly sent the cannabis to buyers using a food delivery service.
An investigator joined the chat group and posed as a buyer, ordering 5 grams of cannabis for 3,500 baht. When the cannabis was sent through the food delivery service, police asked the driver to return the package to the suspects. Police say a suspect came down to receive the returned package. Investigators then searched the suspect's condominium room.
One of the female suspects allegedly told the police that she used to sell cookies (regular cookies), adding that she has an interest in cannabis. She then studied how to make cannabis cookies and contact cannabis suppliers in Thailand before starting the illegal business with her boyfriend and a friend. She allegedly told police she started the business a year ago and has more than 100 regular customers.
The suspects were charged with illegally processing and distributing narcotic drugs. Parts of the cannabis plant with high amounts of the psychoactive component tetrahydrocannabinol, such as the buds, are still classified in Thailand as a Category 5 narcotic.
SOURCE: Pattaya News
Keep in contact with The Thaiger by following our Facebook page.
Never miss out on future posts by following The Thaiger.
Thai police arrest 3 people for allegedly tricking women into prostitution work overseas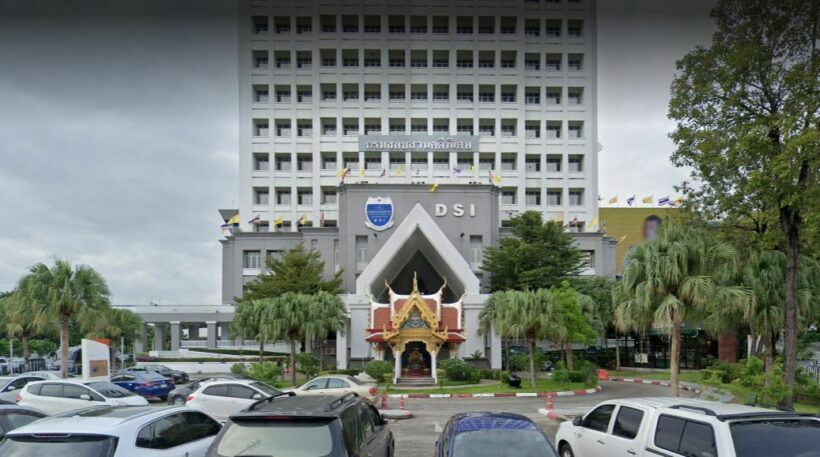 Police arrested 3 people for allegedly recruiting Thai women to work overseas in the United Arab Emirates where they were forced into prostitution. The suspects allegedly told the women that they would work as masseuses, promising of good pay and assuring them that the work did not involve sex, according to the Department of Special Investigations deputy director general Supat Thamthanarug.
The women signed an agreement before travelling to the UAE, promising to pay back their travel expenses. Once they arrived, they went straight to a massage parlour in Dubai and their passports taken away. Some were taken to a brothel in Abu Dhabi, Supat says.
The suspects, whose names were withheld, were charged with colluding to violate anti-human trafficking regulations as well as detaining or depriving others of their freedom. Police say a suspect was arrested in Chon Buri and the other 2 were arrested in Ubon Ratchathani.
SOURCE: Bangkok Post
Keep in contact with The Thaiger by following our Facebook page.
Never miss out on future posts by following The Thaiger.
Asia's biggest drug kingpin arrested in Netherlands
Asia's biggest drug kingpin is under arrest in the Netherlands after years of authorities chasing him worldwide. 57 year old Tse Chi Lop, a Chinese-born Canadian citizen, was arrested by Dutch police acting on a request by Australia's federal police.
The UN Office on Drugs and Crime named him as the suspected leader of the Asian mega-cartel known as "Sam Gor", a major producer and supplier of methamphetamines worldwide. Tse is commonly compared to the Mexican drug lord Joaquin "El Chapo" Guzman.
Sam Gor is suspected of laundering billions in drug money through businesses such as casinos, real estate and hotels in Southeast Asia's Mekong region. Australia's federal police said Friday's arrest came after a 2012 operation that arrested 27 people linked to a crime syndicate spanning five countries. The groups was accused of importing large amounts of heroin and methamphetamine into Australia, according to police.
"The syndicate targeted Australia over a number of years, importing and distributing large amounts of illicit narcotics, laundering the profits overseas and living off the wealth obtained from crime."
The arrest of Tse Chi Lop almost 10 years after that operation's launch is a major break for Australian authorities. The country's attorney-general will now begin preparing a formal extradition request for the alleged drug lord to face trial.
Most of Asia's meth comes from "Golden Triangle" border areas between Laos, Myanmar, Thailand and southwest China. The production of methamphetamine, either in tablet form or the highly potent crystalised "ice" version, take place in Myanmar's eastern north Shan state. Ketamine and fentanyl are also produced there as well, mostly in 'portable' labs that hide underneath the thick rainforest canopy.
In 2018 alone, Thailand netted more than 515 million methamphetamine tablets, a number 17 times the amount for the entire Mekong region 10 years ago. Traffickers are constantly finding more creative ways to ship their products as drug busts are featured daily on the news in those regions.
SOURCE: The Bangkok Post
Keep in contact with The Thaiger by following our Facebook page.
Never miss out on future posts by following The Thaiger.