Body of missing teen found buried in northern Thailand forest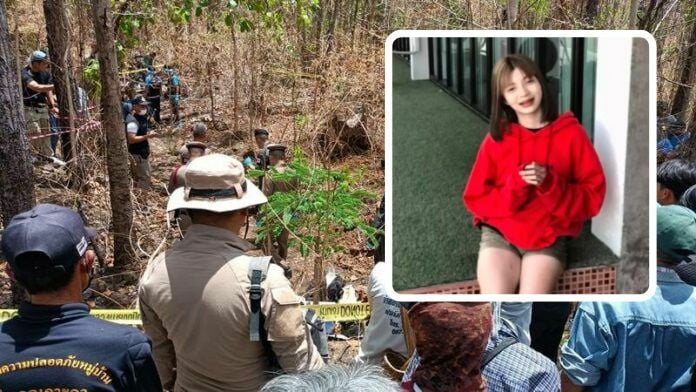 UPDATE #2
The body of 16 year old "Ping Pong" was found buried in the forest in Lampang province, northern Thailand, this morning after a week-long search.
Ping Pong went missing on Saturday, May 6, after she did not return from a motorbike ride with 17 year old Woramet "Ben" Taota, a dual Thai-British national, whose body was found in the forest the next day.
A local man with a criminal history, 44 year old Chaiwat, confessed to murdering Ben but would not reveal the whereabouts of Ping Pong despite being subject to interrogation.
Until yesterday, police found "important" evidence that the killer had dumped Ping Pong's body in the forest in the area near the checkpoint at Ban Had Pu Dai village in Na Saeng subdistrict, Kha Tha district, reports KhaoSod.
More than 100 people were mobilised to search the area including officers from Sop Prap Police Station, Ko Kha Police Station, Sop Phap Rescue Foundation workers, Na Saeng Administration officials, and locals.
At 11am today, searchers found evidence of soil excavation at two nearby spots in the forest, about 50 metres from the Phahonyothin Road toward Sop Prap district. The first was not deep and the second had been covered with sticks and stones.
Forensic officers were called in to investigate who dug up the soil to find the body of 16 year old Ping Pong. Police said Ping Pong's body was taken for an autopsy to determine the exact cause of her death.
UPDATE #1: Suspected murderer of Thai-British teen attacked during re-enactment
A relative of the 17 year old Thai-British teenager Woramet "Ben" Taota – who was murdered in Lampang in northern Thailand on Saturday – attacked the suspected murderer with a wooden stick during a re-enactment of the crime this morning.
At 11am, officers from Mae Tha Police Station and Lampang Provincial Police escorted the accused, 44 year old Chaiwat Boonkarin, to the crime scene along the Mae Tan – Sop Prap Road in Moo 9 of San Don Kaeo subdistrict to walk through what happened on Saturday.
Ben's British father Steven Graham arrived in Lampang, northern Thailand, this morning. As police officers escorted Chaiwat out of the station this morning, Ben's parents were waiting outside. Through the police car window, Ben's mother Ooy cried out, "Why did you kill my child?"
In response, Chaiwat raised his hands in apology. Ooy continued, "Why are you apologising to me? Why did you kill my child? Where is Pong?"
Ben's 16 year old girlfriend Ping Pong is still missing. Chaiwat still has not revealed information about Pong's whereabouts to the police, four days after Ben's murder.
Upon arrival at the crime scene, locals crowded around handcuffed Chaiwat, who was wearing sunglasses and a bulletproof vest.
Police tried to control the locals crowding around the accused but one man, a relative of Ben's, managed to launch forward and smash a wooden stick off Chaiwat's head. The stick broke in two.
Police took Chaiwat to the coordinates where Ping Pong's phone signal was last tracked to try and get him to speak.
Then, officers brought sniffer dogs to smell Ping Pong's clothes and shoes before taking the dogs to search the area for clues.
In Thailand, the 're-enactment' of a crime is a common feature of criminal investigations, especially if a suspect has already pleaded guilty to the crime. The police, suspect and members of the public will gather at the crime scene and the suspect will walk through what happened and where.
Re-enactments, while controversial, are designed to provide more clarity into the details of a crime, show off the police's investigative skills and publicly embarrass the criminal.
ORIGINAL STORY: Sex offender confesses to murdering Thai-British teenager, girlfriend still missing
A man formerly imprisoned for sex crimes has confessed to murdering the Thai-British teenager who was found dead in the woods of Lampang province, northern Thailand, on Sunday. The police are still searching for the deceased's missing girlfriend.
Police arrested a 44 year old Thai man named Chaiwat Boonkarin under suspicion of murder and concealing a corpse on Monday. Initially, he denied the charges. After being interrogated all night, he confessed to killing 17 year old Woramet "Ben" Taota, a dual Thai-British citizen. Chaiwat was released from prison for sex crimes less than eight months ago.
On Saturday, 17 year old Woramet "Ben" Taota went for a motorbike ride with a 16 year old Thai girl named Surapitchaya, or "Ping Pong," in his hometown of Lampang, northern Thailand, at around 4pm.
A local rubbish collector discovered Ben lying dead in the forest in Ban Than, San Dorn Gaew subdistrict, Mae Tha district on Sunday. Police from Mae Tha Police Station and Lampang Provincial Police travelled to the scene with forensic officers, doctors, and Tanna Krua Forest Rescue workers.
Police say that Ben's face was covered in blood and there were signs that his face and head were beaten with a blunt object. Police say there was a hole in his face, similar to a bullet hole, but he was not shot.
At the scene, police found a black shoulder bag, a power bank, and an ID card. Ben's phone and cash were missing, opening up the possibility that he was robbed, police said. There were no signs of struggle which suggests Ben was murdered somewhere else and his body was dumped in the forest.
A team continues to search for Ping Pong who has been missing since Saturday. The commander of Lampang Provincial Police Force Pol. Maj. Gen. Mongkhon Samphawaphol said that the police are trying to track her phone signal but haven't found anything so far. She hasn't made any contact with her family.
Ben's Thai mother "Ooy" said that her son said goodbye to her on Saturday evening and told her that he was going to work with his friends.
Ben's grandmother Lilian Graham, in the UK, said…
"Ben was with a girl and they went to the forest to meet a man. But something must have happened. And the men killed Ben."
Ben's 60 year old British father Steven Graham, a businessman, is on his way to Thailand to speak to detectives.
Pol. Maj. Gen. Mongkhon said that Chaiwat, the alleged killer, is connected to drug dealing in the area. He has allegedly known the teenagers for a long time.
Chaiwat has not revealed his motive for killing Ben, but police are not ruling out the possibility that the murder was a drug deal gone wrong. The accused has not yet provided information about the whereabouts of Ping Pong. Sniffer dogs will search the area today.
Crime News
Northern Thailand
Thailand News

Join the conversation and have your say on Thailand news published on The Thaiger.
Thaiger Talk is our new Thaiger Community where you can join the discussion on everything happening in Thailand right now.
Please note that articles are not posted to the forum instantly and can take up to 20 min before being visible. Click for more information and the Thaiger Talk Guidelines.