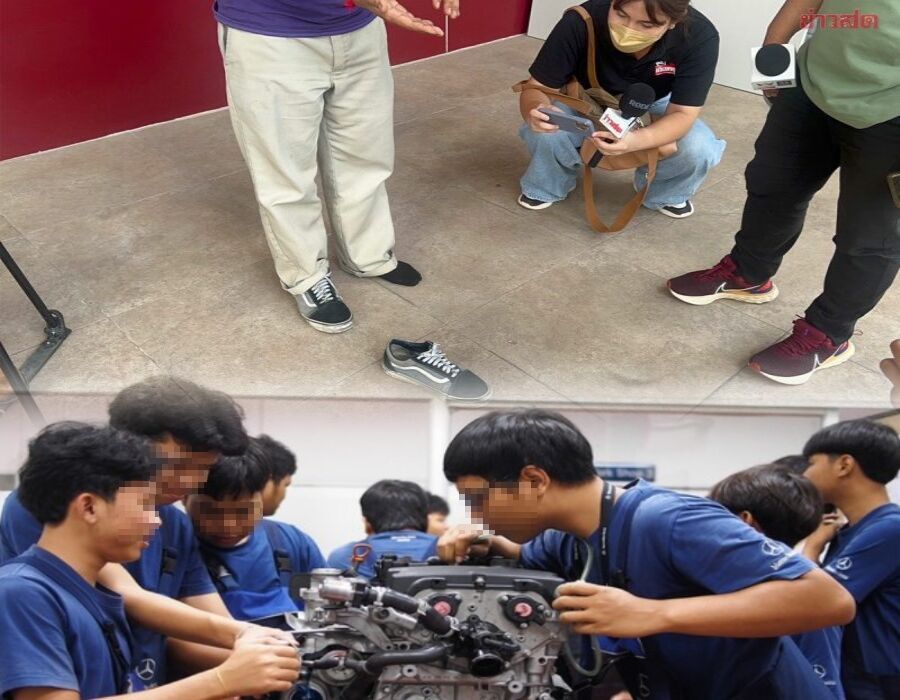 A misunderstanding over the colour of his shoes allegedly led to a food delivery driver in Bangkok being beaten by a large group of teenage students. The incident took place last month on Thursday, December 22 but has come to light as the driver was so traumatised by the attack he is afraid to go back to work in the area. The 24 year old driver filed a report with the Pathumwan Police and stated that he cannot work due to his fear of being attacked again.
It began when the driver received a food order for delivery to a customer located at Chulalongkorn University. However, the location provided was incorrect, and he ended up driving into the mechanic school next door to the university. Not knowing anything was wrong, he saw two students and asked if they were the customers who had ordered food. They told him to go behind a building, where he saw more students drinking alcohol.
For an unexplained reason, the students demanded that the driver take off his shirt. They began bullying and interrogating him. They asked him which school he attended, but Pongsakorn said he had graduated from high school and was not studying anything related to mechanics.
The students didn't believe him because they said the sneakers he was wearing had the same colour as their school's uniform. They viewed it as a subtle unspoken attack on their school, discriminating against them by putting their school colours on his feet and walking around on them. The victim claimed he tried to explain it was just a coincidence and that he was merely doing his job delivering the food with no connection to the school.
The driver said dozens of teenage students began to beat him up, took off his sneakers, and used a lighter to burn his arm. He was attacked for 40 minutes, losing consciousness, and the students allegedly threatened to kill and bury him. One of the students tried to protect against the attack by taking his phone and making sure no photos were taken during the incident. They kept his government ID card as a threat before letting the driver go.
Khaosod News reported the story and tried to visit the mechanic school, but administrators there refused an interview or to comment on the incident.