Smoke and mirrors, northern Thailand's annual smog problem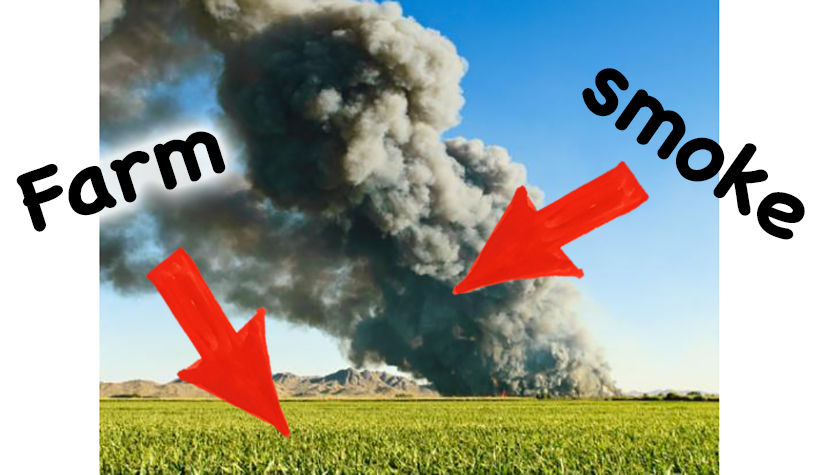 Congratulations Chiang Mai. Again you are the world's Number One.
Sadly, you're the number one in the world's worst air pollution, again. The third time in this week alone. And, sadly, because the problem is almost completely avoidable, but not easily solved.
Chiang Mai city has a PM2.5 micron reading this morning of 282, whilst just north of the city in Nong Han they have the staggering reading of 380 (hazardous).
PM2. 5 refers to atmospheric particulate matter (PM) that have a diameter of less than 2.5 micrometers, which is about 3% the diameter of a human hair. Commonly written as PM2.5 particles in this category are so small that they can only be detected with an electron microscope.

GRAPHIC: airvisual.com
Other heavily populated areas around Chiang Rai, Mae Hong Son and Lampung are also suffering serious smog and smoke problems today. Last week the Royal Thai Army announced it would head to the northern provinces, track down and arrest plantation and farm owners who were allowing fires to be started on their properties. They would work with local rangers to detect the fires and enforce orders from the government not to light fires to clear land in preparation for new crops.
"The newly deployed rangers will be sent to fire-prone areas to patrol for fires and arrest anyone they find starting them. The rangers will also assist fire officers in fighting fires."

If anyone in the government or Royal Thai Army has access to a computer, internet or smartphone, they can download this interactive 'live' map which shows all the active fires in any region in the world, accurate to about 100 metres. Or if that's too difficult they could could drive around the region and look for the smoke. HERE's the link to the live satellite imagery and a photo of what smoke looks like.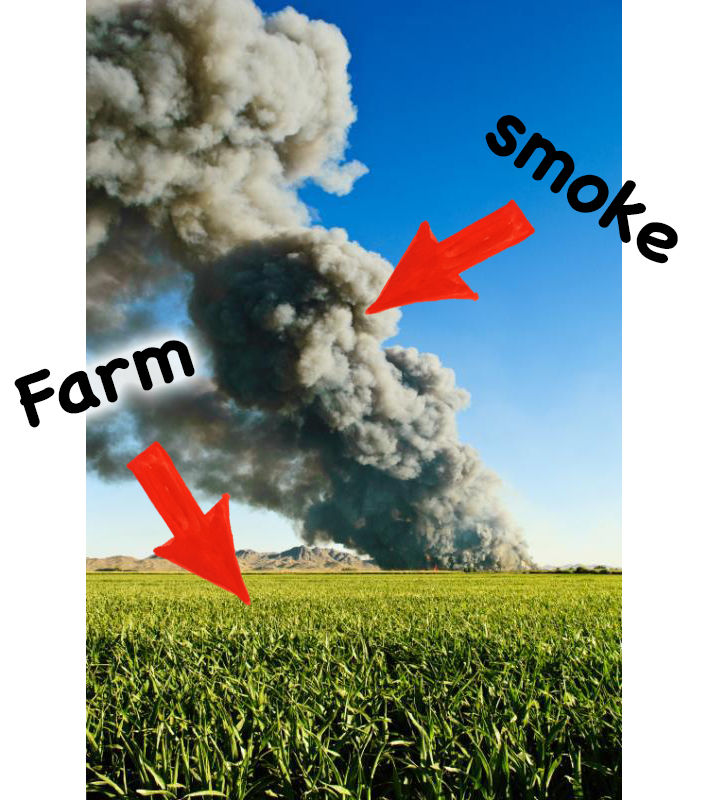 But, even if the government is able to abate some of the local burning off of farmlands on their own soil, they have a more nuanced problem negotiating with the Myanmar, Laos and Cambodian governments to enforce the same limits on their farmers. The winds blow across the borders and, as the satellite images show, much of the smoke is floating across in the prevailing winds from fires in neighbouring countries.
Thailand could show the lead and be a regional facilitator in vital changes to agricultural practices which are causing human tragedy and enormous damage to the region's tourist potential. ASEAN (where Vietnam is the Chair for 2020) has the regional 'teeth' to be able to bring these changes about and help arrange subsidies for farming districts to jointly share the costs of the harvesting and plowing machinery that would render the annual burn-off unnecessary.
Health effects
PM2.5 particulate are able to travel deeply into the respiratory tract, reaching the lungs. Exposure to fine particles can cause short-term health effects such as eye, nose, throat and lung irritation, coughing, sneezing, runny nose and shortness of breath.
PM2.5 particulate primarily come from car, truck, bus and off-road vehicle, construction equipment, snowmobile, exhausts, and other operations that involve the burning of fuels such as wood, heating oil or coal and natural sources such as forest and grass fires.
Exposure to these fine particles can also affect lung function and worsen medical conditions such as asthma and heart disease. Scientific studies have linked increases in daily PM2.5 exposure with increased respiratory and cardiovascular hospital admissions, emergency department visits and deaths. Long term exposure to fine particulate matter may be associated with increased rates of chronic bronchitis, reduced lung function and increased mortality from lung cancer and heart disease. (NY Department of Health)
The Thai government rate the upper safe level of air pollution as 50. The World Health Organisation rate the upper level at half of that, only 25 mg per cubic metre. Either way, the smog and smoke levels in Thailand's north are many, many times the acceptable safe levels for the region's populations and is doing incalculable damage to northern Thailand's future tourist potential.

PHOTO: Survivor Guide Chiang Mai
Keep in contact with The Thaiger by following our
Facebook page
.
Northern Thailand's air pollution reaches hazardous levels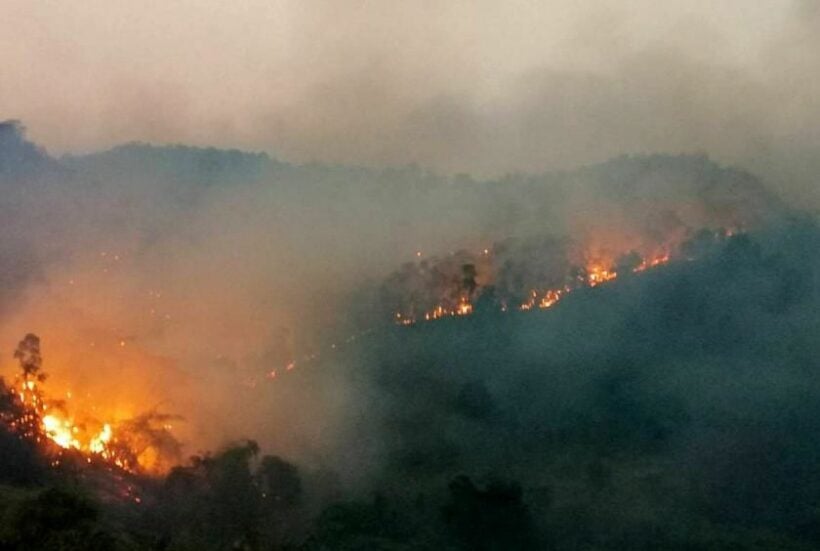 Air quality in the north of Thailand is actually 'hazardous' today, as bushfires in Chiang Mai's Doi Suthep-Pui National Park have caused air quality to become nearly 20 times higher than Thailand's already lax "safe" limit of '50'. PM2.5, (dust particulate matter with diameter of 2.5 microns or lower), rose to 925 micrograms per cubic metre in some locations yesterday. It has dropped this morning but still remains 'hazardous' in many locations around the region.

Due to the Covid-19 coronavirusoutbreak, all national parks, wildlife sanctuaries and other protected areas in Thailand are closed until further notice. Some tourist destinations such as the Similan Islands and Surin Islands are within national parks and are also closed.
The bushfires in the parks and crop burning, in plantations and farms in the region and in neighbouring countries, has pushed air pollution readings in Chiang Mai and other provinces in the region up to nearly 1,000 micrograms for short periods, specifically near the areas of the fires.
Not helping the situation is a week of temperatures around 40C every day (with more on the way), and no rain (the temperatures are from stations in the city area, not in the mountains surrounding the main town). The fire at the national park near Chiang Mai also poses dangers to residents as it has raged near communities in and many landmarks, such as temples.
Hundreds of officials and soldiers have been called in to fight blazes over the past week. Helicopters have dropped water to control one fire that's been raging since Wednesday evening around the Doi Suthep area, north west of Chiang Mai city, in the Doi Suthep Pui National Park.
"They've spent more than 14 hours a day trying to being the blaze under control."
Local officials say the massive fire has now been "brought under control," but the air pollution persists with more smog from plantation fires burning in the area and to the north in neighbouring Myanmar.
PM Prayut Chan-o-cha has expressed concern over massive damage caused by the fire, primarily for the health of the elderly and children. He's asked them to avoid going outside because of the smoke and poor air quality.
Chiang Mai isn't the only northern province plagued with air quality issues. The PM2.5 dust index also revealed severely unhealthy levels of air quality in Chiang Rai, Mae Hong Son and Nan provinces.
The government says it's working with Myanmar officials to address the issue.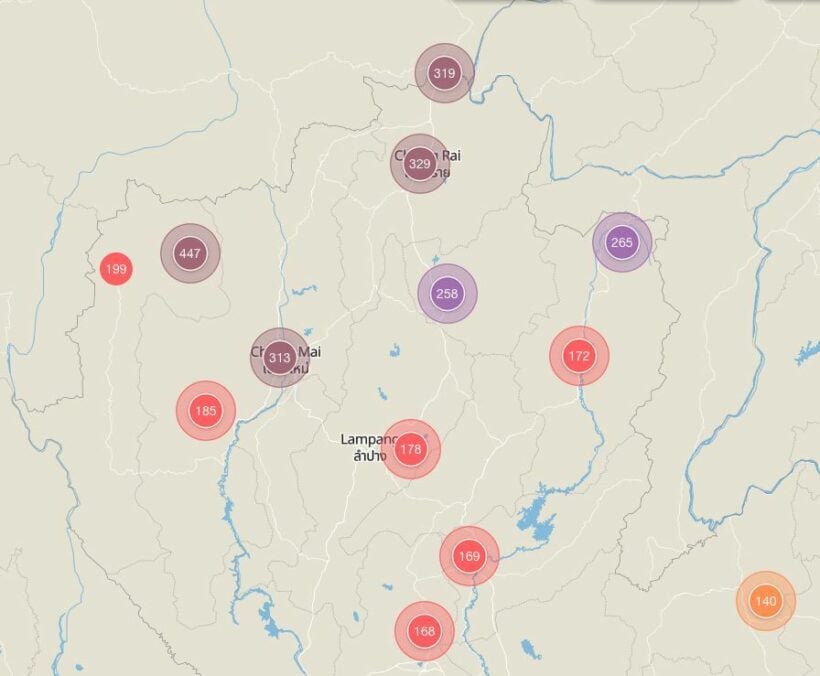 Airvisual.com (Sunday morning 9am – Thai Time)
SOURCE: Chiang Rai Times
Keep in contact with The Thaiger by following our
Facebook page
.
Chiang Mai fire spikes air pollution up to 20 times 'safe' levels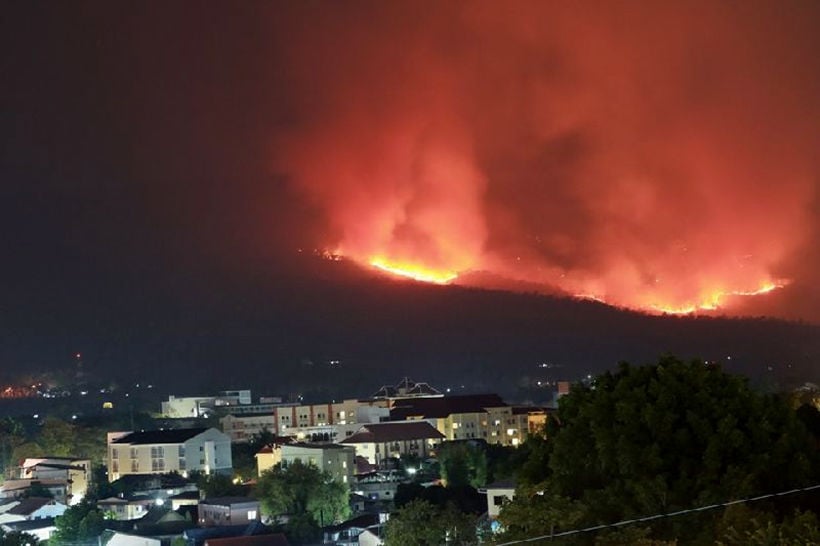 A bushfire roaring away in the Doi Suthep-Pui National Park in Chiang Mai is causing continued concerns for Chiang Mai residents because of the dangers to nearby villages and the smoke filling the skies of the city. 500 local officials and soldiers from the 3rd Army Region were called in to fight the blaze and spent 14 hours bringing it under control, including calling in helicopters to drop water as they tried to control the spread.
It also pushed air pollution readings in the region up to record highs.

The large fire, which started sometime early on Wednesday evening, has now been brought under control.
"The damage it left behind is extensive," according to Chiang Mai's governor, Charoenrit Sanguansat.
The bushfire sent PM2.5 levels in the immediate area to "record levels" of around 1,000 micrograms per cubic metre, a massive 20 times above levels considered safe in Thailand.
Thailand's PM Prayut Chan-o-cha says he's "gravely concerned by the fire in Doi Suthep-Pui National Park", and ordered Interior Ministry officials to work with the Royal Thai Army to control any smaller fires and ordered helicopters to assist.
Chiang Mai, Chiang Rai, Lampang and Mae Sot were all affected in the past few days as the result of the large forest fire, as well as hundreds of other plantation fires burning in the north, and over the border in Myanmar.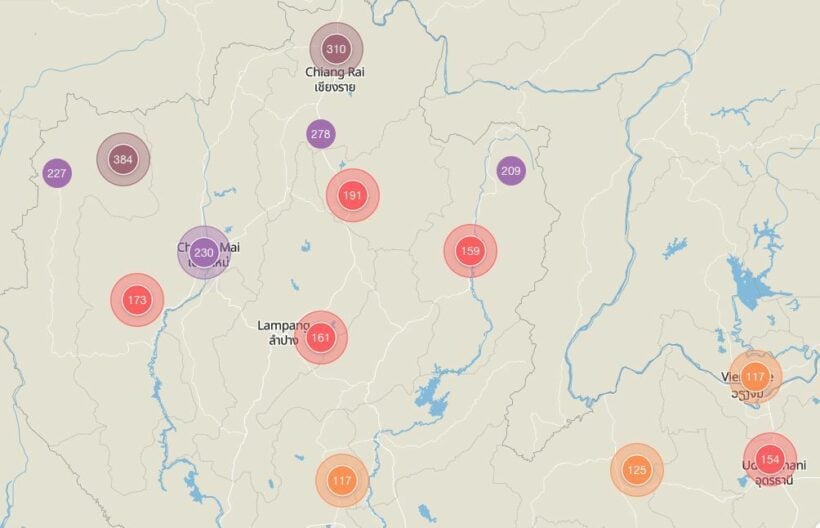 airvisual.com
Pralong Dumrongthai, Pollution Control Department director-general, says the air pollution in the North can partly be blamed on fires across the border, and the government is working with Myanmar to help address the issue.
SOURCE: Bangkok Post
Keep in contact with The Thaiger by following our
Facebook page
.
Chiang Mai smog reaches dangerous levels – 12 x 'safe' levels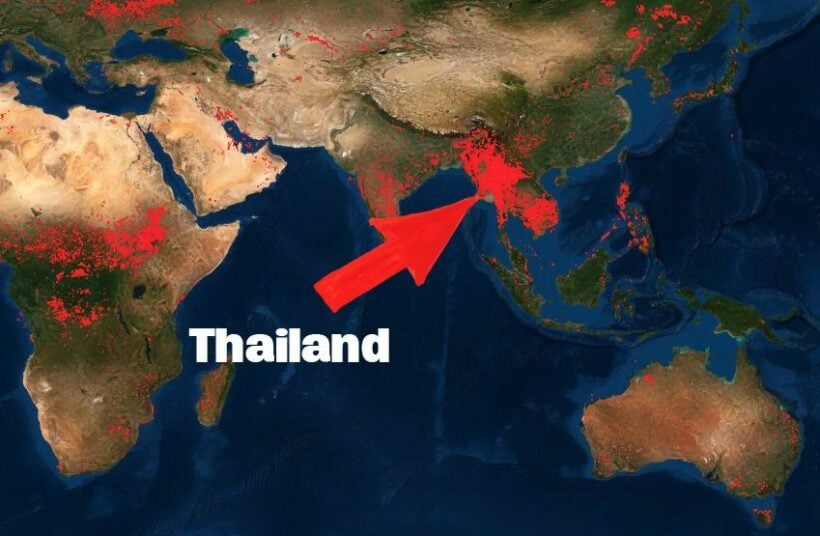 As if the northern city doesn't have enough to worry about with the coronavirus and scorching daily temperatures, residents are still having to face choking smoke and smog from, mostly, deliberately lit forest fires in the region.
PM2.5 levels in some areas soared up to 592 micrograms per cubic metre yesterday, more than ten times the 'safe' level.
This morning the situation is a bit better but the levels are still more than four time the Thai government's safe level of '50', which is twice the World Health Organisation's upper safe level of '25'.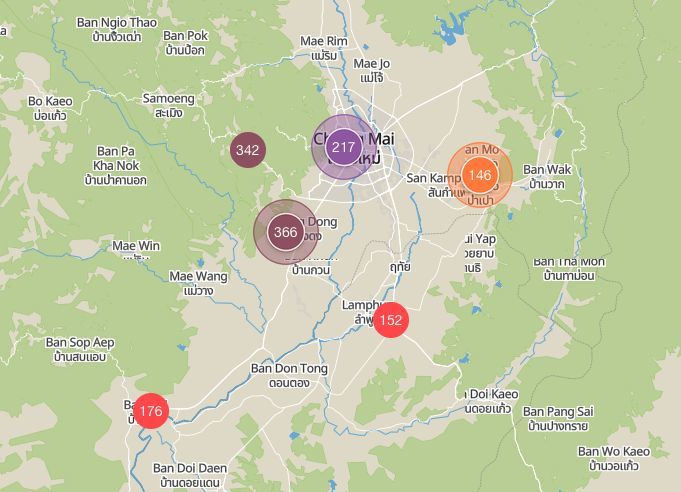 Readings from airvisual.com at 8am (Thai time)
The deputy governor of Chiang Mai province, Komsan Suwan-ampa, says though forest fires have been a chronic problem for more than a decade, this year's situation was dire because fires had erupted in areas that are not accessible by firefighters and volunteers.
Bangkok Post reports that a fire erupted yesterday in Doi Suthep-Pui National Park, to the north west of the main city, which had to be doused by helicopters. The fire-control centre reported that 218 hotspots in 18 districts in Chiang Mai have been detected by the Geo-Informatics and Space Technology Development Agency.
The fires are certainly concentrated around north-west Thailand and, with the wind blowing in the wrong direction, can determine if Chiang Mai is going to have a bad day, or a very bad day. There is also a lot of the active fires nestled to the north of Chiang Mai, across the border in a poorly enforced region of Myanmar where thousands of meth labs operate, hidden under a thick forest canopy, for the illicit drug trade.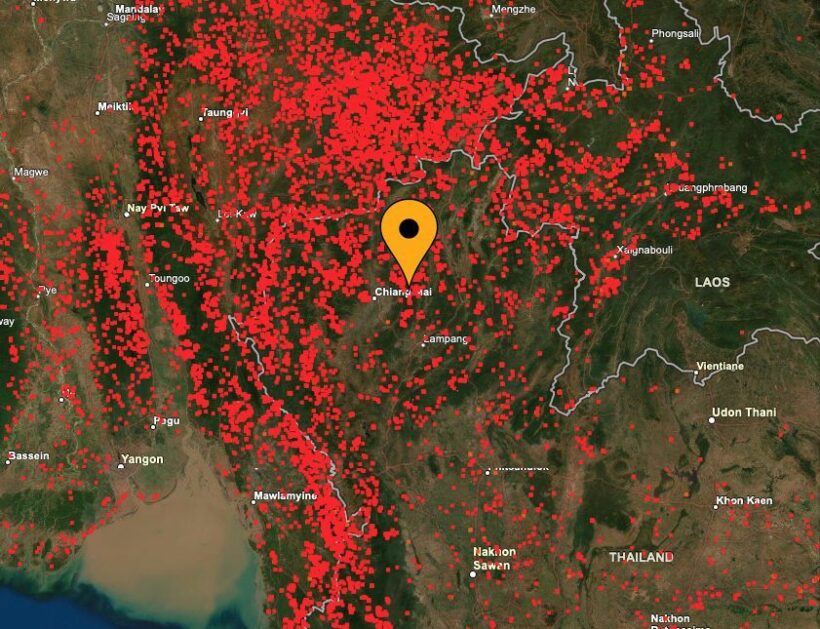 You can check out the live world fire maps HERE. We invite the northern Thailand government officials to do the same.
The director-general of the Pollution Control Department, Pralong Dumrongthai, says the forest fire hotspots in the North continue rising due to arson, open burning and pollution from bush fires set in neighbour countries.
"PM2.5 and PM10 particles will continue polluting the air. Six pollution control stations detected severely hazardous levels in their areas."
The authorities are offering a 5,000 baht bounty and imposing such as 1 to 30 years in prison and fines of 10,000 to 3 million baht for the crimes.
SOURCES: Bangkok Post | firms.modaps.eosdis.nasa.gov
Keep in contact with The Thaiger by following our
Facebook page
.