Smoke and mirrors, northern Thailand's annual smog problem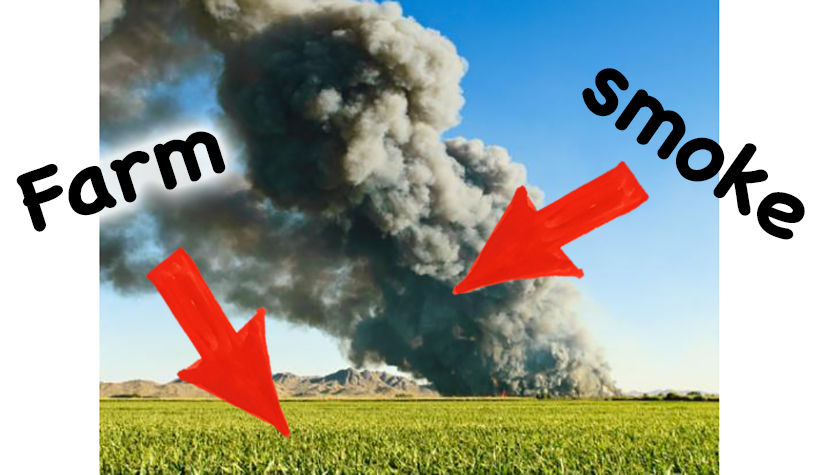 Congratulations Chiang Mai. Again you are the world's Number One.
Sadly, you're the number one in the world's worst air pollution, again. The third time in this week alone. And, sadly, because the problem is almost completely avoidable, but not easily solved.
Chiang Mai city has a PM2.5 micron reading this morning of 282, whilst just north of the city in Nong Han they have the staggering reading of 380 (hazardous).
PM2. 5 refers to atmospheric particulate matter (PM) that have a diameter of less than 2.5 micrometers, which is about 3% the diameter of a human hair. Commonly written as PM2.5 particles in this category are so small that they can only be detected with an electron microscope.

GRAPHIC: airvisual.com
Other heavily populated areas around Chiang Rai, Mae Hong Son and Lampung are also suffering serious smog and smoke problems today. Last week the Royal Thai Army announced it would head to the northern provinces, track down and arrest plantation and farm owners who were allowing fires to be started on their properties. They would work with local rangers to detect the fires and enforce orders from the government not to light fires to clear land in preparation for new crops.
"The newly deployed rangers will be sent to fire-prone areas to patrol for fires and arrest anyone they find starting them. The rangers will also assist fire officers in fighting fires."

If anyone in the government or Royal Thai Army has access to a computer, internet or smartphone, they can download this interactive 'live' map which shows all the active fires in any region in the world, accurate to about 100 metres. Or if that's too difficult they could could drive around the region and look for the smoke. HERE's the link to the live satellite imagery and a photo of what smoke looks like.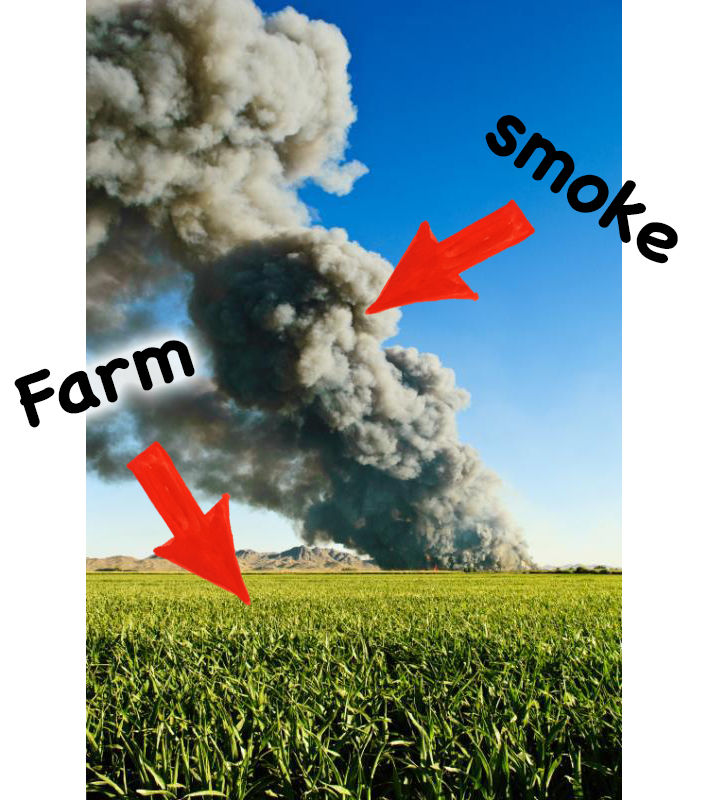 But, even if the government is able to abate some of the local burning off of farmlands on their own soil, they have a more nuanced problem negotiating with the Myanmar, Laos and Cambodian governments to enforce the same limits on their farmers. The winds blow across the borders and, as the satellite images show, much of the smoke is floating across in the prevailing winds from fires in neighbouring countries.
Thailand could show the lead and be a regional facilitator in vital changes to agricultural practices which are causing human tragedy and enormous damage to the region's tourist potential. ASEAN (where Vietnam is the Chair for 2020) has the regional 'teeth' to be able to bring these changes about and help arrange subsidies for farming districts to jointly share the costs of the harvesting and plowing machinery that would render the annual burn-off unnecessary.
Health effects
PM2.5 particulate are able to travel deeply into the respiratory tract, reaching the lungs. Exposure to fine particles can cause short-term health effects such as eye, nose, throat and lung irritation, coughing, sneezing, runny nose and shortness of breath.
PM2.5 particulate primarily come from car, truck, bus and off-road vehicle, construction equipment, snowmobile, exhausts, and other operations that involve the burning of fuels such as wood, heating oil or coal and natural sources such as forest and grass fires.
Exposure to these fine particles can also affect lung function and worsen medical conditions such as asthma and heart disease. Scientific studies have linked increases in daily PM2.5 exposure with increased respiratory and cardiovascular hospital admissions, emergency department visits and deaths. Long term exposure to fine particulate matter may be associated with increased rates of chronic bronchitis, reduced lung function and increased mortality from lung cancer and heart disease. (NY Department of Health)
The Thai government rate the upper safe level of air pollution as 50. The World Health Organisation rate the upper level at half of that, only 25 mg per cubic metre. Either way, the smog and smoke levels in Thailand's north are many, many times the acceptable safe levels for the region's populations and is doing incalculable damage to northern Thailand's future tourist potential.

PHOTO: Survivor Guide Chiang Mai
Keep in contact with The Thaiger by following our
Facebook page
.
Never miss out on future posts by
following The Thaiger
.
Economic concerns put Bangkok's ban on 10-wheel trucks on hold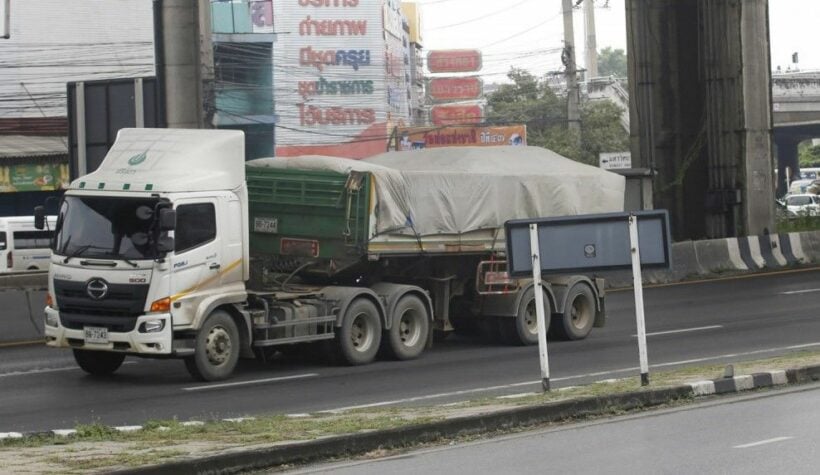 Officials in Bangkok have decided to delay a proposed ban on 10 wheel trucks in light of the current economic challenges affecting the transportation and industrial sectors. The proposed ban was aimed at reducing PM2.5 air pollution in the capital and was expected to come into force from December 1 – 28.
Particulates – also known as atmospheric aerosol particles, atmospheric particulate matter, particulate matter (PM), or suspended particulate matter (SPM) – are microscopic particles of solid or liquid matter suspended in the air – Wikpedia
PM2.5 refers to particulate matter (solid and liquid particles) with a diameter of less than 2.5 micrometres that remain suspended in the air for longer. They can be the result of burning fuel and are the primary cause of smog.
Commenting on the decision to delay the ban indefinitely, Deputy National Police chief Damrongsak Kittipraphas says the relevant authorities agreed the timing is not right.
"The police have discussed with related agencies, including the Department of Industrial Promotion, Pollution Control Department, the Thai Chamber of Commerce and the Public Transport Association, and agreed to postpone the rule indefinitely. The members at the meeting were concerned that the rule could obstruct the operation of the industrial and transportation sectors that are starting to recover from the economic contraction. Therefore, the related agencies promised to study the issue thoroughly, as well as explore other options to prevent and reduce PM2.5 air pollution in Bangkok."
However, Damrongsak says that from December 1, authorities in the capital will be clamping down on large polluting vehicles, adding that those emitting clouds of black smoke are one of the biggest contributors to air pollution.
"We will send officers to perform random checks at bus terminals and truck operation centres. The inspection will be recorded via video camera to ensure transparency of police work."
SOURCE: Nation Thailand
Keep in contact with The Thaiger by following our
Facebook page
.
Never miss out on future posts by
following The Thaiger
.
New national haze forecast website gives 3 day forecasts at 70% accuracy rate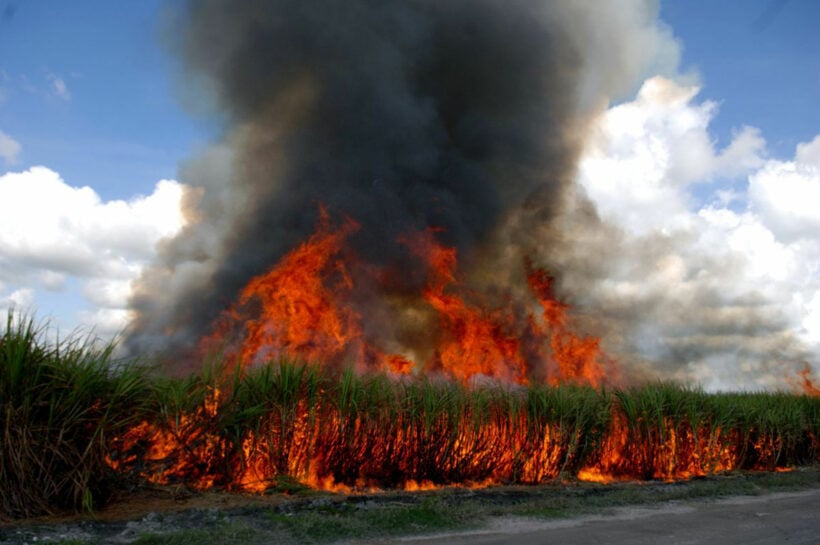 Thailand is getting a new national haze forecasting website that is capable of giving a 3 day forecast at a 70% accuracy rate. The Pollution Control Department is unveiling the "Mekong Air Quality Explorer" platform, which was named after the area is was originally designed to monitor. The PCD teamed with the USAID and NASA, the latter of which has permitted the use of its data from its GEOS-5 satellite-which ranks as one of the world's most accurate parameters for gauging atmospheric levels of PM 2.5, black carbon and nitrous oxide.
Aekkapol Aekakkarararungroj, the project chief, helped develop the new model, which came as part of ongoing efforts to capture the overall picture in the Mekong Region, which has been strongly affected by the burning season in northern Thailand.
"From now on, anyone can access the haze website to check the PM2.5 situation in advance and the department will use the information to better implement measures to limit the impact of air pollution on people's health and the local environment."
Aekkapol says the forecasting website will also provide detailed nationwide air quality data right down to the district level, as it has begun importing air quality and PM data from its air monitoring stations in Bangkok and surrounding areas. Additionally, it is using data from 14 other provinces nationwide.
Today, PM2.5 levels are forecasted to be moderate with a small rise to be seen tomorrow in Bangkok, Samut Prakan, Nakhon Pathum, Samut Sakhon and Nonthaburi provinces. Aekkapol says people living in these areas should expect guidance from local authorities on the best steps to take to minimise their exposure.
Thailand's PCD Director-General Attapol Charoenchansa says that further development is underway to enable an even more precise estimates, right to the sub-districts and individual highways.
SOURCE: Chiang Rai Times
Keep in contact with The Thaiger by following our
Facebook page
.
Never miss out on future posts by
following The Thaiger
.
Residents express health concerns as smog engulfs Pattaya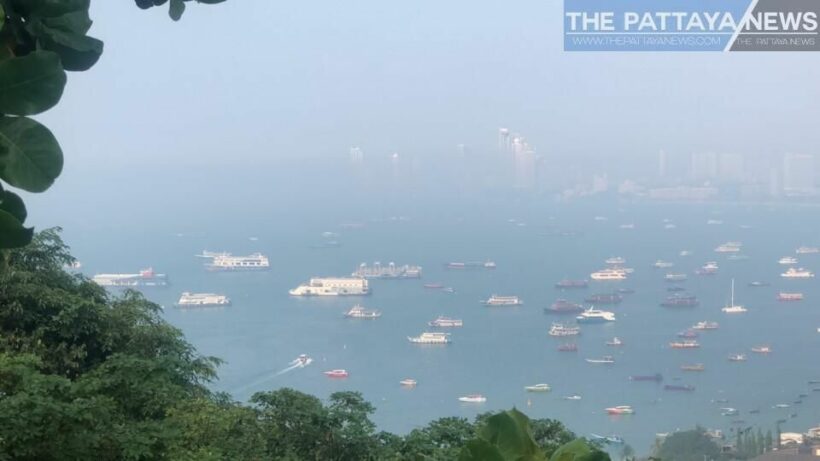 Pattaya residents have expressed concern over air pollution, as the eastern coastal city finds itself engulfed in smog. The Pattaya News reports that the deterioration in air quality has been ongoing for a number of days, with a cloud of haze obscuring the bay and neighbouring islands.
Residents are advised to wear masks when outside and to limit outdoor exercise, according to officials, who have so far not clarified what the cause of the pollution might be. It comes as mass sugar cane burning is taking place in farming communities around the country, an activity that has caused air pollution problems in the past. While sugar cane burning is technically illegal, residents say the law is not strongly enforced, resulting in an annual rise in air pollution levels.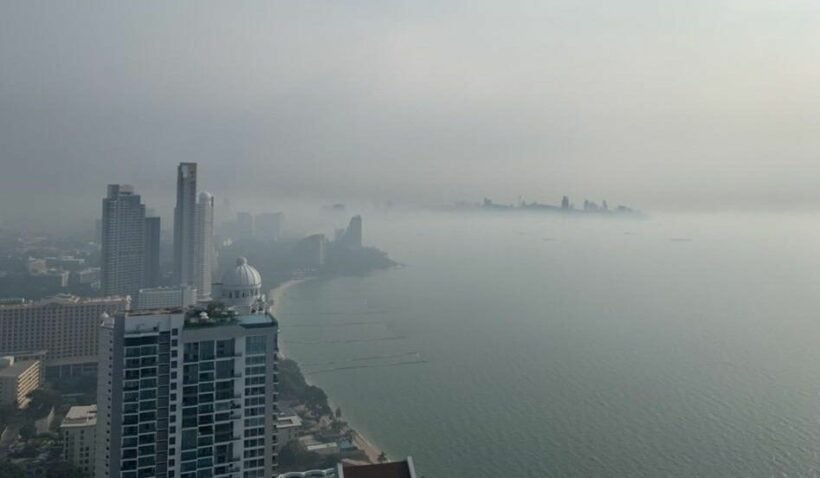 PHOTO: The Pattaya News
Netizens are urging the government to do more to prosecute farmers and large companies found indulging in the practice. They are also calling on sugar cane customers to reject burnt produce, in the hope it will force producers to use cleaner harvesting methods.
In the past, officials have pointed to tourist traffic, including airplanes, boats, and buses, as being a possible cause of the pollution. However, with air quality continuing to deteriorate, despite the current significant decline in air travel and tourist numbers, that hypothesis seems unlikely.
SOURCE: The Pattaya News
Keep in contact with The Thaiger by following our
Facebook page
.
Never miss out on future posts by
following The Thaiger
.