Northern Thailand chokes under shroud of smog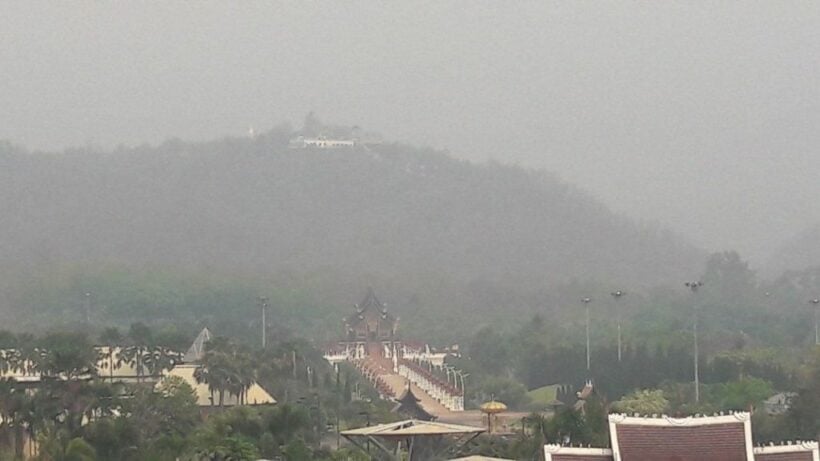 Chiang Mai may have fallen to third in the race for world's worst air quality today, but northern Thailand is still choking under a blanket of toxic haze, and the Thai Meteorological Department has forecast "hot to very hot conditions" for the region. The department urges people in the north to "stay safe due to the very hot conditions."
Visibility on northern roads this morning was just 10 metres, and the morning sun was a dark orange ball due to the haze. The thick smog has blanketed most of the northern provinces, causing difficulty in breathing, sore throats and burning noses.
The shroud is due to forest and crop field burning and forest fires in the region as well as in neighbouring countries, particularly Cambodia. The level PM2.5 (particulate matter of 2.5 microns or less) in the Northern region is still high and is affecting many residents' health. PM Prayut Chan-ocha has ordered the Royal Thai Air Force to dispatch helicopters to spray water to reduce the impact.
There is a ban on agricultural burning in the region and the PM has ordered all relevant agencies to control and extinguish forest fires, and to strictly prevent new ones so as to urgently reduce the haze level.
The PM has also ordered relevant agencies to implement public health care measures such as arranging safe zones and dispatching mobile medical units until the situation can brought under control.
SOURCE: Chiang Rai Times
Keep in contact with The Thaiger by following our
Facebook page
.
North still choked with dangerous smog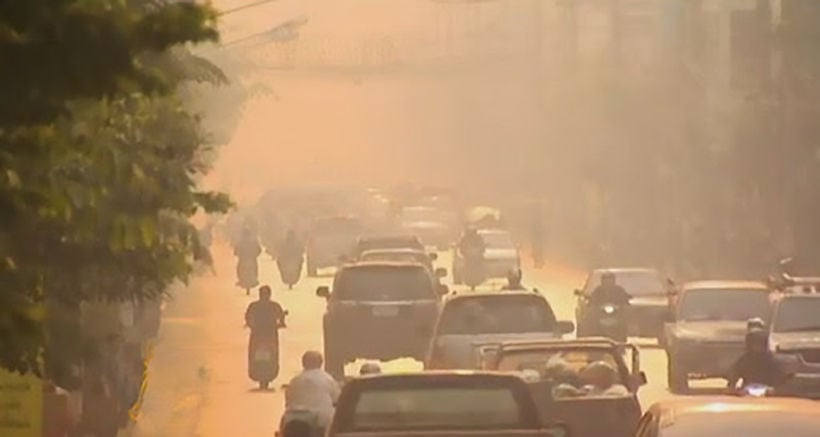 Chiang Mai takes the number one spot for air pollution yet again today, as a thick shroud of smog blankets huge areas of the province. Thailand's Pollution Control Department reported today that dangerously thick smog covered the upper northern provinces of Chiang Mai, Chiang Rai and Mae Hong Son. A red alert signifying severe air pollution was posted for the three northern provinces.
Levels of PM2.5 (smoke and dust particles 2.5 micrometres and less in diameter) ranged from 32-241 microgrammes per cubic metre of air in the North over the past 24 hours. The governmnent-set "safe" level is at 50mcg, double the international standard.
PM2.5 was measured at 108mcg in Mae Sai district in Chiang Rai.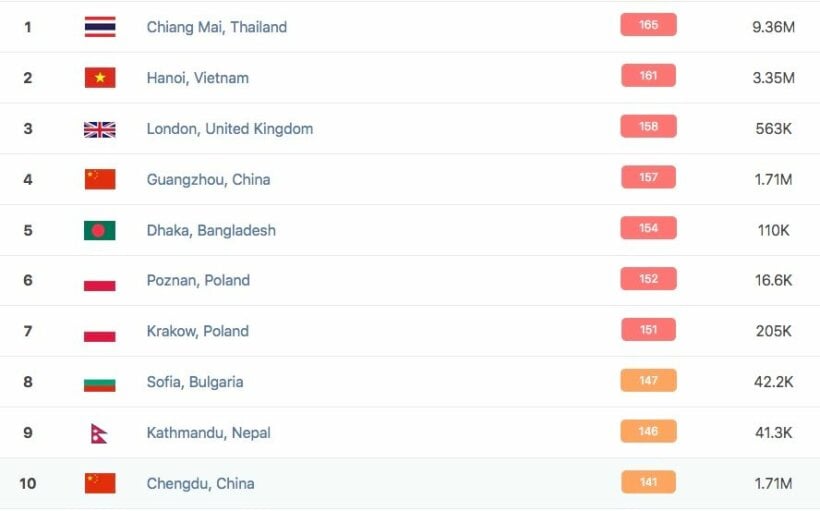 In Chiang Mai, PM2.5 rose to 101mcg in tambon Chiang Phuak of Muang district, 100 in tambon Sri Phum, and 241 in tambon Muang Khong of Chiang Dao district.
In Mae Hong Son, the PM2.5 level reached 121 in tambon Chong Kham of Muang district.
Lower, but still unsafe levels of dust were reported in Mae Chaem and Muang districts of Chiang Mai; Mae Mo and Muang districts of Lampang, Muang district of Lamphun, Muang district of Phayao, Chalerm Phrakiat district of Nan and Mae Sot district of Tak.
Air quality was deemed "good" in the city district of Uthai Thani, at 32mcg, Wichian Buri district of Phetchabun with 36 and the city district of Nakhon Sawan at 37.
According to the Pollution Control Department, PM2.5 levels ranged from 44-48mcg in Kamphaeng Phet, Phichit, Phitsanulok and Uttaradit provinces.
SOURCE: Bangkok Post
Keep in contact with The Thaiger by following our
Facebook page
.
Chiang Mai firefighters chased up a tree by wild elephants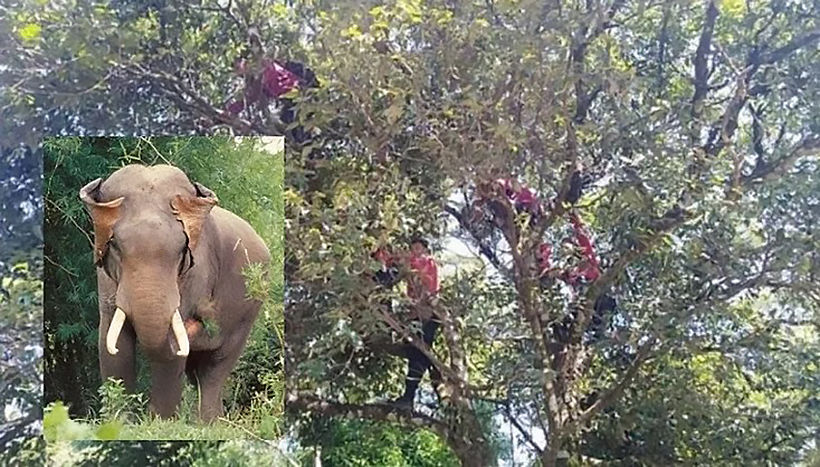 Firefighters in Thailand's North were chased up a tree by a herd of elephants yesterday. The group were on patrol searching for fires in Chiang Mai province's Omkoi district.
The men told reporters they were patrolling for fires when they ran across a small herd of wild elephants. Fearing for their safety, the fled up a nearby tree and stayed there until the elephants went their way.
Located in the south of Chiang Mai Province, Omkoi is the home of the Omkoi Wildlife Sanctuary, which has a number of rare and endangered species including wild Asian elephants. But stumbling across wild elephants in the park is uncommon as it has a small population.
The firefighters were in the area as part of efforts to fight and spot forest fires burning across the province. Many villagers start fires to improve annual mushroom harvests and prepare land for planting new crops.
In another story, two men have been arrested in relation to fires that have caused widespread damage in Chiang Mai's Doi Suthep-Pui National Park. The two are alleged to have started a fire in a forest area in Ban Thung Pong Tai, in Hang Dong District.
The men admitted to starting the fire but claimed "that they were only trying to create a fire protection line", fighting fire with fire and providing protection from other fires in the park, but their fire got out of control. They face criminal charges.
In Chiang Mai's Mae Chaem district, a major source of corn crops, the district chief ordered an investigation after reports of a fire in the Pa Baan Tuan area. Officials arrived to find a man standing in the area with a lighter in his hand (doh!).
The man was taken into custody, and told authorities he was taking a shortcut home when he saw a pile of leaves and branches. He says he decided to get rid of them by lighting a fire which got out of hand.
The was taken into custody where he will have time to reflect on much better excuses in the future.
SOURCE: Chiang Rai Times
Keep in contact with The Thaiger by following our
Facebook page
.
Lockdowns, closures mean cleaner air in European cities

Lockdowns, travel restrictions and factory closures due to the Covid-19 coronavirus pandemic are having some unexpected positive consequences. Satellite images show that cities around Europe, including Brussels, Paris, Madrid, Milan and Frankfurt, are showing a huge reduction in air pollution average levels of noxious nitrogen dioxide over compared with the same period last year.
New images, including heat maps, released by the European Space Agency and analysed by the nonprofit European Public Health Alliance, show the changing density of nitrogen dioxide, which can cause respiratory problems and cancer. (Weather events can influence air pollution, so the satellite pictures took a 20 day average and excluded readings where cloud cover reduced the quality of the data.)
In Madrid, average nitrogen dioxide levels decreased by 56% week-on-week after the Spanish government banned nonessential travel on March 14.
In abandoned Venice, dolphins were supposedly spotted in spotted in the city's legendary canals, though this turned out to be "fake news." The canal water, nonetheless, is clearer because of the huge decrease in boat traffic.
The EPHA says people living in polluted cities may be more at risk from the virus because prolonged exposure to bad air can weaken the immune system, making it harder to fight infection.
"That connection is very likely, but because the disease is new, it still has to be demonstrated."
China also recorded a drop in air pollution in its major cities during February, when the government imposed draconian lockdown measures to contain the epidemic.
But in some regions of Poland, pollution levels remained high during the period despite its lockdown, possibly due to the prevalence of coal based heating. EEA data show that air pollution causes around 400,000 premature deaths each year in Europe.
SOURCES: Thai PBS World |Reuters
Keep in contact with The Thaiger by following our
Facebook page
.