Thailand News Today – Monday, March 16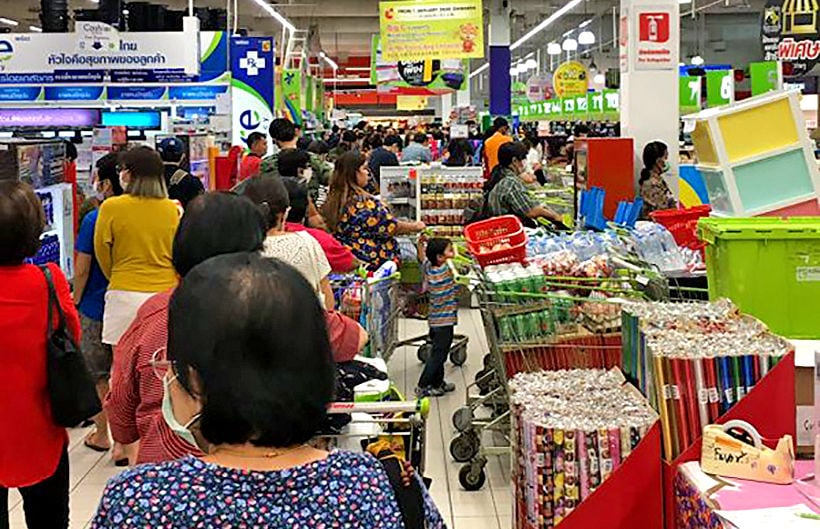 Hundreds linked to boxing stadium positive Covid-19 test
TV celebrity and boxing camp manager Matthew Deane, who tested positive for Covid-19 on March 6, was together with many others who were at the Lumpini boxing stadium.
The stadium is in Ramintra Bangkok, north east of the city centre.
Then over the weekend, the mayor of the Chachoengsao provincial administration organisation posted in his Facebook last night saying he's tested positive for Covid-19. He believed he contracted the virus while at the Lumpini Boxing Stadium on March 6 from TV celebrity Mathew Deane.
Over the next seven days he went to multiple functions and met hundreds of people…
March 6, a merit-making ceremony at a cock fighting ring, an activity at TamBom Napho Hospital in Sanam Chai Khet district.
March 7, Mr Kitti went to 5 wedding ceremonies, 2 temple fairs, at Wat Phai Kaew and Wat Sanamchan, and a funeral at Wat dong Yang, all in Ban Pho district.
March 8, he visited an elderly people's group in Bang Nam Priew District and attended a funeral at Wat Sam Yaek in Bang Pakong district.
March 11, he was at a funeral at Wat Sukharam in Bang Pakong.
March 12, he met with representative of the elderly from all districts, had a meeting with Muslim people in Bang Narm Priew and attended the funeral of a forner abbot in Phanom Sarakham district.
March 13, he was at a funeral in Bang Phaidistrict.
March 14, Mr Kitti went to a wedding in tambon Klong Luang Peng and an ordination ceremony in Muang district, according to Bangkok Post.
He had met hundreds of people in these events, and some of them very closely.
Mr. Kitti asked his relatives, friends and other people in Chachoengsao province, who had been in close contact with him to self-quarantine and to see a doctor immediately if they develop a fever, sore throat, cough or runny nose.
Meanwhile, the Army has reported that Major General Rachit Aarunwong, director of the Army Welfare Department and president of the Lumpini boxing stadium, is also infected with Covid-19 and is currently being treated in hospital. 60 other people have also been quarantined in relation to this case.
Thundershowers, more hot weather for the North
Thundershowers are forecast in the North, the Northeast, the Central and the East.
Meanwhile, a high pressure system from China is covering the Northeast, the East, the Central and the South China Sea. Southerly and southeasterly winds are bringing humidity to the Northeast, the East, the Central region and the lower North.
Sudden summer storms caused extensive damage in two provinces in Thailand's northeast yesterday around Buriram and Nakhon Ratchasima. Electricity was off in many villages for up to 6 hours and more than 20 buildings, including local houses and schools, were damaged in at least five villages.
When they say it's going to be hot up north… it's going to be 39 or 40 degrees all week in Chiang Mai.
"We're not going to run out" – Thai Retailer Association
Retailers are insisting that supplies of new stock have been unaffected as local residents, afraid of a Cornonavirus-prompted lockdown, rush to retailers to restock on essential goods.
They've been stocking up on drinking water, rice, canned food, semi-instant noodles, sugar and toilet paper. Some of the goods have been found to be in short supply in various department stores, supermarkets and retail stores.
Executive Director of the Thai Retailer Association says "basic goods are not short in supply and, above all, manufactures can still boost production capacity to cope with a higher demand."
He says that… "Many social media users says the stockpiling had been prompted by rumours that if Thailand reaches Stage 3 epidemic status, the government might impose significant restrictions of the movement of people."
Keep in contact with The Thaiger by following our
Facebook page
.
Never miss out on future posts by
following The Thaiger
.
Health officials call for smoking to be banned in residential buildings in Thailand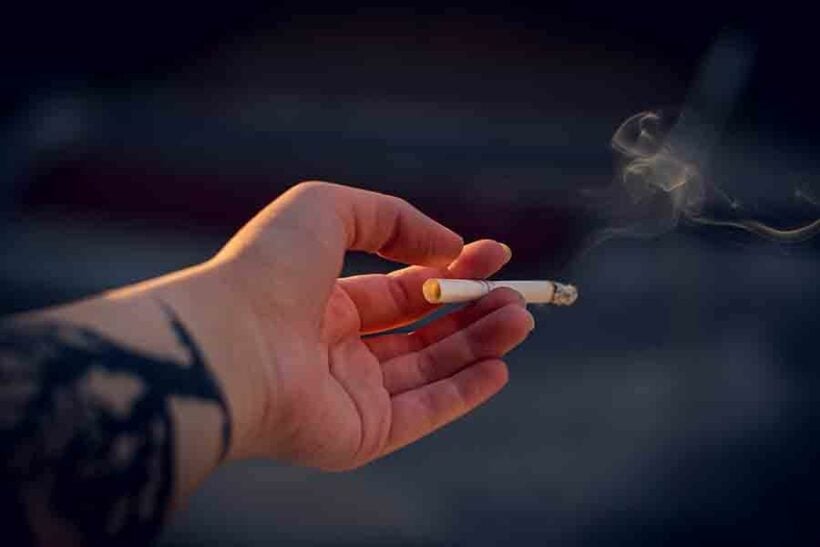 Thai health officials are calling for a ban on smoking in residential buildings, such as condominiums, hotels, and dormitories. Those campaigning for a change in the law say it's needed to protect the health of residents, and children in particular. Paisan Limsathit, from the Health Laws and Ethics Centre at Thamassat University, says residential buildings should be smoke-free in order to protect residents from second-hand smoke. He was speaking at a seminar on the protection of non-smoking condo residents.
The seminar was organised by the National Health Foundation and examined the results of a September – October study from Thammasat University that looked at smoking in condominium buildings.
According to the findings, out of over 1,200 people surveyed, 15% say they are smokers. Nearly half of those say they usually smoke on the balcony of their condo. 89% of respondents are in support of a total ban on smoking in condo buildings.
Meanwhile, Nipapan Kangsakulniti from the Faculty of Public Health at Mahidol University, says non-smokers are susceptible to second-hand smoke in shared buildings, adding that, according to a US study, banning smoking in residential buildings could cut maintenance costs by nearly 5 billion baht, as well as protecting the health of residents and reducing the risk of fires.
While the law in Thailand outlaws smoking in government and office buildings, as well as shopping malls and other public spaces like lobbies and corridors, there is no outright ban on smoking in residential buildings. Charan Kesorn from the Property Management Association of Thailand and the Thai Real Estate Association, says a compromise would be to reserve dedicated smoking areas away from non-smoking residents.
The fine for breaching Thailand's ban on smoking in public places starts at 2,000 baht, rising to a potential 100,000 baht and/or a year in prison for smokers caught puffing on the beach.
SOURCE: Chiang Rai Times
Keep in contact with The Thaiger by following our
Facebook page
.
Never miss out on future posts by
following The Thaiger
.
12 anti-government protesters summonsed to hear lèse majesté charges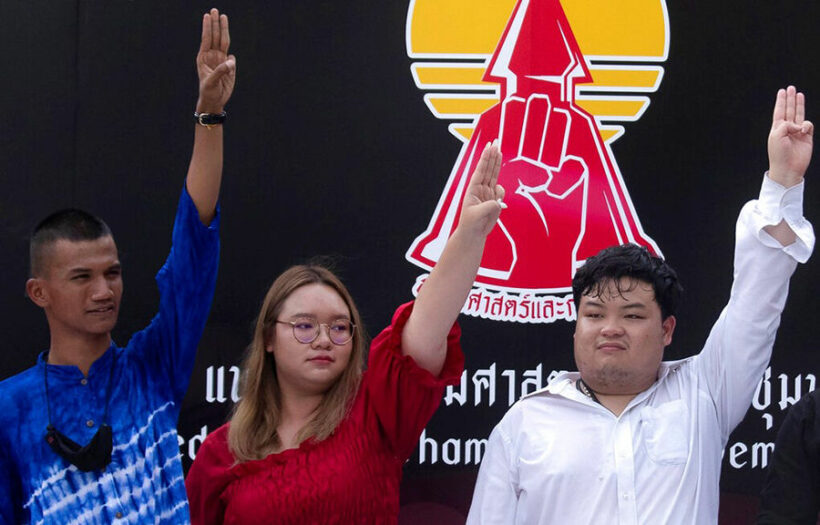 With almost impeccable timing, 12 pro-democracy protesters have been issued with police summons to hear charges under section 112 of Thailand's Criminal Code. Section 112 relates to the offence of lèse majesté, or insulting, defaming or threatening the Monarchy. Anyone convicted on lèse majesté charges faces imprisonment of between 3 and 15 years.
In June this year the Thai PM announced that HM the King had asked the government not to impose the country's lèse majesté laws.
Protest leader Parit Chiwarak, aka, "Penguin" is facing a total of 8 charges. According to a Nation Thailand report, 6 have been filed by police stations in the north-eastern provinces of Khon Kaen, Ubon Ratchathani, and Roi Et, in the central provinces of Ayutthaya and Nonthaburi, and the Chana Songkram district of Bangkok. 2 additional charges are being brought by the Technology Crime Suppression Division.
Meanwhile, Panusaya Sithijirawattanakul, aka, "Rung", who has been named by the BBC as one of 2020's 100 most inspiring and influential women, faces 6 charges. Both Panupong Jadnok (Mike) and human rights lawyer Anon Nampa face 4 charges each.
The other activists facing charges are Patsaravalee Tanakitvibulpon, aka "Mind", (3 charges), Chanin Wongsri (2 charges), and Juthathip Sirikhan, Piyarat Jongthep, Thatthep Ruangprapaikijseree, Atthaphol Buaphat, Chukiat Saengwong and Sombat Thongyoi, all facing 1 charge each.
A spokesperson for the Royal Thai Police says officers are working on additional summons for a further 3 – 5 protesters, who will also face lèse majesté charges. It's understood officers had a request for arrest warrants turned down on the basis that the suspects are public figures who have permanent residences in the Kingdom.
SOURCE: Nation Thailand
Keep in contact with The Thaiger by following our
Facebook page
.
Never miss out on future posts by
following The Thaiger
.
Department of Land Transport threatens hefty fines for customised vehicle headlights, taillights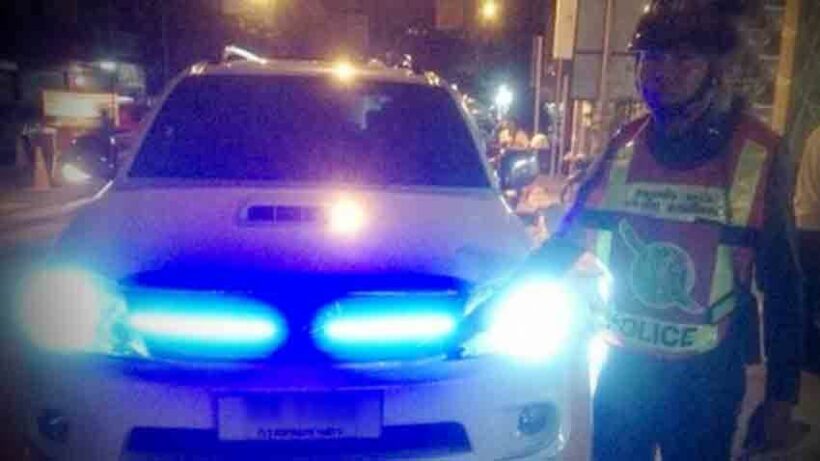 The Department of Land Transport is warning motorists that they may face significant fines if they modify their vehicle's headlights or taillights. Jantira Buruspat from the DLT says that customising a vehicle's lights in a manner that contravenes either the Vehicle Act or the Land Transport Act can incur a fine of up to 50,000 baht. He says the reminder is being issued after a number of complaints from members of the public who say their visibility is affected by issues such as vehicles that have blue lights.
"The customisation of vehicle headlights or taillights in private cars and taxi-meters is against the Vehicle Act, facing a maximum penalty of 2,000 baht. Light modification in public buses and large trucks also violates the Land Transport Act for adding objects to vehicles that can harm other people's physical or mental health, which stipulates a maximum penalty of 50,000 baht."
Jantira adds that vehicle owners should ensure they're familiar with road safety rules and that their vehicles adhere to the manufacturer's standards. Failure to do so means they will need to undo any customisation work detected during a vehicle inspection and before they can renew their driving licence.
"We are also cooperating with police nationwide to randomly inspect vehicles at selected checkpoints. Officials can immediately take charges against the drivers if their vehicles are found with modified headlights or taillights."
SOURCE: The Pattaya News
Keep in contact with The Thaiger by following our
Facebook page
.
Never miss out on future posts by
following The Thaiger
.