Vegan and vegetarian options in Thai cuisine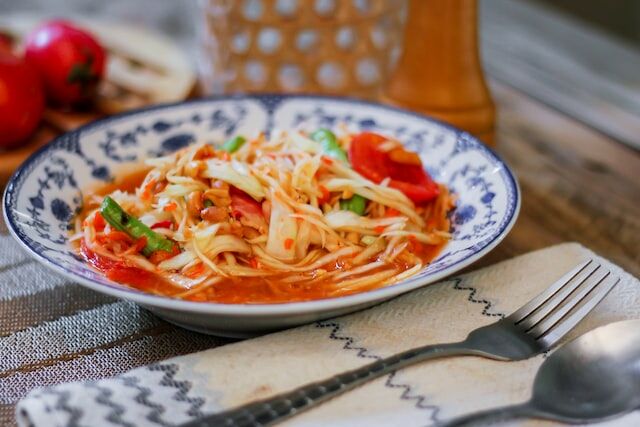 Thai cuisine is renowned for its rich, flavorful dishes. But did you know that it is also surprisingly abundant in vegan and vegetarian options? While many dishes are traditionally made with meat and fish, there are plenty of Thai vegan and vegetarian food available. From noodles to curries, there is something for everyone no matter what your dietary preference.
Thai vegetarian food is mouth-watering and packed with an array of spices and herbs. Whether you are looking for something light and refreshing or something more substantial, Thai cuisine has it all. So, let's explore the delicious Thai vegan and vegetarian options that Thai cuisine has to offer!
1. Vegan Pad Thai (Thai Stir-Fried Noodles)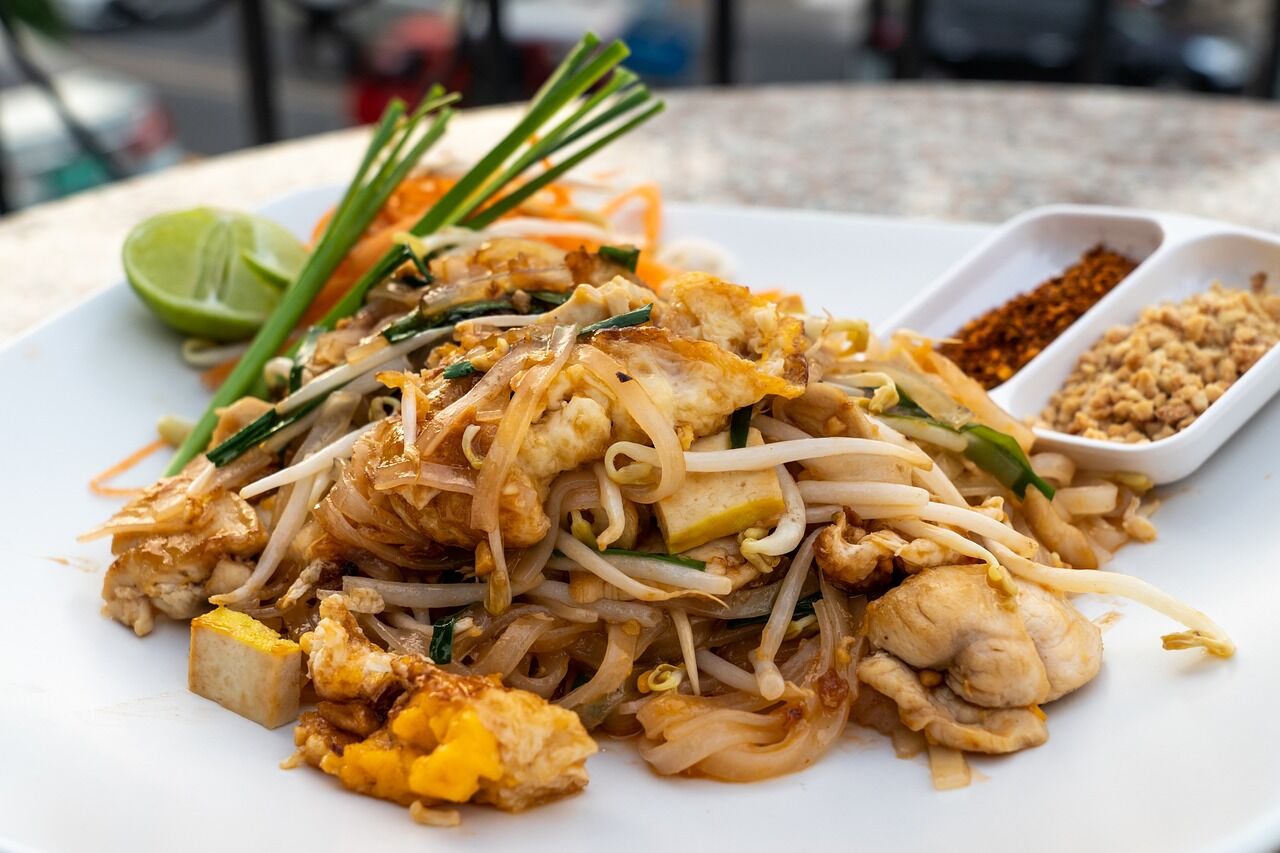 Vegan Pad Thai is a delicious and flavorful dish that will have you coming back for more. This Thai vegetarian food is a vegan-friendly twist on the classic Pad Thai dish. It features stir-fried noodles and vegetables, with the addition of tofu instead of eggs. The tofu is cooked in a flavorful blend of tamarind paste, fish sauce, and soy sauce. The combination of flavours results in a dish that is sure to please everyone's palate.
2. Tao Hoo Song Kreung (Mixed Tofu)
Our second choice is Tao Hoo Song Kreung, or Mixed Tofu, which will tantalise your taste buds. To make this dish, Thai people mix together with fresh basil, and other protein supplements, creating a savoury stir-fry. The flavours come together perfectly, and people usually serve it over a bed of steaming rice. This classic Thai dish is a favourite amongst vegan and vegetarian food lovers. The texture of the tofu is absolutely incredible, producing a satisfying crunch with each bite. Mixed Tofu is a must-have for anyone who loves plant-based cuisine. So, if you're looking for a delicious vegan and vegetarian dish, give Mixed Tofu a try. You won't regret it!
3. Pad Phak (Stir-Fried Vegetables)
Pad Phak is a classic Thai dish that is perfect for vegans and vegetarians alike. This stir-fried vegetable dish is made with a variety of vegetables such as bell peppers, carrots, mushrooms, onion, garlic, and ginger, as well as seasonings like soy sauce and fish sauce (which can be omitted for vegan meals). The vegetables are cooked together in a hot wok until they are cooked through and lightly browned. Be sure to try it if you want something delicious and fulfilling.
4. Som Tum (Papaya Salad)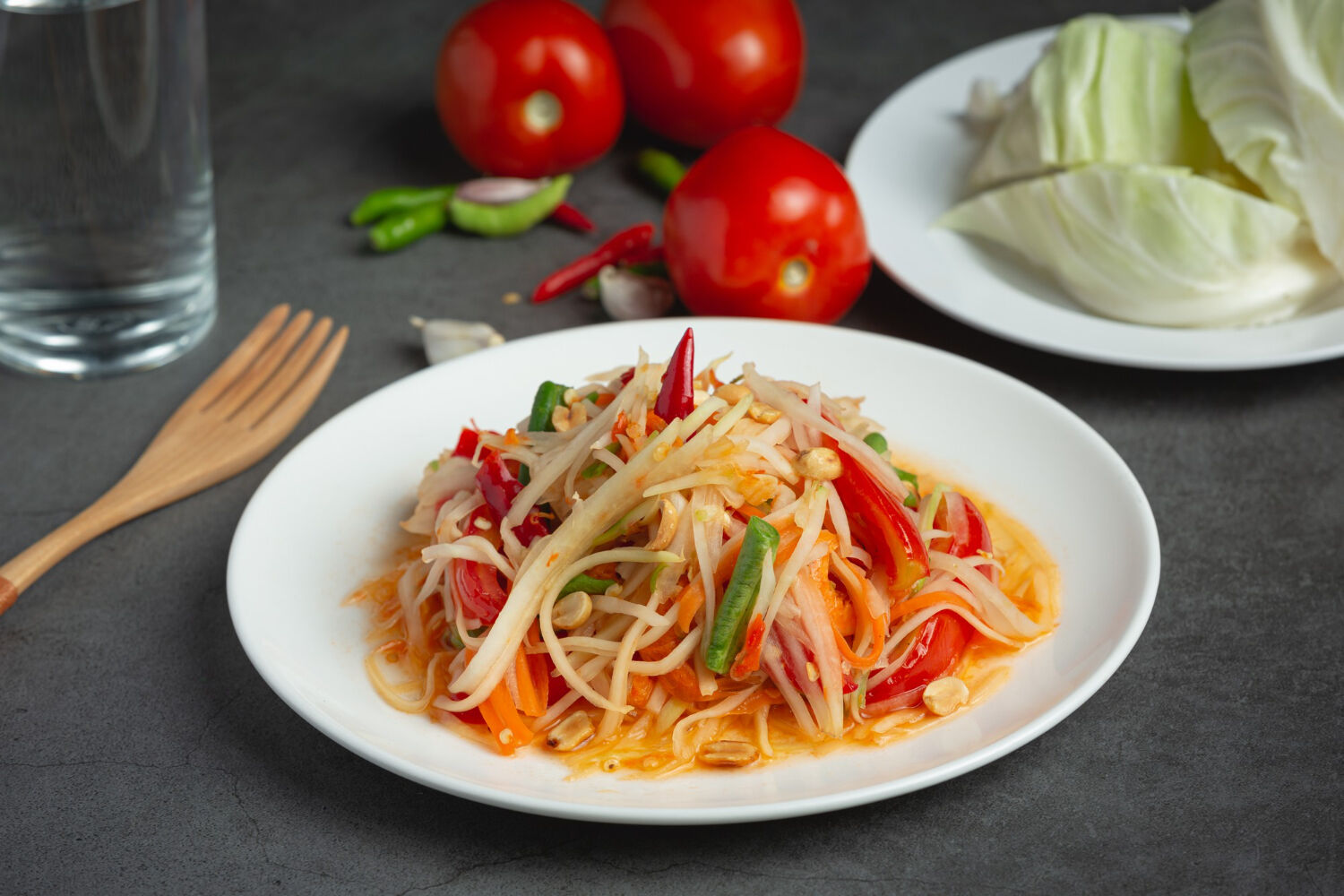 Are you ready to spice up your taste buds with a refreshing and tangy Thai classic? Introducing Som Tum, also known as Papaya Salad! This salad is made with perfectly shredded green papaya mixed with juicy tomatoes, fragrant garlic, and a medley of herbs and spices. Usually, Thai people toss the salad in a zesty dressing made of fish sauce, lime juice, and chilli. But don't worry, it can easily be made vegan by simply leaving out the fish sauce. It's a perfect balance of sweet, sour, and spicy flavours that will have you coming back for more.
5. Gang Jay (Vegetarian Curry)
Gang Jay is a vegetarian Thai curry that consists of with coconut milk and a variety of vegetables. The base of the curry is usually made with lemongrass, garlic, galangal, and shallots, and then vegetables like eggplant, bell pepper, and bamboo shoots are added. This curry is tasty and creamy, and you can serve it with steamed rice or noodles.
6. Larb Jay (Vegan Larb)
Ladies and gentlemen, get ready for a flavour explosion in your mouth with larb jay! This spicy meat salad from the north of Thailand and Laos will delight your taste buds with its bold and aromatic spices. But don't let the meat fool you, you can easily make this dish vegetarian by swapping in some delicious tofu. Trust us, it's just as mouth watering as the original version. Each region adds their own unique twist to the dish, making it a fun and exciting culinary adventure. And for those who can handle the heat, try it with more spices for an added kick. But beware, larb jay packs a punch so if you're sensitive to spice, you might want to bring a glass of milk.
7. Pad Krapow Hed (Basil and Mushroom)
Pad Krapow Hed is a delicious vegan dish that consists of mushrooms, fresh basil, and a spicy chilli sauce. The mushrooms and basil are stir-fried together in a hot wok with garlic, chilli, and soy sauce. The resulting dish is flavorful and fragrant, and you can serve it as a side dish or as part of a larger meal.
8. Pak Boong (Morning Glory)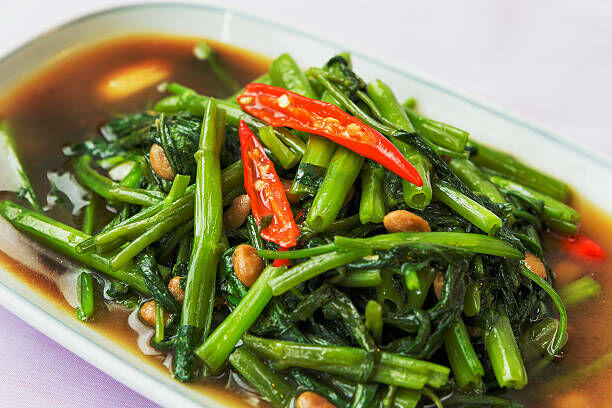 If you're looking for a tasty and healthy vegetarian meal, Pak Boong is the perfect choice. This delectable dish is full of flavour, but it's still light enough to enjoy as part of a larger meal. The morning glory is stir-fried with a medley of spices and herbs, including garlic, chilli, and soy sauce. Pak Boong is an incredibly versatile dish and you can serve it as a side, an appetiser, or even as a main course. It pairs perfectly with steamed rice, noodles, or even plain white toast. And if you want to add a bit of colour to your plate, why not try adding some fresh herbs or chilli peppers?
Pak Boong is not just delicious, it's also incredibly healthy. It's low in calories and packed with vitamins and minerals, making it an excellent choice for anyone looking for a nutritious and nutritious vegetarian meal.
Whether you're vegan, vegetarian, or just looking to explore a new cuisine, Thai food offers plenty of delicious vegan and vegetarian options. From stir-fried vegetables and curries to salads and noodles, there's something for everyone to enjoy. So the next time you're craving some Thai food, be sure to try out one of these vegan and vegetarian dishes.
Click here if you're looking for vegan and vegetarian desserts in Bangkok!
Best Bites
Best of
Food
Guides
Lifestyle

Join the conversation and have your say on Thailand news published on The Thaiger.
Thaiger Talk is our new Thaiger Community where you can join the discussion on everything happening in Thailand right now.
Please note that articles are not posted to the forum instantly and can take up to 20 min before being visible. Click for more information and the Thaiger Talk Guidelines.