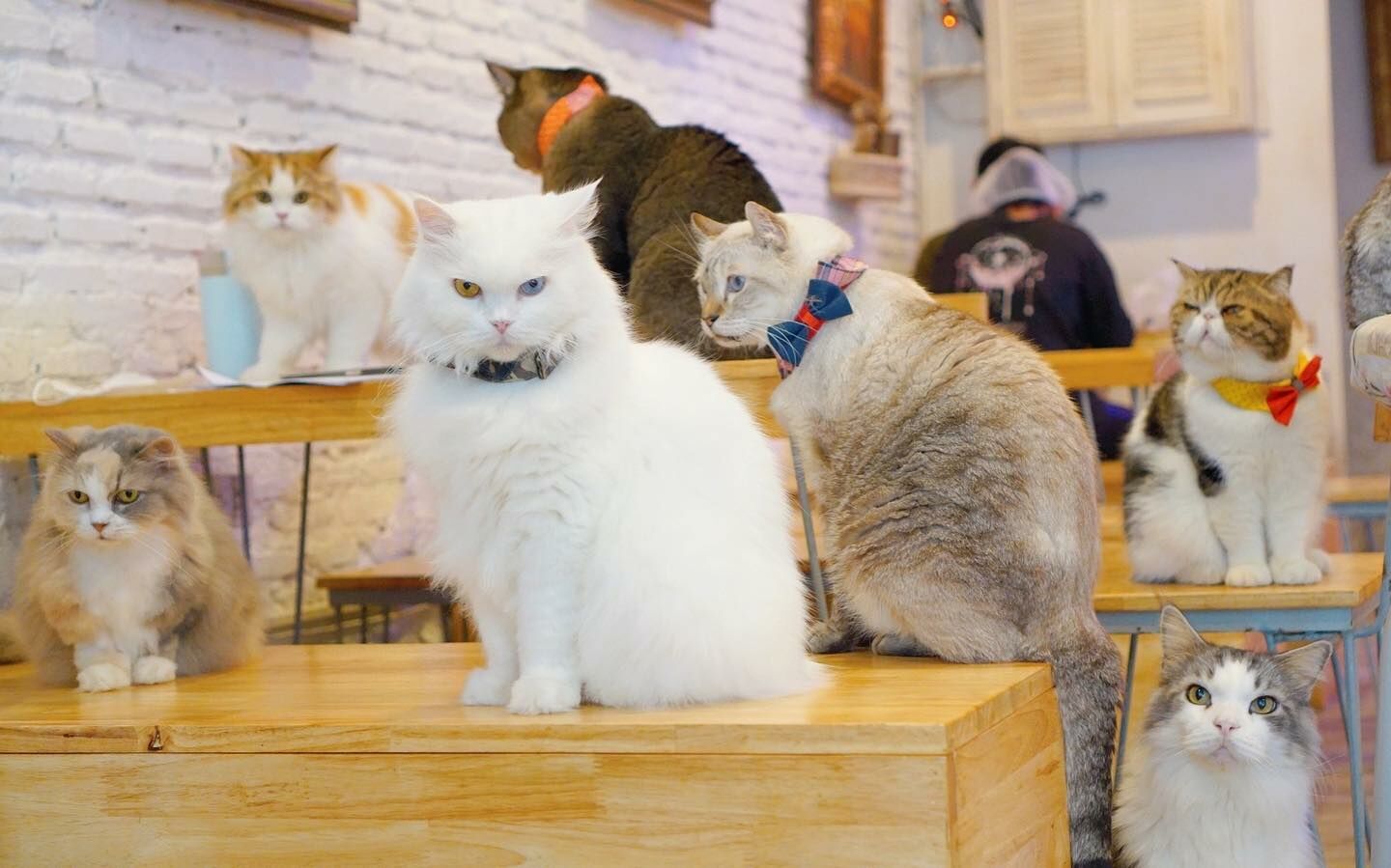 Are you tired of the same old dining experience in Bangkok? Do you want to try something new, exciting, and totally quirky? Well, hold onto your chopsticks, friends, because we've got just the thing for you! Bangkok is a foodie's paradise, with its endless street food vendors, bustling markets, and world-renowned restaurants. And among them, you can find some unique dining experiences that will surely satisfy your craving for something out of the ordinary. Here are some of the best ones.
Cabbages & Condoms
Opening hours: Daily, 11:00 – 22:00
Address: 6 10 Sukhumvit 12 Alley, Khwaeng Khlong Toei, Khlong Toei, Bangkok 10110, Thailand
Behold, dear patrons, the magnificent Cabbages & Condoms Restaurant, where dining takes on a whole new level of experience. As you step inside, an array of vibrant condoms shall greet you, swaying gently in the air like colorful confetti. But do not be deceived by the name, for this place is far from just a mere gimmick. The food served here is exquisite, with a menu that showcases the finest of Thai cuisine, expertly prepared and beautifully presented.
From lunch sets to scrumptious ice cream flavors, every dish is a testament to the culinary prowess of the chefs. The friendly and affable staff are always eager to engage in delightful conversations with you, while the impeccable service and tranquil atmosphere of the restaurant makes it a perfect spot for a leisurely meal. With its immaculate cleanliness and a menu brimming with tantalizing food and drink options, this place is indeed a culinary haven.
The restaurant's motto, "Our Food is Guaranteed Not to Cause Pregnancy," is a humorous nod to its condom-inspired decor, but beyond the laughter lies a heart that is dedicated to a worthy cause. This restaurant is not just about serving delicious food. It commits to supporting various foundations and development programs in Thailand. Its focus on safe sex and education is truly remarkable. And its efforts to make a positive difference in the community are indeed admirable.
Unicorn Café
Opening hours: Tuesday – Sunday, 12:00 – 20:00
Address: 44/1 Soi Sathon 8, Silom, Bang Rak, Bangkok 10500, Thailand
Unicorn Café is a whimsical wonderland that's perfect for those who love all things cute and colorful. Upon entering the restaurant, a magical kingdom with unicorn-themed decorations will enchant you. The walls feature graffiti of unicorns, while the cotton-candy-colored ceiling is adorned with unicorn plushies. The café is a whimsical wonderland that will leave you in awe.
If you're a fan of all things unicorn, then you're in for a real treat. The menu at Unicorn Café is just as enchanting as the decor, with rainbow-colored drinks and desserts that look almost too pretty to eat. You'll find everything from Unicorn Rainbow Waffles to Unicorn Milky Frappes and rainbow-colored cheese fries that taste like unicorn magic. Even the hamburger salad comes with unicorn-shaped toast/croutons, but for the keto-conscious, just ditch them and indulge in the safe option.
In addition to the food, the gift shop area offers various unicorn-themed merchandise for purchase, including unicorn-shaped backpacks, handbags, and purses, as well as adorable unicorn onesies. This immersive experience will leave you feeling like you have entered a world of rainbows and unicorns.
Na-Oh Bangkok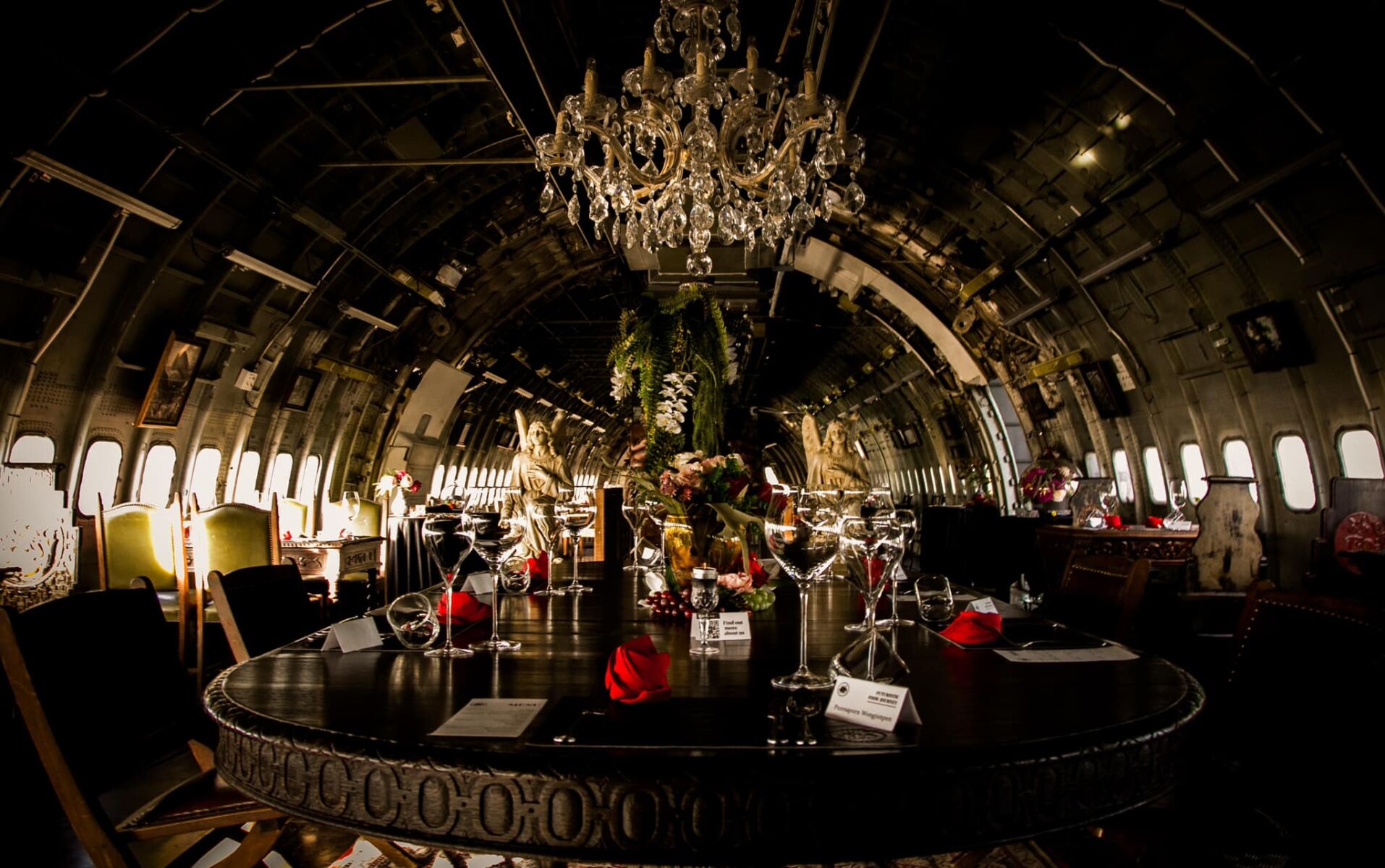 Opening hours: Thursday – Tuesday, 17:30 – 22:00
Address: ChangChui, 460/8 Sirindhorn Rd, Bang Phlat, Bangkok 10700, Thailand
Looking for a fine dining experience that's truly out of this world? Then let Na-Oh Bangkok take you on a futuristic food journey. You'll dine aboard a plane that's been transformed into a luxurious fine dining venue. The Noah's Ark theme is evident everywhere you look – from the airplane seats to the cabin doors and even the food on your plate.
As soon as you step inside, you'll be struck by the incredible attention to detail. The interior is elegant and stylish, with plush chairs and tables that make you feel like you're dining in first class. The menu is just as impressive, with a selection of five-course fusion dishes that will tantalize your taste buds and leave you wanting more.
The dishes are a fusion of Thai and international flavors, prepared with the utmost care and attention to detail. You can expect to find dishes like gnocchi, scallops, foie gras, and more, all expertly cooked and beautifully presented. And the service? It's simply impeccable, with attentive waiters who are knowledgeable about the food and drinks on offer.
But it's not just the food that makes Na-Oh Bangkok so special. The restaurant's unique theme and high-end service make it the perfect venue for private parties and special dining occasions. And with reasonable prices for such a unique dining experience, it's easy to see why Na-Oh Bangkok has become a popular destination for foodies in Bangkok.
Gaggan Anand Restaurant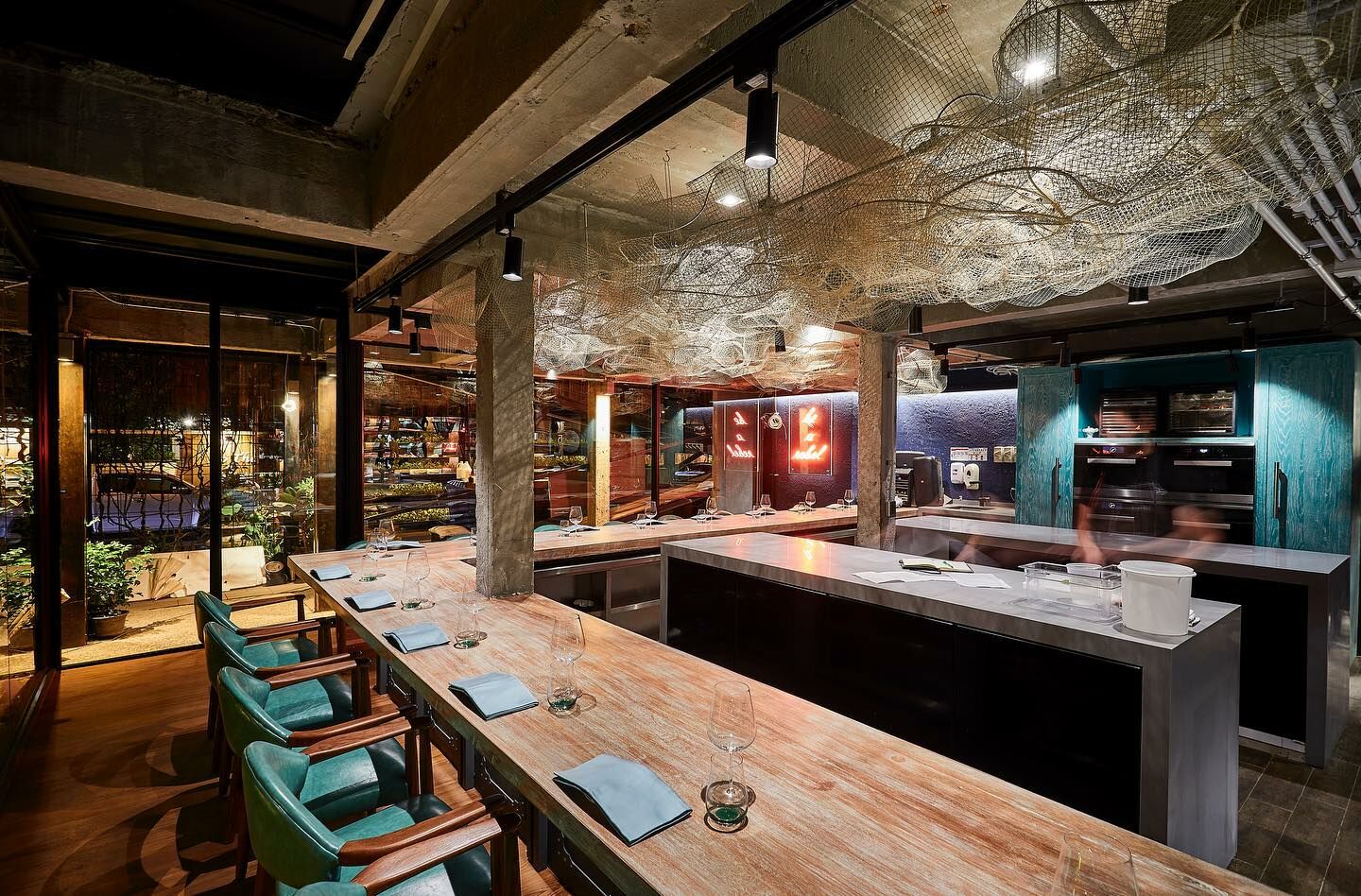 Opening hours: Wednesday – Sunday, 17:30 – 00:00
Address: 68 Sukhumvit 31, Khlong Tan Nuea, Watthana, Bangkok 10110, Thailand
Are you ready for a dining experience unlike any other? Gaggan Anand Restaurant promises just that. This unique culinary adventure is not for the faint of heart. With 25 courses to try, you'll be taken on a roller coaster ride of flavors and emotions.
Don't expect traditional Indian cuisine here. Gaggan and his team will showcase their inventive molecular gastronomy creations, which are both artistic and boundary-pushing. The dishes are served with an accompanying story that will transport you to another world.
The restaurant is all about incredibly unique dining experiences. It's not just about the food, but the experience as a whole. The price includes wine pairings and an open bar at the beginning and end of your sitting.
Don't let anyone spoil the experience for you. Book a table and find out what you've been missing. It's a journey of love and rebellion, an experience that will leave a lasting memory.
Caturday Cat Cafe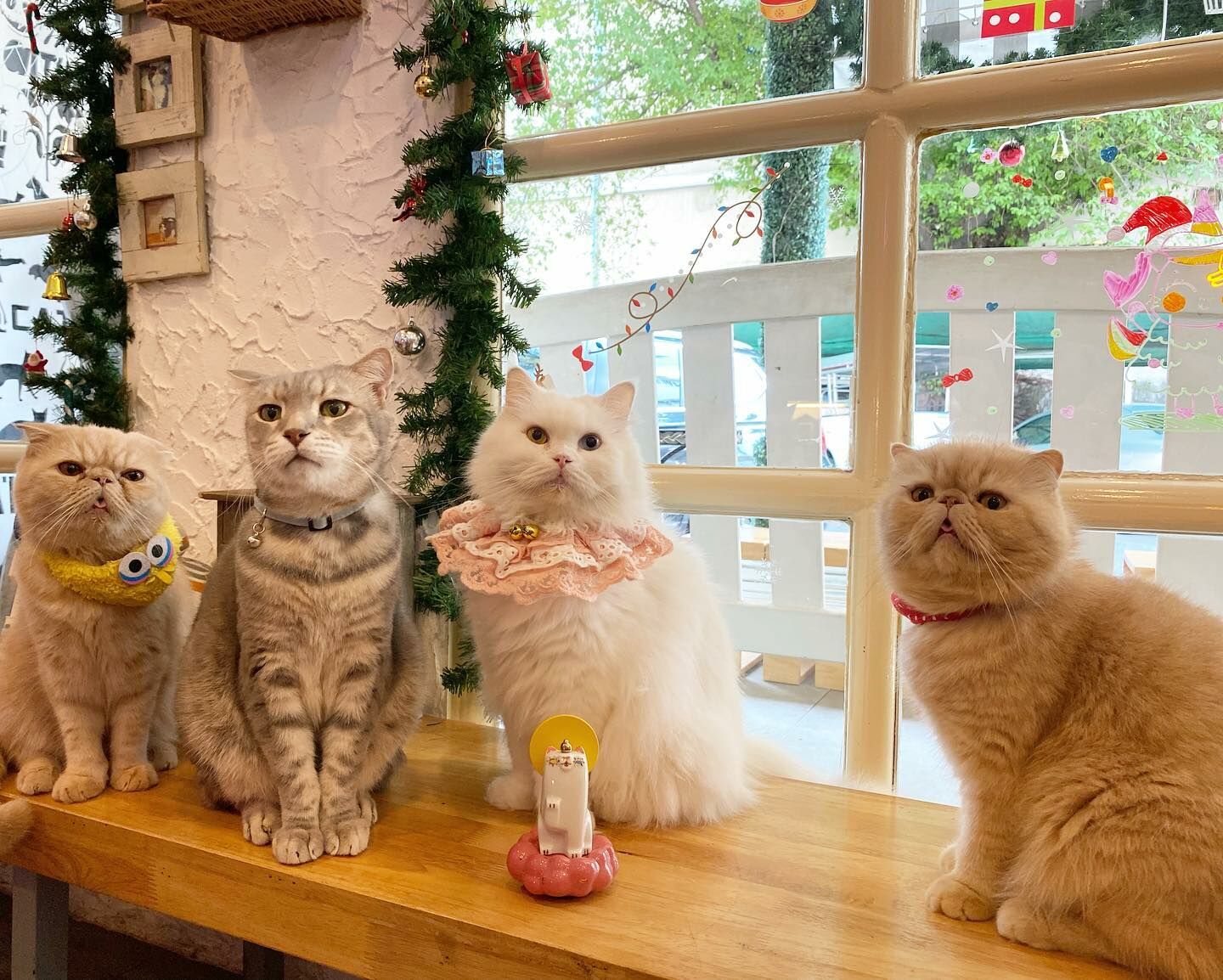 Opening hours: Tuesday – Friday, 12:00 – 21:00; Saturday – Sunday, 11:00 – 21:00
Address: 10400, 89/70 Phaya Thai Rd, Thanon Phetchaburi, Ratchathewi, Bangkok 10400, Thailand
Grab your camera and head to the quaint Caturday Cat Cafe, conveniently located off the BTS Skytrain station Ratchathewi. The cafe may not be spacious, but with over 40 cats to keep you company, you won't even notice. Between sips of your drink or bites of your snack, you can interact with the furry residents.
The menu at Caturday Cat Cafe is extensive, featuring French fries, spring rolls, various soups, pasta, lasagna, and delectable desserts such as crepe cake, rainbow cake, and red velvet cake. Although prices range from 100-300 THB, slightly higher than the Bangkok average, it's worth it as the cats are like an entrance fee.
You'll be happy to know that the cats are well-cared for, and the staff is friendly and knowledgeable about each cat's name and personality. If you're feeling generous, you can even buy cat snacks to feed your new feline friends.
So there you have it, folks – five unique and quirky dining experiences that are sure to spice up your foodie adventures in Bangkok. Don't be afraid to break the mold and try something new – who knows, you might just discover your new favorite restaurant!

Join the conversation and have your say on Thailand news published on The Thaiger.
Thaiger Talk is our new Thaiger Community where you can join the discussion on everything happening in Thailand right now.
Please note that articles are not posted to the forum instantly and can take up to 20 min before being visible. Click for more information and the Thaiger Talk Guidelines.