Thai government still working on criteria for travel bubble arrangements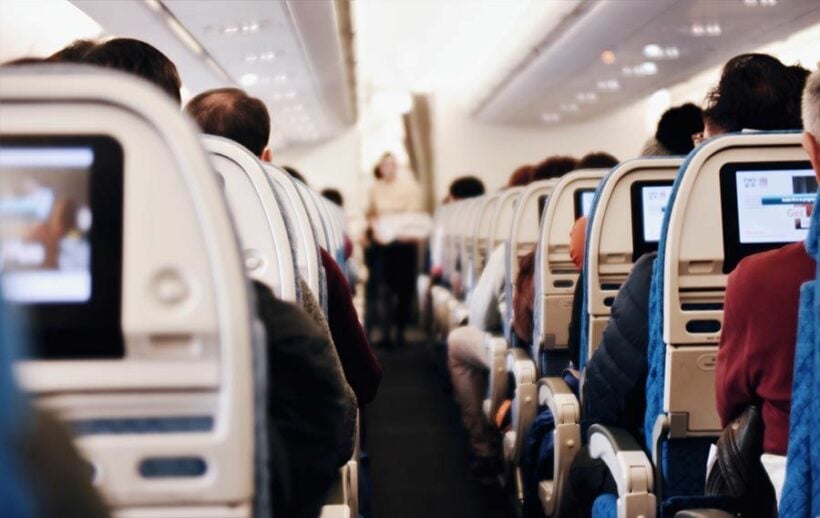 Public Health Minister Anutin Charnvirakul says he has appointed "two senior figures" to determine the criteria for "travel bubble" agreements with other countries. According to a report in Nation Thailand, the Public Health ministry's permanent secretary Dr Supakit Sirilak, and the director-general of the Department of Disease Control, Dr. Suwanchai Wattanayingcharoenchai, will set the conditions that must be met for entry into a travel pact with Thailand.
According to Dr. Suwanchai, these will include requiring potential partner countries to show a continuous downward trend in the number of locally transmitted Covid-19 cases, as well as having the medical capacity to treat Covid-19 patients. Any travel agreement will only be with countries that can demonstrate they have the virus under control, with minister Anutin saying a number of countries have expressed interest in partnering with Thailand.
The government has already expressed they are developing the travel bubbles to avoid inbound passengers having to complete a 14 day quarantine when they arrive.
"Numerous embassies have submitted documents to Thailand for the purpose, such as Japan and Switzerland, with whom we will hold discussions soon. The topics to be discussed will include screening measures upon arrival, candidate selection criteria and preventive measures that must be implemented by both the host and visiting countries."
It's understood any travel bubble agreement will consist of a memorandum of understanding between both countries, which can be cancelled in the event of a significant resurgence of the virus in either country. It's expected, that to begin with, only business travellers and work permit holders will be given permission to enter Thailand.
"Initially, we will allow only businessmen, technicians, professors and those who have valid work permits to enter our nation, before permitting tourists. We expect to submit the meeting result to the PM and the Centre for Covid-19 Situation Administration next Friday, June 26."
Bottomline, July 1 will not see Thailand's immigration gates flung open to tourists. We will continue to publish all the latest news about Thailand's travel bubbles as soon as it becomes available.
SOURCE: Nation Thailand
Want more from the Thaiger family?
📱 Download our app on Android or iOS for instant updates on your mobile
📧 Subscribe to our daily email newsletter
👍 Like/Follow us on Facebook
🔔 Subscribe to or Join our YouTube channel for daily video updates
Norwegian-flagged ship with 6 Covid-19 infections off Songkla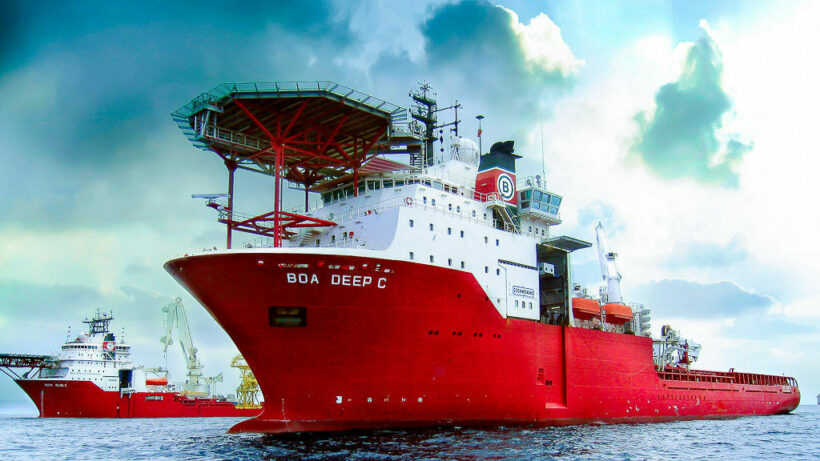 A Norwegian-flagged ship is currently floating off the coast of Songkla in the south of Thailand with 6 crew members infected with Covid-19. The offshore support vessel is named the Boa Deep C and is currently anchored near Ko Nu Island and awaiting further instructions. A spokesman for the Thai Maritime Enforcement Command Centre confirmed that the boat has been waiting there since May 12.
At the Songkla Deep Sea Port, an official in the International Disease Control Office reported that the boat has 29 crew members on board for a journey that began on May 1 from India. The boat previously docked at port in Singapore for a stopover before travelling on to the Thai port.
The offshore support vessel arrived in the area around 8 am 0n May 11. At that time, Port of Songkla officials inspected the ship's documents and administered Covid-19 swab tests to all people on board. The ship was originally cleared to travel on to Chon Buri and departed at 5 pm.
But later that evening around 10 pm, test results came back and revealed that 2 crew members from Ukraine, 2 from Poland, 1 from Russia, and 1 from India all tested positive for Covid-19. The ship was immediately ordered to return back to Songkla port by the local marine office.
The vessel arrived back the next day and was instructed to anchor by Ko Nu Island and await further updates. They were informed that travelling to any other seaport in Thailand or a nearby oil platform was strictly prohibited for any crew member. A field hospital was established on board the ship to isolate and begin treatment of the six Covid-19 infected crew members. None have reported any severe symptoms yet.
The maritime enforcement centre has dispatch patrol boats to observe the waters around the vessel and make sure that nobody leaves the Covid-19 infected ship and that nobody is allowed onto the boat. Officials in Songkla will continue to monitor the boat, stating that the ship is free to return to its country of origin at any time as long as they inform Thai officials first.
SOURCE: Bangkok Post
Want more from the Thaiger family?
📱 Download our app on Android or iOS for instant updates on your mobile
📧 Subscribe to our daily email newsletter
👍 Like/Follow us on Facebook
🔔 Subscribe to or Join our YouTube channel for daily video updates
Poll: Work from home popular, reduces Covid-19, helps gov't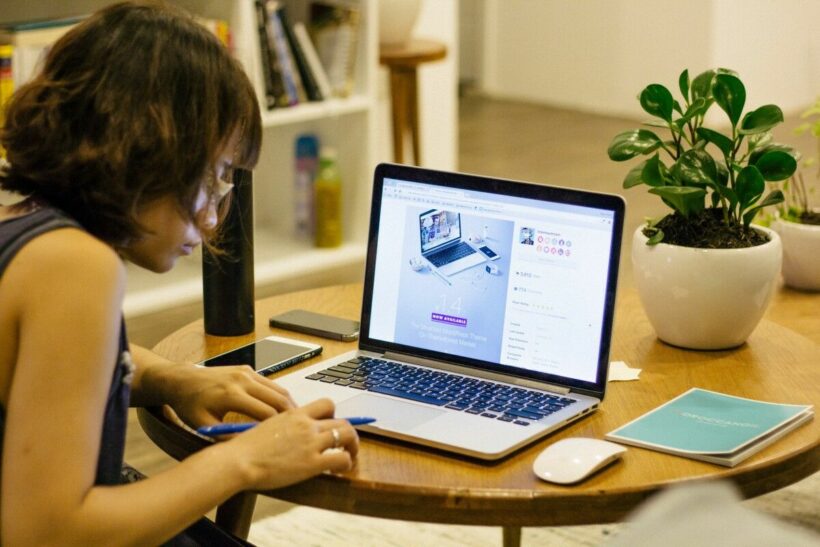 As far as strategies to reduce the risk of Covid-19 infections goes, work from home policies may be the most popular, far more liked than masks and lockdowns. In a recent poll by Suan Dusit Rajabhat University, 1,533 people in Thailand were asked about their opinions on working from home. The majority of responses were well in favour of it.
The Suan Dusit poll was conducted online and found that when asked about various opinions and attitudes towards working from home, nearly 75% of respondents believed that staying home to work made them feel safer and could prevent Covid-19 from spreading more. Nearly half also felt like working from home was a good way to cooperate with government policies regarding Covid-19.
Nearly 43% of those polled were working from home. Only about 23% of people never worked from home, while just under 35% of people worked in some combination of home and at their office or place of business. Just over 40% of respondents said they lacked the equipment at home that would allow them to work from home.
While people generally like to work from home, those surveyed did believe that there were pros and cons to it. 44% felt working from home gave them more personal time for themselves and more time with their families. 88% believed it had a positive effect on the Covid-19 pandemic and 70% loved how working from home reduced travel and commute costs. Over 60% viewed it as a way to help the government in their struggle against Covid-19.
On the downside, about 66% of those surveyed complained that they saw an increase in their household bills as their usage of water, electricity and internet went up. 62% had trouble without their normal work equipment and 46% said slow communication was an issue.
Oddly though, when asked which they preferred, only 18% completely favoured working from home, while double the amount preferred the office and 37% liked both equally. Just under 9% gave no opinion. Overall though, work from home as a Covid-19 fighting policy had a success rating of 70% by those polled.
SOURCE: Bangkok Post
Want more from the Thaiger family?
📱 Download our app on Android or iOS for instant updates on your mobile
📧 Subscribe to our daily email newsletter
👍 Like/Follow us on Facebook
🔔 Subscribe to or Join our YouTube channel for daily video updates
Covid UPDATE: 2,302 new infections and 24 deaths, provincial totals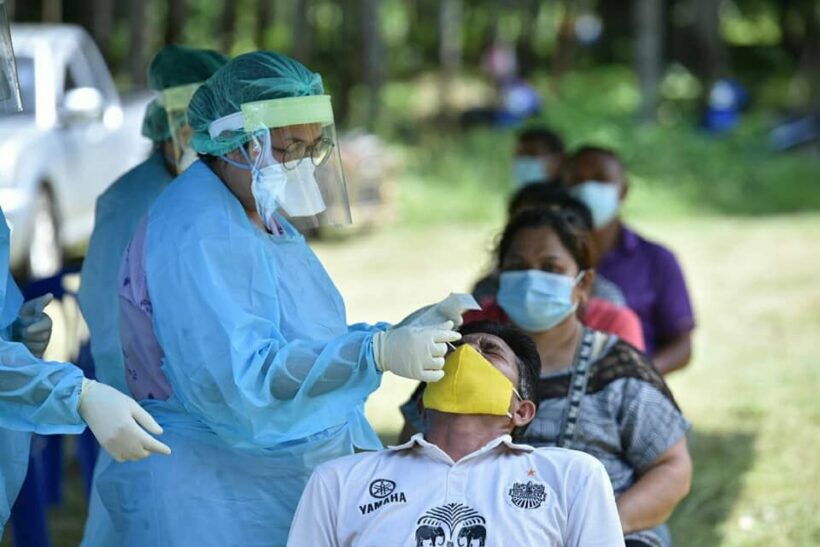 The CCSA have announced 2,302 new infections and 24 Covid-related deaths over the past 24 hours. There's now been a total of 101,447 infections and 589 deaths since the start of Thailand's tally on January 18, 2020. More than 64,000 are registered as 'recovered'. 35,055 people remain under treatment at public and field hospitals.
More news briefs on the Covid situation below.
Here are the provincial totals for Sunday as reported from the past 24 hours.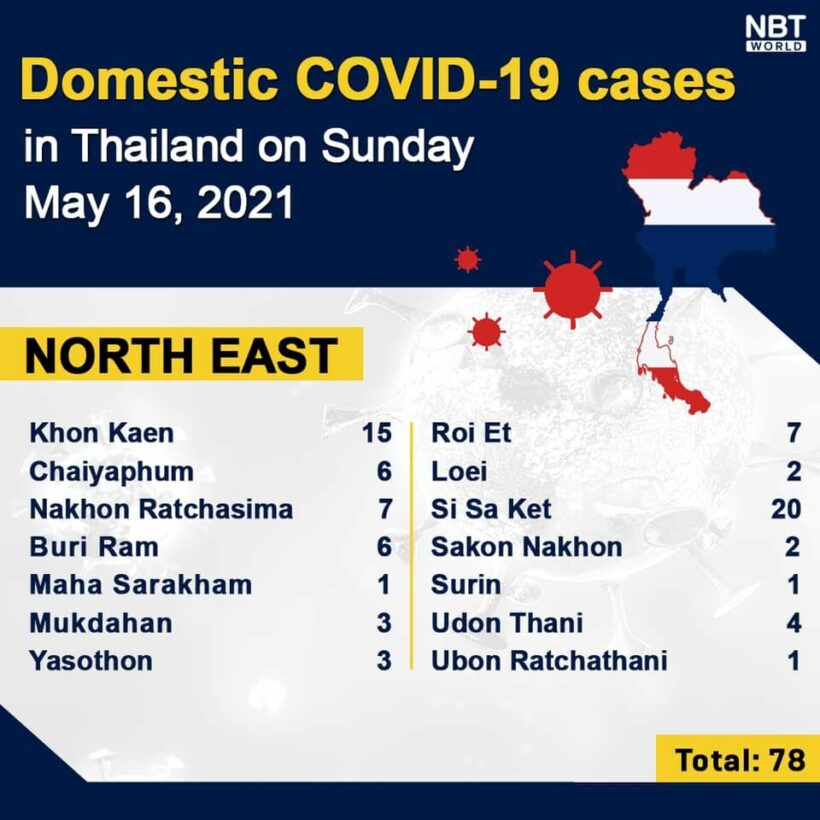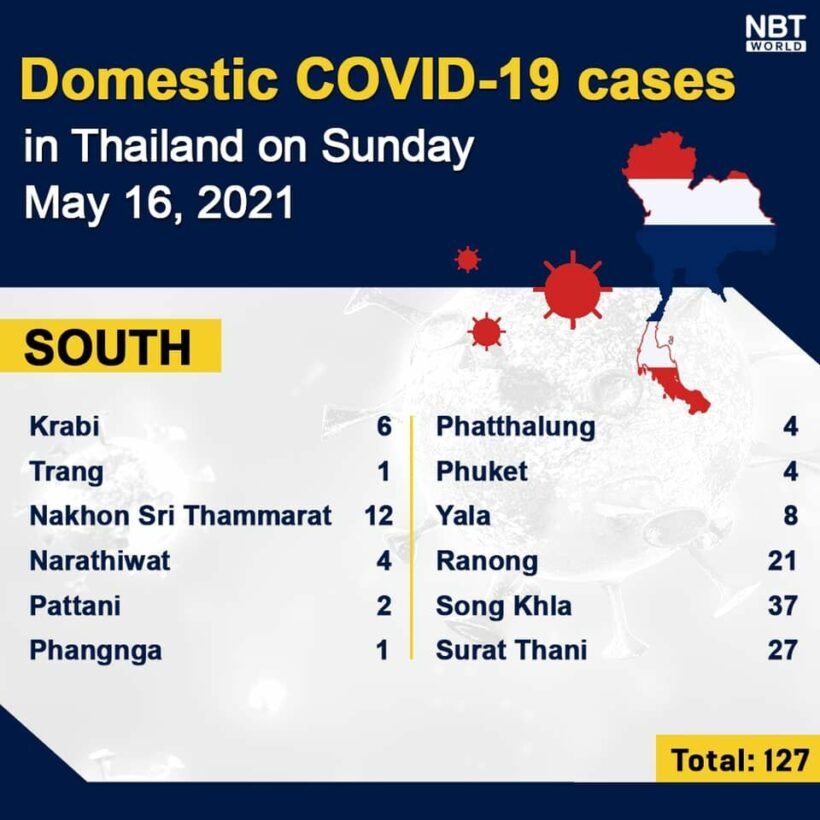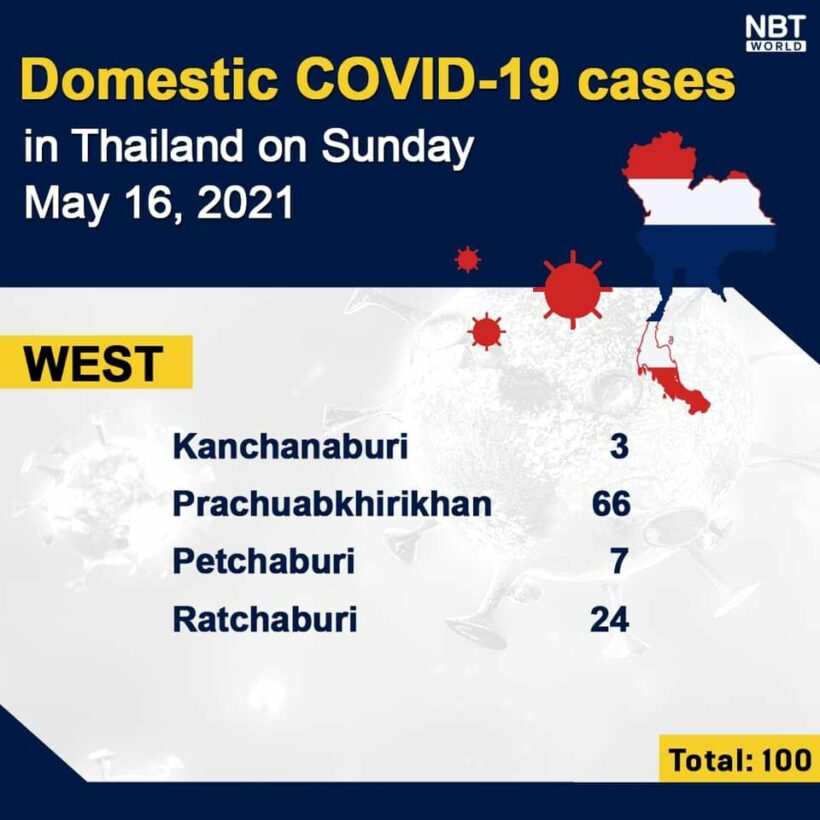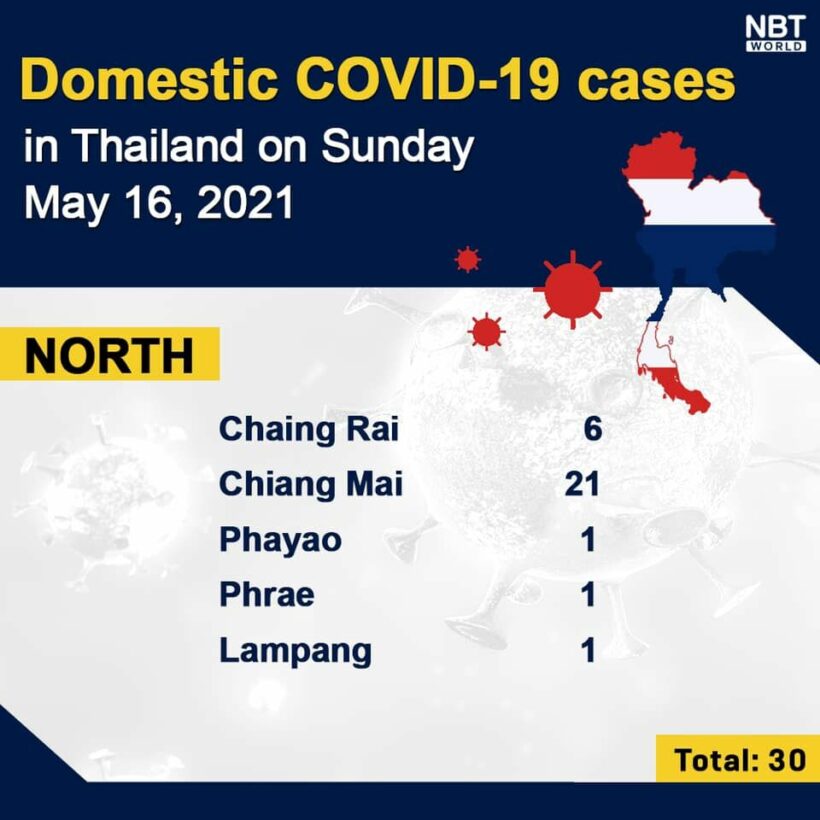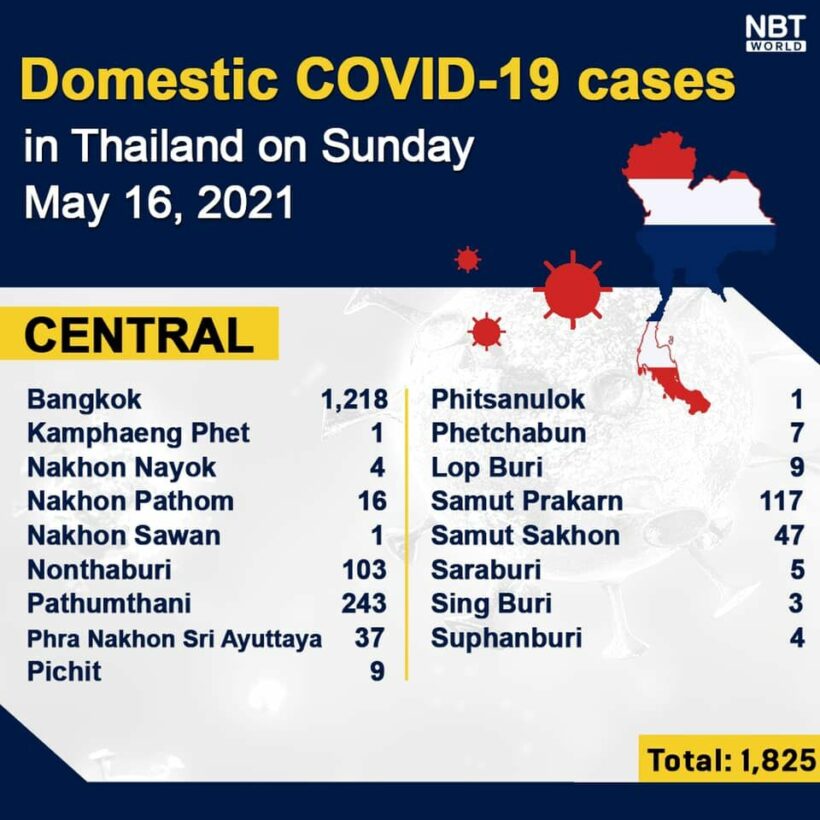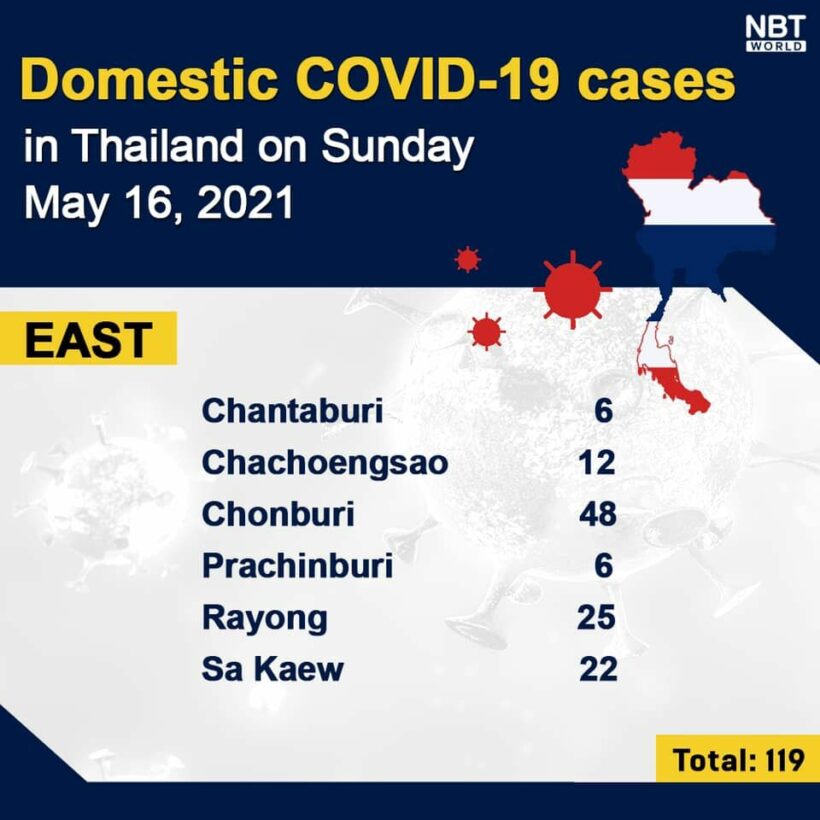 • A new study highlights the often maligned effectiveness of the Sinovac and AstraZeneca Covid-19 vaccine, showing they are both quite effective in boosting the immune system against the Coronavirus. The Center of Excellence in Clinical Virology of the Faculty of Medicine at Chulalongkorn University conducted the study that found that one month after the first shot of AstraZeneca, over 97% of people had developed immune responses. Results were not yet in for the second injection.
Three weeks after the first injection of the Sinovac vaccine, just under 66% of people had developed immune responses, but four weeks after the second injection, that number jumped to an impressive 99.49%.
Full report HERE.
• Indonesia is temporarily halting distribution of a single batch of AstraZeneca vaccine to check for "sterility and toxicity" The temporary action follows reports of a few adverse effects after immunisations.
The batch consists of 448,480 vaccine doses that arrived in the southeast Asian nation last month, part of a delivery of more than 3.85 million doses. Some of the doses have been distributed in part of the capital, Jakarta, and the province of North Sulawesi.
• Starting Monday, restaurants in Bangkok, Nonthaburi (immediately north of Bangkok), Pathum Thani, and Samut Prakan (south east of Bangkok) will be allowed to offer dine-in services at 25% of seating capacity until 9pm.
Restaurants in other 17 Red Zone provinces will be allowed to stay open until 11pm without seating limitations. Restaurants in the other Orange Zone provinces will be allowed to resume "normal operations", though alcoholic beverages may not be served anywhere across the country. In the Red Zones, schools can open as normal with permission from local and provincial authorities. In the Orange Zone schools can open without permission but under the latest rules.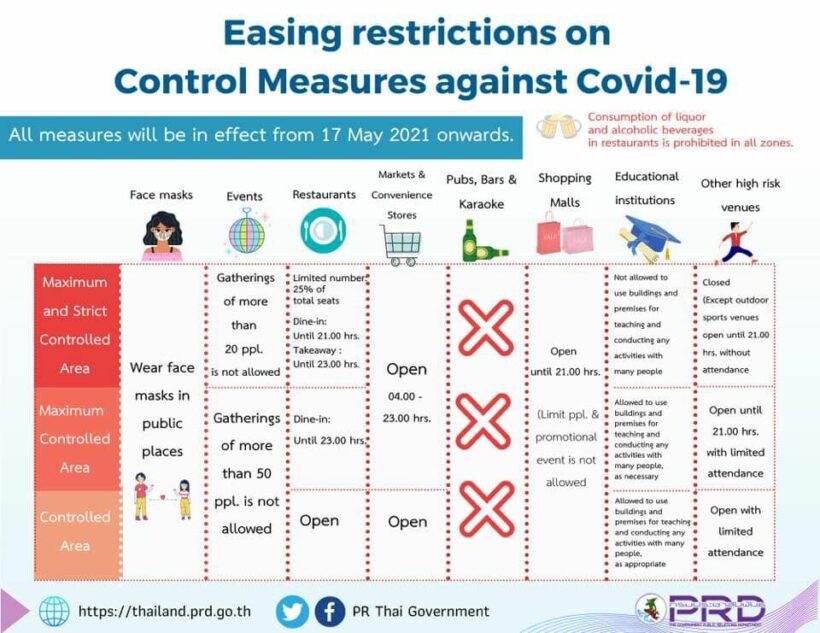 • The Office of the PM has dismissed as false online rumours that Her Majesty the Queen was infected with Covid-19.
The office urged people to monitor Covid-19 news from a reliable channel, such as the Facebook page of the Centre for Covid-19 Situation Administration.
• Chonburi and Chiang Mai are being removed rom the dark red zone, or maximum control area, due to an improvement in the Covid situation in those 2 areas.
"If this proposal is approved by the prime minister, there would only be 4 provinces designated as dark red zone, namely Bangkok, Nonthaburi, Pathum Thani and Samut Prakan."
Chonburi, with only 33 new infections yesterday, will be moved to the orange zone, or medium control area, joining 16 other provinces… Kanchanaburi, Chachoengsao, Tak, Nakhon Pathom, Nakhon Si Thammarat, Narathiwat, Prachuab Khiri Khan, Ayutthaya, Phetchaburi, Yala, Ranong, Rayong, Ratchaburi, Samut Sakhon, Songkhla and Surat Thani.
Phuket was also downgraded into the Orange Zone category.
SOURCE: FRB
Want more from the Thaiger family?
📱 Download our app on Android or iOS for instant updates on your mobile
📧 Subscribe to our daily email newsletter
👍 Like/Follow us on Facebook
🔔 Subscribe to or Join our YouTube channel for daily video updates