Samut Sakhon outbreak reaches 689 cases, spreads to Bangkok and Samut Prakan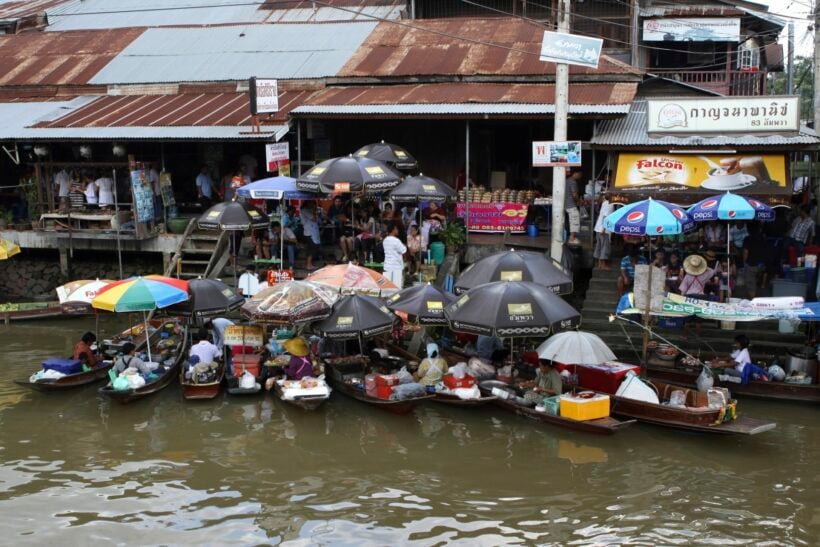 There's been an update in Covid-19 cases stemming from the Samut Sakhon outbreak. Thailand's Public Health Ministry have now upgraded the provincial cluster, including mostly Burmese migrant worker, to 689 cases, all identified through contact tracing. Most worked in and around the provinces coastal fishing market according to the Department of Disease Control.
Some traced cases have been located in Suphan Buri, Nakhon Pathom, Ratchaburi, Bangkok and Samut Prakan. All have so far been traced to the original source of the market.
The numbers are expected to rise as the testing, tracing and quarantining process continues. Importantly, the Department of Disease Control claim they have "the situation under control".
For now, only Samut Sakhon is on a strict "lockdown" with non-essential travel banned in and out of the province plus a nightly curfew imposed until at least January 3. Migrant dormitories and camps have are now on "hard lockdown". Some of the camps have been secured with barbed wire fences and migrant workers have been instructed not to leave the area.
The DDC ask that "the public should remain calm and trust in Thailand's sophisticated health care system and ability for tracking and tracing". They maintain that Thailand "has been ready for another outbreak".
At this stage the DDC say there has been no credible evidence that seafood from the market, or seafood in general, could spread Covid-19 but is urging the public to have their meals hot and not eat them raw.
At this stage the government haven't announced any extension to neighbouring provinces.
More information about the Samut Sakhon outbreak HERE.
Keep in contact with The Thaiger by following our Facebook page.
Never miss out on future posts by following The Thaiger.
Samut Sakhon speeds up proactive Covid-19 screening to test at least 60,000 people this week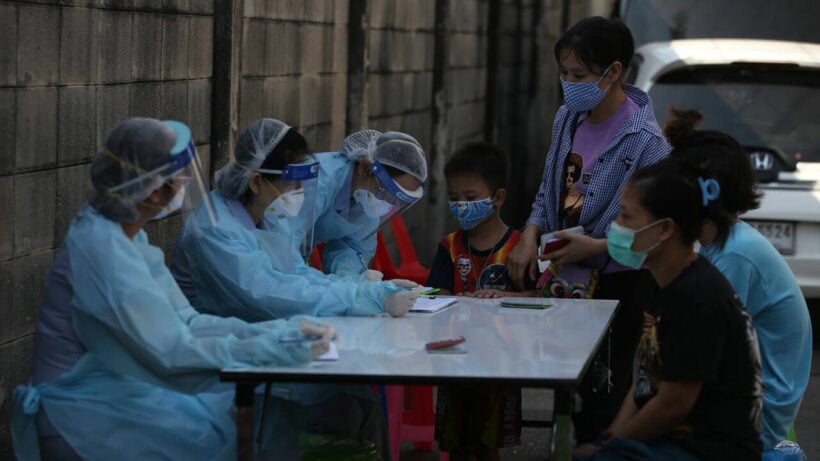 Proactive Covid-19 testing in Samut Sakhon is increasing and health officials now aim to test at least 60,000 people this week. Medical officials from several hospitals are also coming together to help accelerate the screening at different venues in the province.
The active case finding in Samut Sakhon, the primary "Covid-19 hotspot" in the new wave of infections, health officials will test migrant workers who work at various factories as well as residents in 15 communities, market vendors and other people in high risk groups.
According to the CCSA, with the proactive screening, the number of new infections is expected to be high. And with the current proactive plan to be complete this week, it is expected to find 4,400 new infections or about 7% of those being screened.
SOURCE: Thai PBS World
Catch up with the latest daily "Thailand News Today" here on The Thaiger.
Keep in contact with The Thaiger by following our Facebook page.
Never miss out on future posts by following The Thaiger.
50,000 to be tested for Covid-19 in Samut Sakhon, 198 new infections reported in Thailand today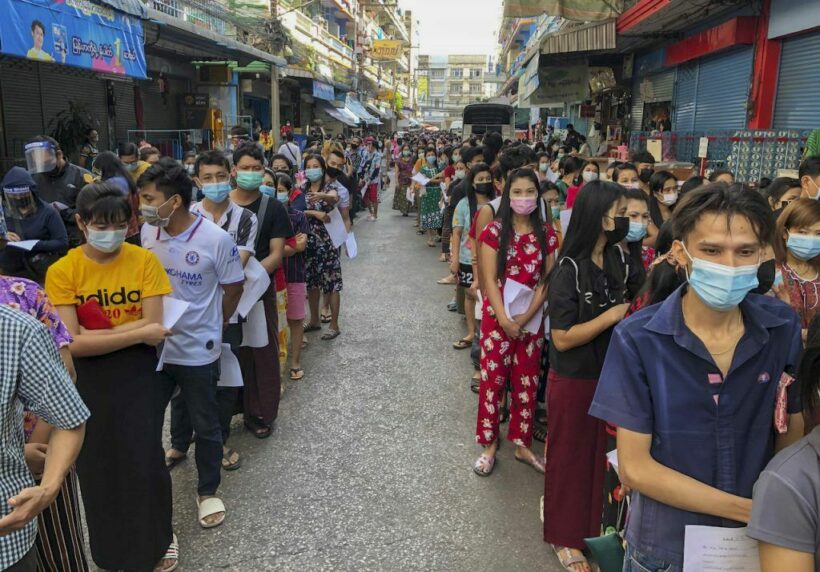 50,000 people are lining up to be tested for Covid-19 in the hotspot of Samut Sakhon over the next 5 days as health officials step up pro-active testing in the hard-hit Thai province. The target of 10,000 people to be tested per day will focus on factory workers, communities and dormitories in an effort to change Krathum Ban and Muang districts from red to yellow and then green zones.
Apisamai Srirangsun, the CCSA deputy spokesperson, says they expect to find 2,000-3,000 new cases as a result of the increased tracking, tracing and testing. She says health officials are trying to track down and free Samut Sakhon of new infections.
"Officials are optimistic that that the pandemic will ease during the 2nd week of February."
Samut Sakhon is the centre of the 2nd core wave of Covid in Thailand as a cluster of infections broke out late last year in the provincial seafood markets along the coast, just south west of Bangkok. She also said that educational institutes, in some areas of Samut Sakhon, may be allowed to reopen during the next month, if the situation improves.
"But many businesses may have to wait to reopen."
So far, 70,000 people in the province have been tested for the virus with 5,332 found to be infected. Most of those infected are migrant workers from Myanmar, with the infection rate around 7%.
According to the CCSA, 198 new Covid-19 cases were recorded today, including 191 locally-transmitted infections and 7 imported. 1 more fatality was reported, bringing the national total death toll to 73.
The latest victim was a 73 year old woman from Samut Sakhon, who also suffered from dementia, high blood pressure and epilepsy. She was found to have been infected by family members on January 9 and was admitted to the hospital suffering from fatigue and a severe lung inflammation. The woman was placed on a respirator and was transferred to Thaksin Hospital, but she passed away yesterday after her condition worsened.
SOURCE: Thai PBS World
Keep in contact with The Thaiger by following our Facebook page.
Never miss out on future posts by following The Thaiger.
Sumut Sakhon's Central Prawn Market to reopen at the end of January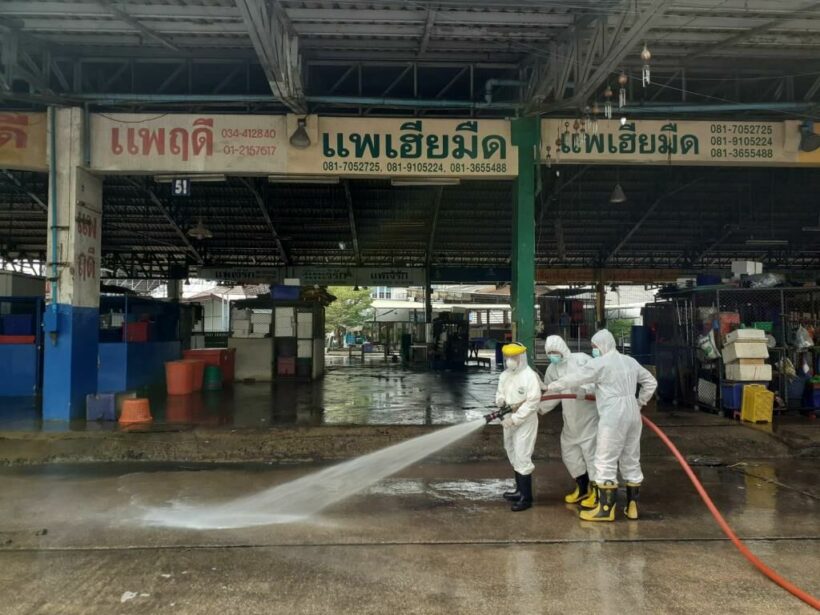 Samut Sakhon Central Shrimp Market, the epicentre of the latest wave of Covid-19, is ready to reopen by the end of January after a big clean up. The reopening is considered "important" to the province's economy, according to the province's deputy governor. It will also be a new beginning for the workers, mostly migrant workers, who have been so profoundly affected by the cluster.
The Market has been shut since December 20 after more than 500 cases of Covid-19 were detected, following nearly 7 months of single digit daily infection reports.
The Samut Sakhon deputy governor says all infected persons from the market have been sent to the field hospital for treatment and 14 day quarantine and since been released after tests showed they are free of the virus. He added that 1,200 people living near the market will have to undergo another test although previously testing negative.
"This is to make sure that the market is completely free of the virus."
The market manager also says that he urges vendors to follow the disease preventive measures strictly when the market opens back up again.
Samut Sakhon has 4,921 accumulative cases… 1,045 are Thais and 3,876 are migrant workers, mostly from Myanmar. Some 331 are currently in hospital. 1,332 are in quarantine. 3,257 have either been cured or have tested negative after quarantine. Only 1 death was reported.
SOURCE: Nation Thailand
Keep in contact with The Thaiger by following our Facebook page.
Never miss out on future posts by following The Thaiger.