576 cases in one day – Latest test results from Samut Sakhon Covid outbreak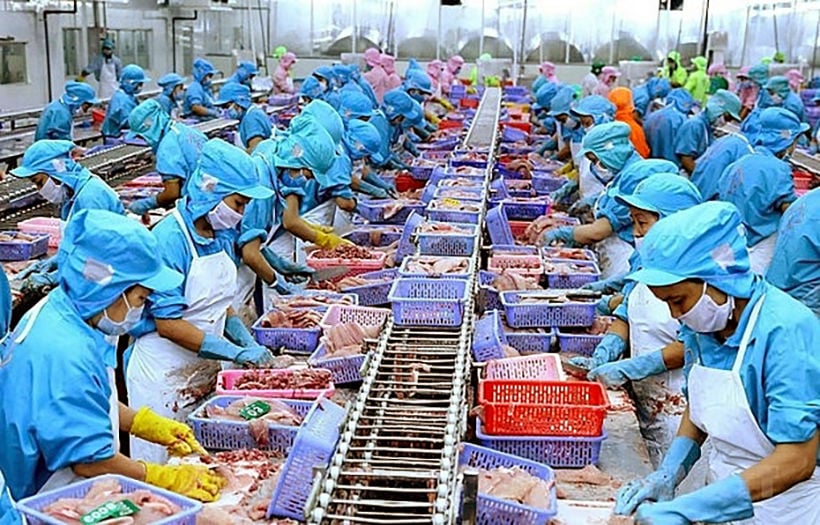 UPDATE: The number of cases linked to the Samut Sakhon outbreak has risen to 576. Earlier the figure was published as 516 cases.
Thailand's CCSA has announced more than 500 Covid-19 cases among migrant workers at the centre of its seafood industry, on an enormous 1-day rise in a country that had gone into mild panic after just 1 or 2 daily community cases in recent months.
Initial tests announced a total of 516 confirmed Covid-19 cases. The latest figure has risen to 576.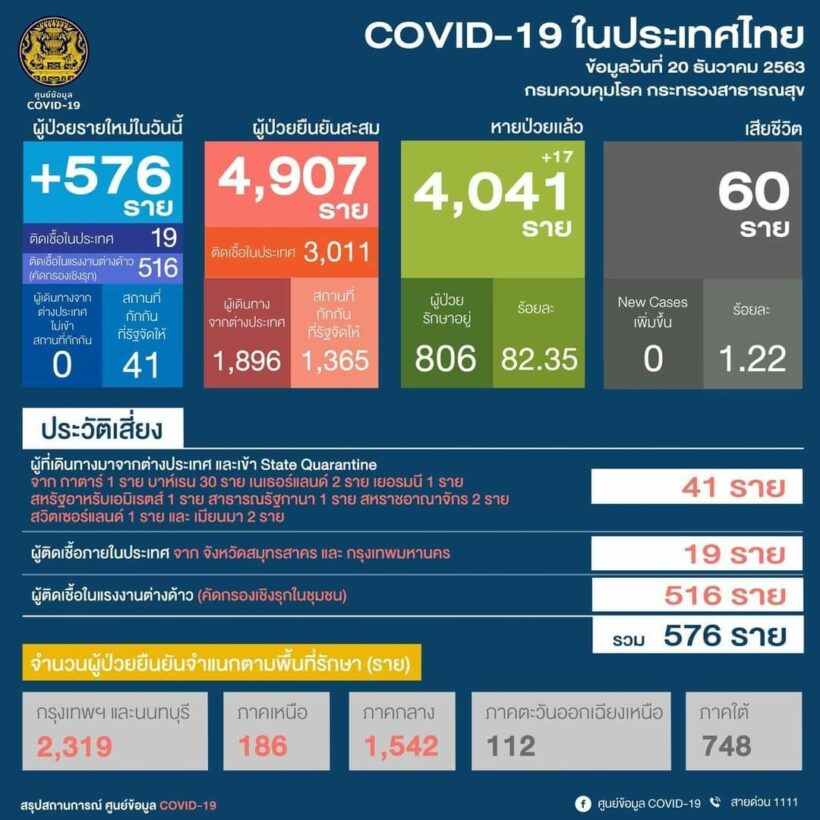 Samut Sakhon, just south west of Bangkok, has been put under a lockdown with a curfew imposed from 10pm – 5am daily. The curfew went into effect last night and will last until at least January 3 in the wake of the new surge. People who have travelled to Samut Sakhon, or stopped in the province, since December 1, are being advised to isolate themselves and be aware of any possible symptoms.
The borders to the province have also been closed with movements in and out of the province banned for now.
Samut Sakhon is a hub for Thailand's fishing industry with tributaries running from the Gulf of Thailand. Four infections were reported at a shrimp market last Friday. The first case was a 67 year old woman – a vendor at a local fish market.
The centre for the current outbreak has focussed on Burmese migrant workers in Samut Sakhon's coastal fishing markets and industry. Fishing workers from Myanmar form the vast majority of the new cases. Myanmar has suffered a far worse outbreak of Covid-19 than Thailand having reached a total of 115,187 detected cases, after being at a total of 919 cases on September 1.
Thailand is among the world's 10 largest shrimp and fish exporters.
Thailand's Disease Control Department director-general announced that the 576 new cases were discovered after Covid-19 testing that included 1,192 migrant workers. 90% were asymptomatic. They have expressed concern that Samut Sakhon shares provincial borders with Greater Bangkok.
"The effect will be minimal as the infections occurred in young and strong migrant workers."
More than 550 new cases were reported, a huge surge to Thailand's total of 4,800 cases which includes 60 Covid-related deaths in the country of 69 million. Thailand's Covid-19 case load has been fewer than any country with such a large population, except Vietnam.
The DSD says there is a high likelihood of finding more cases within the migrant fishing community. The province has now been ordered closed until January 3 and put under a 10am to 5pm curfew. The major southern route from Bangkok goes straight through the middle of the province although there are other routes that can be taken to the north of Samut Sakhon.
Samut Sakhon's Governor Wirasak says the surprising the number of infections was "more than expected".
SOURCES: Bangkok Post | CNA |Reuters
Keep in contact with The Thaiger by following our Facebook page.
Never miss out on future posts by following The Thaiger.
Thai DJ Celebrity party is likely to be "super spreader" event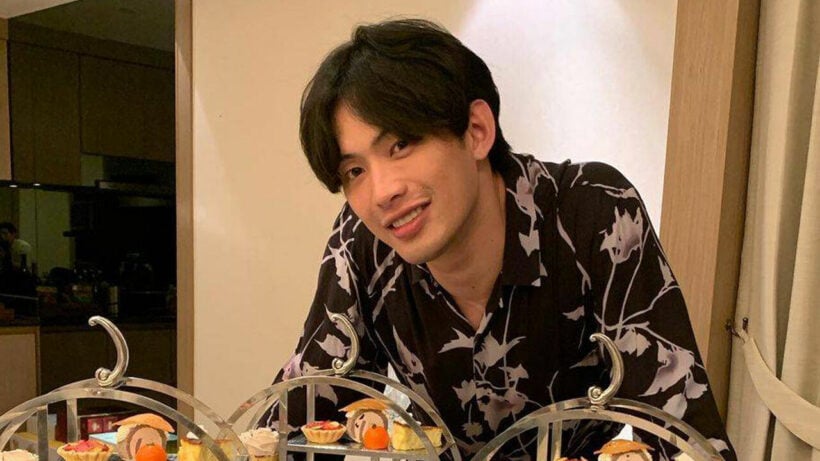 The birthday party of Techin Ploypetch, better known as "DJ Matoom", is now considered a super-spreader source of Covid-19, with 19 people already found infected after attending the event. According the CCSA spokesperson during the daily briefing today, "Transmissions in Bangkok should be highlighted. They show the possibility of a person becoming a super-spreader".
The birth of the super spreader birthday party started with a guest to the DJ's party who had visited a well-known entertainment venue in Chiang Mai between January 1 and 4. He sought a Covid-19 test on January 5 following news that infected people had visited the pub, but tested negative. He should have self quarantined for 14 days, but he still flew to Bangkok and then attended the DJ celebrity's birthday party on January 9.
DJ Matoom says he met the guest, one of his friend, on January 9, but that friend didn't know he was infected until January 19 in which he told Matoom.
According to Dr Tanarak Plipat, now acting inspector-general of the Public Health Ministry, an infected person can transmit disease to two others on average, while a "super spreader" will transmit to multiple people.
DJ Matoom and the party's guest were criticised of violating the disease control measures.
SOURCE: Thai PBS World
Keep in contact with The Thaiger by following our Facebook page.
Never miss out on future posts by following The Thaiger.
Owners of vehicles emitting black smoke to be fined up to 5,000 baht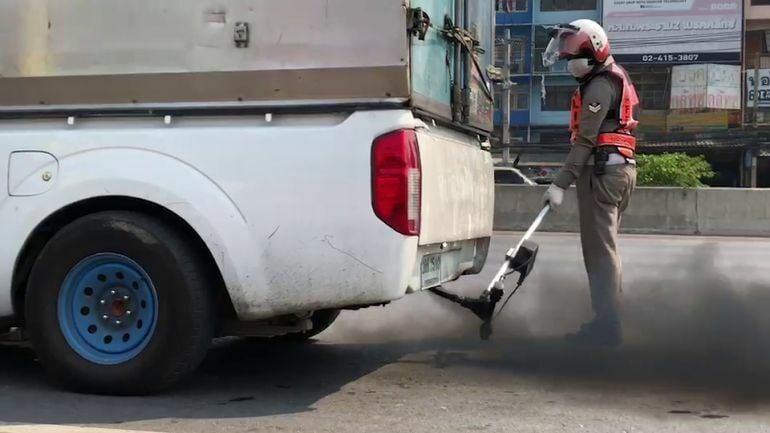 Owners of cars and trucks emitting an excessive amount of black smoke face a fine up to 5,000 baht. The heavy fine is an attempt to reduce air pollution in Bangkok. Along with the fine, the Department of Land Transport will also order the vehicle be suspended from use until its emission system is fixed.
According to the department, from October last year until January, 689,333 vehicles in Bangkok areas have been inspected for black smoke emissions, while 8,762 of them have been suspended from usage. Those vehicles emitting a high volume of smoke, but are under the safety standard, will receive warnings and owners are urged to check vehicle conditions and keep proper maintenance.
Vehicles with exceeding black smoke are urged to check their vehicles at the department's certified vehicle inspection centres located around Bangkok's outskirts, including Phutthamonthon, Romklao, and Khlong Luang areas. Motorists are also encouraged to help reduce air pollution caused by black smoke and PM2.5 particles by having their vehicles regularly serviced or alternately switching to electric or NGV-powered vehicles.
People who witness vehicles emitting black smoke can also report the authorities by calling 1584, or contact Line: @1584DLT, or via DLT GPS mobile application.
SOURCE: Nation Thailand
Keep in contact with The Thaiger by following our Facebook page.
Never miss out on future posts by following The Thaiger.
Police arrest man suspected of producing ketamine drug cocktail linked to 11 deaths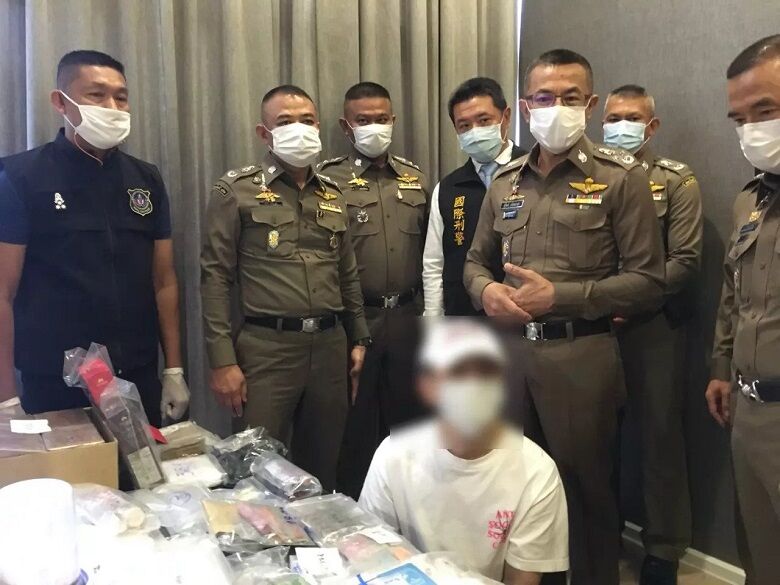 In the ongoing investigation into the ketamine-based drug cocktail linked to 11 deaths in Bangkok, police arrested a man who allegedly mixed large amounts of narcotics to make the drug cocktail known as "K powdered milk." Police say the cocktail is ketamine mixed with methamphetamine, heroin and pharmaceutical pills for anxiety and sleeping.
38 year old Taiwan national Chou Yi Sen, aka "Lupin Taiwan," was arrested yesterday after police raided his condominium in Bangkok's Ratchathewi district. Chou allegedly admitted to mixing the drugs to make "K powdered milk" and police say the formulas for the drug mixture were found on his cell phone.
Earlier this month, 11 people died after taking the drug cocktail. The Bangkok Post says dozens more people are still in the hospital after taking the "K powdered milk." Police have arrested numerous suspected drug dealers who ran small scale and large scale operations.
Chou allegedly ran the drug operation from various locations in Bangkok, selling the drugs overseas using the cryptocurrency Bitcoin as well as to buyers in Thailand. Police also searched Chou's rooms at other condominium the Huai Khawang, Wang Thong Lang and Klong Toey districts, seizing a variety of illicit drugs and equipment as well as a pistol with 8 bullets.
Altogether, police seized 4 kilograms of ketamine, 376 ecstasy pills, 4 kilograms of crystal methamphetamine, 8 kilograms of heroin, 48 LSD tabs, 11.6 grams of cocaine, 2 bottles of Dormicum sleeping pills and 265 Five Five sleeping pills. Police say they also seized 2 plastic sealing machines, 2 mixers that appeared to have drug-like residue and 2 digital scales.
SOURCE: Bangkok Post
Catch up with the latest daily "Thailand News Today" here on The Thaiger.
Keep in contact with The Thaiger by following our Facebook page.
Never miss out on future posts by following The Thaiger.