Phuket rooftop party busted, drugs seized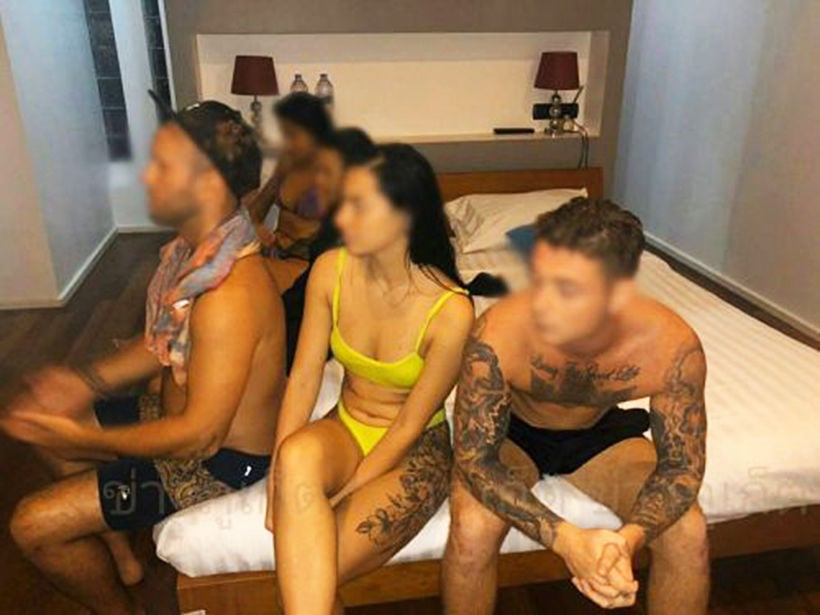 Police arrested 9 foreigners and 5 Thai women for partying in Patong in violation of orders against gathering in crowds, to control the spread of coronavirus disease. They were arrested on the rooftop of a rental house on Sirirat Road in tambon Patong of Kathu district last night after police received a complaint about a loud party. Those arrested included Australians, British, Americans, Ukrainians and Thais.
The arrested foreigners comprised 6 men and 3 women includes…
1 Australian male Al-Mouzafar Mohamad age 22.
3 British men Britons Oliver Hoskins aged 23, Alan Jones age 22, and Stuart McDonough age 29.
1 American male Russell Robertson age 32.
3 Ukrainian women Zakharov Andrii age 27, Petriv Tetiana age 22, Chala Anasiia age 22.
1 Ukrainian male Semko Iana age 31.
The five Thai women…
Nida Usen age 31 from Satun province.
Boonchanok Roongruang age 36 from Trang.
Supika Kitdee age 28 from Chon Buri.
Narumon Thuadaoage 23 from Nakhon Si Thammarat.
Wararin Jaidee ahe 33 from Satun.
Police officers discovered around 4 grams of cannabis and 0.94 gram of cocaine in their possession, and also seized several bottles of liquor and loudspeakers. They were initially charged with violating both the emergency decree and the Phuket governor's order banning crowd gatherings in Patong.
SOURCE: Phuket News
Keep in contact with The Thaiger by following our Facebook page.
Never miss out on future posts by following The Thaiger.
800+ people found in close contact with an infected food vendor in Nakhon Phanom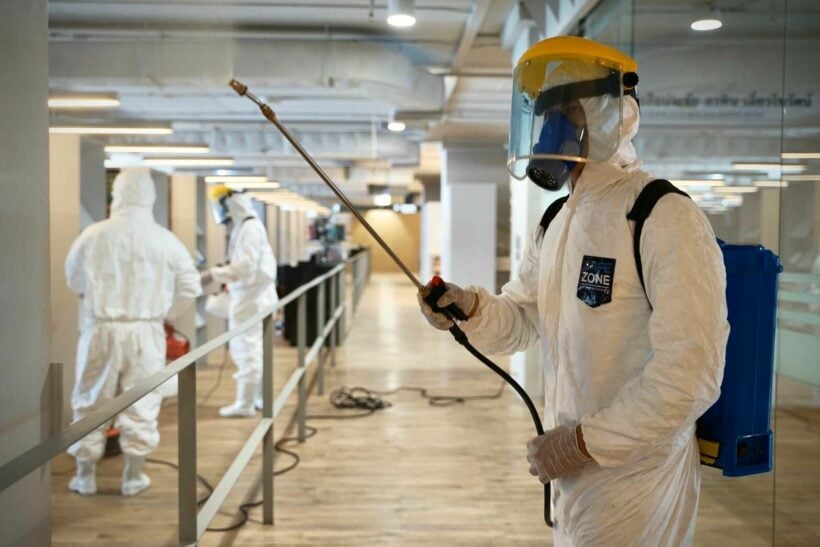 Local disease control workers are continuing to track and trace Covid-19 infections at several villages in the That Phanom district of Nakhon Phanom, north eastern Thailand. The areas were locked down after a 51 year old local food vendor tested positive for Covid-19 and more than 800 people were reported to have had contact with the infected person.
According to the CCSA spokesman, the vendor had been in contact with many people who have been to high risk areas including Bangkok and Rayong. About 10 people in Nakhon Phanom are at high risk of infection from the vendor, but tested negative, while nearly 1,000 other people are at low risk.
Nakhon Phanom's governor says 5 people, in close contact with the vendor, tested negative, while the other 829 are waiting for their test results. He adds that the active case finding is continuing in the nearby villages and areas.
"Places visited by the infected person are thoroughly cleansed every day."
SOURCE: Bangkok Post
Keep in contact with The Thaiger by following our Facebook page.
Never miss out on future posts by following The Thaiger.
Pattaya hotels take food to the streets in bid to survive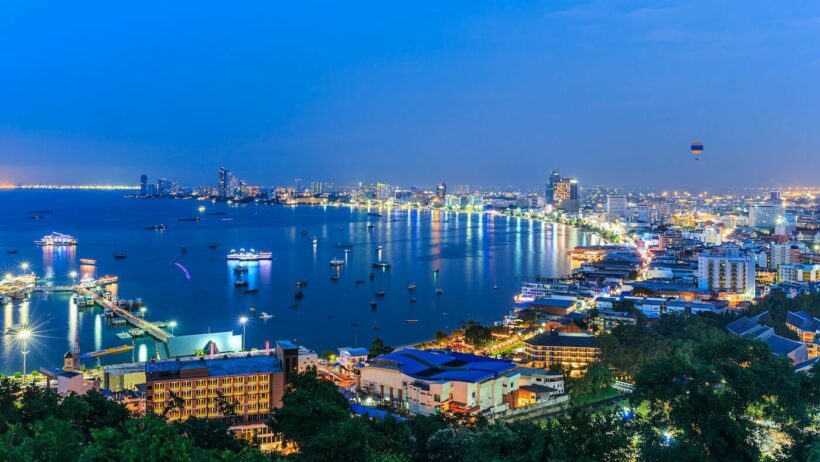 Pattaya's hotels are taking their restaurants to the streets by offering food stalls outside and delivery in a bid to save their businesses during the Covid-19pandemic. Such changes in their attempts to avoid closing, come as city officials say they will use funds to spruce up the city for Chinese New Years on February 12.
As Chonburi province is still declared as a "high-risk" and "highly-controlled" area, all hopes of domestic and foreign tourism have been dashed as visitors are essentially banned. Even with recent virus infections down to just 1 over the past 3 days and single digits in the last week, the strict measures have not been lifted.
After Covid hit, hotels in Pattaya relied more on domestic tourists, which appeared to be working for several months after the city held more outdoor festivals to increase tourism traffic. Now, without domestic tourists helping to curb the financial downfall, the hotel industry has met many times with province leaders and represetatives from the Social Security Office of Thailand to ask for a forced legal closure which would allow their formal staff to get paid through social security benefits at roughly 50% of their daily wages.
The requests so far have been denied, leaving 30,000 hotel workers in Pattaya alone out of a job. Some hotels have managed to keep their employees and even providing meals and lodging for them. But smaller hotels have run out of money and are having to lay off staff without pay.
Such larger hotels as LK hotels and Dusit hotels are bringing their restaurant food to the streets and offering delivery but they say it is only to provide for their staff during these hard times. The Thai Government has stated they are looking at other options than a forced closure and social security payouts, but have yet to make a decision.
Keep in contact with The Thaiger by following our Facebook page.
Never miss out on future posts by following The Thaiger.
CCSA Update: 142 new Covid-19 infections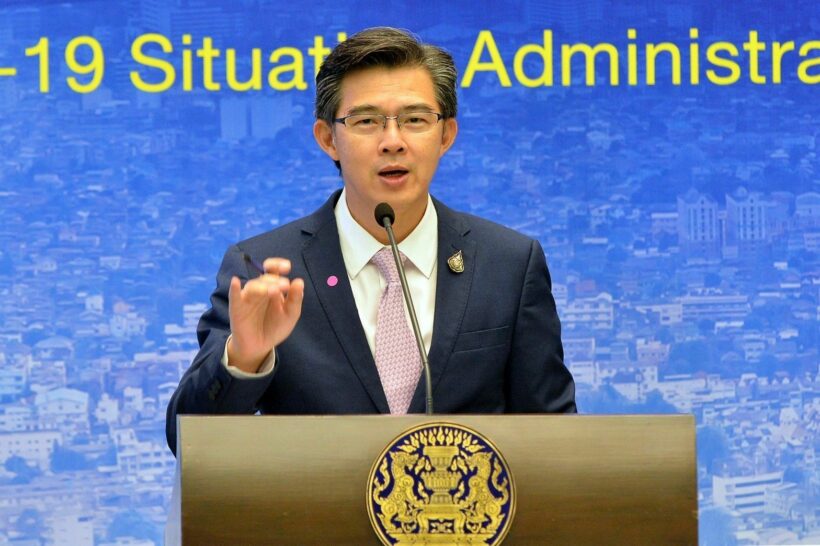 After the welcome drop of new Covid-19 infections yesterday, the CCSA today reports an increase of 142 new confirmed cases in the past 24 hours. 88 cases were found in general health care institutions, while 37 cases are detected on the proactive tests and 17 cases in the state quarantine.
The CCSA says the situation is still not stable with changing numbers, and urges the public to maintain caution.
Among the hot spots of the new outbreak, Samut Sakhon reported 63 new infections… 19 cases are Thai and 44 cases are migrant workers. Meanwhile, Bangkok recorded 14 new cases… 13 Thais and 1 migrant.
The CCSA also says the proactive testing in the community, especially migrant workers in factories, will continue. He says at least 50 factories still need to undergo the test.
Currently, the virus has spread to 63 provinces across the country with a total of 12,795 accumulative cases and 71 deaths since the start of the outbreak in January last year.
SOURCE: CCSA
Keep in contact with The Thaiger by following our Facebook page.
Never miss out on future posts by following The Thaiger.