Passengers from Chiang Rai-Bangkok flights considered "low-risk"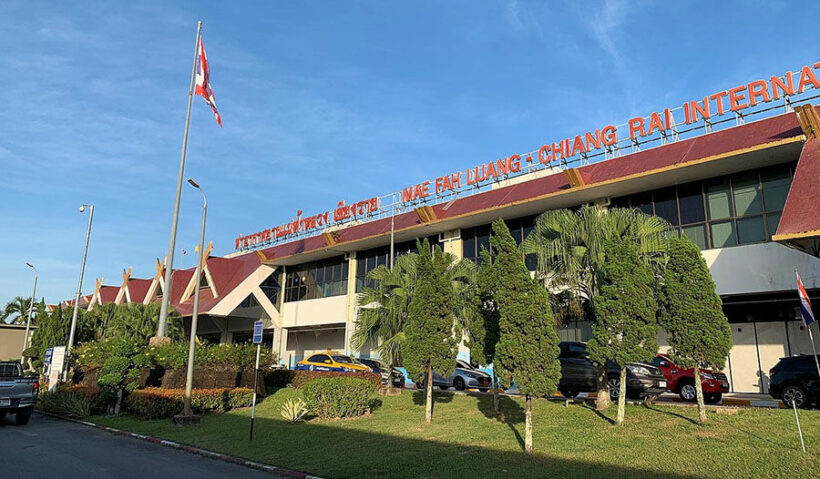 Passengers from 4 flights between Chiang Rai and Bangkok are considered at "low risk" of contracting Covid-19, according to a statement from the Public Health Ministry. However, the ministry is asking all passengers to self-monitor for the next 14 days, and report symptoms such as fever, a cough, sore throat, or a loss of taste or smell immediately.
The 4 flights are: Nok Air flight DD8717 on November 28, Thai Lion Air flight SL533 on November 29, Thai Smile WE137 on November 29, and Thai Lion Air SL545 on November 30.
The ministry says a 26 year old woman from Thai Smile flight WE137 on November 29 has tested positive for Covid-19, with 10 others considered, "high-risk", and 68 designated, "low-risk". A 30 year old man from Thai Lion Air flight SL545 on November 30 has also tested positive for the virus, with 24 people who had close contact with him considered, "high risk". Both the woman and man had recently returned from Myanmar.
The Health Ministry's statement follows news that a 51 year old woman from the central province of Sing Buri tested positive for Covid-19 after arriving in Chiang Rai through Mae Fah Luang airport. The airport has been used by repatriating Thai nationals returning from the 1G1-7 Hotel in the Burmese border town of Tachileik.
The hotel hit the headlines last week, amid claims that it operates as a centre for prostitution, with around 180 Thais thought to be working there. The hotel has also become a hotspot for Covid-19 infections, prompting many of those employed there to flee, returning to Thailand through both legal and illegal channels. Most of the returning Thai nationals have tested positive for Covid-19 since their return, with a total of 38 cases detected, most of which are in young women.
The Department of Disease Control says there is no need to panic, adding that, while passengers from the 4 flights in question should be okay, they must monitor their health over the next 14 days, as well as wearing face masks and practicing social distancing, even at home.
Dr. Sophon Iamsirithaworn says it's possible the Sing Buri patient contracted the virus at Mae Fah Luang airport, pointing out that she was not wearing her mask correctly at all times. Her case is considered one of local transmission as she has no history of overseas travel. Since testing positive on December 3, 37 people who were in close contact with her have been tested. 32 have returned negative results, while the remaining 5 are waiting for their results.
SOURCE: Bangkok Post
Keep in contact with The Thaiger by following our Facebook page.
Never miss out on future posts by following The Thaiger.
Stop the burn – Thai Governors told to stop farmers burning off agricultural waste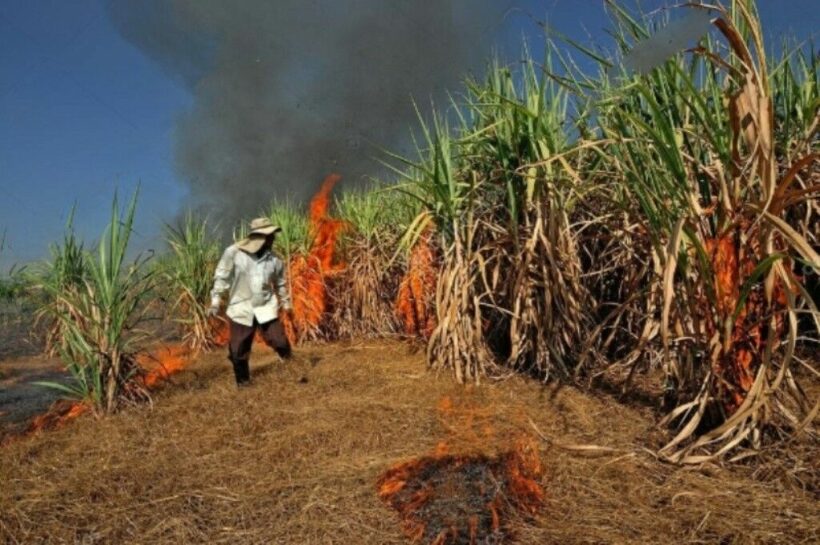 Provincial governors in Thailand's farming areas are being told to mitigate the burning off of agri-business waste by farmers in their provinces. The annual burn-offs are the biggest cause of the December to April air pollution in Bangkok and Central Thailand which lie in the wake of the light north-easterly breezes this time of the year. The burn-offs partly co-incide with the lighter annual north-easterly monsoons.
Lt-Gen Kongcheep Tantravanich, a spokesman for Deputy PM Prawit Wongsuwan, has been one of the first to openly admit that the agri-fires are the common denominator in the capital's annual smog woes. Over recent decades Bangkok's Pollution Control department has trotted out any number of PR stunts, including water-spraying drones and asking temples to stop lighting josh sticks.
Now that spokesperson says that the accumulation of PM2.5 micron dust in the atmosphere… "mainly caused by outdoor burning of waste, especially on farms, combined with poor air circulation, has been posing a health risk for the past several days".
Deputy PM Prawit has now ordered all provincial governors to send teams to warn farmers to stop the burning or face prosecution. It's not the first order from the top directed at farmers trying to find cheap ways to get rid of agri-waste and prepare their plantations for the next crop. But, despite the 'warnings' in the past the practice has continued largely unenforced.
Thai farmers conduct the burn-off activities to reduce the amount of leftover materials – biowaste – like stalk tops, leaves and refuse left after the harvesting. Rice farmers also routinely burn rice stubble – the residual plant waste to prepare fields for the next season of crops.
Around 70-75% of Thailand's sugar production is sent overseas and the country ranks second in exports just behind Brazil. It's a big industry. The government also introduced a quota, distribution and price support system between growers and millers which has helped to artificially keep a ceiling on the export prices. Most of Thailand's sugarcane plantations are in the Central and Northeast regions, some of them, evidenced by the fire maps, are less than 100 kilometres north of the capital.
But the Natural Resources and Environment Minister Woravut Silpaarcha is resorting to the old government narrative, repeating that officials at the Pollution Control Department will have to coordinate with the Interior Ministry and the Bangkok Metropolitan Administration to "intensify efforts to reduce emissions of PM2.5 dust from vehicles and factories".
He's also suggested that companies should allow employees to work from home to reduce the amount of vehicles on the city's roads.
The Pollution Control Department is now estimating that the biomass burn-off contribution to the PM2.5 levels could vary between 24 – 38%, with the majority of it coming from sugarcane and rice burning. Most of the concentrations of agri-burning is around Northern Thailand and in the farmlands north of Bangkok. These areas also suffer considerably from the direct effects of the smoke. Fire maps also indicate that an even worse problem exists in northern Cambodia and north-west Myanmar where the burning carries on un-abated.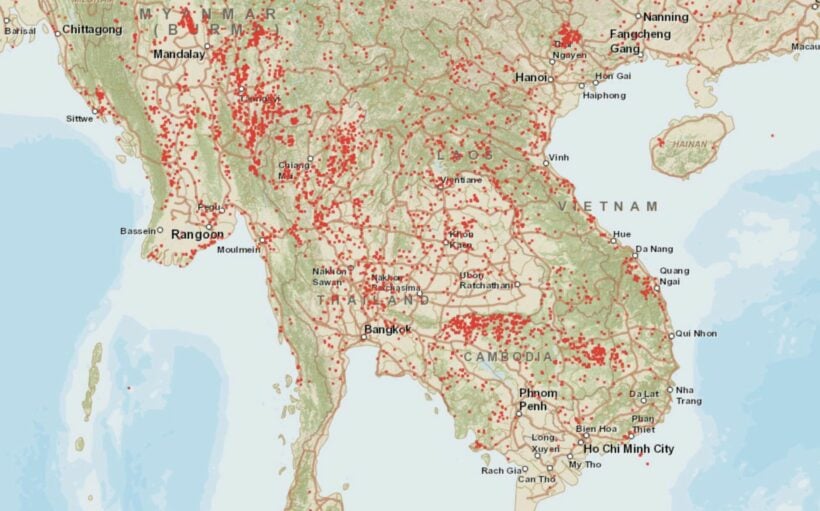 GRAPHICS: firms2.modaps
The Thaiger has waged a long campaign to provide fire maps and air-pollution readings over the past 3 years as evidence of the contribution of the agri-burning to Bangkok's annual smog problem. But officials have kept beating the same drum, blaming factories, vehicle traffic and old diesel buses (which certainly need to be regulated as well but are not the main cause of the December to April haze and smog).
Keep in contact with The Thaiger by following our Facebook page.
Never miss out on future posts by following The Thaiger.
State Railway of Thailand furloughs 57 locals trains from Tuesday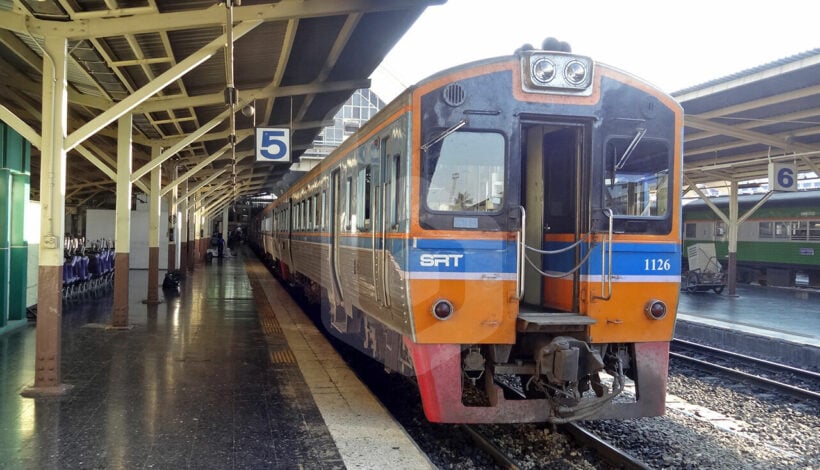 Thailand State Railway governor says that cancellations will affect 13 local services on the northern line, 18 on the northeastern routes, 12 in the southern region and 14 eastern trains.
"Most of the cancelled trains will start at Hua Lamphong station, including trains that are popular with tourists, including services to Kanchanaburi and Hua Hin."
Niruj Maneepun says the move is to support the Centre for Covid-19 Situation Administration's effort to curb the virus' spread by maintaining travel restrictions.
"Already all sightseeing and most long-haul trains have been temporarily cancelled due to Covid-19."
Thailand has logged 13,500 confirmed infections and 73 deaths since the start of the pandemic in January 2020. The current outbreak that began on December 20, with the epicentre centred around seafood markets in coastal Samut Sakhon, has spread to 63 Thai provinces.
Recently, Bangkok has allowed the reopening of 13 types of businesses as long as they follow strict guidelines surrounding safety measures to prevent the spread of Covid-19.
Businesses allowed to reopen under these measures…
Banquet venues, which will need authorisation from BMA for events with over 300 participants
Beauty salons, tattoo and piercing shops
Fitness centers, but personal trainers and communal steam rooms are not allowed
Game Arcades; but all points of contact must be regularly disinfected and facemasks worn at all times.
Internet cafés
Senior nursing homes, but with limited activities
Sports venues, except for boxing rings and race tracks, but no audiences allowed
Spas, Thai massage shops, excluding massage parlours
Gymnasia and boxing venues for training only
Bowling alleys and ice skating rinks, but no competitions or audiences allowed
Dancing academies
Martial art schools, but no tournaments or audiences allowed
Amulet shops and markets
Other provinces in Thailand, such as Chonburi, are waiting for the green light to reopen businesses and travel. Chonburi has reported 0 cases of Covid for 3 days in a row, prompting locals to become frustrated with the strict measures that won't ease up until at least the end of the month.
SOURCE:Bangkok Post
Keep in contact with The Thaiger by following our Facebook page.
Never miss out on future posts by following The Thaiger.
Phuket lifts mandatory quarantine restrictions for 'high risk' arrivals. But were they ever applied?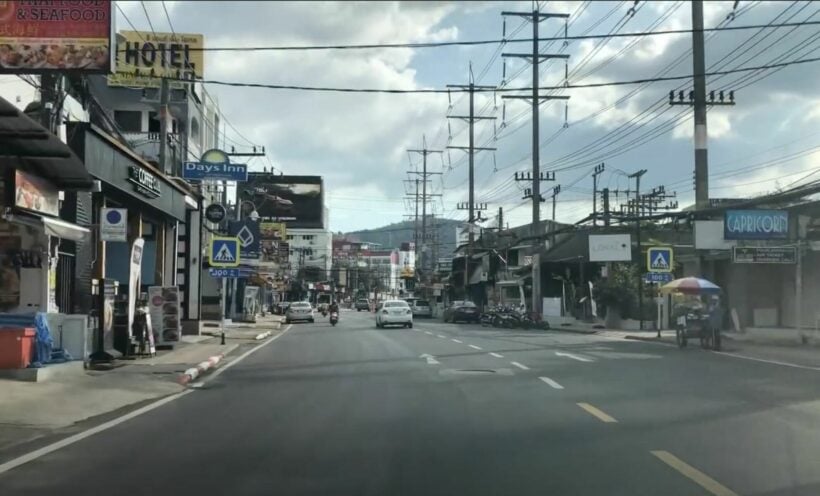 Culminating 2 weeks of mass confusion over the apparent mandatory self-quarantine for arrivals to Phuket from Bangkok and other high risk provinces, Phuket's provincial communicable disease committee has agreed to lift the mandatory 14 day quarantine "to help boost the local economy hit by the Covid-19 pandemic".
But for the vast majority of arrivals from Bangkok (DMK and BKK) to Phuket there wasn't even any mention of quarantine. Over the past 2 weeks, since Phuket's Governor released a 3 page announcement about new restrictions for the island, people have mostly been coming and going as usual. The only additional impediments were all arrivees having to download and fill in the Mor Chana app and registering with gophuget.com.
In 2 weeks not a single person has reported to The Thaiger that they had been forced to self-quarantine. Last night, when checking in at Suvarnabhumi airport for a Thai VietJet flight to Phuket, the person at the Check-In counter told the passenger (we'll call them Mic to protect their identity) they would have to serve 14 days in state quarantine upon arrival in Phuket. Mic, surprised, asked for some sort of confirmation of this from airline management or information from the Phuket Provisional officials. None was forthcoming. Nothing more was said or communicated to the passengers.
When the plane landed in Phuket officials checked that passengers had completed the Mor Chana app and scanned their phones after they'd completed the gophuget.com registration. And that was it. No mention of quarantine.
The situation has been repeated by other Thaiger staff over the past 2 weeks as well, but without any mention of quarantine during the check-in or boarding procedures with various airlines. In all cases they flew from Suvarnabhumi or Don Mueang airports.
Phuket's Governor Narong Woonciew says the decision to ease the Covid-19 restrictions for visitors followed calls from the business community seeking to lure visitors to Phuket. (The Thaiger wonders if any of these officials had actually travelled over the past 2 weeks)
Local businesses met with provincial authorities on Friday proposing an end to the mandatory quarantine period "for people travelling from certain high-risk areas" in the hope of "stimulating the tourism industry". The proposal was less about stimulating and more about raising the industry from its current flatline.
But whatever mandatory quarantine they were asking to be lifted appears to be have been, at best, loosely applied anyway.
Phuket has has a triple hit. The first when the borders were closed in April and the international airport closed. The second was when December arrived, the start of the busy tourist high-season. The third was the new restrictions added 2 weeks ago in response to the 2nd wave of clusters that started on December 20, tripling the total number of Covid infections in the country in just over a month.
According to Bangkok Post, Sarayuth Mallum, president of the Phuket travel industry council, says… "strict disease control measures remain necessary to protect local people and tourists from contracting the virus".
Somehow, the mandatory quarantine requirement instructions never reached the airport officials. But, for now anyway, the "restrictions" have been lifted anyway. What was you experience arriving in Phuket over the past week? Were you asked to conduct a mandatory 14 day self-quarantine?
In the meantime the struggling domestic airlines have been forced to massively cancel or reschedule flights. Over the past 2 days most airlines only had 1 or 2 flights to and from Phuket and Bangkok, down from the 4 – 10 daily flights some airlines were offering.
More about the Mor Chana App here…
More about the direct effects on the island of Phuket…
SOURCE: Bangkok Post
Keep in contact with The Thaiger by following our Facebook page.
Never miss out on future posts by following The Thaiger.