Dengue fever antibodies might contribute to Thailand's low Covid-19 count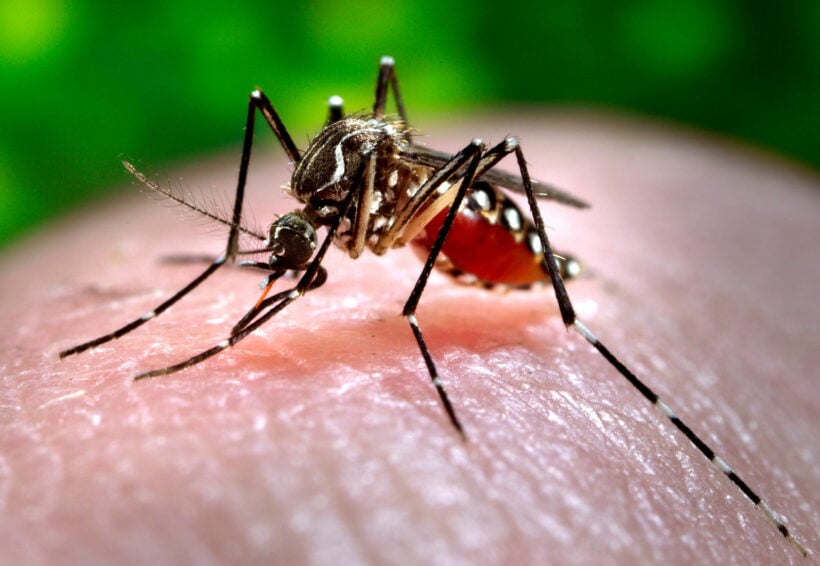 Antibodies from dengue fever might raise immunity against Covid-19, according to study done in Brazil. It suggests a correlation between the mosquito transmitted illness and the coronavirus, citing lower Covid-19 cases in areas with past dengue outbreaks, like south east Asia. Thai doctor Manoon Leechawengwongs says this might be why Thailand has significantly less Covid-19 cases than other countries around the world.
Since the start of the outbreak, many scientists have been confused by south east Asia's generally low infection rate and posited various theories about some local "immunity".
Thailand has more than 100,000 dengue patients every year, he says, adding that many locals take the BCG vaccine for tuberculosis to prevent dengue. There have been 3,545 Covid-19 cases in Thailand with 59 deaths and 3,369 recoveries.
Duke University professor Miguel Nicolelis led the study and recently spoke to Reuters reporters about his findings. He says the study first focused on the spread of Covid-19 in Brazil and they came across the correlation between dengue and the coronavirus by accident. The study says areas in Brazil with high numbers of dengue infections had a comparatively low number Covid-19 cases while areas with low numbers of dengue cases had a high number of Covid-19 cases.
"This striking finding raises the intriguing possibility of an immunological cross-reactivity between dengue's Flavivirus serotypes and SARS-CoV-2 … If proven correct, this hypothesis could mean that dengue infection or immunization with an efficacious and safe dengue vaccine could produce some level of immunological protection (against the coronavirus)."
Miguel adds past studies found that those with dengue antibodies can falsely test positive for Covid-19.
"This indicates that there is an immunological interaction between two viruses that nobody could have expected, because the two viruses are from completely different families."
The study was posted on MedRxiv, but has not yet been peer reviewed. Manoon warns that Thai people should still abide by coronavirus prevention measures to prevent a possible second wave.
Click HERE to read the study on how dengue fever may have influenced the spread of Covid-19 in Brazil.
SOURCES: Reuters | Nation Thailand|Worldometer
Catch up with the latest daily "Thailand News Today" here on The Thaiger.
Keep in contact with The Thaiger by following our
Facebook page
.
Never miss out on future posts by
following The Thaiger
.
4 new Covid-19 cases in quarantine, 2 have symptoms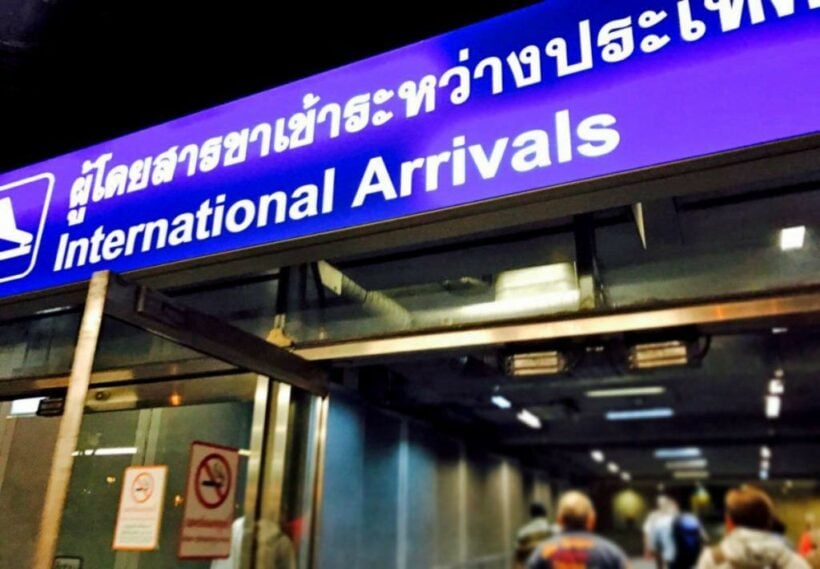 4 new Covid-19 cases were detected in quarantine with half of the patients reporting symptoms, according to the Centre for Covid-19 Situation Administration. Thailand's total number of confirmed Covid-19 cases is raised to 3,763 with 3,570 recoveries and 59 deaths. 134 people are currently receiving medical treatment for the coronavirus.
A 67 year old Kuwaiti woman travelling from Qatar tested positive for Covid-19. She is a medical tourist who entered Thailand on October 25 for treatment unrelated to the coronavirus. She showed no Covid-19 symptoms and tested positive upon arrival.
A 19 year old Kuwaiti student, who also arrived to Thailand from Qatar, tested positive for Covid-19. She was asymptomatic and tested positive on October 24 upon arrival.
A 24 year old Thai student travelling from Japan tested positive for Covid-19. She arrived on October 21 and tested positive 3 days later. She had symptoms of a cough and excessive phlegm at the time her results were released. She says on October 6 she had a high fever.
A 40 year old Thai masseuse travelling from the United Arab Emirates tested positive for Covid-19. She arrived on October 23 on the same flight as 3 other confirmed cases. She tested positive 3 days later and had symptoms of a cough and a headache.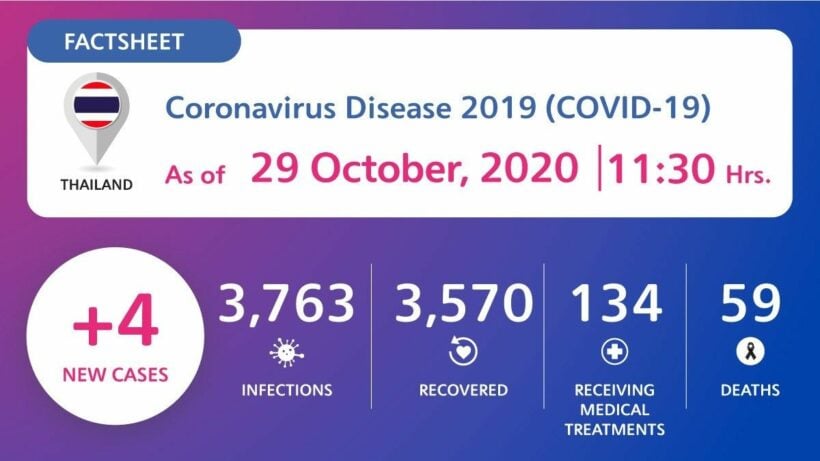 SOURCE: Bangkok Post
Catch up with the latest daily "Thailand News Today" here on The Thaiger.
Keep in contact with The Thaiger by following our
Facebook page
.
Never miss out on future posts by
following The Thaiger
.
Government confirms re-opening for foreign tourists, yacht crew, under Special Tourist Visa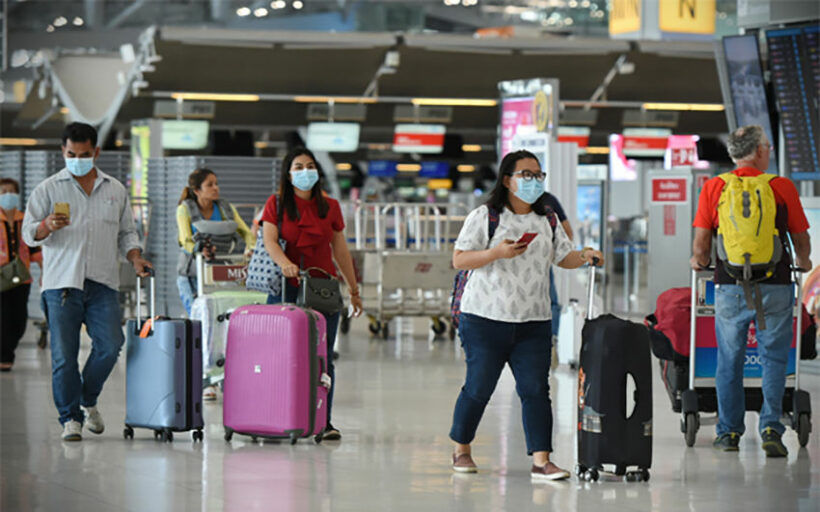 Thailand is preparing to re-open to more international tourists and foreign yacht crew, after Cabinet specified updated guidelines for the Special Tourist Visa scheme. Deputy government spokeswoman, Traisulee Traisoranakul, says the new regulations will be in force until September 30, 2021.
The STV has been introduced in an effort to re-ignite international tourism in the Kingdom, which has been severely impacted by the Covid-19 pandemic. More information on the scheme can be found at this link, or by visiting your nearest Thai embassy.
Traisulee says foreign tourists, and yacht crew who have been in Thailand's waters prior to the country declaring a state of emergency in March, are eligible to apply for the STV. The visa costs 2,000 baht and permits a stay of up to 90 days. It can also be extended twice, for a further 90 days each time.
Yacht crew will need to have been quarantined on their vessels for 14 days, and all foreigners will need health insurance that covers Covid-19 treatment, with at least US$100,000 worth of coverage for the duration of their stay in the Kingdom.
SOURCE: Bangkok Post
Keep in contact with The Thaiger by following our
Facebook page
.
Never miss out on future posts by
following The Thaiger
.
France and Germany back in lockdown amid resurgence of Covid-19 in Europe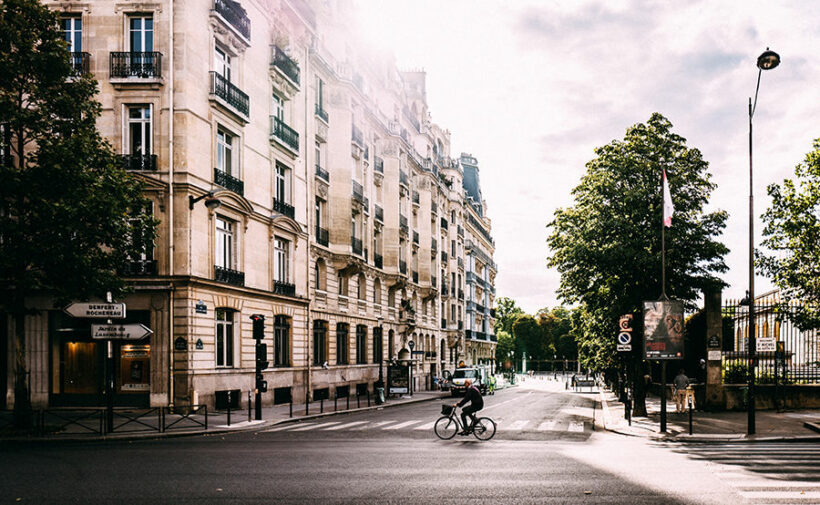 The leaders of France and Germany are once again having to introduce national lockdowns as the Covid-19 virus continues to surge across Europe. France is now recording over 36,000 (+36,437 yesterday) new cases a day, while Germany, which fared slightly better than other European countries during the first wave of the virus, is now seeing a dramatic rise in cases as winter approaches (+16,202 yesterday).
In announcing the new lockdown in France, President Emmanuel Macron warned that the country faces a second wave that could be worse than the first. Strict measures come into effect from tomorrow, with people not permitted to leave their homes unless it is to seek medical attention, purchase essential items, or to exercise for a maximum of an hour a day. However, schools remain open and people can still go to work if it is not possible for them to do their job from home.
"The virus is circulating at a speed that not even the most pessimistic forecasts had anticipated. Like all our neighbours, we are submerged by the sudden acceleration of the virus. We are all in the same position: overrun by a second wave which we know will be harder, more deadly than the first."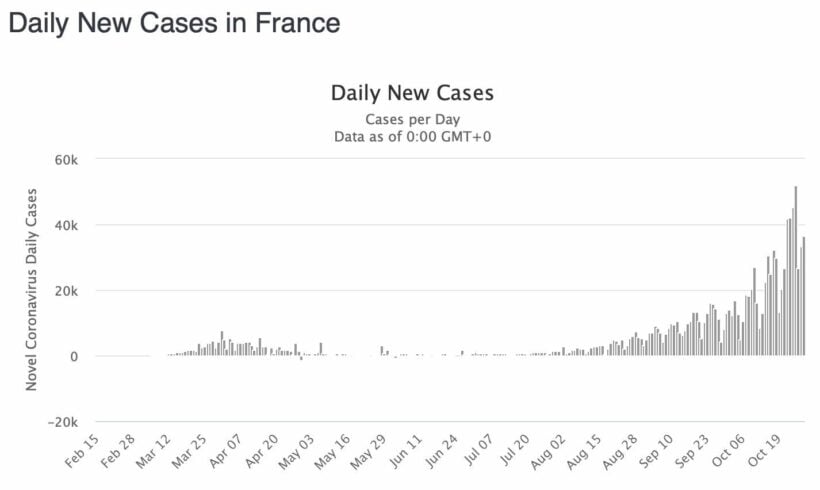 Over in Germany, Chancellor Angela Merkel has confirmed that from next Monday, November 2, to the end of November, all bars, restaurants, and theatres will close. Schools will remain open and shops will be permitted to operate under strict conditions. The chancellor warns that the measures are vital to protect the country's healthcare system.
"We need to take action now. Our health system can still cope with this challenge today, but at this speed of infections, it will reach the limits of its capacity within weeks."
Confirmation of lockdowns in Europe's biggest economies caused stock markets around the world to plummet, with European markets closing at their lowest level since late May. The S&P 500, which measures the performance of the 500 largest publicly traded companies in the US, was down 3%.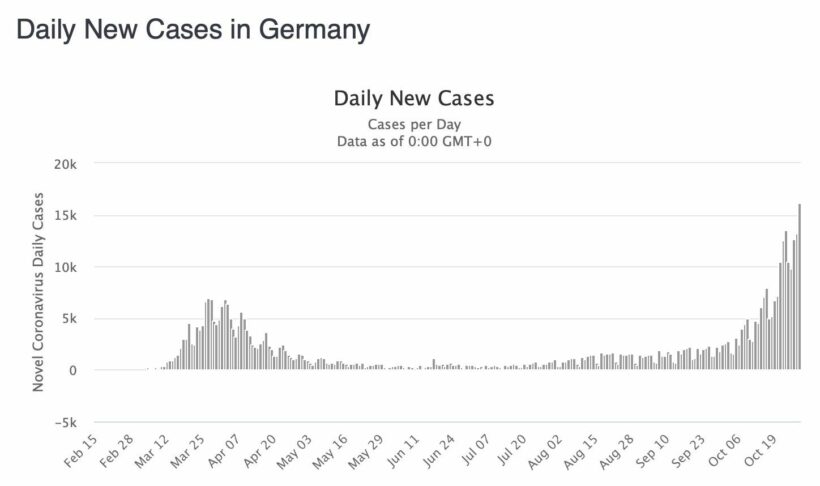 Meanwhile, with just 5 days to go before the presidential election, the US continues to set records with its rising numbers of virus cases. President Trump, however, remains undeterred, as he continues to hold public rallies, with many supporters not wearing masks.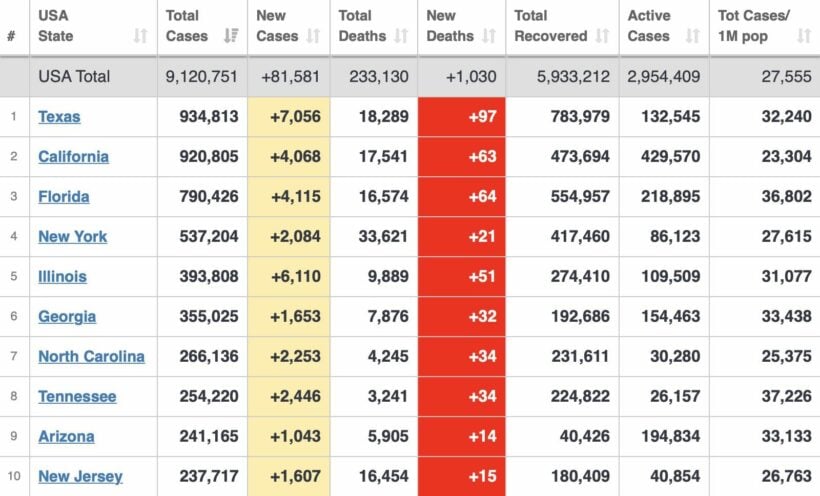 SOURCE: SBS News
Keep in contact with The Thaiger by following our
Facebook page
.
Never miss out on future posts by
following The Thaiger
.