Thai Government pharmaceutical organisation boosts production of key medicines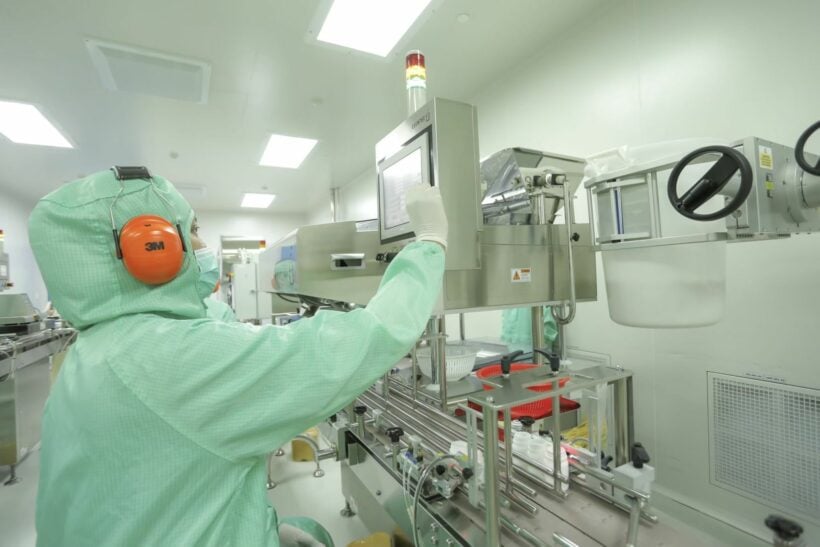 Dr Mukdavan Prakobvaitayakit, the deputy managing director of The Government Pharmaceutical Organisation says "the GPO has been increasing the amount of production for chronic disease medication by 50%. "
This unexpected Covid-19 pandemic has hit the stockpile of 5 – 6 key medicines, which are being used in the treatment of Covid-19. In normal circumstances, GPO usually purchases raw materials and equipment to stock up for at least 6 months in advance or to slowly build up stocks for at least 2 – 3 months.
Hospitals have been dispensing six-month quotas for chronic patients to cut down on congestion and reduce the risk of the spread of the virus.
Since the start of the pandemic, which first hit Thailand towards the end of January, the GPO has continually adjusted its production plan to focus on essential medicines for chronic diseases. This is done by bringing forward the delivery of raw materials, the time of production by using high-speed automatic pill-filling machines from Germany, and finding alternate sources in the supply chain.
So far, the GPO has found sources in India for 'Simvastatin' (lipid-lowering medication) and has been able to increase its production capacity from 56 million tablets to 62 million tablets per month.
The GPO also has found sources in India for chemicals used in the production of 'Amlodipine' (to treat high-blood pressure and coronary diseases) which will enable the GPO to boost monthly production capacity from 50 million pills to 75 million.
With raw materials now sourced in India and China the GPO has also been able to boost its capacity for the production of…
Diabetes drug 'Metformin'
High blood pressure drug 'Losartan'
All 22 anti-retroviral drugs used mainly in HIV patients
Overall, the GPO is expected to increase its production capacity for essential drugs by about 30% this month and up to 50% from May onwards.
SOURCE: The Nation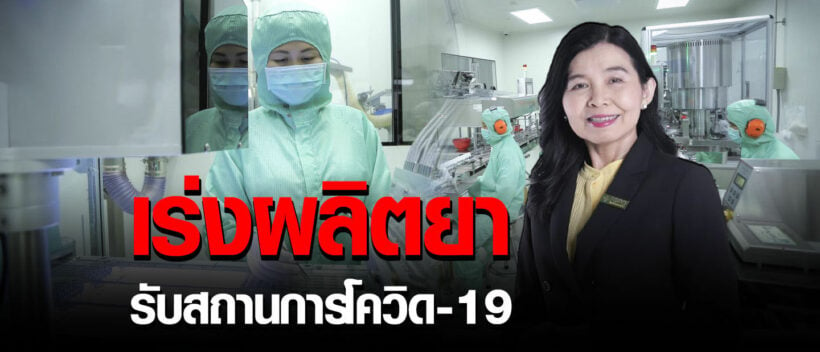 BANNER: ejan.co
📱 Download our app on Android or iOS for instant updates on your mobile
📧 Subscribe to our daily email newsletter
👍 Like/Follow us on Facebook
🔔 Subscribe to or Join our YouTube channel for daily video updates
Government ramps up production of 5 anti-Covid-19 medicines, procurement of others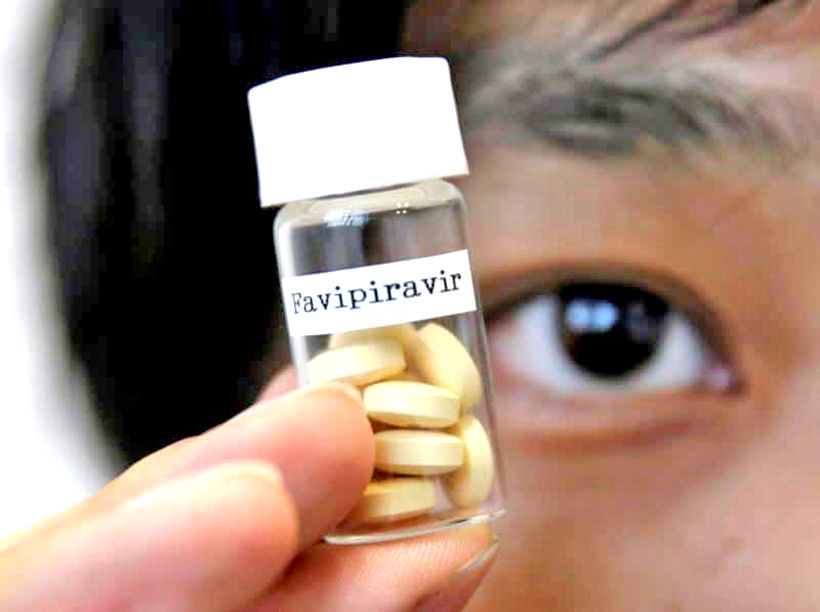 The Government Pharmaceutical Organisation is increasing production of five drugs used treat Covid-19 to ensure adequate stocks for all patients.
A GPO spokesmansaid that excluding Favipiravir also known as Avigan, Thailand has five drugs to treat Covid-19, totalling 39.6 million tablets: there are 1.8 million tablets of Chloroquine, an anti-malarial drug; 30.6 million tablets of an antiretroviral drug containing Lopinavir and Ritonavir, used to treat HIV/AIDS; 1.9 million tablets of the antiretroviral drug Darunavir; 1.9 million tablets of Ritonavir and 3.4 million tablets of Azithromycin, an antibiotic used to treat bacterial infections.
The spokesman says the GPO has expedited the purchase of antiviral drugs — Favipiravir and Hydroxychloroquine.
"We ordered Favipiravir from Japan and China of which 187,000 tablets have been delivered, while another 103,860 tablets will be delivered by the end of April. Meanwhile, we have already ordered 1.09 million tablets of Hydroxychloroquine from domestic manufacturers."
SOURCE: The Nation Thailand
📱 Download our app on Android or iOS for instant updates on your mobile
📧 Subscribe to our daily email newsletter
👍 Like/Follow us on Facebook
🔔 Subscribe to or Join our YouTube channel for daily video updates
Experimental antiviral drug Remdesivir fails first clinical trial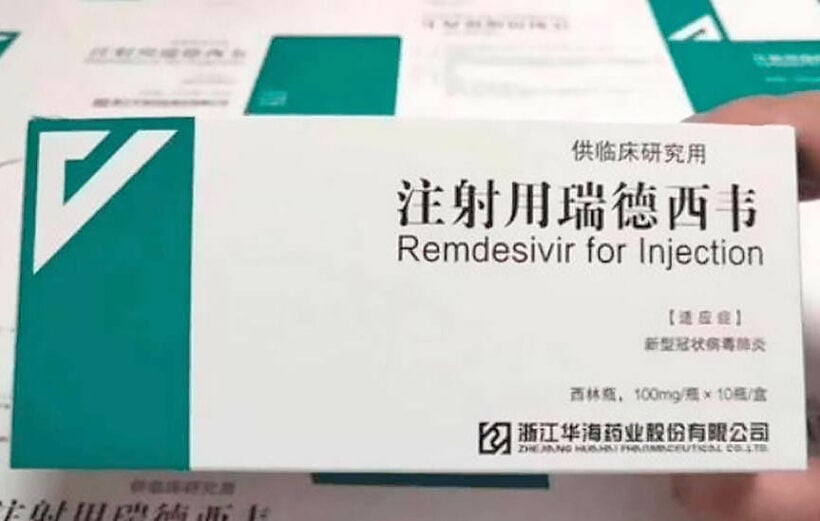 Reports are emerging that the experimental antiviral drug Remdesivir, developed by the American pharmaceutical company Gilead Sciences, has failed in its first randomised clinical trial to treat Covid-19, according to draft documents accidentally published by the World Health Organization and seen by the Financial Times. Gilead disputed how the now deleted post characterised the findings, saying the data showed a "potential benefit."
Gilead originally developed Remdesivir as a treatment for the Ebola virus, where it showed promise at stopping the virus from replicating in clinical trials, but it was never approved.
Numerous media report that researchers in China carried out a study on 237 patients, giving the drug to 158 and comparing their progress with a control group of 79.
According to a summary Remdesivir was "not associated with a difference in time to clinical improvement" compared to the control group. Use of the drug was not associated with patients getting better faster, and 13.9% of patients receiving the drug died, versus 12.8% getting standard care.
A spokesman for Gilead told media, "We believe the post included inappropriate characterisations of the study," saying it was terminated early due to low enrollment and was not statistically meaningful.
"As such, the study results are inconclusive, though trends in the data suggest a potential benefit for Remdesivir, particularly among patients treated early in disease."
The clinical trial does not represent the final word on the matter and there are several large-scale trials in advanced stages that should soon provide a clearer picture.
Earlier this month, a study in the New England Journal of Medicine showed positive results for Remdesivir, with 68% of patients improving on the drug. But the study was not an official trial but rather the collation of data from patients who had been given the drug on a "compassionate use" basis, and and was not a double-blind study or compared to any control group. The scientists behind the study and even Gilead warned at the time that it was not conclusive.
Remdesivir, which is normally given intravenously, was among the first drugs proposed as a treatment for the virus and as such still has great hopes riding on it. It belongs to a class of drugs that act on the virus directly as opposed to controlling the abnormal and often lethal autoimmune response it causes. It mimics one of the four building blocks of RNA and DNA and gets absorbed into the virus's genome, which in turn stops it from replicating.
But the drug is highly toxic and many medical experts were already warning against its use in the early days of the outbreak, as severe or critically infected patients died after using it.
Many doctors are warning that all clinical trials conducted influenced by major pharmaceutical entities should be regarded with extreme caution as they for-profit organisations.
SOURCES: Thailand Medical News | Financial Times
📱 Download our app on Android or iOS for instant updates on your mobile
📧 Subscribe to our daily email newsletter
👍 Like/Follow us on Facebook
🔔 Subscribe to or Join our YouTube channel for daily video updates
Thailand imports chemicals from China to commence local production of antivirals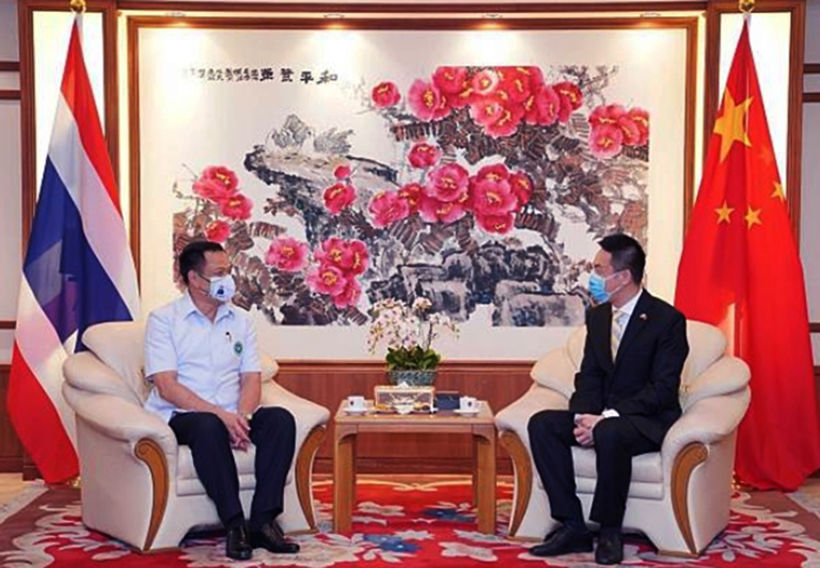 "We need to make sure we have at least 1 million pills of Favipiravir in store."
The Managing Director of Thailand's Government Pharmaceutical Organisation Dr. Withoon Danwiboon says, "we have made contact with China to buy 'Favipiravir' (an antiviral drug) to start the production of the drugs locally as one of the treatments of Covid-19 virus in the country."
"We are awaiting for the antiviral delivery from China. They will arrive next week."
Favipiravir, sold under the brand name 'Avigan', is an antiviral medication used to treat influenza in Japan. It is also being studied to treat a number of other viral infections including Covid-19.
"After that, we will run the controlled experiments of the antiviral substances and assess the stability, dissolution and absorption. If the ingredients pass the testing, they will be handed over to the Food and Drug Administration and the Department of Medical Sciences to conduct standardised testing before the drug manufacturing can start."
However, it is expected to take up to a year to begin the official start of the pharmaceutical production line. The procedures and timeline will be similar to issuing Compulsory Licensing on HIV drugs.
"It is vital that Thailand starts its own antiviral drug Favipiravir production line, despite taking up to a year to begin the actual production, it is all worth it because we expects that the Covid-19 outbreak will prevail, not to the scale of today's but there will still be Covid-19 cases even through next year."
In the meantime, the GPO is still in negotiation with several countries including China and Japan to purchase more Favipiravir to serve Covid-19 patients.
"We need to make sure we have at least 1 million pills of Favipiravir in store, Currently there are 200,000 pills in our stockpile."
SOURCE: Khao Sod
📱 Download our app on Android or iOS for instant updates on your mobile
📧 Subscribe to our daily email newsletter
👍 Like/Follow us on Facebook
🔔 Subscribe to or Join our YouTube channel for daily video updates