BTS release 'Be' on November 20, their production company valued at US$4 billion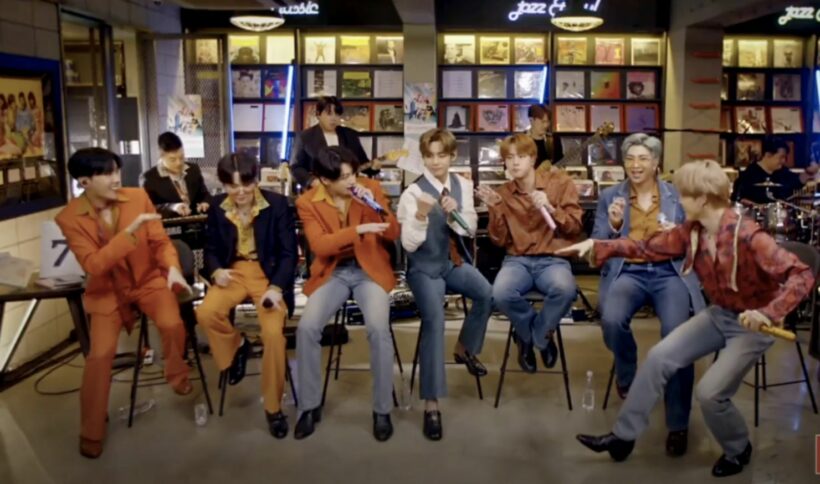 "Even in the face of this new normality, out life goes on and imparts a message of healing to fans and to the world."
Big Hit, the label behind South Korea's mega pop outfit BTS, have announced that pre-orders have already started this week and general release of their new album is due on November 20. They've described the highly anticipated as "the most 'BTS-esque' music yet", whatever that means!
The unlikely pop music heroes, who have burst through the bamboo ceiling and made an Asian band the biggest pop act in the world, announced the date of their second album release for 2020. 'Map of the Soul: 7′ debuted on top of the Billboard chart on March 7, 2020, marking BTS' fourth Number 1 album. In 2019 they matched The Beatles record of 3 albums to reach the Number 1 position in the same calendar year.
The arrival of their new album, simply titled 'Be', is the band's answer to reach out to their fans, called 'ARMY', since they had to cancel their entire 202 sold out stadium concert world tour.
The announcement of the new album follows the release of the hit single, and summer disco bob, 'Dynamite', their first all English-written song, and their first song to reach the Number 1 on Billboard's Hot 100 main singles chart for 3 weeks (over a 4 week period). The song not only reached the Number 1 position, it debuted at Number 1.
'Dynamite' broke the YouTube record for most views in a 24 hour period, racking up an astonishing 101.1 million views. The band also has another 4 songs in YouTube's Top 10 most viewed videos in 4 hours.
Here they are performing 'Dynamite' at this year's VMA awards (they also won 4 VMAs)…
(The link, if the video doesn't play… https://youtu.be/zJCdkOpU90g)
They're also the first K-pop act to reach the Number 1 spot on the Billboard chart – Psy and 'Gangnam Style', despite its worldwide success, only reached the Number 2 spot in 2012.
The company behind BTS, Big Hit Entertainment, completely unknown until their sole act BTS started rising through the ranks of South Korea's K-Pop, and then take on the world pop market, has priced its initial public offering at the top of its range last Monday, as hopeful buyers chased South Korea's largest listing in 3 years.
Institutional investors expressed interest in more than 1,000 times the number of shares on offer. Even the die-hard BTS fans are putting in bids in the hopes of securing even one share in what analysts expect to be South Korea's hottest listing this year.
Here's a live version of 'Dynamite' and some of their other songs, performed last week on NPR…
(The link, if the video doesn't play… https://youtu.be/gFYAXsa7pe8)
Big Hit priced the IPO at 135,000 won (US$114.99) per share, the top of an indicative price range of 105,000-135,000 won announced earlier this month.
Big Hit reported a 49.7 billion won (US$42,695,950) profit for the first half of 2020 as its online concert and merchandise sales on the Weverse app more than offset the stadium concert and event cancellations during the Covid-19 pandemic. Big Hit have kicked off a few more acts in recent years but 99% of the company's revenue comes from just one band, BTS. BTS is short for their full Korean name Bangtan Sonyeondan (방탄소년단), translated loosely as Bulletproof Boy Scouts.
The 7 members are RM, Jin, Suga, J-Hope, Jimin, V and Jungkook and have been working together since around 2011 but debuts in June 2013. Coming from a 'no name' production company they battled the tough 'pop blood sport' of K-Pop and had very difficult times in their early days before breaking into the world market sometime around 2016. Their success in the US has only really been over the past 2 years.
The IPO will makes the 7 BTS members instant multimillionaire stockholders, as Big Hit CEO Bang Si-hyuk gave them 68,385 shares each, worth nearly US$7.9 million at the issue price, in August.
The pricing values Big Hit at around 4.8 trillion won (US$4,124,989,920), literally off the back of just 7 young Korean men, their talent and their legion of fans.
Want more from the Thaiger family?
📱 Download our app on Android or iOS for instant updates on your mobile
📧 Subscribe to our daily email newsletter
👍 Like/Follow us on Facebook
🔔 Subscribe to or Join our YouTube channel for daily video updates

K-Pop's BTS launching pop-up in Bangkok May 1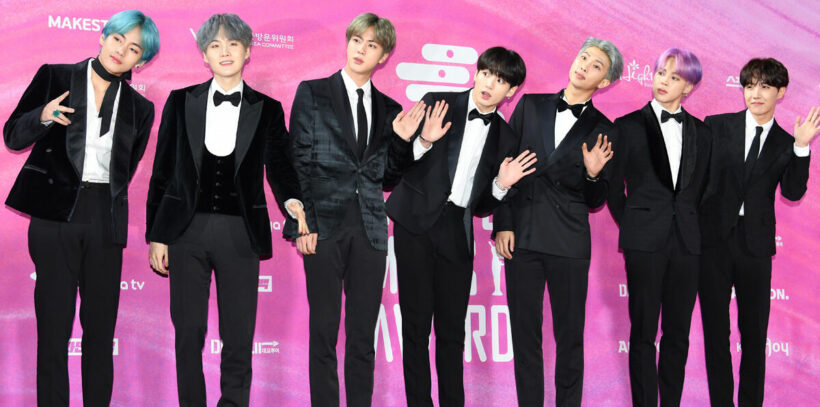 Thai BTS fans are celebrating as the first official BTS pop-up in Thailand is set to open in Bangkok on May 1. The world-famous K-Pop group will launch the Map of the Soul pop-up at EmQuartier in Bangkok. Until now, Thai fans, or ARMY as they are known, have waited while pop-ups shops were launched around the world. The exhibit will be open from May 1 to July 25 and access will only be available by pre-registration online, which opens tomorrow.
ARMYs worldwide were devastated when Covid-19 forced the postponement of BTS's "Map of the Soul" world tour, but the band, famous for their appreciation and interaction with their fans – they hold the Guinness World Record for most Twitter engagement! – have worked to find ways to raise fan morale during the pandemic. They released the album BE with a Grammy-nominated single "Dynamite" and launched these pop-up events where Bangkok ARMYs can pose in front of BTS music video backdrops and shop for official BTS merchandise.
Tickets purchased online will reserve fans a 1 hour visit to the pop-up on a certain date and time slot. Reservations for each week will open on the Friday previous for booking of the event on the M Floor of The EmQuartier. Bookings must arrive 10-15 minutes early and be verified by mobile phone OTP, after which fans will receive a wristband and queue for safe entry.
Strict Covid-19 safety measures will be in place, limiting the number of entries at a time, requiring social distancing and masks, and offering hand sanitiser when entering and exiting.
BTS, the 7-member South Korean boy band formed in 2011 debuted in 2013 and became one of the biggest bands in the world holding 18 Guinness World Records, appearing frequently in Time magazine influence lists, and setting music records on charts around the world. They've sold 20 million albums and equalled The Beatles' record for reaching 4 number 1 albums in the US within one year.
It was estimated their sales account for about the same of South Korea's entire GDP as Korean Air, being the reason to visit cited by 1 in every 13 tourists, and over 40% of all music sales in the country along with 25% of American K-Pop sales, having the top-selling worldwide physical album of 2020.
BTS have addressed the UN and their endorsements have caused companies and organisations to experience huge jumps in income, including multiple charities they have raised millions for. Their charitable work, devotion to fans, and addressing of difficult topics in their music such as mental health, loss, bullying, individualism and other social commentary have earned BTS praise as more than just your average boy band. Huge turnout is expected for the Bangkok opening of the BTS Map of the Soul pop-up at the EmQuartier next month.
SOURCE: The Smart Local
Want more from the Thaiger family?
📱 Download our app on Android or iOS for instant updates on your mobile
📧 Subscribe to our daily email newsletter
👍 Like/Follow us on Facebook
🔔 Subscribe to or Join our YouTube channel for daily video updates
PM Prayut set to ride Bangkok's first driverless skytrain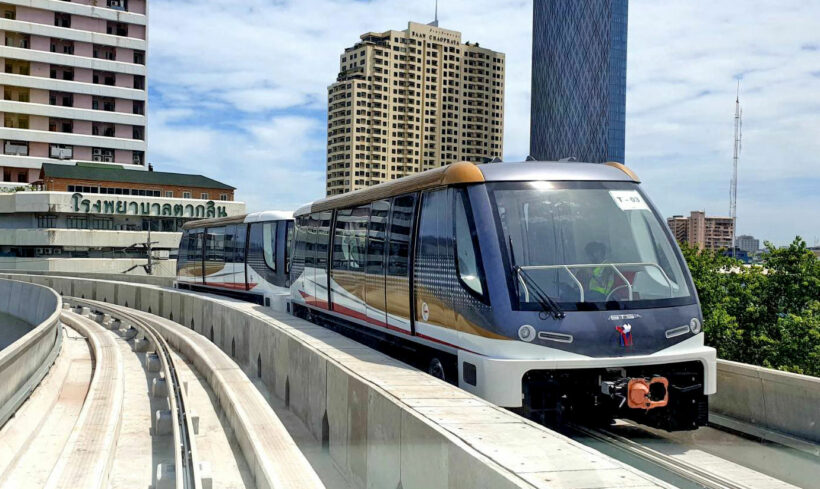 Thailand's PM Prayut is set to ride Bangkok's first driverless Skytrain as he will preside over the opening ceremony of the Green Line extension and the Gold Line monorail on Wednesday, December 16. The Skytrain extension will travel from Mo Chit station through Saphan Mai station and ends at Khu Kot.
The Gold Line monorail, which features the driverless train, links to the Green Line at Krung Thon Buri station. PM Prayut will ride from Thon Buri to Khlong San District Office station along with members of his cabinet and the local media. The new extension and line will link people's commutes seamlessly between 3 provinces – Pathum Thani, Bangkok and Samut Prakarn.
The Green Line extension adds 7 more stations – Phahon Yothin 59, Sai Yud, Saphan Mai, Bhumibol Adulyadej Hospital, Royal Thai Air Force Museum, Yaek Kor Por Aor, and Khu Khot (near Don Mueang International Airport). The extension makes the Green Line 68 kilometres long with 59 stops, and can hold up to 1.5 million passengers daily.
The Gold Line monorail's first phase runs between 3 stations: Krung Thong Buri, Charoen Nakhon and Khlong San, covering 1.8 kilometres and accommodating up to 42,000 passengers per day, according to Government Spokesman Anucha Burapachaisri.
The line also marks the first automated guideway transit or automated people mover line in the country, which uses Chinese-made Bombardier Innovia APM 300 automated people-movers. The models, commonly used at airports to transport passengers between terminals, support speeds up to 80 kilometres per hour.
Originally, the Gold Line was not part of the extension plan, but was proposed by Iconsiam shopping centre officials to help increase visitors to the mall. The new Gold Line was approved in 2016.
"In the coming years, more projects are expected to be opened, such as the Dark Red Line (Bang Sue – Rangsit) in 2021, the Pink Line (Khae Rai – Minburi) in 2022, and Light Red Line (Taling Chan – Siriraj) in 2024."
According to Anucha, new sections will open every year, starting in 2021. They include:
2021: Dark Red (Bang Sue-Rangsit) and Light Red (Bang Sue-Taling Chan)
2022: Pink (Khae Rai-Min Buri) and Yellow (Lat Phrao-Samrong)
2023: Dark Red (Rangsit-Thammasat University Rangsit Campus) and Light Red (Taling Chan-Siriraj)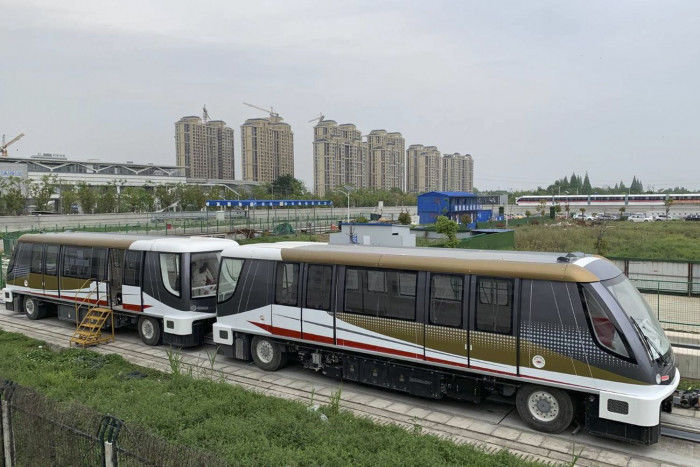 SOURCE: Nation Thailand
Want more from the Thaiger family?
📱 Download our app on Android or iOS for instant updates on your mobile
📧 Subscribe to our daily email newsletter
👍 Like/Follow us on Facebook
🔔 Subscribe to or Join our YouTube channel for daily video updates
BTS are the Time Magazine Entertainer of the Year 2020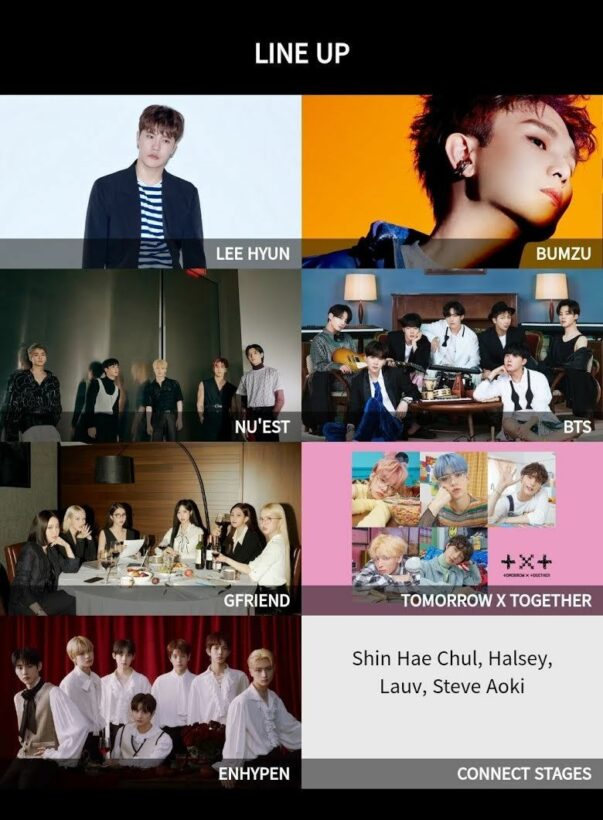 Music supergroup BTS has been named Entertainer of the Year by Time Magazine, capping another year ascending through the bamboo ceiling of the world's music industry. The South Korean K-Pop group, who debuted in 2013, has become the world's most popular band thanks their meaningful lyrics, themed albums, an army of adoring fans (who are actually called ARMY), positive messages and a broad scope in musical styles.
Time writer Raisa Bruner wrote in the BTS profile… "BTS isn't just the biggest K-pop act on the charts. They've become the biggest band in the world – full stop." BTS is RM, J-Hope, Suga, V, Jimin, Jin and Jungkook.
Last month, the 7 members earned the first major Grammy Award nomination for a K-Pop band, BTS had the summer bop of the year with the retro-styled "Dynamite", which was the band's first single to debut at No. 1 on the Billboard Hot 100 charts. Their recently released "Be" album is their 2nd to reach the No. 1 spot on the Billboard Hot 200 Album chart this year. In 2019 they scored 3 albums in a 12 month period to reach the No. 1 position, an accomplishment only ever achieved by another "boyband", The Beatles.
Over the past week the band had a clean sweep of all the major categories in all the different end of year Korean music award shows, a dominance never before seen in one of the most competitive music industries in the world. One member, Suga, has had to sit out their promotional activities over the past month following shoulder surgery. The other members explained that the injury has been a niggling problem for their fellow member since a car accident in the ear days of their training in Seoul.
The band have also risen to world fame on the back of their live performances which has included 2 sell-out world stadium tours. The band's live singing, stage presence and powerful concert performances have earned them credibility and accolades from the world's music industry.
"Dynamite" was their first all English track – most of their work is in Korean with smatterings of English – making their rise to fame in the west even more noteworthy.
BTS premiering their single "Black Swan" on the James Cordon Late Late Show.
Behind their slick videos and weaponising of social media platforms, the 7 members write and produce much of their material with 2 of the members inducted into the Korean Music Copyright Association. BTS have also been invited to join the US Recording Academy as part of the committee that selects the annual Grammy Awards winners.
"They did it (the Time award) in a year defined by setbacks, one in which the world hit pause and everyone struggled to maintain their connections."
Twitter said this week that BTS "Continues to Reign as Most Tweeted About Musicians" in the US for a 4th straight year.
BTS will perform later on tonight, US time, in a television special when Time magazine's Person of the Year will be announced.
Here's BTS singing "Dynamite" live during an NPR Tiny Desk session…
Want more from the Thaiger family?
📱 Download our app on Android or iOS for instant updates on your mobile
📧 Subscribe to our daily email newsletter
👍 Like/Follow us on Facebook
🔔 Subscribe to or Join our YouTube channel for daily video updates