Thailand's first seaplane looks towards commercial production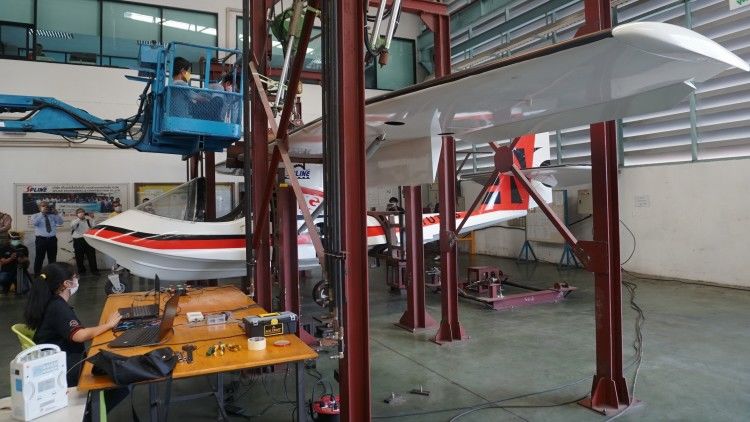 Thailand hasn't had a lot of success lately with its big jets serving the national carrier, but they're looking a lot more nimble and innovative in the area of smaller aircraft design and manufacture. Thailand's first home-grown seaplane has been now successfully tested and the Thailand Science Research and Innovation, or TSRI, is looking into getting the NAX-5 seaplane commercially produced.
The 2 seater, single wing seaplane has been named 'Chalakasyan' by Her Royal Highness Princess Maha Chakri Sirindhorn. TSRI deputy director Atichat Preittigun says it's the first of its kind in Thailand.
The tests add up to more than 200 hours of flight time and it was used in training in flood rescue missions. The plane can fly for 4 hours with a cruising speed of around 153 kilometres per hour. It can reach a maximum speed of 260 kilometres per hour. The plane still needs to make a few more improvements, making sure it's in line with aviation standards, like improving its current take-off performance.
The next step is getting the seaplane registered with the Civil Aviation Authority of Thailand so it can be commercially produced.
SOURCE: Nation Thailand
Want more from the Thaiger family?
📱 Download our app on Android or iOS for instant updates on your mobile
📧 Subscribe to our daily email newsletter
👍 Like/Follow us on Facebook
🔔 Subscribe to or Join our YouTube channel for daily video updates
Americans in Thailand urge US to provide Covid-19 vaccines to citizens overseas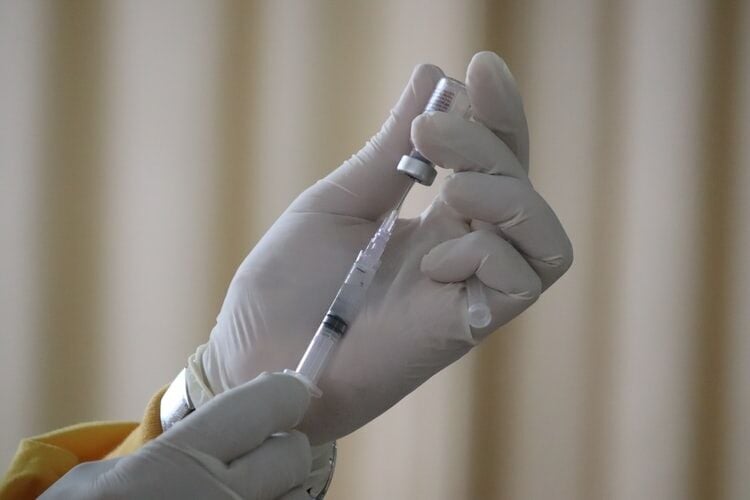 Thai officials say expats living in Thailand will be included in the government's mass Covid-19 vaccination plan, but exactly when that will be is still up in the air. With foreign embassies in Thailand clearly stating that they will not assist with providing citizens living overseas with vaccines, expats are relying on the Thai government.
A number of Americans are now urging the US government to provide Covid-19 vaccines to citizens living in Thailand. And with the recent outbreak linked to the more contagious variant of the virus, getting a vaccine in Thailand has become more pressing.
A "Covid-19 Vaccine Task Force" of Democrats Abroad Thailand members, as well as those from American organisations based in Thailand, is calling on the US government to deliver vaccines to citizens living in Thailand, chairperson of Democrats Abroad Thailand and a United Nations consultant, Paul Risley, told VOA.
"Americans who live abroad need to be vaccinated for the same reasons that Americans who live in the United States need to be vaccinated… Because it's the only way to stop Covid-19."
If an American were to travel back to the US for a vaccine, they would still need to stay in a hotel or certified facility for a 14-day quarantine at their own expense when re-entering Thailand. Along with getting together the required paperwork, they would need to go through numerous Covid-19 tests including before the flight, upon arrival and before being released from quarantine. The flights to and from the US can end up being more than 20 hours per trip and add up to thousands of dollars in travel costs.
For the vast majority of Americans in Thailand, flying back to the US is the only way to get vaccinated at the moment. The US Embassy in Bangkok says vaccines will not be provided for US citizens living overseas.
The Department of State does not provide direct medical care, including vaccinations, to private U.S. citizens abroad. We are committed to providing all possible consular assistance to U.S. citizens in need overseas, including by providing information on local medical resources when appropriate. Please follow host country developments and guidelines for COVID-19 vaccination.
At a recent Centre for Covid-19 Situation Administration meeting, a spokesperson for the Ministry of Foreign Affairs said "all people who reside in Thailand, regardless of their nationality, are eligible to receive the vaccine under the government's plan."
Mass vaccination campaigns are being rolled out in high-risk areas, such as Bangkok's Khlong Toey slum where a cluster of infections was reported, as well as Phuket and Koh Samui, tourist islands that are said to be of "economic significance." Health officials are trying to hit herd immunity on the 2 islands to reopen to foreign tourists.
Expats in Phuket who have a valid work permit can now register for a state Covid-19 vaccine. The registration must be under the company name and expats are told to have the company's human resources staff assist with the registration process.
While no official announcement has been made regarding expats in Koh Samui, some foreigners who work as English teachers on the island say they have received both doses of the Chinese-made Sinovac vaccine. Schools apparently helped with the registration process, but some teachers say they told to keep quiet about getting the vaccine. Some did not receive a vaccine certificate or any other documentation confirming that they are vaccinated against the coronavirus.
SOURCE: VOA
Want more from the Thaiger family?
📱 Download our app on Android or iOS for instant updates on your mobile
📧 Subscribe to our daily email newsletter
👍 Like/Follow us on Facebook
🔔 Subscribe to or Join our YouTube channel for daily video updates
Chinese study confirms Sinovac vaccine safe for over 60s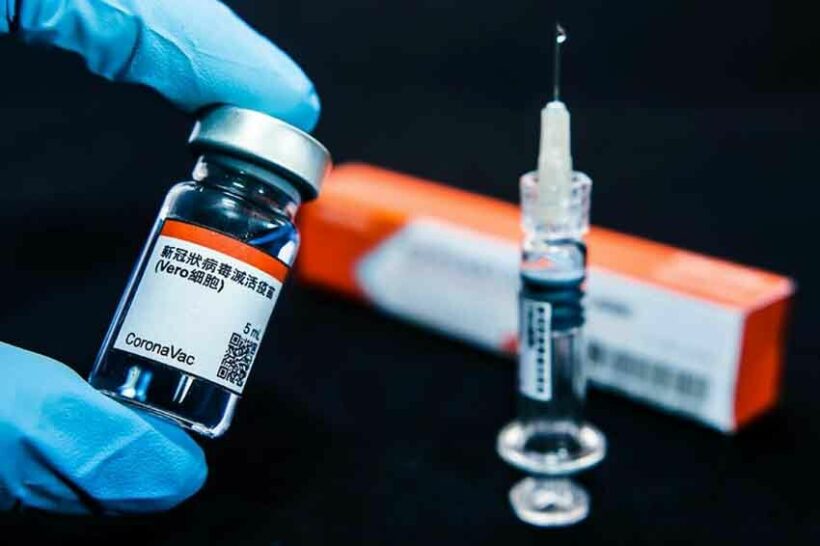 Health officials in Thailand say there is no need for concern about use of the Sinovac Covid-19 vaccine the over 60s, after a Chinese study confirmed it is safe. Sophon Mekhton from the Public Health Ministry says the independent study should reassure everyone about the vaccine's safety in the older age group. According to the Bangkok Post, the study also confirms the manufacturer's claims that 2 doses can prevent transmission in other age groups.
According to Sophon, earlier concerns about the vaccine were the result of a lack of adequate data involving the over 60s. Now that many people in that age group around the world have been inoculated with the Sinovac vaccine, it has been confirmed as safe. Sophon adds that people shouldn't cling to out-of-date information, a reference to an earlier statement from the World Health Organisation that the vaccine could carry a low risk of serious side effects in those aged over 60.
Sophon says that there is always a risk with all vaccines, but the chances are very slim, adding that there are measures in place in the event of someone experiencing adverse side-effects.
While the government has previously stated that AstraZeneca will be the primary vaccine in Thailand's national rollout, a lack of adequate supplies, coupled with a third, highly contagious wave, have led to a temporary switch to Sinovac. To date, 3.5 million doses of the Chinese vaccine have been imported, with another 500,000 donated by China set to arrive this week, followed by 2 million purchased by the Government Pharmaceutical Organisation.
Meanwhile, a former dean from the Faculty of Economics at Rangsit University is calling on the government to compensate families where someone has died as a result of receiving a Covid-19 vaccine. Anusorn Tamajai says offering between 8 and 12 million baht in compensation would boost people's confidence in vaccine safety. He adds that healthcare workers should also be paid more, in recognition of their hard work and the risks they face.
SOURCE: Bangkok Post
Want more from the Thaiger family?
📱 Download our app on Android or iOS for instant updates on your mobile
📧 Subscribe to our daily email newsletter
👍 Like/Follow us on Facebook
🔔 Subscribe to or Join our YouTube channel for daily video updates
Tuesday Covid UPDATE: 31 new deaths and 1,919 new infections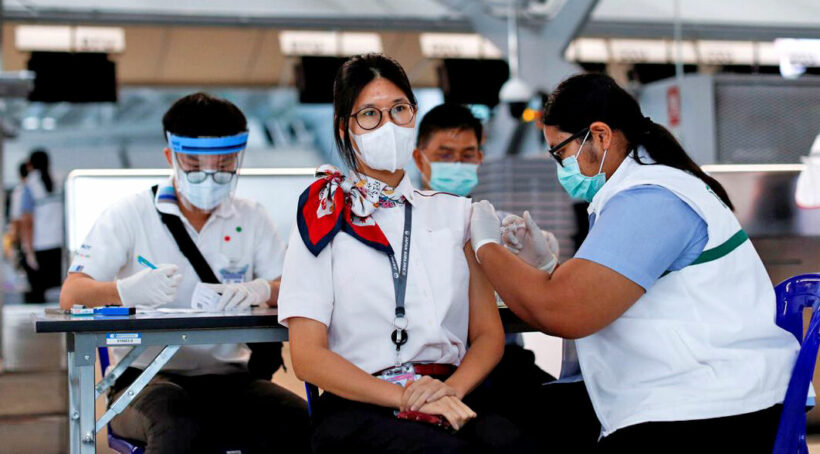 The Thai public health officials have reported that there has been 31 Covid-related deaths and 1,919 new confirmed cases in the past 24 hours.
• An entry ban has been extended to cover foreign travellers coming from Bangladesh, Pakistan and Nepal, as well as India, to help contain any further "highly contagious" Indian variants of Covid-19.
The includes all foreigners departing from any of the 4 countries, or in transit in other countries and passing through them.
• Border patrol police and the Army are being ordered to step up surveillance in order to prevent the entry of illegal migrants into Thailand.
There has been a spate of new infections from people crossing Thailand's porous borders illegally, and a new surge of people crossing the border, in both directions, just north of Chiang Rai to a Burmese border town that is currently re-opening its casinos and brothels.
• German pharmaceutical giant BioNTech, the vaccine manufacturer that has partnered with Pfizer for its Covid vaccine, is setting up in Singapore as a regional HQ for South-east Asia operations, and will set up an mRNA manufacturing facility in the island state.
It plans to open its Singapore office and start the construction of the manufacturing facility from Q3 this year, subject to planning approvals. The site is expected to be operational in 2023 and will create at least 80 jobs.
• The latest cluster in Chanthaburi, east of Bangkok, is now up to 533 infections after another 91 cases were reported yesterday – 47 are from Africa and 44 are Thais. Out of the total number of infections, 156 are foreigners, mostly from African countries
Want more from the Thaiger family?
📱 Download our app on Android or iOS for instant updates on your mobile
📧 Subscribe to our daily email newsletter
👍 Like/Follow us on Facebook
🔔 Subscribe to or Join our YouTube channel for daily video updates