Thailand News Today | Prison release?, Pattaya Makeover, 6 new Covid cases | October 2
Justice Minister proposes releasing chronically ill inmates to reduce prison overcrowding
In an effort to reduce overcrowding in Thailand prisons, the Justice Ministry is looking into allowing chronically ill inmates to be released on a royal pardon.
There's also talk of shortening sentences for those incarcerated on drug charges.
Overcrowding has been a problem at Thailand's prisons, especially now more space is required for new inmates to go through a quarantine before being released in the prison population to prevent potential spread of Covid-19. The minister says that while some prisoners have been released early and some jail terms have been suspended, the prisons still have too many inmates.
Former prisoner, released after murder rap, re-arrested for possession of weapons, drugs
Meanwhile, a routine checkpoint in Pattaya has led to the re-arrest of a 31 year old man recently released from prison following his role in a murder 14 years ago.
The man was arrested in possession of a machine gun and illegal drugs. He was previously found guilty of involvement in the murder of a prominent jet-ski champion.
The car in which he was travelling was stopped at a routine checkpoint on North Pattaya Road. In total, 5 occupants of the car were arrested, 3 men and 2 women.
Police have also seized weapons and ammunition from the vehicle, including a machine gun and handgun.
'Bad Student' group plan protest after alleged abuse at Sarasas school
After reports of a kindergarten teacher allegedly abusing and mistreating students in a Thonburi kindergarten school, a group of Bangkok high school students known as "Bad Students" are rallying in front of the Ministry of Education office today.
A teacher at the Sarasas School in Nonthaburi, north of central Bangkok, was caught on classroom CCTV pushing kindergarten students to the floor, dragging them around and hitting others. That teacher was fired but the Bad Students movement say Education Minister did nothing to solve the problems of alleged abuse at the school. The same group of students rallied in front of the office last month, calling on the minister to allow free expression of political views at the schools, end the draconian haircut and uniform rules and reform the education system.
Pattaya's Beach Road to add an extra lane, part of multi-million baht renovation plan
In a multi-million baht plan to make-over Pattaya's beach infrastructure, another lane of traffic will be added to the Beach Road to allow more parking.
The plan for the extra lane is a new idea in the 160 million baht renovation project aimed at attracting more visitors and improving the general amenity of the popular beach walk. The Pattaya Council openly admit they hope the renovations will attract more Thai visitors.
A budget of 160 million baht for the project has been approved, but exact details are still in the works. In an earlier report, the Pattaya City Mayor says the city will work on creating additional space for domestic tourists with more footpaths, toilets and parking spaces.
6 new Covid-19 cases among repatriates from India, Japan, South Sudan and the UAE
The Centre for Covid-19 Situation Administration has announced today that there are 6 new cases of Covid-19 in the past 24 hours, all Thai repatriates.
There are 2 new cases each from India and UAE, and one each from Japan and South Sudan.
The two from India are a 23-year-old male student, and a seven-month-old boy who was in an alternative state quarantine facility in Bangkok.
The two cases from UAE are massage workers, aged 29 and 42, both were quarantined in Chon Buri province.
Another was a 56 year old Thai businessman returning from Japan and finally a Thai government official coming back from South Sudan, quarantined in Chon Buri.
94.6% of Thailand's 3,575 cases have recovered, including 5 discharged over the past 24 hours. 132 patients remain in hospital.
PM pledges to protect Thailand's natural resources
Thai PM Prayut Chan-o-cha has said he'll do his best to protect the country's natural resources and tackle the issue of biodiversity losses in Thailand.
He was speaking at a UN biodiversity summit. PM Prayut says he acknowledges the impact of climate change on biodiversity, saying Thailand is stepping up to the challenge. He outlined 3 measures for managing climate change…
– Devise a plan to ensure policies are put in place to guard natural resources and their sustainable use
– Foster cooperation between relevant agencies, stakeholders, the private sector
– Learn from the Covid-19 pandemic and the evidence that natural resources recover when humans are removed.
The PM was speaking on the "Urgent Action on Biodiversity for Sustainable Development" online seminar.
Keep in contact with The Thaiger by following our
Facebook page
.
Never miss out on future posts by
following The Thaiger
.
Samut Prakan woman bit by snake while using the toilet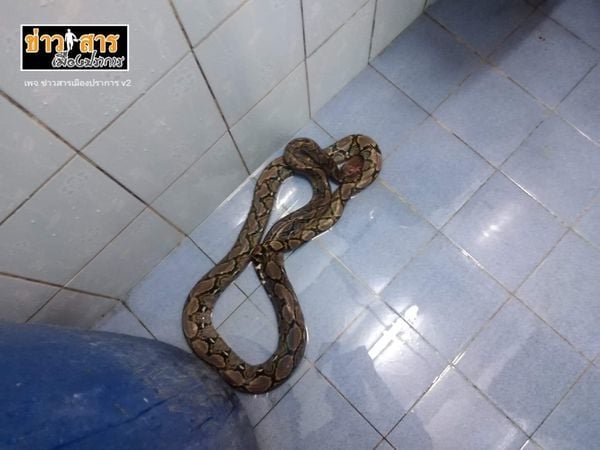 A python bit a woman on her butt and finger while using the toilet at a home in Samut Prakan, southeast of Bangkok. Rescue volunteers were called to her home, who said there was a lot of blood at the scene. The woman was later taken to the hospital.
The incident may sound shocking to some, but in Thailand, reports of snakes biting people who are on the toilet isn't that uncommon. Snakes wander in sewers, usually hunting down rats, and sometimes enter pipes leading up to the toilet bowls.
Just last month, an 18 year old university in Nonthaburi, a suburb just west of Bangkok, was bitten on his penis by a python that was in the toilet bowl. He had to get 3 stitches. Another man's penis was bit by a snake while he was using the bathroom last year. He ended up with 15 stitches.
SOURCE: Facebook
Keep in contact with The Thaiger by following our
Facebook page
.
Never miss out on future posts by
following The Thaiger
.
Thailand News Today | STV arrivals, Released then re-arrested, Petition to oust PM | October 21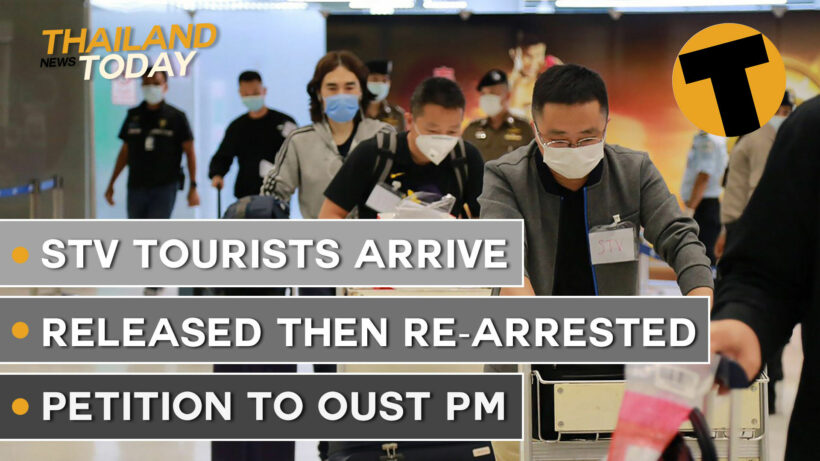 Today's latest news and information, coming to you from the Asok BTS in Bangkok. Like and subscribe our YouTube channel too. Go on, right now 🙂 You can also LIKE our Facebook page https://facebook.com/thethaigernews to get even more information about Thailand.
From 40 million visitors to 41: first STV tourists arrive
In 2019, almost 40 million tourists arrived in Thailand. Yesterday, it was 41. It was progress of sorts but a long, long way from the 110,000 daily arrivals at the same time last year.
Yesterday, the Kingdom welcomed its first tourists in 7 months, with the arrival of 41 Chinese tourists from Shanghai. The group landed at Bangkok's Suvarnabhumi airport on a chartered flight laid on by Spring Airlines, a low-cost Chinese carrier.
The visitors are here on the recently-launched Special Tourist Visa and had to download a special app to track their movements while in Thailand. They were bundled off to their 14 day quarantine before they can explore the rest of the country. The STV grants them a stay of up to 90 days and can be extended twice.
According to the TAT, "Most of them planned to visit the beaches and already reserved hotel rooms."
For anyone wishing to apply for the STV, your first port of call will be your local Thai Embassy and the thailongstay.co.th website. Good luck!
2 Thai protest leaders immediately re-arrested after being released on bail
To some protest news and authorities have re-arrested 2 of the leaders at the centre of anti-government protests right after they were granted temporary release on bail.
The 2 were being held on charges of violating the State of Emergency and released alongside fellow a fellow protester, after Thammasat University professors paid bail of 200,000 baht for each of them.
But the initial 2 were promptly re-arrested on the basis of another warrant issued by police, this time charged over another mass gathering in violation of the State of Emergency. They are being held pending another detention request being filed by police.
Letter calling for Thai PM's resignation signed by over 1,000 academics
A petition calling for the resignation of Thai PM Prayut Chan-o-cha, has been signed by up to 1,118 academics and delivered to Government House.
The petition was created by the Thai Academic Network for Civil Rights. A group of university lecturers and students have marched to Government House to deliver the letter. In the letter, academics slam the government's clampdown on an October 16 rally in Bangkok, when police used high power water cannons, allegedly laced with blue-dyed chemical irritants, to disperse protesters at the Pathumwan intersection.
They're also calling on the Government to refrain from violence when dealing with protesters, to stop the gagging of government critics andto put an end to laws that infringe on freedom of speech.
Protesters are also calling for a re-write of the 2017 Thai Charter (Constitution) and for reforms to the role of the Thai Monarchy.
Khao San Road evolving, all ages daytime event planned for Halloween
Bangkok's iconic Khao San Road now looks very different as Thailand emerges from the local coronavirus outbreak.
Not only are the backpackers gone from the "backpacker mecca," but the road in Bangkok's Banglamphu neighbourhood has gone through a street make-over. Now, Bangkok officials plan to hold events for "all ages" during the daytime during Halloween. But chaos can still be expected at night, even if it's mostly Thai customers at the moment as Thailand waits for the re-emergence of some sort of tourism industry.
Some 48.4 million baht was poured into a revamp of the "tatty" old Khao San Road, improving the drainage system and levelling out the road and sidewalk. There's now designated space reserved for emergency vehicles. You're invited to join in some Halloween celebrations at the new Khao San Road on October 30 and 31… events for kids will start as early as 9.30am.
Up to 5,900 jobs to go as Hong Kong carrier Cathay Dragon shuts down
Hong Kong airline Cathay Pacific is set to close its subsidiary, Cathay Dragon, with the loss of up to 5,900 jobs.
The carrier, that used to be called Dragon Air before being absorbed by Cathay, has become yet another casualty of the Covid-19 pandemic that has decimated the world's aviation business.
5,300 jobs are expected to go in the airline's Hong Kong base, with a further 600 axed in their overseas offices and operations. In total some 17% of Cathay's total workforce. Cathay Dragon primarily operated short-haul routes within Asia, including direct flights from Hong Kong to Bangkok and Phuket
Keep in contact with The Thaiger by following our
Facebook page
.
Never miss out on future posts by
following The Thaiger
.
Criminal Court reverses decision to close down some Thai media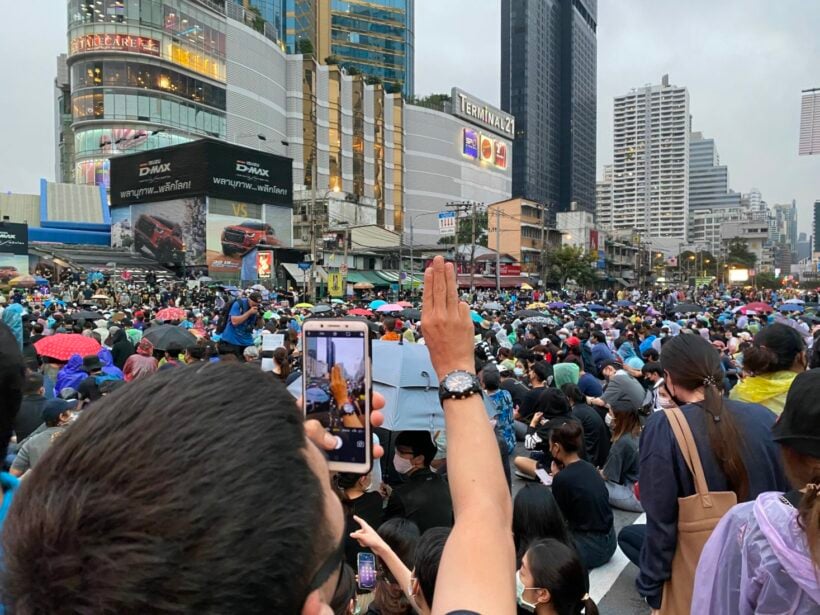 Today was a win for Thai media companies after some authorities had attempted to close them down amid the current pro-democracy protests. The court initially ruled to suspend Voice TV for allegedly violating State of Emergency orders, but today the court reversed the ruling, saying Thailand's Constitution does not give the court power to shutdown the media platforms.
Along with reversing the ruling on Voice TV, the court also dismissed a request to suspend 3 other Thai news outlets covering the protests and to block the activist-run Free Youth Facebook page, according to The Standard.
The National Police Chief had recently requested authorities suspend the news outlets – The Standard, Prachatai, Voice TV and The Reporters – for allegedly violating government orders by spreading content that was a "threat to national security."
The Standard posted on its Facebook page today saying the news channels have the freedom of press under Section 36 of Thailand's Constitution.
Section 36: A person shall enjoy the liberty of communication by lawful means. Censorship, detention or disclosure of communication between persons including any other act which discloses the content of a communication between persons shall not be made except by virtue of law specifically enacted for security of the State or maintaining public order or good morals.
Voice TV also posted on Facebook announcing they will continue to operate as normal.
"The court lifted the petition because it saw that the constitution protects the freedom of public communication and press."
Digital Economy and Society Ministry spokesperson said in a previous report that Voice TV had violated the Computer Crime Act by spreading "false information." Voice TV says they are doing a professional duty and do not report distorted or misleading information.
SOURCES: The Standard| Voice TV
Catch up with the latest daily "Thailand News Today" here on The Thaiger.
Keep in contact with The Thaiger by following our
Facebook page
.
Never miss out on future posts by
following The Thaiger
.