THAIGER TODAY. Monday, August 28
"She wasn't here" – Cambodian officials | Thai Government under fire for 'allowing' Yingluck to escape | New sugary drink tax | Flow Ride 2017 win for Phuket locals | Gold Mine health-effects report | Big auction win for Land Traffic Office for special number plates.
Keep in contact with The Thaiger by following our
Facebook page
.
Never miss out on future posts by
following The Thaiger
.

Thailand News Today | Visa amnesty, sealing Burmese border, Thai airways creditors | September 24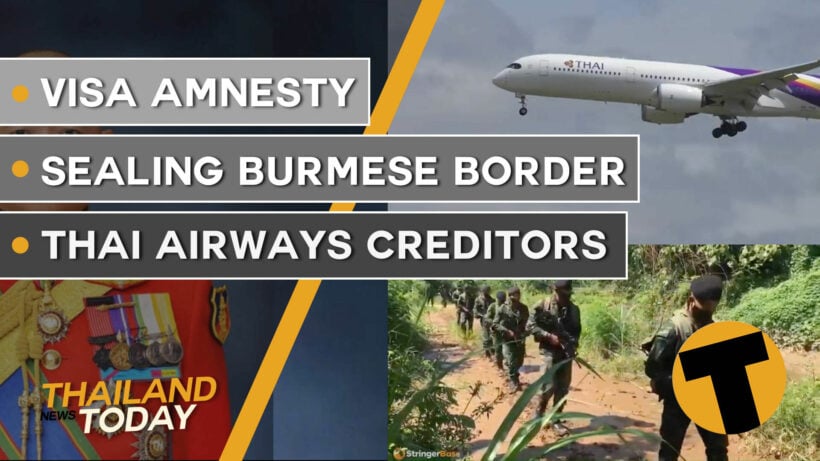 Latest update for September 26 deadline of visa amnesty.
Deadline set for THAI creditors
A date has now been set for creditors to recover their money from Thai Airways. Applications for debt repayment through corporate bonds started yesterday. Applications filed by private individuals are being received at the Securities and Exchange Commission office in Bangkok. The deadline for applications is November 2. It's ben reported that there are some 10 million creditors. The airline's total debt stands at 352.4 billion baht.
Thailand seals its 2,000 kilometre border with Myanmar
Thailand's Department of Disease Control remains on alert, and patrols increased along the Thai/Myanmar border, as Thailand's western neighbour continues to register a spike in new Covid 19 cases. Between 430 and 670 people each day, over the past 4 days, have tested positive for Covid-19. The DDC's director-general says that Thai "business operators should stop hiring foreign workers, especially Burmese people, to help prevent a second wave of Covid-19 infections in Thailand." Myanmar's number of confirmed cases has now reached 7,177 with 129 Burmese succumbing to the virus at this stage. Yesterday the four national papers suspended circulation, waiting out the sudden surge of cases. In some border districts, police have placed barbed wire along the leaky jungle border to deter people from crossing the 2,000 kilometre-long border illegally.
Deputy PM says "Big Joke" transfer not necessarily unlawful
Deputy PM Wissanu Krea-ngam says former immigration chief, Surachate Hakparn, shouldn't assume his transfer to an inactive post in the PM's Office was unlawful. Surachate, known by the nickname "Big Joke" headed up Thailand's Immigration Bureau until he was unceremoniously side-lined by the PM, Prayut Chan-o-cha early last year. It's understood he is now planning to sue the PM, claiming that the lack of any investigation against him shows there were no grounds for the transfer. For his part, Deputy PM Wissanu says Surachate has the right to sue the PM if he so wishes but shouldn't assume his transfer is similar to that of the former National Security Council chief, who was transferred under former PM Yingluck Shinawatra in 2011. That transfer was subsequently deemed unlawful by the Supreme Administrative Court. Wissanu doesn't rule out the possibility of Surachate being re-instated. For his part, Surachate claims his petitions to the PM have fallen on deaf ears.
New army chief declares he'll protect Thailand's monarchy and restore peace
Thailand's new army chief says he pledges to restore peace and protect the country's monarchy. In a ceremony formerly saying farewell to retiring generals, incoming army chief Narongphan Jitkaewtae (jit-gow-tear) said he would restore peace and be loyal to the Thai Monarchy. His statement comes at a time when many people are speaking out against Thailand's military-run government, and calling for changes to the constitution (voted for by referendum in 2017). He said… "Protecting the monarchy with absolute loyalty and supporting the government to resolve national problems and working to advance the country are tasks for which the generals deserve the honour."
Thailand's Social Security Office forced to explain investment in Sri Panwa Phuket Resort trust fund
The Social Security Office, a department under the direction of Thailand's Ministry of Labour, is being asked to explain its investment in the trust fund of Phuket's Sri Panwa Phuket Resort. The demand comes as members of the opposition and political activists call for an investigation into the property's ownership of the land. The owner of Sri Panwa Phuket, Vorasit Issara, has faced flak online recently, with his property attracting multiple negative reviews as a consequence, after he criticised one of the student anti-government protest leaders. Thai PBS World reports that the Civil Society for State Welfare is calling on the SSO to clarify its investment in the Sri Panwa Hospitality Real Estate Investment Trust, thought to be worth around 500 million baht. Meanwhile, review site Tripadvisor has had to suspend reviews for the Sri Panwa resort, as the travel review website has been flooded with negative reviews.
Bangkok officials issue advice to motorists to avoid parliament area due to protest
Bangkok motorists have been told avoid the roads around Thailand's new parliament building today, with a political rally taking place there as we speak. The rally was announced by anti-government protesters at the end of their weekend demonstration. The Metropolitan Police Bureau advise drivers to avoid Kiak Kai Road, in front of the parliament building, as well as a number of other roads in the vicinity. The Thaiger will bring you some of the latest vision from the protest this afternoon which you can watch on our Facebook page with a full report on tomorrow's Thailand News Today.
Keep in contact with The Thaiger by following our
Facebook page
.
Never miss out on future posts by
following The Thaiger
.
Thailand News Today | Surachet sues, The Nude Panda | September 23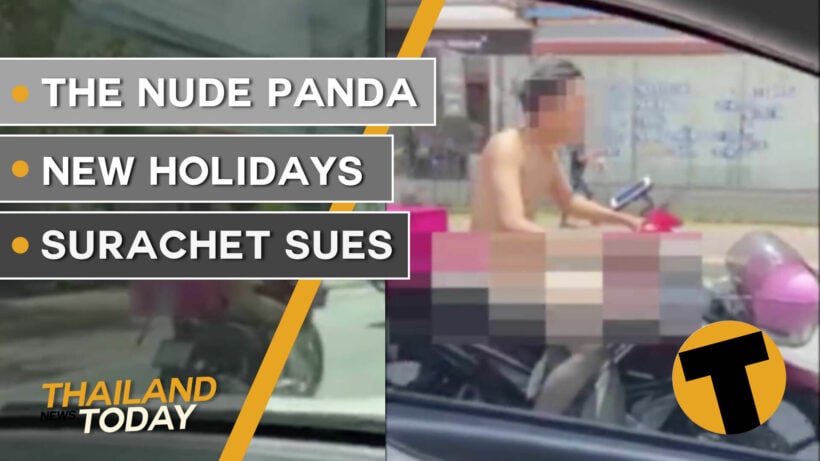 Daily TV News from The Thaiger
Former immigration chief, "Big Joke" suing Thai PM over transfer
The former head of Thai Immigration, and poster boy for Thai officialdom, Surachet Hakparn, is taking legal action against Thai PM Prayut Chan-o-cha, after the PM had him unceremoniously transferred to an inactive post last year.
Surachet, commonly known by the nickname "Big Joke", (a nickname given to him by Thai media) accuses the PM of transferring him without just cause and has been petitioning for a review of the decision ever since.
At the time there was no reason given for the high-profile head of Thailand's Immigration to be 'side-lined' to desk duties at the PM's office.
Surachet's lawyer says that in the 1 year and 5 months since his client's transfer, there has been "no investigation launched against him" and that he should immediately re-instated.
At the height of his fame, in 2017 and 2018, Surachet's face was everywhere in daily media reports, often seen with hordes of foreigners his team had 'rounded up' in immigration crackdowns around the country.
But at some point, he appears to have stepped on the wrong toes, calling into question procurement practices at the Immigration Bureau, amid plans to spend billions on smart cars and the airports biometrics system. Surachet was dumped and sidelined… the purchases went ahead.
4 Thai banks to be investigated for "suspicious transfers" after FinCEN files report
4 Thai banks are being investigated after an international money laundering report said the Thai banks had "suspicious financial transactions." The report found 92 "suspicious" transactions in and out of Thailand totalling to $9,558,752 USD received in Thailand and $31,750,000 USD sent out.
Files were allegedly leaked from the US Financial Crimes Enforcement Network.The FinCEN Files report"reveals the role of global banks in industrial scale money laundering," citing a total of $2 trillion USD in suspicious global transactions from 1997 to 2017.
The Thai Anti-Money Laundering Office plans to investigate Kasikorn Bank, Bangkok Bank, Krungthai Bank and the Export Import Bank of Thailand. But he says the information from the international report needs to be verified first.
Thai sex workers push for prostitution decriminalisation
Prostitution could become further decriminalised in Thailand. A petition is being passed around calling on the government to stop arresting and fining sex workers.
The Empower Foundation, which supports sex worker, is trying to collect 10,000 signatures before they send it to parliament. Also known as the Centre for Sex Workers' Protection, Empower is a non-profit organisation in Thailand that supports sex workers by offering free classes in language, health, law and pre-college education, as well as individual counselling.
"Prostitution is not illegal in Thailand, although many activities associated with it are… like brothels, soliciting, pimping and causing a public nuisance etc. Still the underground industry is estimated to be worth US$6.4 billion a year.
Activists say prostitution laws do little to protect sex workers. Fines and arrests for soliciting sex, have pushed some sex workers into poverty, most of them being women. Thailand is estimated to have up to 200,000 sex workers, many of them now unemployed with no recourse to unemployment benefits or official help during the pandemic.
Thai cabinet adds 2 more 4-day long weekends
A holiday-led economic recovery. That appears to be a part of the government's agenda following yesterday's meeting of the Thai cabinet. 2 new holiday weekends have been created, one in November, one in December.
In both cases the extended weekends will be 4 days each, adding the Thursdays and Fridays before the weekend. Given the exodus of foreigner this week, there will be fewer of the 'stranded' expats and foreign visitors to add to the economic tally of the additional holidays.
So, put it in your diaries…
• November 19-22
• December 10-13
Nude Panda: naked food delivery man hit with 500 baht fine
A man working as a food delivery driver in the southern province of Songkhla, has been filmed riding his motorbike totally naked. The 24 year old later handed himself in to police, explaining that he'd taken his clothes off due to "a personal problem".
The nature of the problem is not known, and police let the man go with a 500 baht fine.
A video was posted on social media, showing the naked young man hurtling along on his motorbike, which had a food delivery bag on the back. The video has now been deleted. According to a motorbike taxi driver witness, the man parked his bike in front of a local temple, removed his clothes, then got back on the bike and drove off.
Social media response was mixed with most just inquisitive about his motives to ride "commando" with little protection, actually no protection at all.
Keep in contact with The Thaiger by following our
Facebook page
.
Never miss out on future posts by
following The Thaiger
.
Thailand News Today | Protesters face arrest | Phuket "in a coma"| September 22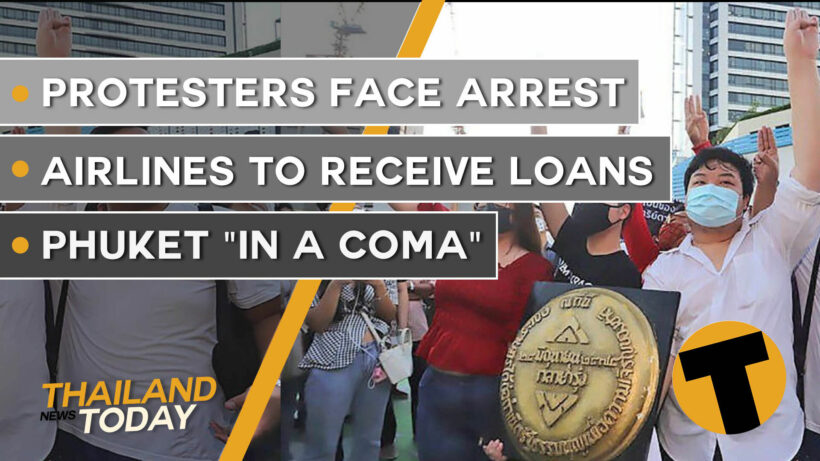 Thailand News Today with Tim Newton. Daily news from around Thailand.
Struggling airlines to get reprieve through small loans, extension to fuel tax cut
Airlines in Thailand are being offered a financial lifeline, as the Government Savings Bank announces soft loans for carriers left struggling as a result of the current Covid-19 'disruption'.
The GSB is offering the loans over a 60 month period, with an annual interest rate of 2%. The bank's chairman says the proposal will be put to Cabinet for approval.
Airlines have been left financially devastated by the fallout from the ongoing Covid-19 pandemic, with countries closing their borders, passenger numbers plummeting, and carriers forced to slash the number of flights on offer. The services available, including the food services, were also curtailed early on as a preventative measure but that restriction has since been lifted.
In a further effort to ease the financial crisis faced by Thai airlines, the Excise Department says it will extend the fuel tax cut for low-cost carriers by another 6 months from the end of this month.
Protest leaders face charges for violating Thailand's lèse majesté law and for installing the plaque
Leaders of the weekend's pro-democracy protest in Bangkok are facing charges for violating Thailand's lèse majesté laws and for installing a symbolic plaque at a "registered historical site". Police filed complaints to between 10 to 16 protesters.
It's unclear how many protesters will be charged, but a Royal Thai Police spokesperson says charges will be pressed against those who "pulled the strings." Under Thailand's lèse majesté law, it is illegal to insult or defame the Thai Monarch or royal family. Police say they will take the strongest legal actions possible against those who undermined the Monarchy, although earlier this year the Thai PM said that His Majesty had requested that such charges not be brought against Thai citizens.
Charges are also being brought against the protesters who installed a commemorative plaque in the forecourt of Sanam Luang, next to the Grand Palace. The Fine Arts Department and the Bangkok Metropolitan Administration have filed complaints with police over the installation of the plaque, saying the protesters broke the law by causing damage to an archaeological site.
Phuket's governor calls for help in restoring island's economy
The governor of Phuket has likened the southern province to a "patient in a coma", as he pleads for help to restore its devastated economy. The governor highlighted the economic crisis caused by the ongoing ban on international tourists. The island's international airport closed in April, cutting off the supply of international tourists, and cutting off the flow of international money coming into the island's tourist economy.
The latest figures show that Phuket has lost over 400 billion baht since the start of the Covid-19 pandemic. The island's economy is, either directly or indirectly, 90% reliant on a steady flow of international tourists, and has seen a massive tourist infrastructure boom over the past 20 years.
Governor Narong predicts the province will face similar hardship next year, and is calling on the government to organise conferences and other events that could attract more visitors to the province.
Sri Panwa Phuket getting social media flak after owner criticises pro-democracy protest leader
Meanwhile, the owner of the Sri Panwa Phuket resort is facing a social media storm after condemning the current pro-democracy movement and one of its main organisers. Taking to Instagram, Vorasit Issara, owner of the five-star Sri Panwa Phuket Resort, singles out the female protest leader saying "she should be in prison".
"This bullshit has got to stop. She is not Thai. Who is she working for?
Sharing a photo of Panusaya, he adds, "arrest this child." Vorasit incorrectly asserted that Panusaya wasn't Thai. In fact she was born in 1998 in Nonthaburi and IS a Thai citizen.
His post has since gone viral, prompting outrage from those who support the anti-government movement. A hashtag calling for a boycott of his Sri Panwa Phuket resort has taken off on Twitter, at a time when almost all hotels are battling for survival, especially on Phuket.
Myanmar's Covid-19 spike causes mass lockdowns as Thai authorities scramble to seal the border
Myanmar is currently suffering a wave of Covid-19, causing concern in Thailand as its western border authorities bump up security measures and patrols.
Burmese authorities have been introducing increasingly draconian restrictions to control the sudden spread of the virus over the past 4 weeks. Whilst the case load is still relatively small, the concerns are focussing on the porous western borders of Myanmar onto adjacent Bangladesh and India, as well as the spike in cases in the largest city Yangon.
Yangon is now under a very tight lockdown as the city is quickly turning into the country's hotspot of Covid-19.
There were 610 and 6 new deaths in the past 24 hours. Yesterday 671 new cases of Covid-10 were reported
Indonesia's economy shrinks for the first time in 22 years
Indonesia's economy will contract for the first time since the Asian financial crisis in 1997/1998.
Gross domestic product is forecast to decline over 1% this year according to the country's Finance Minister. He said…
Southeast Asia's largest economy is struggling to contain the coronavirus pandemic as the number of new cases each day continues to set records. The worsening outbreak prompted the renewal of social-distancing curbs in Jakarta, measures that had battered growth in the second quarter this year.
Keep in contact with The Thaiger by following our
Facebook page
.
Never miss out on future posts by
following The Thaiger
.