Thaiger Radio News – Monday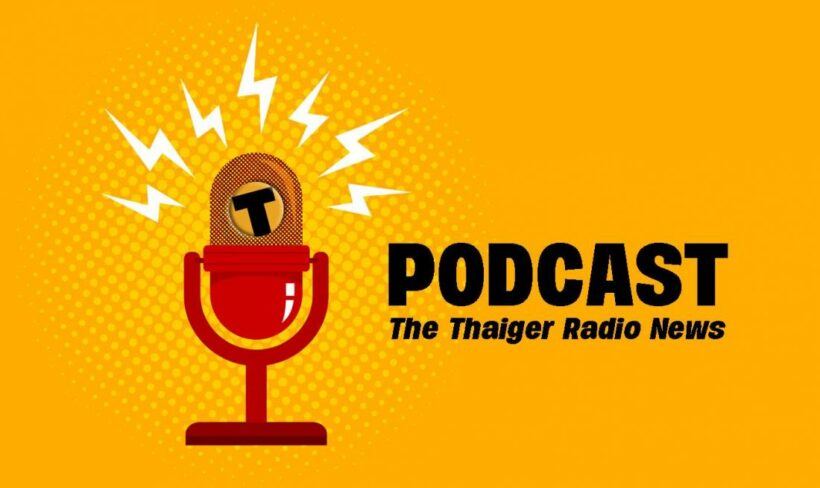 Phuket's beaches slated to reopen Tuesday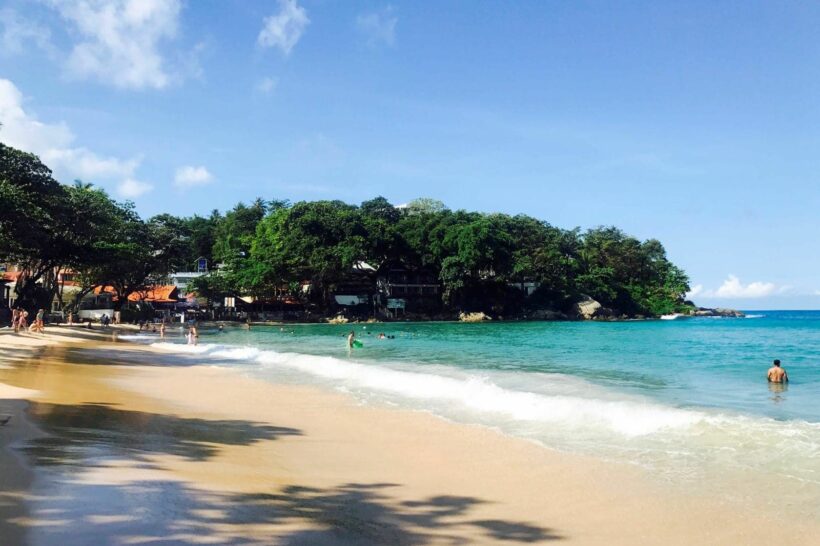 Dust off the swimsuit, grab the umbrella, pick-up some sunscreen on the way. And take your face mask.
Phuket is set to reopen its beaches for the first time since the Emergency Decree was enacted in March, having seen no new Covid-19 infections in 2 weeks. Phuket's governor made the announcement after chairing a meeting of the provincial communicable disease committee yesterday.
The panel shut all beaches in the province on March 29 as they were seen as places that could attract crowds and increase the risk of Covid-19 transmission. Naturally, visitors will have to strictly abide by rules governing visits to public venues.
Phuket boasts many beaches that are hugely popular with tourists and locals alike, including Patong, Rawai, Kata, Karon, Nai Harn, Freedom Beach, Kamala, Surin, Bang Tao, Mai Khao and many others. But tourists have been few on the island as the country is still closed to international arrivals, and Phuket airport is not scheduled to reopen until at least June 15, and then for domestic travel only.
From January 5 to Friday, there were total of 227 confirmed coronavirus infections in Phuket, more than any other province outside of Bangkok. Of those, 224 recovered and were discharged from hospital. There were 3 deaths.
It doesn't look like the perfect beach day – it IS wet season after all – but here is the forecast for Tuesday in Phuket…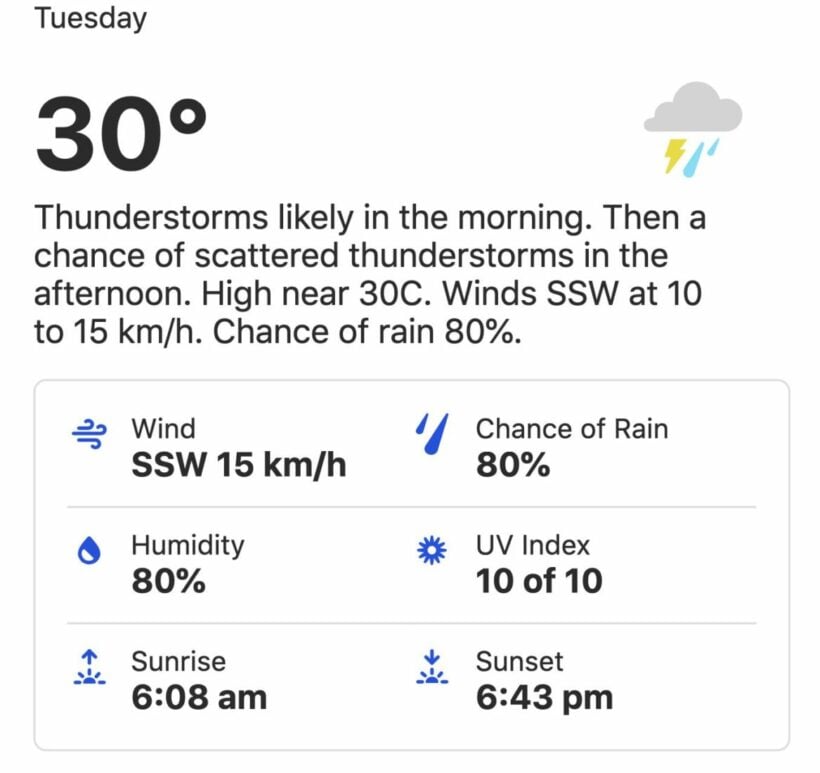 But the re-opening of beaches around Thailand hasn't been completely smooth. Then pent-up demand has seen a rush on beaches and traffic jams in the most popular locations.
Chon Buri's deputy commander of provincial police yesterday led officers on an inspection tour of Bang Saen beach, which reopened June 1 when the government opened Phase 3 of the easing of the Covid-19 lockdown. The beach opened on Wednesday and later that day they re-closed the beach because of a huge influx of visitors. It re-opened again on Friday.
Police say beachgoers are following social distancing measures as Saen Suk municipality ordered, that seats and beach chairs be set up at least 1 metre apart. Visitors and vendors are wearing face masks, hand sanitisers are provided at shops, and toilets are being cleaned every 2 hours.
Due to the high numbers of visitors, traffic in and around Bang Saen has been rearranged into a one way system. Police say if parking spots along the beach are overwhelmed, the access road to the beach will be closed and visitors will have to park elsewhere and walk to the beach.
A large number of tourists flocked to Bang Saen yesterday, but authorities say they behaved in an orderly and organised fashion due to the strict social distancing rules.
SOURCE: Bangkok Post
Keep in contact with The Thaiger by following our
Facebook page
.
Commerce Ministry announces another round of price drops on staple products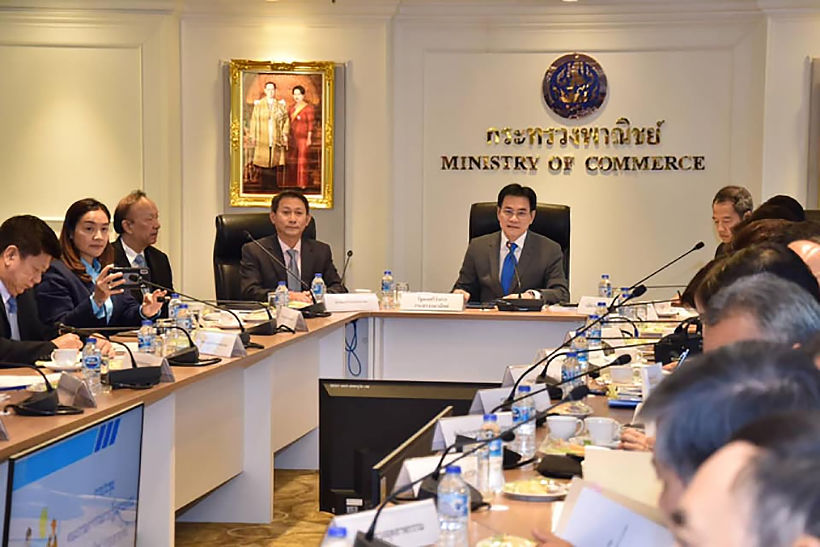 The Thai Ministry of Commerce will soon launch a fourth round of price reductions, which will take place at a district level. The ministry has already received cooperation from the business sector to help those affected Covid-19 by lowering product prices, sometimes by as much as 68%, on 3 occasions,
In the fourth round, around 7,100 consumer goods are being added to the price reduction list. They will be sold at designated locations in 878 districts nationwide. People in those districts will be able to buy 5 kilograms of rice at a price of 95 baht, 10 chicken eggs for 20 baht, a bottle of cooking (palm) oil for 30 baht, canned fish at 10 baht and a kilogram of sugar for 20 baht.
This week, Deputy PM and Commerce Minister Jurin Laksanawisit held a teleconference with provincial commerce officials. They were directed to promote the price reduction project to local people. The project will initially be launched in 45 districts tomorrow and all other districts by next month.
SOURCE: NNT
Keep in contact with The Thaiger by following our
Facebook page
.
Health department urges strict "new normal" measures at beaches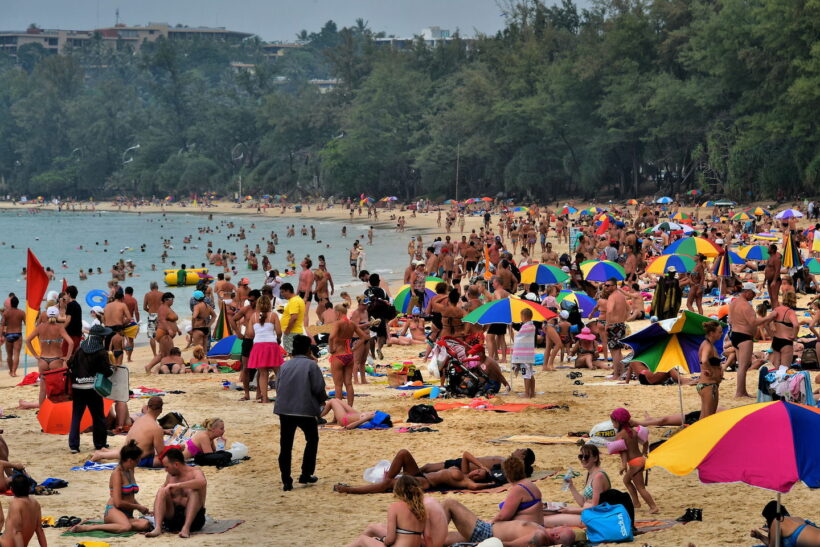 With Phase 3 of the easing of lockdown measures across Thailand, many beaches across Thailand were allowed to reopen, including Chon Buri's popular Bang Saen beach, which was flooded with so many visitors that traffic came to a halt and police ordered the beach temporarily re-closed.
And beaches in Phuket are set to reopen this Tuesday, as the island has seen no new virus cases for weeks, and the nation has had no locally transmitted cases for 13 days.
But Thailand's health department is calling for limiting the numbers of visitors to tourist spots to prevent a possible surge in infections. The concerns come as Thailand's government prepares to allow some businesses and activities to reopen ahead of schedule. The head of Thailand's health department has said that even though some restrictions on domestic travel have been relaxed, travellers should adapt to the "new normal".
She says people need to continue to practice and social distancing and other safety measure, especially continuing wearing masks and sanitising their hands wherever they go. For the next phase of easing, she says, it may be necessary to curb the number of visitors to tourist spots, similar to limiting the number of people visiting shopping malls.
She wants local governments to control the number of visitors to beaches in their respective provinces, to prevent overcrowding and enforce social distancing. Tourists and service industry workers should also be required to wear masks while on the beaches.
Hand sanitiser should also be provided for visitors, and toilets and bathrooms at beaches should be cleaned every 2 hours, she said. She also believes visitors should have to check in and out at beaches.
Authorities say the health department is monitoring every phase of the relaxation, and has found that while people are continuing to wash their hands, they're often not wearing facemasks in public.
The health department chief clarified that, despite earlier reports, moviegoers aren't prohibited from eating and drinking in cinemas, but they are urged to take precautions and wear mask at all times.
The Centre for Covid-19 Situation Administration announced on Friday that more businesses and activities will be allowed to reopen ahead of schedule if they can give assurances that they have plans in place to prevent transmission of the virus. Spokesman Dr Taweesilp say the CCSA has frequently discussed the fourth and final phase of relaxation, especially for high risk businesses and activities like pubs and bars.
A spokesman for PM Prayut Chan-o-cha said businesses that come up with plans to prevent transmissions may be permitted to reopen ahead of schedule, but that such plans will require approval from the CCSA's business resumption committee first.
The fourth stage of relaxation will effectively lead to a complete reopening of the country. The government plans to completely lift the lockdown on all businesses and activities on July 1, the end of the Emergency Decree. This includes lifting remaining interprovincial travel restrictions, the national curfew, and presumably the ban on international arrivals.
SOURCES: Chiang Rai Times |Bangkok Post
Keep in contact with The Thaiger by following our
Facebook page
.