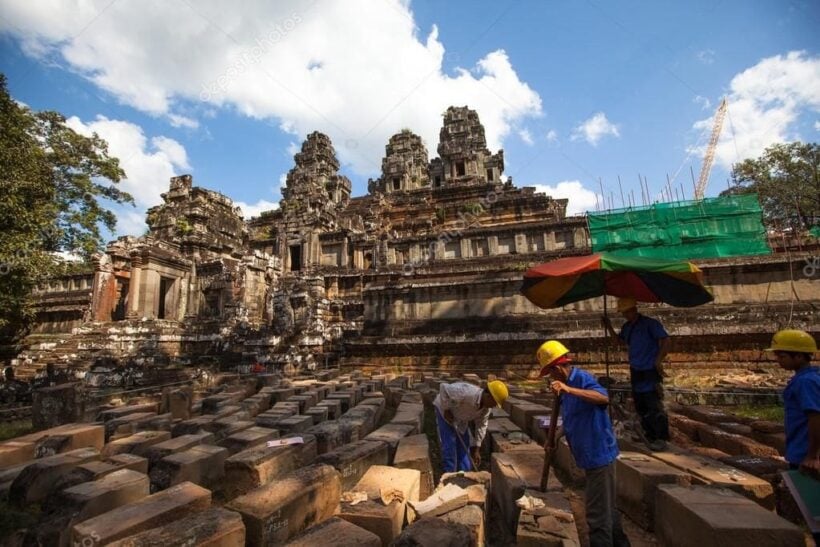 by China Daily – Asia News Network
August is probably not the best time for tourists to travel to Angkor Was (Angkor Archaeological Park) in northern Cambodia – the rainy season brings particularly muggy conditions.
But for Yuan Mengxi, an assistant researcher at the Chinese Academy of Cultural Heritage, her trip last month was perhaps one of her most exciting although she had been there more than 10 times.
Restoration of Ta Keo, a temple at the site built in the 10th and 11th centuries, has been completed.
"The work has been long and tough," Yuan said.
"But it is meaningful when you see locals, including the elderly and children, continuing to worship deities at the shrines."
The park houses the major tourist attraction of Angkor Wat and welcomes visitors from around the world.
But when the Angkor complex was entered onto the UNESCO World Heritage list in 1992, it was also labeled as being "in danger" due to unstable foundational architecture and severe damage caused over time by warfare. Many parts of the temples there have collapsed, and refurbishing foundations posed potential hazards to workers.
As a result, the International Coordination Committee for the Safeguarding and Development of the Historic Site of Angkor, also known as ICC-Angkor, was organised in 1993 under the UNESCO framework. China is one of the members of this committee.
Yuan visited Ta Keo to inspect the restoration work, which the academy started in 2010.
"Maybe it's our best way to celebrate the 25th anniversary of ICC-Angkor and the 60th anniversary of the establishment of diplomatic relations between China and Cambodia," she said.
Construction of Ta Keo as a "state temple" began during the reign of Jayavarman V, a ruler during the Khmer Empire (802-1431). Covering 46,000 square meters, the site is generally considered one of the most magnificent temple-mountains in Angkor.
The term temple-mountain refers to the style for the construction of state temples during the Khmer Empire, which was influenced by Indian temple architecture.
"It's important evidence showing the transition of architectural styles from the early-stage Angkor sites with typical Hindu characters from India to the later ones featuring local Buddhism," Yuan said.
Ta Keo is also believed to be the first temple built entirely from sandstone in the Khmer Empire. However, when the academy started restoration work, experts had to sift through tens of thousands of fallen stones and largely collapsed halls, corridors and turrets.
"We had to find the right stones in the rubble and put them back," Yuan said.
"Everything has to be concise. But restoration is far more than putting the fallen stones back. The bulk of the work is done through detailed research before the engineers start."

Chinese specialists help renovate Ta Keo Temple at the Angkor complex in Cambodia in July. [Photo by Mao Pengfei / Xinhua]
STORY: The Nation