Explore the best of Patong from Patong Bay Hill Resort, Phuket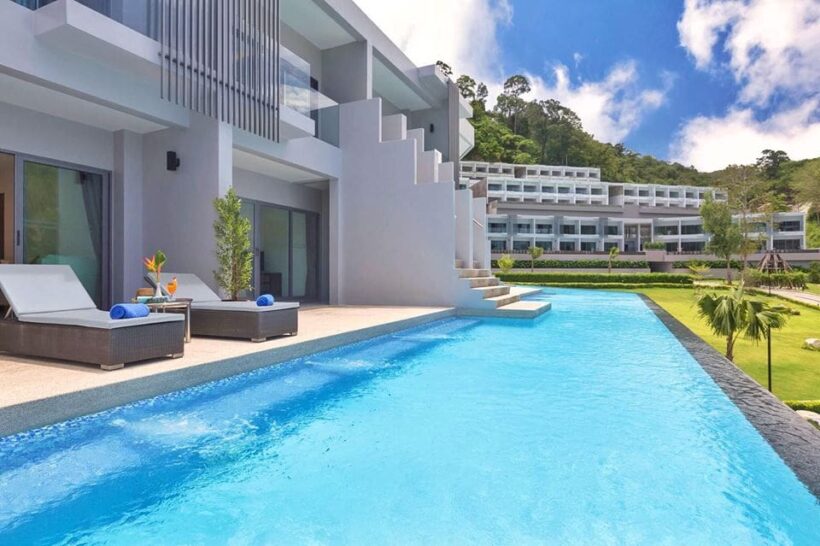 Patong Beach is the most popular beach destination in Phuket. Known the world over, the neighbourhood is the beating heart of the island's vibrant nightlife scene and also offers up a variety of dining options and unique places for shopping.
This bustling neighbourhood is also home to the classy Patong Bay Hill Resort.
Perched high above the beach in the greenery of Hasibpee Hill, the Patong Bay Hill Resort is a tropical, modern resort. Contemporary in design, the accommodation oozes luxury in a tranquil setting. Featuring breathtaking views over the Andaman Sea, the luxurious resort in Patong is not only the perfect place to stay during a Phuket holiday, it's also the perfect base for exploring all that the Patong Beach neighbourhood has to offer.
One of Patong Beach's biggest attractions is Jungceylon. The shopping mall complex is located just a short distance from Patong Bay Hill Resort and is a world-class shopping and entertainment destination. Jungceylon features a wide array of shops, department stores and boutiques to peruse as well as trendy cafes and restaurants.

For those traveling as a family, Jungceylon will also appeal to the children as there is an Escape Room game, a cinema, a video game center and a bowling alley. These various activities are a great way for families to spend time together, and also a wonderful escape for when Phuket's weather turns less than pleasant.
A holiday on a tropical island wouldn't be complete without spending some time splashing in the sea. Guests of Patong Bay Hill Resort can relish in the fact that the resort is within close proximity to four outstanding beaches. Patong Beach is just a few minutes from the resort while Tri Trang Beach, Paradise Beach and Freedom Beach are easily accessible as well.
A favorite amongst the staff of Patong Bay Hill Resort is Paradise Beach. Located in an exquisite private bay, Paradise Beach is just eight minutes away from Patong Beach and Patong Bay Hill Resort. Aside from soaking up the sun's rays, there are many sports-based activities to participate in at Paradise Beach such as scuba diving, snorkeling and kayaking.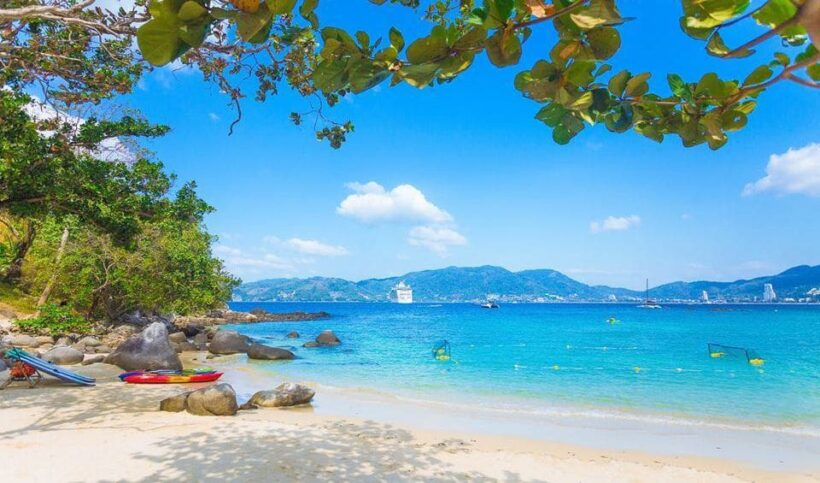 Beach volleyball and football are also available. Paradise Beach features an on-site restaurant and also offers up a range of nightlife options in the form of Full Moon and Half Moon parties. If you're already on Patong Beach, there is a free shuttle from Patong to Paradise Beach everyday from 9:00am to 9:30pm every 30 minutes. For more information on pick-up points, contact info@paradisebeach.com
For those who prefer to stay a bit more local, Patong Beach is the closest beach to Patong Bay Hill Resort. The beach itself is a long stretch of sand that is shaded by trees. Take advantage of the location to soak up the sun, and then perhaps cross the beach road to enjoy a coffee or a bite to eat at any one of the cafes and restaurants that line the road.
With the exception of transport to Paradise Beach, guests of Patong Bay Hill Resort can take full advantage of the property's free shuttle bus to both Patong Beach and Jungceylon. The service runs from 10:30am until 20:30pm daily, however, booking in advance is required.
To learn more about Patong Bay Hill Resort and the complimentary services offered to guests, contact the resort directly on rsvn@patongbayhill.com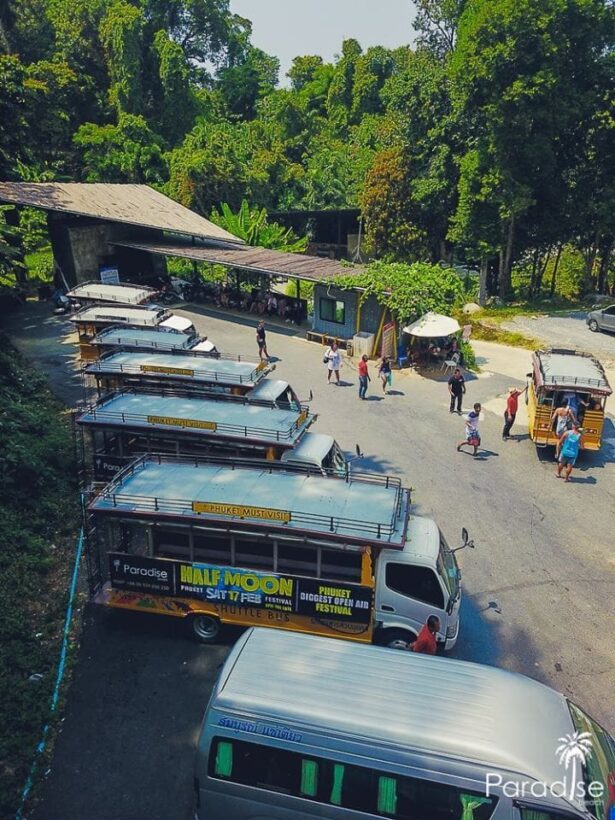 Want more from the Thaiger family?
📱 Download our app on Android or iOS for instant updates on your mobile
📧 Subscribe to our daily email newsletter
👍 Like/Follow us on Facebook
🔔 Subscribe to or Join our YouTube channel for daily video updates
Covid-19 mask violators in Phuket forced to exercise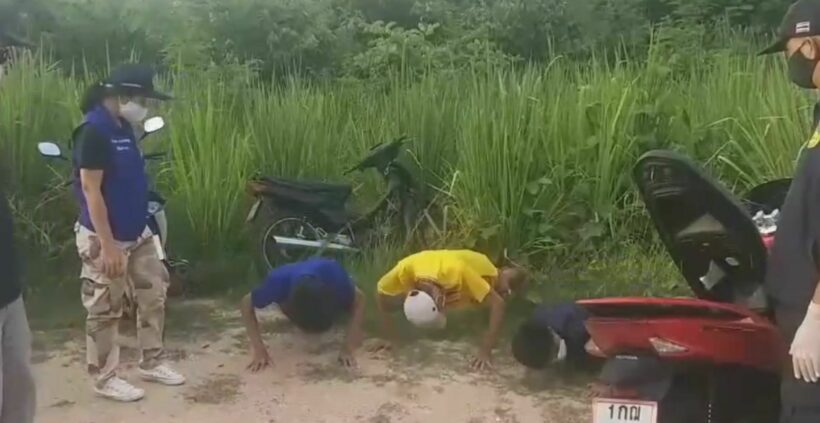 For those who have more pounds on their body than pounds in their pocket, exercise punishment seen in Phuket yesterday for mask violators may or may not be welcome. Officials have walked back the strict 6,000 baht punishment for the first warning against someone not wearing a mask and were spotted forcing those who have gone out without a mask to do exercise on the street.
The people forced to exercise were at a Covid-19 checkpoint in the Rawai subdistrict, where the Chalong Police along with local medical workers were checking people yesterday. The checkpoint was set up in an effort to push one hundred per cent mask compliance to stop the spread of Covid-19 on Phuket.
Not only were they checking everyone who passed by to make sure they had their masks, but also to correct those who were wearing their masks improperly. We've all seen the people who seem to think that a mask on their chin or underneath their nose is somehow just as effective as a properly worn mask, or at least that they can get away with "wearing a mask" while limiting their personal inconvenience.
Officials were quick to point out that the overwhelming majority of people passing through the checkpoint, both foreigners and Thai, did have their masks with them and were wearing them properly. But they did catch more than 10 people not wearing their face mask or not using them correctly.
Authorities decided to let them off with a first soft warning by moving bodies instead of moving baht. Police made violators do exercise right there on the street in hopes of shaming them into making better decisions next time. All violators did have their names and details taken down with a promise that if they were caught again proper traditional fines would be handed down.
No word yet on any plans to make this punishment into a Tik-Tok Channel.
SOURCE: The Pattaya News
Want more from the Thaiger family?
📱 Download our app on Android or iOS for instant updates on your mobile
📧 Subscribe to our daily email newsletter
👍 Like/Follow us on Facebook
🔔 Subscribe to or Join our YouTube channel for daily video updates
Thai public health and tourism ministers on Phuket to push the July 1 Sandbox reopening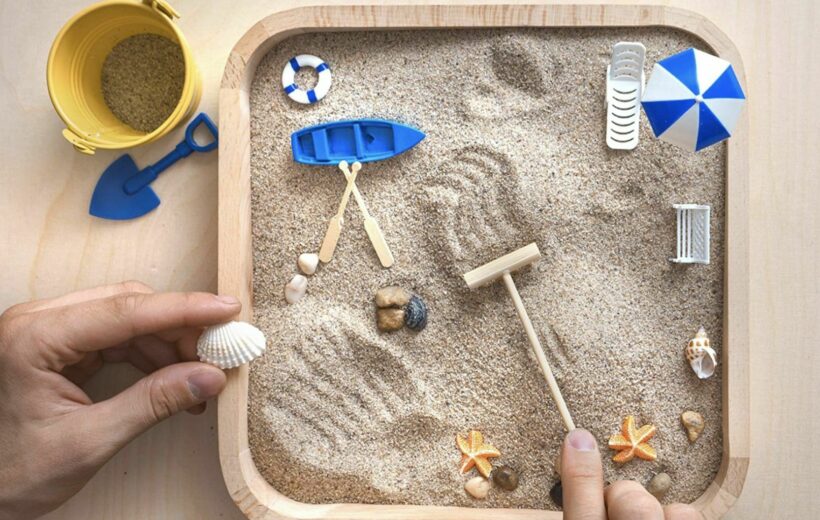 Bangkok has sent a couple of ministerial heavyweights to Phuket today to keep pushing the July 1 'Sandbox' bandwagon, insisting that Phuket will open to fully vaccinated tourists from July 1.
The Deputy PM and Public Health Minister Anutin Charnvirakul ,along with the Sports and Tourism Minister Phiphat Ratchakitprakarn, are doing the island PR tour today delivering a message from the PM Prayut Chan-o-cha who is confirming that Phuket will open to fully vaccinated international tourists from the start of July.
Phuket has continued to rack up between 10-20 new Covid infections each day over the past week and still has hundreds of people listed as 'active cases'. As of today 22% of the island has been vaccinated.
The original Phuket Sandbox model was intended to be quarantine-free. That issue was not made clear during today's PR trip from the 2 ministers. The full details of how Phuket will open to international tourists, how those tourists might get to Phuket, or where they will visit on an island with its tourist infrastructure shutdown, have not been provided at this stage. It has also not been discussed how long the international tourists will have to remain on Phuket before travelling to other parts of the country.
The Phuket Governor welcomed the prime ministerial delegation to Provincial Hall at lunchtime saying that Phuket would progress with its plans to launch the Phuket Sandbox from July 1.
"All stakeholders who are frontline warriors working to solve the problem of the Covid epidemic situation have earned the goodwill and concern from Prayut Chan-o-cha, who also believes that Phuket is ready to prepare for the opening of the Phuket Tourism Sandbox on July 1 for sure."
Phuket Province generated several hundreds of billions of baht of income for the country per year and Thailand relies heavily on tourism income. Indeed, second to Bangkok, Phuket was the government's golden goose delivering decades of high tourism receipt returns.
Speaking to The Phuket News, Anutin said…
"The government is ready to act as soon as possible. This has been clearly proved, such as by the large number of vaccine doses that Phuket has been allocated to vaccinate the people in the area to cover all groups and be as safe as possible as the 'Phuket Model'.
"When the economy is good, everyone gets better, so use patience to believe that good things will follow".
Another 100,000 Sinovac vaccines arrived on the island to be formerly handed over today by Minister Anutin. An additional 100,000 doses will arrive on Tuesday.
AstraZeneca vaccines are also due to arrive from June, daily reserved for people over 60 years old or people who have other health conditions which require the AZ vaccine instead of the Chinese manufactured Sinovac.
SOURCE: The Phuket News
Want more from the Thaiger family?
📱 Download our app on Android or iOS for instant updates on your mobile
📧 Subscribe to our daily email newsletter
👍 Like/Follow us on Facebook
🔔 Subscribe to or Join our YouTube channel for daily video updates
Phuket may ditch light rail and build smart bus system instead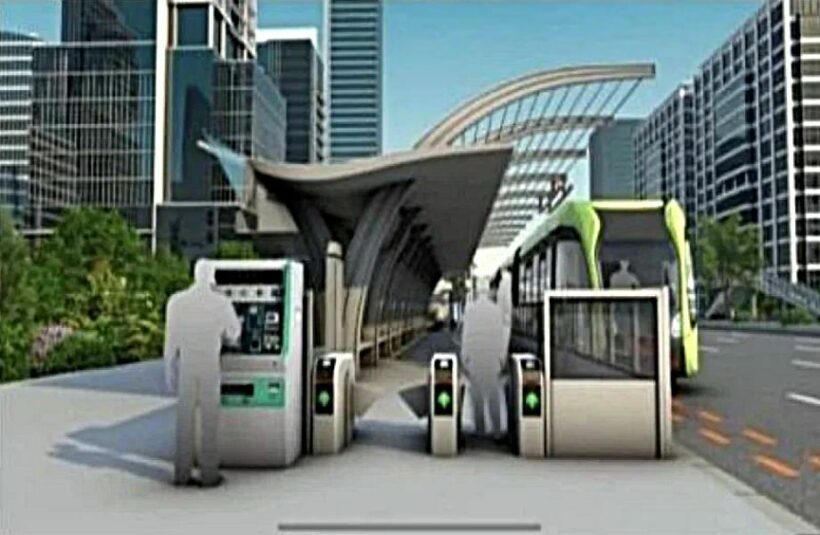 A proposal to drop the light rail planned for Phuket and replace it with a smart bus system is under an in-depth review as ordered by Phuket Transport Minister. Advocates for the smart bus – automated driverless buses on city streets – say that the project would bring mass transportation to Phuket Island for 15.2 billion baht cheaper than a light rail would.
The analysis was ordered Thursday in a phone meeting to check progress on regional transport projects. The Mass Rapid Transit Authority of Thailand has suggested changing the plan in Phuket from light rail to a smart bus system. The MRTA had been dead set on the light rail system but have now launched preliminary research on a driverless bus system.
HERE'S a previous story with more details about how the bus system would work, instead of a light rail.
But critics say the planned light rail system was almost unworkable with its routing not going through the main population centres and its complete avoidance of the tourist areas, was doomed from the start. The 5 years it was expected for construction would have caused major traffic snarls on the main island arteries and then reduced traffic flow on those arteries for the life of the light rail project.
Initial investigations show that an automated rapid transit bus system would shave about 9 months off the construction time and 15.289 billion baht from the budget. Cost-saving measures like precast concrete and launching gantries will further reduce construction expenses.
As a result, the bus system could be run with lower passenger fares than a light rail train would. The project was considering 3 bus fares… local in Phuket Town, local outside of Phuket Town, and transport between towns around the island.
The MRTA and the Office of Transport and Traffic Policy and Planning have coordinated with the Expressway Authority in Thailand to consider the smart bus plan and its effect on traffic. Unfortunately, the group is worried that building the smart bus system plan to be ready by 2026 while working on the Patong tunnel project scheduled to open in 2028 would create long-term detrimental traffic jams. They're considering a postponement to a 2030 launch (the Patong tunnel project has been in 'planning' mode for 20 years and will never happen).
The Transportation Minister has requested proposals for 2 different timelines to be delivered within the next 2 weeks, and plans to have the MRTA and EXAT come to Phuket for public hearings after Covid-19.
SOURCE: The Phuket News
Want more from the Thaiger family?
📱 Download our app on Android or iOS for instant updates on your mobile
📧 Subscribe to our daily email newsletter
👍 Like/Follow us on Facebook
🔔 Subscribe to or Join our YouTube channel for daily video updates