Visiting the Elephant Sanctuary Park in Chiang Mai

At the end of last year, I had the opportunity to travel for more than three months through Southeast Asia. I have already stated my travel plans before, and now the time has come where I want to recap on visiting the Elephant Jungle Sanctuary in Chiang Mai. It was hands down one of the best experiences in my life and I want to share this awesome day I had with you. All of the following images have been taken with my FujiX100F.
The Elephant Jungle Sanctuary in Chiang Mai
I would like to describe my actual day at the Elephant Jungle Sanctuary in Chiang Mai.
There are a lot of different elephant sanctuaries that you can go to and offer a great service. I visited the Elephant Jungle Paradise Park, which has been recommended by my Airbnb host. This sanctuary has a 4.9 Star rating out of over 500 reviews on Facebook, which should tell you that they really offer a great experience.
I was living a little outside of Chiang Mai and the day began very early when a Tuk-Tuk driver drove me to the city of Chiang Mai. There I was already greeted by the driver of the sanctuary which would lead us to the paradise park.
All the sanctuaries are located in the mountains and driving there takes about two hours from Chiang Mai. On the way there, we also had the opportunity to visit a local market, which was a nice change since a lot of places in Chiang Mai are already very adapted to the tourism. The drive to the elephant sanctuary was an experience itself. A lot of the roads were under maintenance or construction work and driving there was already very exciting.
As we arrived, we changed our clothes and were provided traditional tops that should calm the elephants. That morning, I learned that elephants have terrible eye-sight and the purpose of the clothing should be to make them more familiar with new visitors.
After the introduction and the Do's & Dont's, we were led to the first feeding ground. There the elephants already patiently waited behind the small log railing. Every elephant has its own caretaker and the caretaker also provide the extra food to the elephants. While the elephants are not forced to wait behind the railings, it is their usual daily routine which is rewarded with food.
Not long after, the elephants left the railings and roamed freely among us visitors. There we could feed them very closely and take pictures. Keep in mind though that these are still wild and powerful animals. Although they are very gentle, they can still hurt by accident.
This is especially for the newborn which was also in the middle of the action. Only a few months old, its idea of playing with us was a little too rough and it wanted to prove that it is the stronger of us too with playful headbutts.

The elephant group also split at some point and single elephants were left into the jungle, while others were still eager to be fed or played with a tire.
Following the first feeding session, our group was lead to the waterfall and base camp of the elephant sanctuary. There we had a fantastic lunch consisting of local meals and fruits.
After finishing our own lunch, we prepared some snacks for the elephants that we could feed them later. What was great was that everyone was involved in preparing the food and our guide also explained what the elephants eat. In general, the tour was not only really entertaining but also educational at times without being boring.
To help the elephants out, we got in the mud and essentially bathed there too. We rubbed the mud on the elephants and feeling the thick skin was awesome and much different than I had anticipated. The elephants were thankful and "showered" us in mud too. Yes, they were basically inhaling the muddy water and spraying it at us with their trunks. Seeing the elephants having fun and being close to them is so much better than seeing them lying down lazily in a zoo.
Now we were all dirty from the mud, but luckily there is a natural shower in the form of the waterfall. So we got back to our camp and cleaned ourselves and soon after, the elephants were joining us too. In the small river, we splashed buckets full of water at them until they were cleaned as well.
This pretty much concluded the whole day which lasted from the morning till the evening. It was everything I looked forward too and much more. I am no expert, but to me, the elephants were genuinely happy, didn't show any aggressive behavior and were very well kept.
In the morning, I recall that there was about a handful of elephants and for the evening apparently only two were eager to go to the mud bath. At the very morning, there was also the birth of another elephant calve, which were kept safe and away from the visitor's area.

All of the people working there were really interested in the well-being of the elephants. The caretakers were providing food but didn't force the elephants to perform tricks or other unnatural behavior.
To conclude my trip, I can only recommend to visit an elephant jungle sanctuary Yourself. Have a look at Tripadvisor or Facebook before booking one and you will have gained some good insight into the work of the sanctuary. In general, look out for sanctuaries that explicitly state that the elephants are not for riding, as this will be a good indicator that the place does care for the elephants and not the tourists.
The trip was truly an experience for life and I can't state enough how great of a trip it was. Please stay away from conventional tourism businesses where elephants are used for riding or show tricks and support these animal-friendly places.
To read Sebastian's full article and some tips on ethical travelling, click HERE.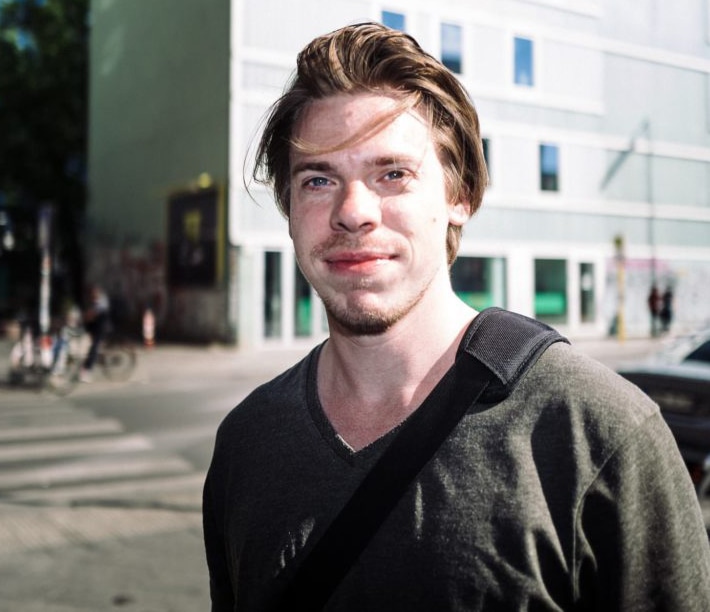 I am Sebastian Jacobitz, a 29 year old hobby Street Photographer from Berlin, capturing the everyday life in this city. Streetbounty has been founded with the idea to share my learning experience in Street Photography and to inspire others to follow this difficult genre of photography.
Find out more about Sebastian and his work HERE.


Looking to jettison some items before jetsetting away or chartering a yacht? Look no further than Thaiger Classifieds where you can find and post items, work, property and more for free.

Read more headlines, reports & breaking news in Chiang Mai. Or catch up on your Thailand news.

Noodle sellers dodging police bullets in Chiang Mai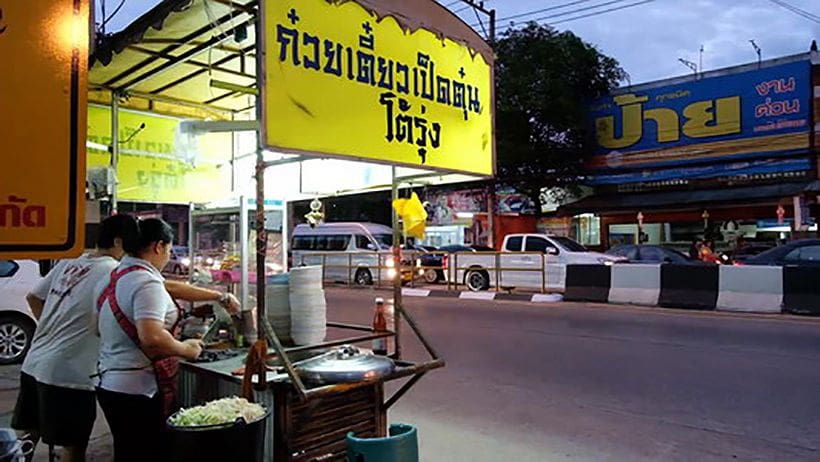 PHOTOS: Manager Online
When people fire guns, the bullets that miss still end up somewhere. Like into the cooking pot of a surprised noodle seller in Chiang Mai!
The man selling noodles was working the late night shift on a road leading to Mae Rim, according to Manager Online. He had a very lucky escape after a bullet shell-casing hit a pot lid that he was holding at the time.
Police from the Chang Pheuak station had opened fire on a motorist who failed to stop at an alcohol checkpoint at 2 am on Tuesday. Natthawut, the younger brother of the noodle seller, jumped onto his Facebook page to take aim at the local police and their stray bullets.
Police contacted the pair later and claim that 'all was settled amicably'.
"The police were just doing their job", said Natthawut, according to the Manager Online article.
They agreed that the path of the bullet was not directed towards their noodle stand.
In other news, make sure you stop at police checkpoints!
SOURCE: Manager Online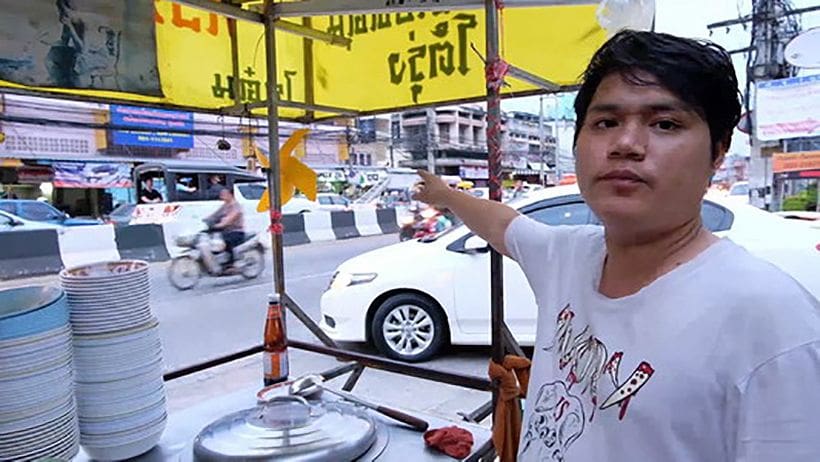 Toxic free school lunches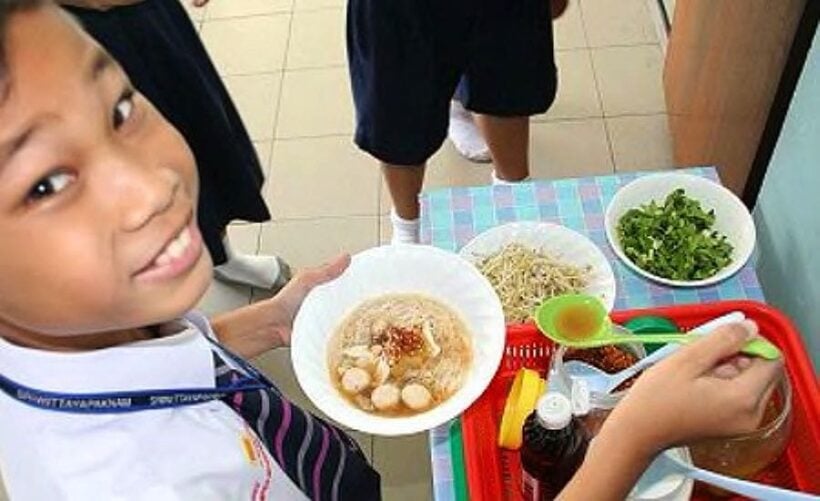 "Meat balls and sausages used in student lunches were also found to be contaminated with borax and formalin."
A major study has been released researching contaminants in vegetables used in the state-sponsored school lunch program. You'd hope that the lunches were fresh and nutritious, right?
Instead, they were dangerous.
Vegetables and fruits found in lunches for students under the government's free lunch program are almost 100 percent contaminated with pesticides and 99 percent of the urine samples from students and teachers in four provinces were tested with organophosphate, a deadly toxic pesticide that can attack the nervous system.
The alarming findings were the result of a research jointly conducted by Thai Education Foundation, Thai Health Promotion Foundation, Field Alliance of Chiangmai University and Greenpeace Thailand between July 2017-October 2018 on student lunches in 55 schools in Chiang Mai, Pathum Thani, Sakon Nakhon and Phang-nga provinces.
Vegetables, widely used in student lunches which were tested, include carrot, cabbage, Chinese cabbage, kale, long bean and tomato.  However, only two types of chemicals were tested – organophosphate and pyrethrum because organophosphate are widely used in insecticides for fruits and vegetables.
Thai PBS reports the the Thai Education Foundation secretary-general Marut Jatikate said that the most alarming findings appear to be the organophosphate residue found in 99 percent of the 436 urine samples from students and teachers in the four provinces.
Organophosphate poisoning symptoms include increased saliva and tear production, diarrhea, vomiting, small pupils, sweating, muscle tremors and confusion.
He said that the tests this time focused on two chemicals – organophosphate and pyrethrum – but they should have covered more toxic chemicals.
Nevertheless, he said findings from this research would be sent to the schools and parents of students in order that they would change the menu of student lunches but switching from mass-produced vegetables and fruits to organic vegetables and fruits which should be safer.
Besides the unsafe fruits and vegetables, Mr Marut said meat, meat balls and sausages used in student lunches were also found to be contaminated with borax and formalin.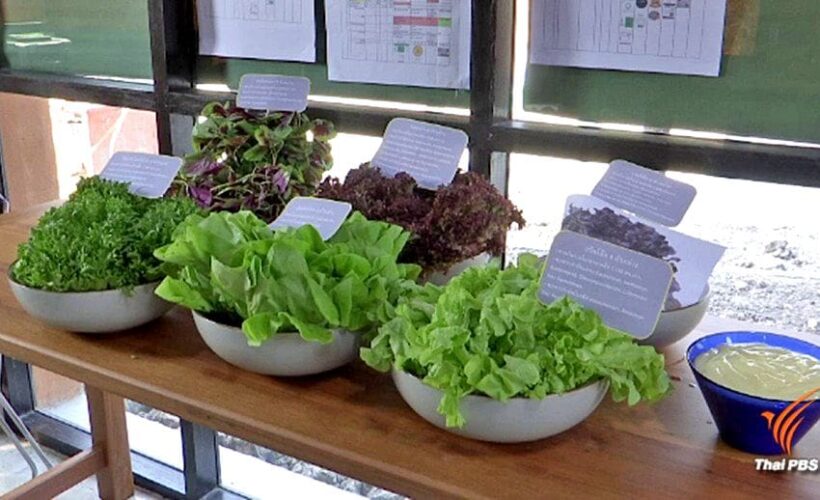 ORIGINAL STORY: Thai PBS
Teaching children to avoid sexual predators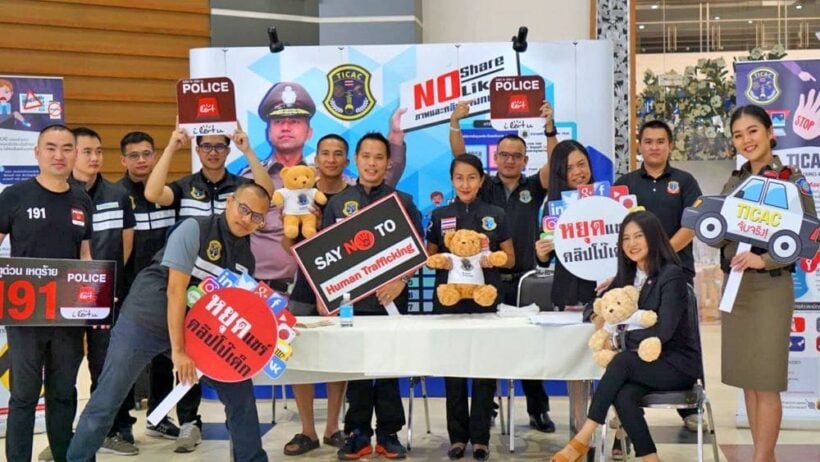 "These clips are then recorded and sold to a secret group."
Members of the police-led Thailand Internet Crime against Children (TICAC), Zoe International and the Hug Project are educating students on how perpetrators lure victims and use their sexual information and images to further extort sexual favours.
"Their plans are very complex," said Wirawan 'Boom' Mosby, founder and director of the Hug Project, which co-launched the program with Zoe International and TICAC yesterday.
Sexual predators have migrated to the Internet over the past few years, thanks mainly to development in technology and strong police suppression in real time, Wirawan said.
She said both boys and girls are being targeted, citing a TICAC case that involved more than a hundred teenage boys.
In a typical scenario, she explained, a paedophile sets up a fake account on social media such as Line, Facebook or Skype, using the image of a beautiful girl as a profile picture to get close to the target. After building affection and trust, the predator might then send a clip of a woman masturbating, and ask for a similar clip in exchange. These clips are then recorded and sold to a secret group.
As the target is often scared about the clip being leaked, the predator is able to extort more videos, Wirawan explained.
As per the Hug Project, two teachers in each school will be trained to help students avoid falling prey to online sexual coercion and extortion. The students will know which teachers they can reach out to, and the teachers in turn can report the case to Hug Project officers or TICAC.
"We will use technology to fight technology," Wirawan added.
The project will also limit students' access to adult content. By installing OpenDNS on their Wi-Fi routers, schools will be able to block pornography and websites deemed "unsafe" from being accessed by devices connected to the school's Wi-Fi.
Wirawan's company, Movaci Technology, will also offer free technical support.
For now, the programme includes eight state-run schools and three private foundations, along with about 3,000 students, but Wirawan hopes the initiative will be adopted nationwide.
"I hope the Education Ministry adopts and implements this project in all schools," she said.
TICAC chief Pol Maj-General Surachet Hakpal said police had investigated 128 cases of child pornography and 39 of child trafficking between 2015 and 2018.
Of the 140 suspects, 45 were foreigners and the remainder Thai. Police rescued 107 children – 33 boys and 74 girls.
Wirawan has been honoured by the US State Department for combating child trafficking in Thailand.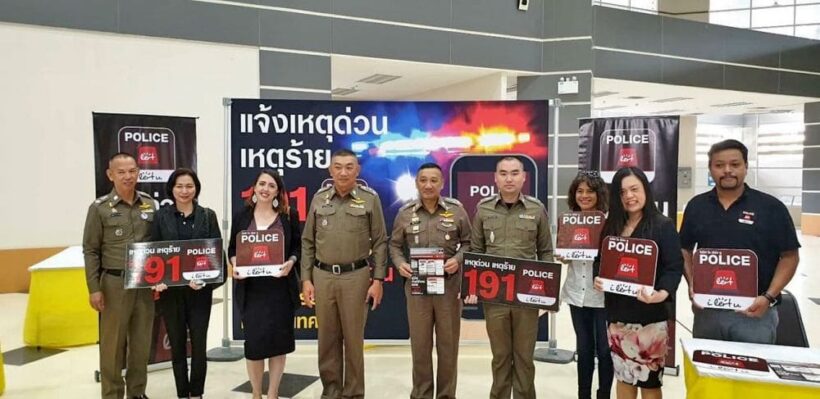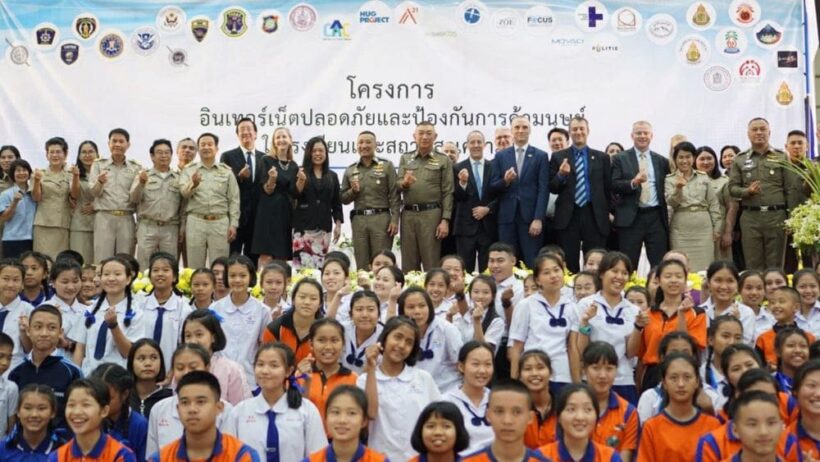 STORY: The Nation