Visa run to Penang – a personal experience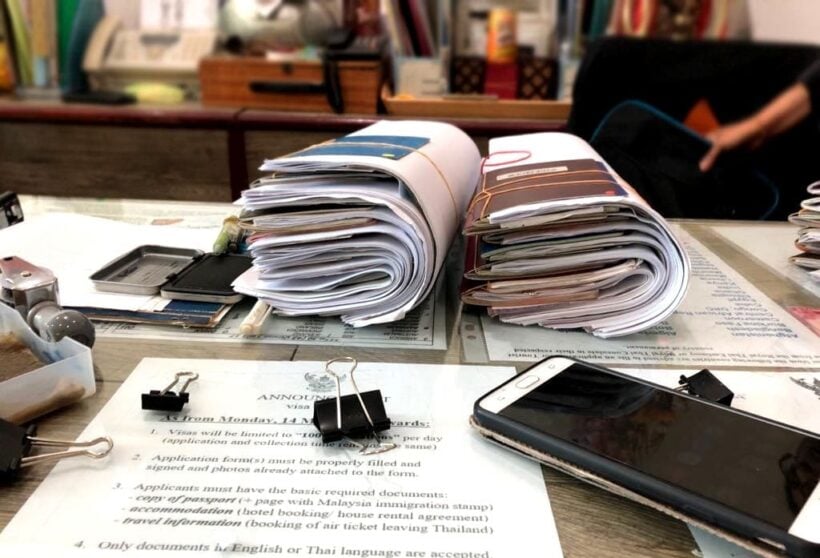 This story was one person's experience of the visa process in Penang. It should not be regarded as 'typical' or even used as a guide. But we provide Jim's journey as warning to do your homework before embarking on getting or renewing your visa.
Be aware that this seemingly simple trip to the former 'Pearl of the Orient' in Malaysia is not just a matter of paperwork to enable you to stay in Thailand – you unwittingly become embroiled in a major industry involving hundreds of on-the-ground staff who, you guessed it, are in for a 'cut of the action'.
This isn't merely a paperwork formality, it's an industry. For whatever reason the process is made sufficiently opaque that you will eventually need one of these resources.
If you're lucky enough to have a Thai employer do pay for your visa and organise paperwork, you're halfway there.
Alerted by 'Jim', not his real name, The Thaiger dug deeper to uncover a highly developed underground business, full of layers and commissions, all of it undeclared to the poor sods who make the journey to Penang to renew their visas or are in the process of getting a new one.
Jim ended up paying more than 40,000 baht for a process he could have completed by himself for a fraction of the cost. The kick, however, is the complexity of the Thai visa process and the seemingly random necessities you will find on different days or speaking to different staff.
"I wasn't prepared for the layer of hiccups I had to sort out. You need to be brave to attempt any of this on your own," said Jim.
"I've already paid 40,000 and now told I have to go back to Penang again in 90 days for another part of the process. I'm confused and annoyed."
This was Jim's first time to get a visa. He says he wanted to do it properly and the confusing and contrary information found online did little to help.
So he went to the source, or so he thought. He explained to us, among his adventures, that he visited Phuket Immigration three times trying to ascertain specifics about the paperwork he required and received three quite different answers about requirements and necessary papers he would need.
Being over 50 one staff member kept pushing him to apply for a 'Retirement' visa but Jim wanted to work.
Going to the website, or quoting the official immigration website, did little to clarify the situation. In fact the official Phuket Immigration website is in Thai, not much help when all Jim spoke was English. Don't believe us? Check it out HERE.

There are two ways of traveling to Penang from Phuket – road or bus. By road you either need to drive yourself or take one of the hundreds of passenger vans that ply the well-worn roads in the Visa Run business each week. Jim described his trip as nail-biting but he was pre-warned of the perils of taking the bus ride.
Jim says the problems of the drive south are not a matter of bad drivers, indeed he described his driver as very experienced, pleasant and helpful. But the driver was on a race with the clock to meet deadlines of getting to the border in time and then getting customers to the agents at Penang in time to apply for the visa application in the morning. Miss the deadline and it's adds extra days, expense and inconvenience to the whole process.
He told us that on his trip there was one eastern European passenger who had overstay problems when he reached the border. He didn't have enough money to pay the fine so the rest of the bus had to either pitch in and help or be delayed for long enough to miss their Embassy deadline that morning. They handed the hat around and paid the man's fine to the border officials. 
"Just one person on the bus can cause delays for everyone else if everything isn't in order at the border."
The other way is to fly there with Firefly or Air-Asia. The competition from Air Asia this year has really reduced prices and made it a much more attractive option – a mere hour in the air. Depending on where you stay and how precious your time is, flying to Penang is worth considering and may end up cheaper.
The Thai Consulate General in Penang reported earlier this year that they will only be able to accept the first 100 applications each day. This is not what actually happens as the two registered 'agents' in Penang (registered to deal directly with the Embassy) have 'slots' for their customers.
We spoke to a Penang 'agent' on condition of anonymity.
"The Thai Consulate General actually process up to 200-300 applications on some days but mostly through us agents. They restrict the 'walk-ins' to 100 applications a day. Miss the cut and you have to wait until the next day."
The number of visa applications processed by the Consulate varies wildly from day to day, depending on the time of year and if there was a public holiday the day before. One Penang visa agent described the Embassy as 'flexible'. 
"We've earned our position of favor with the Embassy over the years by 'building relationships' and making sure the applications we send have already been checked to meet all the requirements."
The Thai Consulate General loves the agents and, mostly, prefers to work with them. This is because the agents act as a 'go-between' for the Embassy, weeding out the bad applications or fixing them (for a cost) before they cross their desk.
Trying to organise and apply for your visa as a DIY is absolutely possible but you need to be prepared to play the 'game' – be there long before the gates open, ensure you absolutely have the correct documentation and be happy to stand in the sun or rain, because there's no shade or shelter waiting in the long queue.
"Take more money than you think you'll need. I had two photos but they weren't identical photos and the agent said the Consulate would refused to accept them. But just outside the gate of the consulate I noticed a vendor who took photos and had a photocopy service set up," said Jim.
Services to assist you through the visa process are enthusiastically advertised. And, to make it quite clear, often their advice is in their best interests, not yours.
Jim discovered that his 'case' had been sold through four other agents, each taking a commission along the way. Like a slave in a human trafficking ring, cases get sold down the line, each attracting another commission. Who pays for all this? The poor applicant who just wants to stay in Thailand.
In the end the costs kept spiraling – additional documents that needed to be copied, new photos, 'problems' that can be 'fast-tracked' with an additional payment. Otherwise the threat always hangs over the head of the applicants that they will have to wait another day if they don't keep putting the coins into the visa machine.
None of this is probably a surprise to the long-suffering foreigners who have to run the gauntlet of visa runs frequently – it never gets any easier. There's no doubt that money will always grease the wheels but it's best to be aware of where that money is going and that you're supporting an industry of fifth or sixth-tier 'agents' and 'lawyers', some more trustworthy than others.
Jim said he would fly to Penang next time, forsaking the long bus ride and saving time. He also recommended organising your own accommodation ff possible as the rates for the hotels in the 'visa packages' was at least double what you could book online. He also said that the accommodations were mostly at the lower-end of the quality spectrum.
"If you have a Thai lawyer or agent helping you, take a Thai friend with you who speaks your language to help avoid misunderstandings. Misunderstanding seems to be a word used as a frequent excuse. Believe me, 'misunderstanding' means YOU pay more."
Whilst none of this broad visa-monster has been set up by Immigration officials, the whole process has unwittingly forced it to develop. The entire system – the complexities, inconsistencies and sheer difficulty of doing it yourself – serves to facilitate the growth of agents and the downstream commission system – photocopiers, passport photo makers, taxis, hotels, Visa Run buses, agents in Phuket and Penang, so-called VISA lawyers and assorted hanger-onners.
"The entire performance just served to remind me that I am simply a guest of the Kingdom of Thailand and that it's increasingly expensive and complicated to enjoy the pleasure of staying here."


Looking to jettison some items before jetsetting away or chartering a yacht? Look no further than Thaiger Classifieds where you can find and post items, work, property and more for free.

Read more headlines, reports & breaking news in Phuket. Or catch up on your Thailand news.
Police investigate motorbike hoons in Patong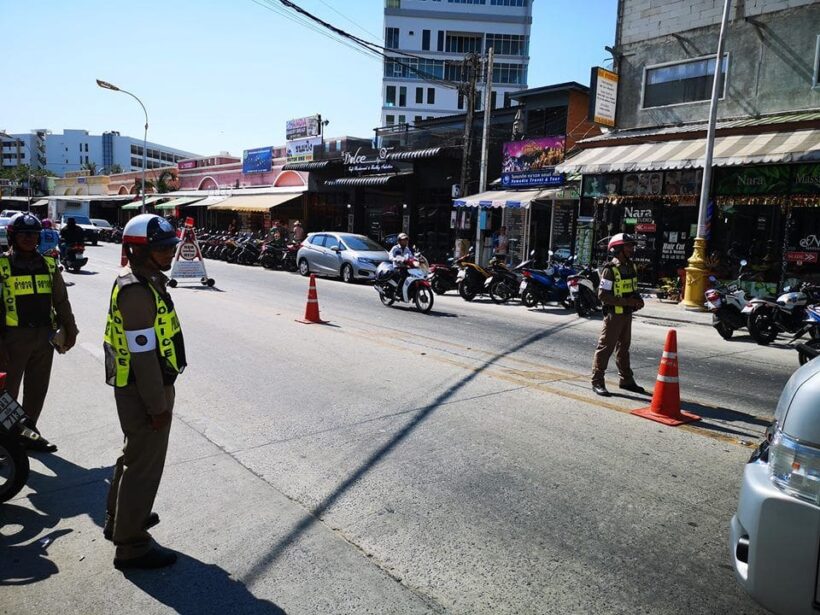 PHOTOS: Patong Police
Patong Police are investigating alleged foreign motorbike racing gangs in Patong after a viral video clip in local social media.
The Patong Police report that the clip of tourists who have been driving their motorbikes at high speed around the streets of Patong has been very popular and provided them with a lot of information about the locations, the bikes and the riders.
Police are now investigating the incident to find the people on the bikes so they can charge them and take legal action.
Every month they say there are about 2,000 cases as Patong Police enforce the road rules around the tourist town. Patong Traffic Police say they are strictly enforcing traffic rules to prevent road accidents and protect tourists.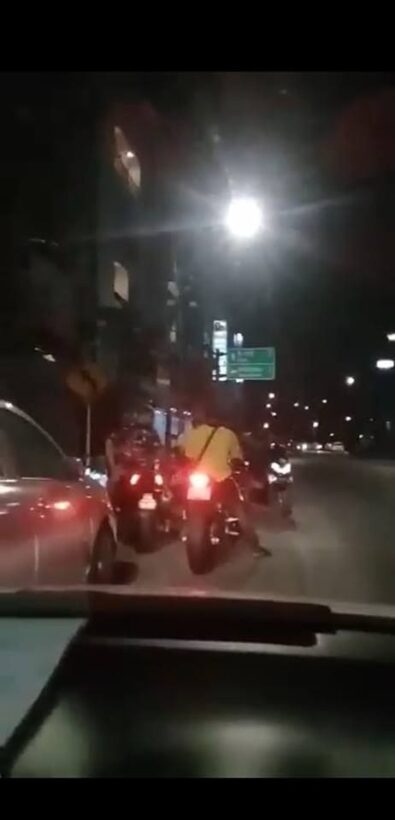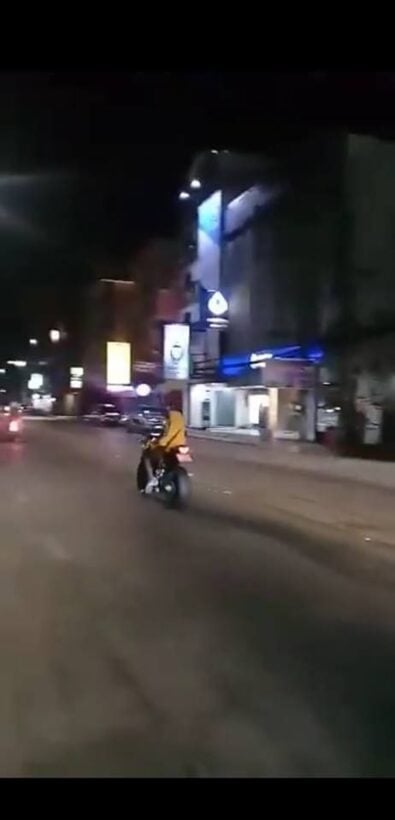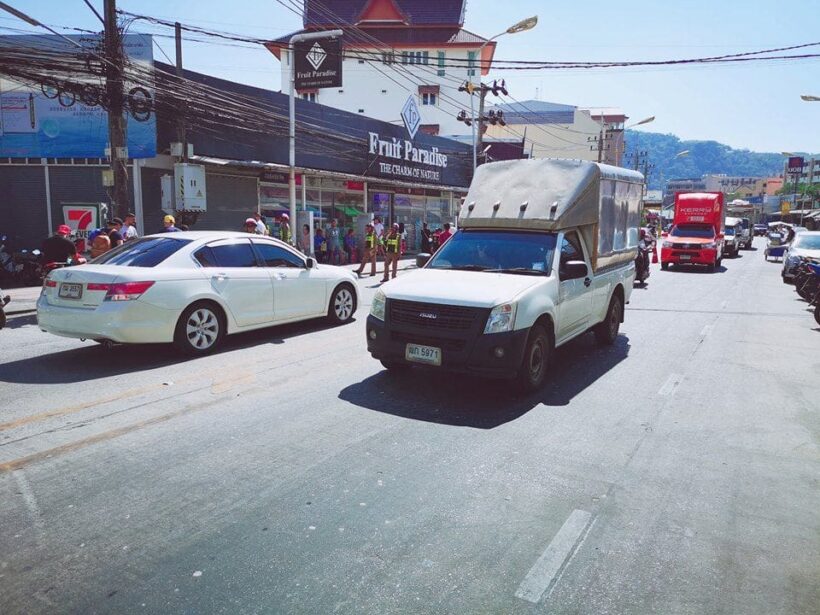 "Self-myofascial release" – what is foam rolling?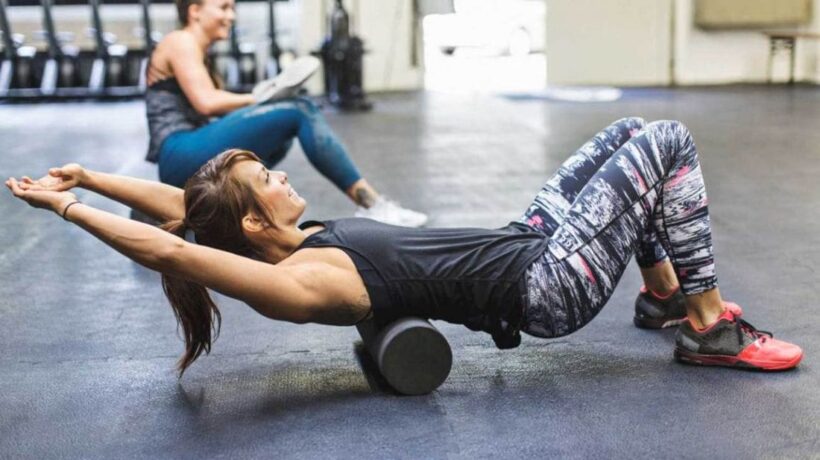 by Krix Luther
The word is out about self-myofascial release – foam rolling – and, no, Thailand people, this doesn't have to do with a 'soapy' or 'happy-endings'.
So what is foam rolling you ask? Well, it was once a secretive technique used by professional coaches and therapists but has become a regular practice for people across the spectrum of all fitness levels.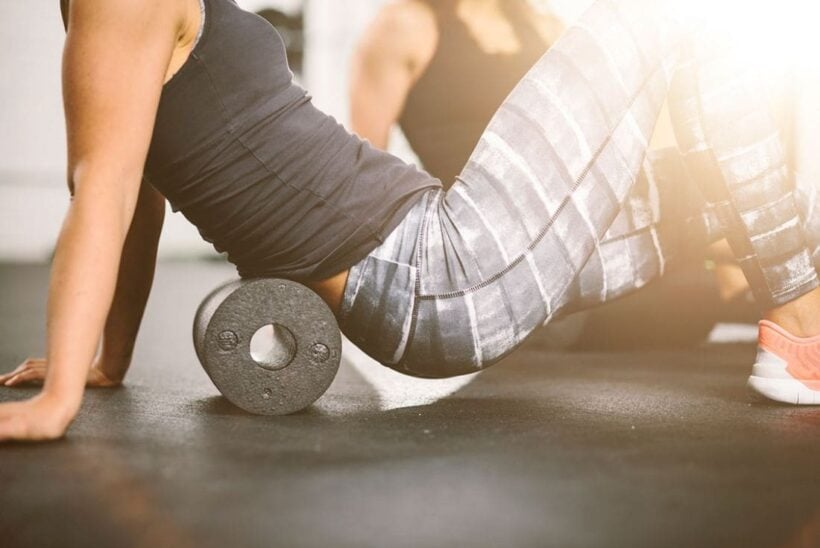 Self-myofascial release is just a fancy term for a technique of self-massage that helps deal with muscle tightness and trigger points.
With a massage parlour never being farther than a kilometre away, and decent one-hour massage costing you less than 500 baht, it might be difficult to see the point of learning the technique – which would explain why I always see a bunch of rarely used foam rollers in the corner of Nai Harn Gym in Phuket (one of the places I work).
Nonetheless, the understanding of your body and muscle structures that comes with practising the technique can offer many benefits.
Increases flexibility and range of motion
Improves blood circulation
Prevents chances of DOMS
Reduces post-workout stress
Helps with post-workout cooldown
Reduces recovery time
Prevents training-related injuries
Reduces chances of overtraining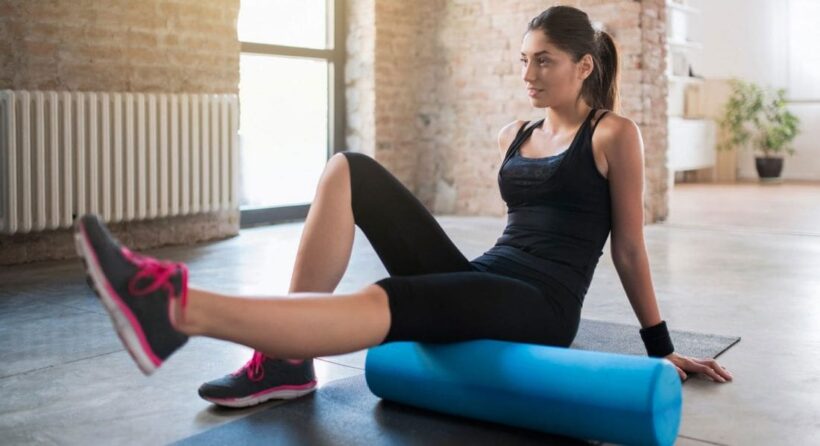 The practice can be done with a foam roller, lacrosse ball, Theracane or your own hands by simply applying pressure to specific points on your body, aiding in the recovery of muscles and assisting in returning them to normal function. We can think of 'normal function' as when your muscles are elastic, healthy and ready to perform at a moment's notice.
Foam rolling after a workout will provide deep compression that will help relax tight muscles and adhesions (fibrous bands) between muscle layers and their surroundings. The benefits of foam rolling are outstanding, in addition to increasing blood flow, which will speed up muscle recovery. Foam rolling can be used for a variety of corrective bodywork.
It can loosen muscles to re-balance posture, re-establish proper movement patterns, enhance performance and help create pain-free movement.
Stretching alone is not always enough when it comes to releasing the tightness, which makes the technique very helpful. Additionally, you are able to feel exactly what is happening and adjust the pressure so that it is uncomfortable, but not unbearable – not always the case when it comes to the toes of your Thai masseuse digging into your back.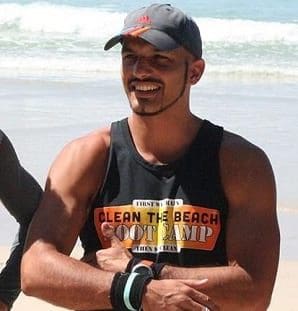 Krix Luther has been a Personal Trainer in Phuket for more than 10 years, he specialises in weight loss, strength & conditioning, TRX and CrossFit. For more information about Krix and his services, visit krixluther.com
Elderly motorbike driver dies in Thalang crash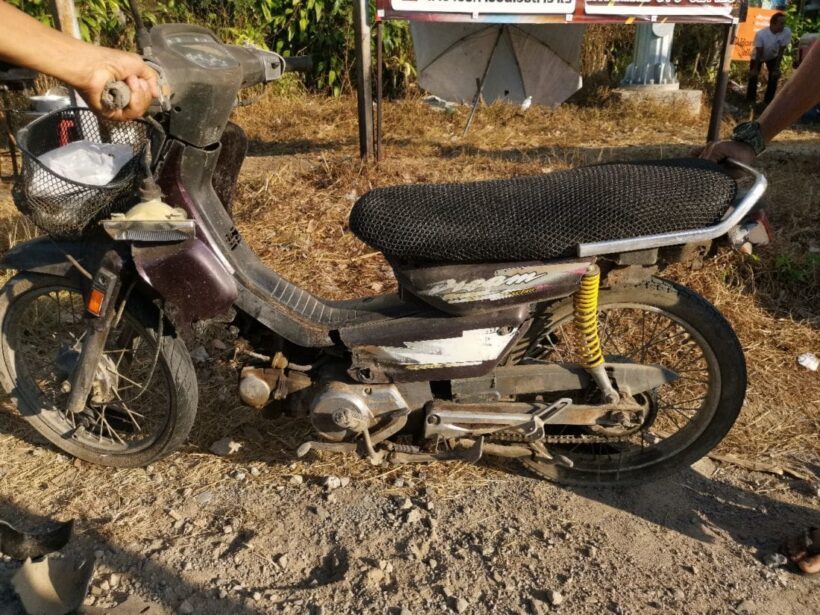 A 74 year old motorbike driver has died after colliding with a high speed taxi in Thalang this morning.
The Thalang Police headed to the accident near an intersection of Thepkrasattri – Nai Yang Road in Thalang at 7.40am.
When they arrived they found a damaged taxi. Nearby they located the damaged motorbike.
74 year old Somchai Uttasaha, the motorbike driver, was taken to the Thalang Hospital but was later pronounced dead as a result of his injuries.
Police report that the taxi was traveling at high speed. The driver was 48 year old Prasert Malitong.
When the taxi arrived at the location of the incident, the motorbike was allegedly traveling outside his proper traffic lane.  The taxi collided with the motorbike at speed.
The taxi driver has been charged with reckless driving causing death.