You'll be spoiled for choice during your visit to Thailand. There is SO much to do. But there are a few things that may be worth avoiding, despite being available, during your time in the Land of Smiles.
So, in The Thaiger's opinion, don't…
1. Swim at the southern Andaman beaches in the low season
Every year about 50 or so people drown along Phuket's west coast. Mostly in the wet season with the south-western monsoon kicking up the waves washing onto the island's Andaman coast beaches. Sadly, it's mostly Chinese and Russian tourists who end up getting into trouble. Krabi, Khao Lak, Phang Nga, Trang and southern islands also have their share of drownings and near-misses each year.
There's a complicated litany of reasons for this carnage – many Chinese and Russian tourists, for example, can't swim, the lifeguard patrols on many of the beaches are 'patchy', not enough information is provided to tourists about the dangerous rips along the west coast during the monsoon and whatever signage and flags that actually exists do little to deter tourists who seem determined to go swimming.
Most of the beaches have the red flags on display when the surf's up but many of the flags are not new and the colour red, which in some western countries denotes 'danger' isn't as effective in being a deterrent colour for the Chinese. In fact it's the lucky colour for Chinese.
There is a clear and present danger of swimming on Phuket's west coast during the May – November low season (which is also the most popular time for Chinese tourist arrivals).
For the Gulf of Thailand coastal areas in Hua Hin, Samui and other southern Gulf beaches, the windy weather is usually later in the year from October to December.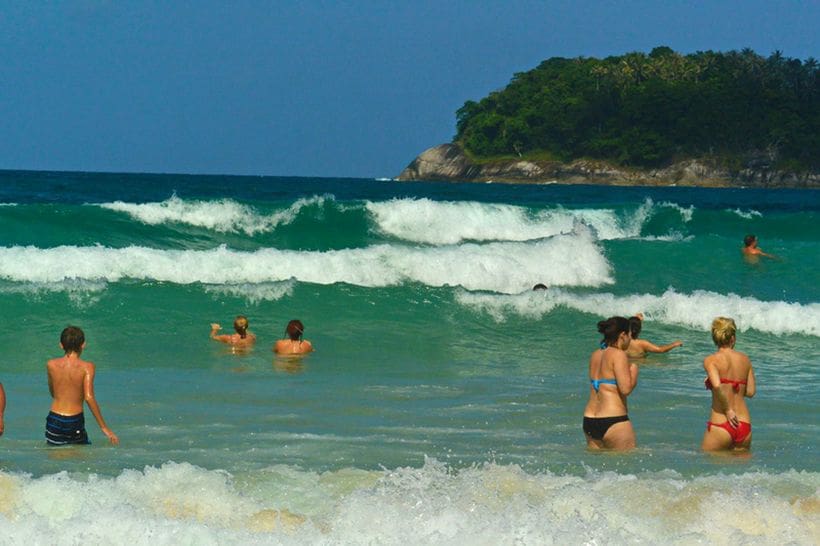 2. Hire a motorbike
You get off the plane, catch your passenger van to your hotel, check the minibar and then head out to find the nearest motorbike hire shop – there are hundreds around the main tourist spots anywhere in Thailand.
In most cases a passport will suffice (NEVER let your passport out of your sight, even when they're taking a photocopy of your passport front page) as ID to allow you to hire a motorbike and take it out onto Thailand's roads.
The roads in Thailand are some of the most dangerous in the world. If you're under 30 years old, male and riding a motorbike your chances of having an accident are astonishingly high.
Have you ever ridden a motorbike before? Probably not. Do you have a motorbike driver's license? Chances are slim. Were you taken for a short test to see if you can ride or handle a motorbike? Doubtful. Does your travel insurance cover you if you have an accident without having a valid motorcycle driver's licence? I bet it doesn't.
Still, it happens hundreds of time a day around the island and tourists, like lambs to the slaughter, head off into the craziness that is Thai traffic – sometimes shirtless, sometimes after drinking and sometimes without even the basic protection of a helmet.
Then we hear that the tourists have had some sort of horrific accident, end up in an international hospital, their insurance won't pay for their medical care and we have another report on our website.
Bottomline, if you don't have a motorbike driving license, have never driven a motorcycle or have been drinking just DON'T hire a motorbike in Phuket. Just don't!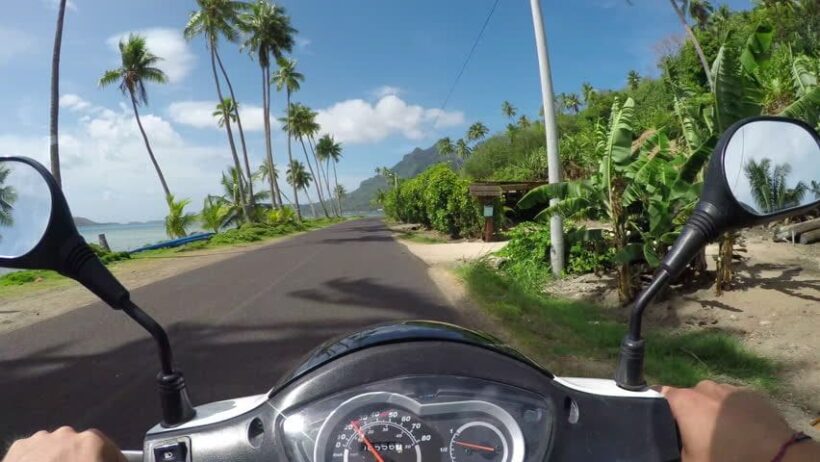 3. Go to tiger or animal shows
Reptiles, birds, crocodiles, tigers, dolphins and plenty of others. There are hundreds of shows where animals are performing for tourists. These aren't zoos and usually cater for one particular type of animal. Is it OK to visit these shows? Well, in Thailand it's absolutely legal to do so and the attractions are all licensed to operate under Thai law.
The question as to whether you SHOULD visit is up to you.
Tigers, of all wild beasties, are not born to sit, half drugged-up in chains, to have tourists patting them for selfies. Tigers are critically endangered everywhere in the world. Specifically, the Indochinese Tiger, the species we see in Thailand and surrounding south east asian countries, is a hunter and can inflict fatal injuries with a single swipe if you happen to be in the wrong place at the wrong time.
An Australian was mauled at the Tiger Kingdom in Kathu, Phuket in 2015. He survived his injuries which opened up the front of his chest. The only upside about these tiger zoos is that they conduct (for all the wrong reasons) breeding programs to keep the species alive but the gene pool is very shallow so, in the long run, is not a sustainable method of breeding tigers.
Here's an interesting blog from a westerner who volunteered at one of the Tiger shows.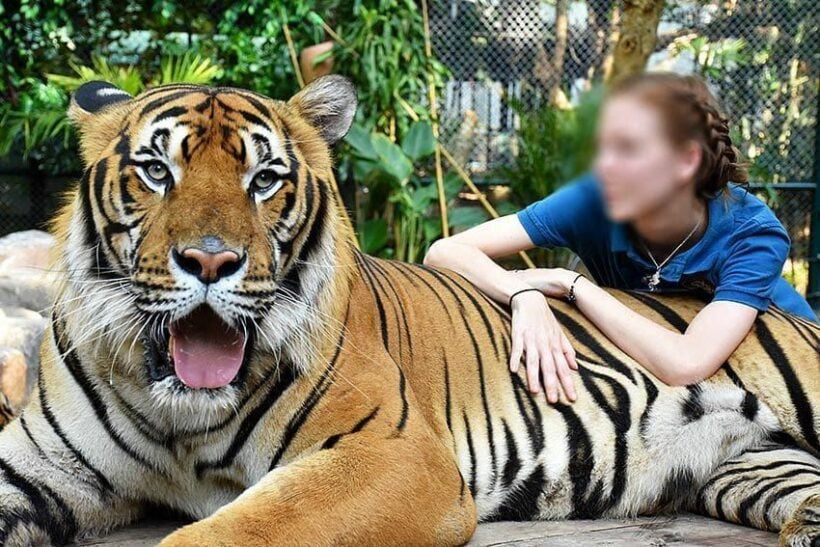 4. Go to zoos
Many of Thailand's zoos are not up to international standard and, like the elephant rides and tiger shows, have gone out of fashion with many western tourists. But 'animals for entertainment' is still a popular concept for many Asian and eastern European tourists – it's a cultural thing.
The Thai zoos come up for constant criticism especially on platforms like Trip Advisor where pictures of poor conditions, lonely and skinny animals keep getting attention.
Voted by many Trip Advisor readers as one of the worst tourist attractions in Phuket – it routinely scores either one or two stars with comments that sound like the visitors have just come from an abattoir rather than a modern zoo.
Visiting a Thai zoo is like visiting one in the West in the 1950s when animals are crammed into unsuitable enclosures or cages with little care taken to keep the facilities clean. Many of the zoos smell, the animals don't appear to be in the best of health and it's simply a relic of a bygone era whereas modern zoos have changed dramatically to provide true educational opportunities and vastly superior, and more natural, enclosures for the animals.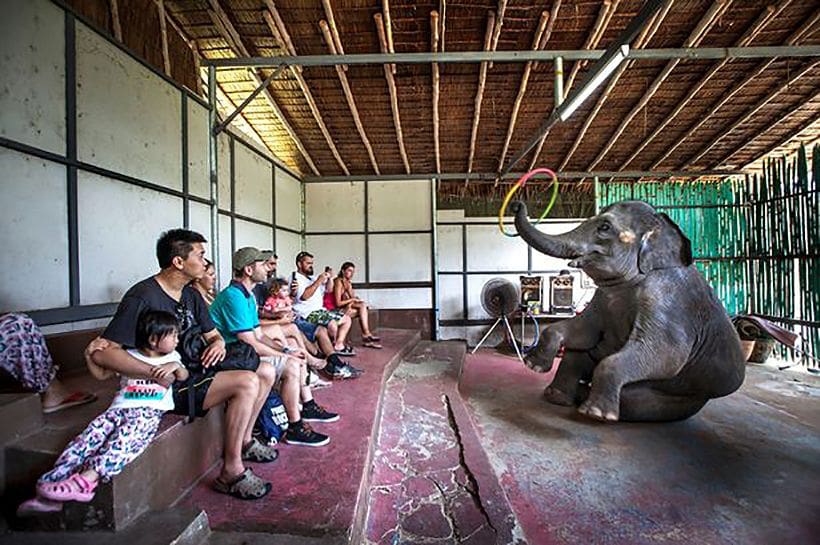 5. Ride an elephant
Riding elephants in Thailand whilst you're on tour here is just one of those things some tourists have on their bucket list. There are many, many elephant camps where you can see these wondrous mammals and, if you want, ride on their back through the forests. Generally frowned upon by some western tourists, it's still hugely popular in Asia and all the camps do a roaring trade, especially in the tourist hot-spots.
The problem with elephants in Thailand is vexed with a well cared-for pachyderm living up to 60 years – the average age is 48 years. They used to work in the rainforests as beasts of burden but that work has now dried up with the banning of logging in most parts of Thailand so the elephants and their mahouts have gravitated towards the cities and tourist industry to make a living – elephants require quite a lot of food.
To say we should simply 'set them free' is an absurd suggestion and unpractical so a longer term solution needs to be found.
There are now new elephant 'sanctuaries' and retirement parks opening up around the country. They provide a more natural environment for humans and elephants to interact. Although these are really just an alternative pay-to-visit 'zoo' (albeit a huge step up from the majority of elephant camps), we applaud their efforts and hope there's more available soon.
There's now also an even stricter code of conduct gaining popularity in wildlife circles whereby any contact between beast and human would be banned, even feeding and washing the elephants. We will see if this becomes a new norm.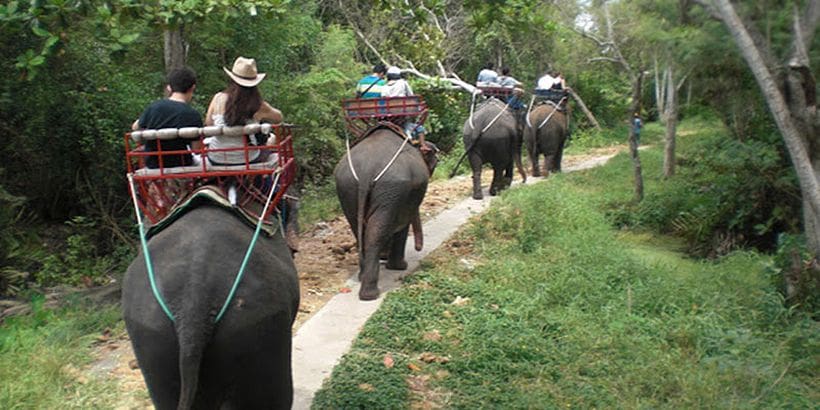 5. Don't overstay your visa
Visa rules and immigration laws in Thailand are quite tight and you would be well advised to keep on top of your visa status whilst in the country. You're also advised to carry either your passport or a copy of the front page and visa page, anytime you're roaming around the country.
If you happen to be stopped, as a foreigner, the police will likely want to check your passport and visa details.
There are fines for overstaying your visa and, and you can be detained, deported and blacklisted if you've run up too much time without a visa. If you're in any doubt, either head to your nearest Immigration office or contact a qualified visa agent, but we'd suggest you get a recommendation from a friend before dealing with the many visa agents advertising their services on the internet.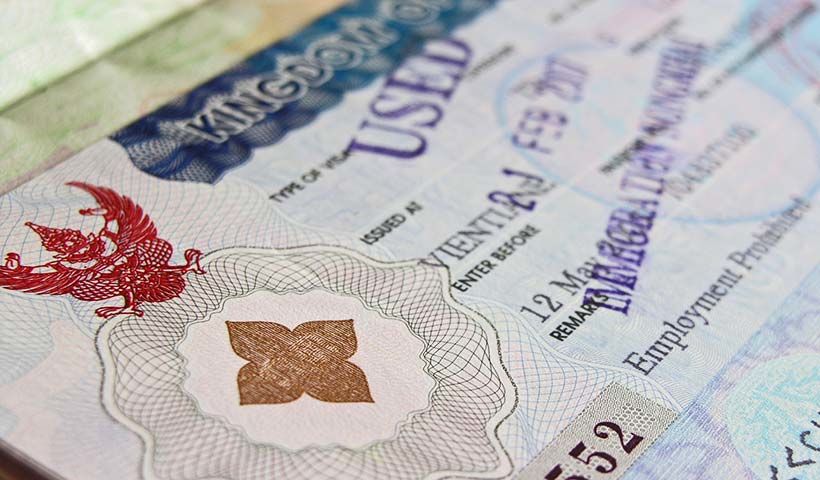 7. Get in a taxi or tuk tuk before negotiating your fare
This is probably mostly important in tourist hot spots like Bangkok, Pattaya, Chiang Mai, Samui or Phuket. There are variations with taxi and public transport options – some locations do it better than others. Pattaya, for example, has the excellent 'baht bus' where you hop on and off and pay the driver 10 baht.
Bangkok too is generally taxi-friendly except that the traffic can be hideous around tourist traps around the city.
Meanwhile, getting a taxi or tuk tuk to go anywhere around Phuket is expensive, compared to anywhere else in Thailand and even some western cities. There's a long history as to why taxis and tuk tuks are expensive and that's a report for another day. The words 'cabal', 'mafia' and 'extortion' could be used in such an article, but we'll leave all that for another day.
Your best bet if and when you're going to use a taxi is to negotiate the fare before you get in. By all means bargain the stated price down as much as you can but make sure there is a firm understanding with the driver about the price before he turns the key.
By law, all taxis in Thailand are meant to use a meter. In Phuket it never happens. Never. 'Meter not work', blah, blah. In other parts of Thailand the meters appear to work a lot better, must be the humidity.
There has been decades of efforts by Government authorities, the Army and any number of well-meaning officials that has had precisely ZERO effect of the notorious taxis and tuk tuks in Phuket.
All you can do is accept that the prices are high and negotiate a fee, BEFORE YOU GET IN, wherever you are.
Better still, try Grab Car or Grab Bike where the ride-hailing Apps are much more transparent and, probably, safer.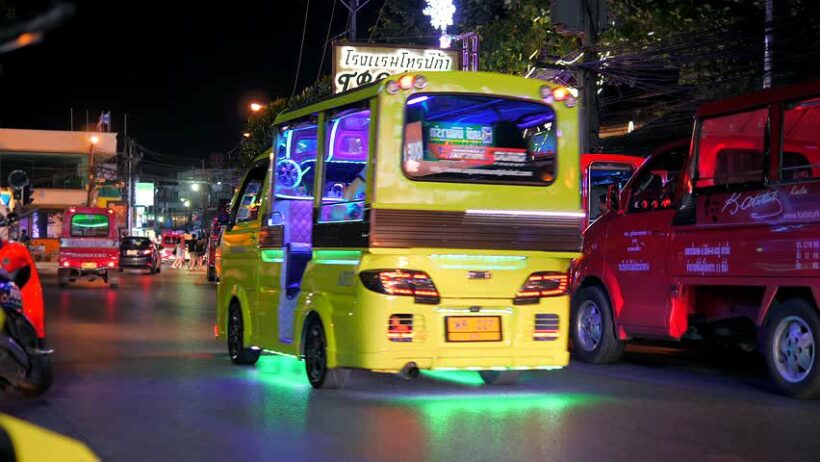 8. Sign contracts without advice from a qualified Thai lawyer
DON'T SIGN ANYTHING in Thailand without getting it checked over by a trusted and qualified Thai lawyer and advice from a western lawyer. You are conducting business in a foreign country, in a foreign language and there are thousands before you who have fallen foul of hastily or poorly prepared legal documents.
The list of stories over the years reporting on foreigners getting burned over contractual problems has filled Thailand's newspapers and websites.
Guy meets girl. Girl and guy move in together. Guy decides he wants to buy a villa. Guy buys property under Thai GFs name (because foreigners can't 'own' land in Thailand). Relationship goes sour. Thai GF vanishes and sells the house without telling ex-BF. And it gets worse from there.
Even if you're signing a basic rental lease, get it checked by people who know the ropes of the Thai legal system. Check, check, check. And then check again.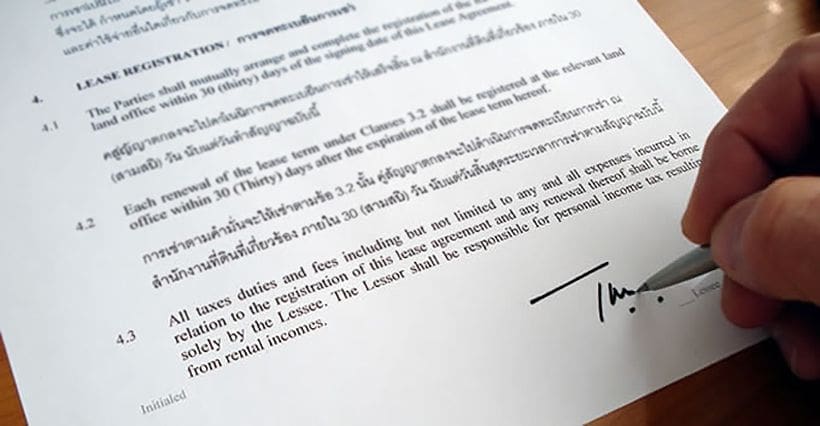 9. Get in an argument with Thai police
You will always come off second best if you decide you're going to challenge the boys-in-brown. Thai police have a job to do and, in most cases, do a sterling job given that a lot of the time (especially in places like Patong) foreign tourists do some REALLY stupid things.
Police in Thailand are, generally, poorly paid and there is a generation of police who still work their way up the system 'buying' higher positions in the police ranks so they can get a larger proportion of the 'tea money' (bribes) that are still rife in the system.
Whilst there are many, many efforts, made with the best intentions, the 'system' has been in place for many generations and corruption will still be around long after you've left the country. With all that said, if you get stopped for a minor indiscretion – not wearing your helmet or not carrying a valid license with you, etc – just pay up and go on your way.
Yes, you are feeding the pyramid of corruption but your other option is not paved with happiness. Ramp up the situation by insisting that you 'speak to the superior' or go to the police station to voice your objection. You will come off second best, every time.
In a more serious situation, like a traffic accident or where someone's been injured, you are best keeping your cool and insisting that a member of the tourist police or a consular official come to the scene before you do anything. At least make sure you call them before agreeing to ANYTHING.
DON'T get angry or get into an argument with the local police. Their English-language skills will probably be limited and they represent a system that can get you into a mountain of trouble, costs or jail if you don't play your cards right.

10. Get your gear off
It's hot and humid and you've come to Thailand for a swim. You've seen photos of bar girls in skimpy hot pants and a size-too-small singlets. You're used to western values where topless bathing is acceptable.
Forget all this – you're in Thailand and, despite the outwards acceptance of showing some flesh, it is still a deeply conservative country when it comes to what you wear and where you wear it.
There are plenty of double standards when it comes to this issue and you only really learn the subtleties after living here for a few years. The Thais will generally tolerate you wandering around shirtless in tourist zones but you don't have to wander too far from the tourist hot-spots before the idea of 'acceptable' clothing changes quite quickly.
This becomes acutely apparent when it comes to visiting temples or anywhere there are images of members of the Thai Royal family or Buddha.
If you're in any doubt about what the dress code is in any particular situation, ask a local.
Don't, for example, wander down to the local Immigration office in your shorts, sandals and singlet and expect to get service – you won't.
Going topless on a Thai beach will draw undue attention from the local constabulary, most likely resulting in a fine.

Checklist
1. Have a quick read about the places you're visiting and Thai customs on the internet. There are hundreds of sites that will spell out much the same mantra about behaviour, dos and don'ts. Here's our LIST.
2. Do some homework about the places you want to visit, chat to other tourists and your hotel concierge about suggestions (although they're usually on commission too)
3. If you are going to get into any business transaction consult a local lawyer plus a lawyer who speaks your language with experience in the transaction. Especially buying property.
4. Think before you act in most situations. You are in a foreign country and they truly do things differently in Thailand. The longer you live here, the more confusing it can seem. Turn your brain on before you hand over your money.
5. If you wouldn't do it at home, don't do it in Thailand, even if you can.
If you also want a list of basic cultural faux pas, check this list out HERE.
Want more from the Thaiger family?
📱 Download our app on Android or iOS for instant updates on your mobile
📧 Subscribe to our daily email newsletter
👍 Like/Follow us on Facebook
🔔 Subscribe to or Join our YouTube channel for daily video updates
Closure order in Bangkok set until May 31, restaurants can now offer dine-in services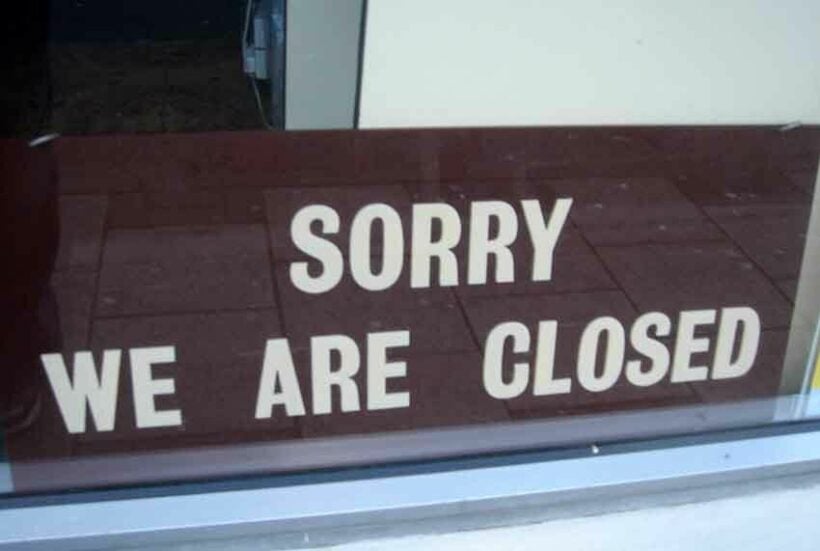 To control the spread of Covid-19 in Bangkok, where more than 28,000 people have tested positive for the virus in the latest wave of infections, the closure order in the capital has been extended a second time, now set to be in place until May 31.
While many entertainment and recreation businesses and venues are ordered to remain closed, some restrictions have been relaxed. Restaurants can now offer dine-in services, but only until 9pm. Restaurants can still offer takeaway services until 11pm.
Businesses and venues that must remain closed include…
Educational places including schools and tutoring centres

Entertainment venues including pubs, bars, karaoke venues and nightclubs

Massage parlours and spas

Recreation and amusement businesses and places including cinemas, theatres, water parks, amusement parks, playgrounds, zoos, skating rinks, billiard halls, bowling alleys, arcades, internet cafes, public parks, gardens

Fitness and sport venues and businesses including public swimming pools, gyms, boxing stadiums, dance studios, golf courses

Care centres such as nurseries, childhood development centres and elderly care centres (with the exception of overnight stays.)

Museums and public libraries
Other restrictions include…
Shopping centres can remain open until 9pm.

Convenience stores and other 24-hour shops must be closed from 11pm to 4am.

Events over 20 people must have permission from the government with a disease control plan.

Face masks are mandatory in public places. Violators face a 20,000 baht fine.
SOURCE: TAT
Want more from the Thaiger family?
📱 Download our app on Android or iOS for instant updates on your mobile
📧 Subscribe to our daily email newsletter
👍 Like/Follow us on Facebook
🔔 Subscribe to or Join our YouTube channel for daily video updates
Thai tourism minister re-iterates Phuket's re-opening on July 1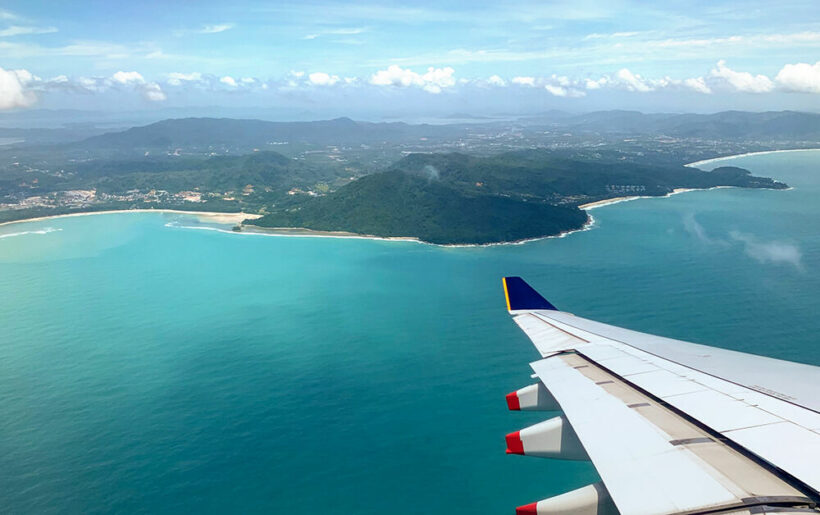 The Thai government has again reiterated its plan to reopen Thailand, specifically Phuket, to foreign tourists and travellers. The southern island province, under the so-called "sandbox" plan, is Thailand's pilot program for re-opening the country to general travel by July 1… just 6 weeks away.
The government has consistently said that the island's residents will have to be 70% vaccinated by the start of July before the re-opening can happen. With a current vaccination success of 22%, the island is certainly a long way ahead of the rest of the country but still a long way from its 70% target.
The National News Bureau, the voice of the Thai government, reports that the Tourism and Sports Minister, Phiphat Ratchakitprakarn, is "urging" Phuket officials to achieve the vaccination target next month.
The media release says… "The provincial administration and the private sector have developed plans to prepare for the reopening in all respects, while creating more awareness and understanding with the local people. Thus, the reopening will be safe and help drive the economy forward."
Far from providing "awareness and understanding with the local people", Phuket officials have been opaque about vaccination roll out programs. The island's foreign population, estimated to be around 40,000 people, or about 10% of the total population, are none-the-wiser today about their prospects to secure a place in the island's vaccination queues.
Last week Phuket residents, with a local and current work permit, were told they would be able to register for vaccination. So far that process has not proceeded.
There is also a hard rump of Thais who have stated in numerous polls, that they remain unwilling to accept a vaccination. This includes thousands of candid posts on social media where fear or mistrust over the Sinovac vaccine from China is plain to see. The island also has a large Muslim population where some community leaders have already expressed some doubt over recommending vaccination to their adherents.
But, even today, the second roll out has begun on the island for Thais who registered on the Mor Prom app since the start of May, so things are progressing. An area has been put aside at the island's Central Floresta shopping centre for registrants.
The 'reopening to tourists' on July 1 isn't without restrictions. People arriving by air will not be open to "countries where COVID-19 is widespread, or tourists without a vaccination certificate". That list hasn't been fully detailed although Thailand has a ban on people arriving from at least 4 countries – India, Pakistan, Bangladesh and Nepal.
"…visitors who travel by air must provide documents to prove that they have received both Covid-19 vaccine doses. They are required to undergo rapid antigen tests, or reverse transcription polymerase chain reaction (RT- PCR) tests, at their place of origin, and to register on www.gophuget.com and the MorChana application."
The MorChana app tracks the location of an individual whilst their phone is turned on with the data turned on as well.
Without specifically mentioning quarantine in the media release, it is understood that quarantine will be waived for international travellers who have have been fully vaccinated. Other specific paperwork requirements have not been announced at this stage… with 6 weeks to go to the international re-opening.
For domestic traffic, arriving in Phuket by road (as of May 17), "…people who do not have a certificate of vaccination and have not taken a swab test will have to undergo a 14 day quarantine. If they plan to spend only 3 days in Phuket, they are required to stay in home quarantine for the 3 days."
Phuket is still experiencing new daily infections
SOURCE: National News Bureau of Thailand
Want more from the Thaiger family?
📱 Download our app on Android or iOS for instant updates on your mobile
📧 Subscribe to our daily email newsletter
👍 Like/Follow us on Facebook
🔔 Subscribe to or Join our YouTube channel for daily video updates
Thai government expects to open vaccine registration to foreigners by August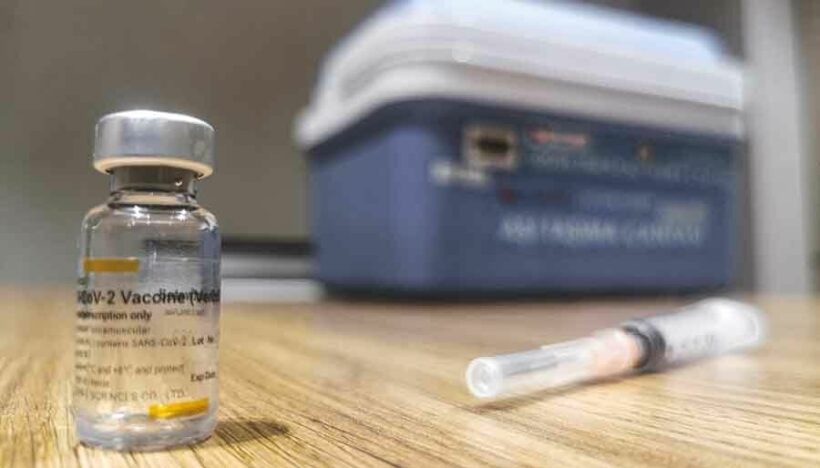 A Health Ministry spokesperson has confirmed that foreigners living in Thailand should be able to register for Covid-19 vaccination by August. Ratchada Thanadirek says the government is working on a dedicated registration platform for foreign nationals living in the Kingdom, which it's hoped will be ready in 3 months' time.
Meanwhile, Thai Visa News reports that vaccine registration for Thais has been extended to those aged between 18 and 59 years old, who can now sign up from May 31. Registration had initially been limited to Thai nationals over the age of 60, as well as those with underlying health conditions. However, the third wave of the virus means registration for younger Thais has been brought forward from July.
Thai nationals can register for vaccination through the Mor Prom platform or the Mor Prom Line account. They can also register at government hospitals. According to Ratchada, the vaccines that will be used in the government rollout will primarily be AstraZeneca, manufactured in-country by Siam Bioscience.
However, she points out that there are 3 other vaccines that have been approved by the Thai Food and Drug Administration. They are the Chinese-made Sinovac, the single-dose Johnson & Johnson vaccine, and the vaccine from US manufacturer, Moderna. The latter is expected to be available for purchase at private hospitals, although there has been no confirmation of when supplies might arrive.
SOURCE: Thai Visa News
Want more from the Thaiger family?
📱 Download our app on Android or iOS for instant updates on your mobile
📧 Subscribe to our daily email newsletter
👍 Like/Follow us on Facebook
🔔 Subscribe to or Join our YouTube channel for daily video updates