Thai government looks to revive Pak Bara and Songkhla deep-sea port projects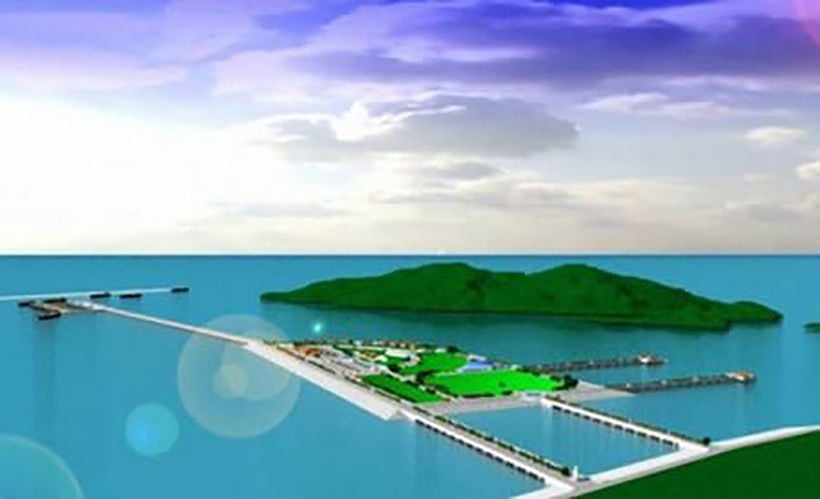 The government is looking at reviving deep sea-port projects in the south of Thailand. They were shelved two years ago as the government bowed to public opposition at the time.
The Transport Ministry is considering reviving the Pak Bara, Satun, and Songkhla deep-sea port projects. Both projects are in the south of the country. The projects have been shelved at this stage due to strong protests by locals and environment groups.
Thai PBS World reports the the Transport Minister Saksayam Chidchob has asked the Marine Department to dust off the files on the two infrastructure projects. He has asked that they begin by approaching local communities living around the two deep sea port zones to convince them of the value of the development, the benefits for their localities and the country as a whole.
Feasibility studies have already been completed but additional environment impact assessments may be required to convince opponents of the projects. They will also be necessary to get approval from Cabinet.
Speaking about the 12 billion baht Pak Bara deep-sea port project, Mr. Saksayam says project design and feasibility studies were completed in 2017.
"The project was in the process of gathering opinions from all stakeholders when resistance from local people and non-governmental organisations emerged, forcing the suspension of public hearings."
According to the Marine Department, the land bridge linking Songkhla deep-sea port with the Pak Nara deep-sea port in Satun, and southward to Penang in Malaysia, will reduce the distance of travel and save transport costs for cargo from the Indian to the Pacific Oceans, as opposed to travelling through the Malacca Straits.
SOURCE: Thai PBS World
Keep in contact with The Thaiger by following our
Facebook page
.
'Ice' thief set on fire by her own family in southern Thailand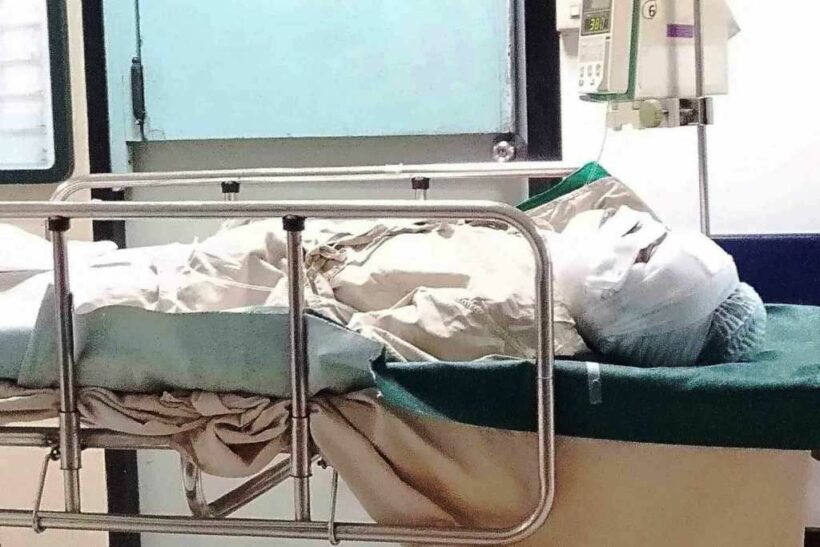 PHOTO: Chiang Rai Times
A woman is recovering in hospital in Hat Yai, southern Thailand, after being set on fire by family members who accused her of stealing 300 grams of crystal methamphetamine (ice) from them.
The Chiang Rai Times reports that Malai Chumpraman, aged 50, earns money as a scrap metal collector. Her husband is serving time for drugs offences.
Several family members accused Malai of stealing 300 grams of crystal meth they had hidden near her shelter, in a village in Songkhla province. The drug had reportedly been left there for a buyer to pick up.
Arrest warrants have been issued for 41 year old Solae Jisawat, his wife Jantira Binsaho, aged 36, and their relatives, 26 year old Yongyut Chumpraman and Patraporn Petcharat, aged 29, who are wanted on charges of illegal detention and attempted murder. A 17 year old family member has already been arrested and has confessed to delivering Malai to the other four.
It's reported the group assaulted her and poured petrol on her while demanding she return the stolen drugs. When she told them she'd already dissolved the crystal meth in water, they set her on fire. Malai managed to escape and was found hiding in the back of a truck early the following morning and taken to Hat Yai hospital.
The Chiang Rai Times reports that the last two years has seen a ten-fold increase in high-purity crystal methamphetamine seizures in Thailand, which is understood to be produced on an industrial scale in neighbouring Myanmar in an area called the Golden Triangle, before being trafficked through northern Thailand and sold across the Asia-Pacific region, from South Korea to New Zealand.
SOURCE: Chiang Rai Times
Keep in contact with The Thaiger by following our
Facebook page
.
Chinese man arrested trying to exit Thailand with fake Thai passport and ID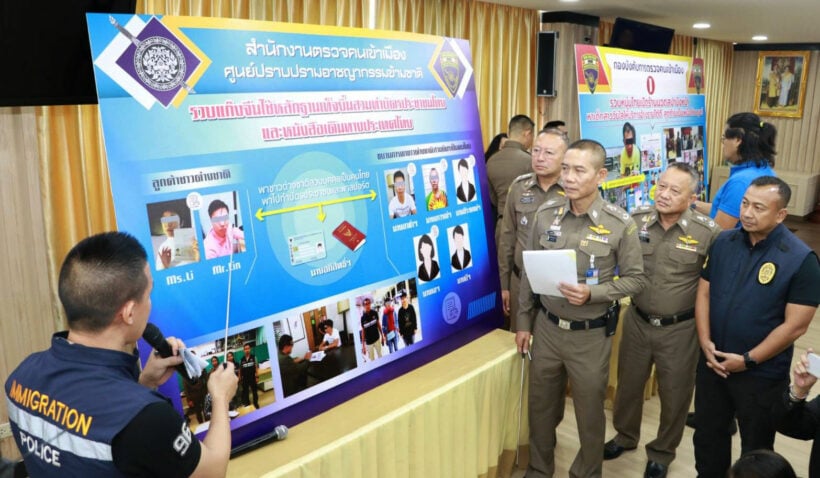 PHOTO: Immigration Police
Fake ID – check. Fake passport – check. Able to speak Thai – Doh!
Immigration officials in Sadao, on the souther Thai border with Malaysia, have busted a Chinese man as he attempted to leave the country using a fake Thai passport and ID card.
Thai Residents reports that the man claimed to be a 47 year old Thai man named Aphisit, but officials discovered his real name is Lin and he's from China. Lin says he's been out of China so long that his passport expired and that he'd been tempted by an ad on the Wechat application offering Thai ID documents.
The group who placed the ad claimed to be able to provide applicants with a Thai passport and ID card within ten days, for a payment of 1.2 million baht. When Lin spoke with them, they claimed the bulk of their customers were Thai citizens who'd never had any government documentation issued in their name.
After Lin paid his money and received his forged documents, he tried to leave Thailand at the Sadao border, only for officials to become suspicious when they realised he couldn't speak Thai. Running his details through the biometrics system showed that he had entered Thailand on a Chinese passport in 2014.
A number of other people have now been arrested alongside Lin, including three other Chinese nationals and four Thais, while police continue to investigate illegal businesses around Thailand that claim they can provide Thai ID papers and fake passports.
SOURCE: Thai Residents
Keep in contact with The Thaiger by following our
Facebook page
.
Police shoot and kill major meth trafficker in Nakhon Si Thammarat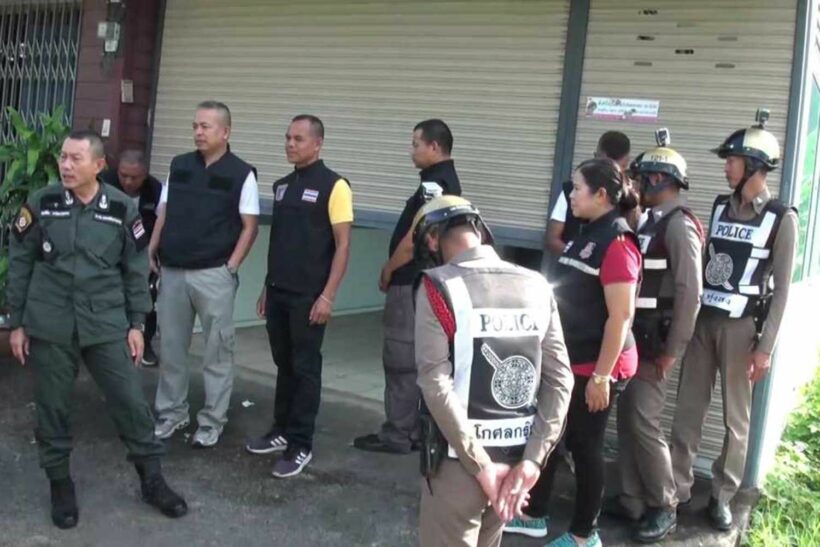 PHOTOS: Chiang Rai Times
A Burmese drug trafficker has been shot dead in a gunfight with police in the southern province of Nakhon Si Thammarat. The ambush was the result of a sting after police pretended to be buyers.
Authorities raided a house rented by the suspect and found a tablet press, 11 kilograms of methamphetamine powder, 500,000 'speed' pills and 10 kilograms of crystal methamphetamine (ice).
The house was used to produce and store crystal methamphetamine and other drugs, according to police.
The alleged Burmese trafficker, who rented the house, and named only as "Ou," was shot dead in a firefight with police Nakhon Si Thammarat, the Bangkok Post reports.
Ou agreed to deliver deliver drugs to police posing as buyers. When he arrived in his pickup trick he was surrounded by police.
Ou opened fire as he tried to escape. Police returned the fire, shooting and killing him. Police searched the man's truck whcih ended up in a roadside ditch. They found about a kilogram of crystal methamphetamine and 10,000 methamphetamine pills. They extended the investigation to search the house.
Ou's Thai wife, 23 year old 'Kittiya', was called in for questioning.
Kittiya claims she didn't know her husband was from Myanmar, and that he had told her he was from Chiang Rai and ran a used car dealership. She told police she met him on Facebook.
Kittiya said she and Ou stayed at another rented house and that she knew nothing about the house where the drugs and equipment were found. Police say Ou was a major international trafficker who had been wanted since on a warrant since last year.
SOURCE: Chiang Rai Times
Keep in contact with The Thaiger by following our
Facebook page
.